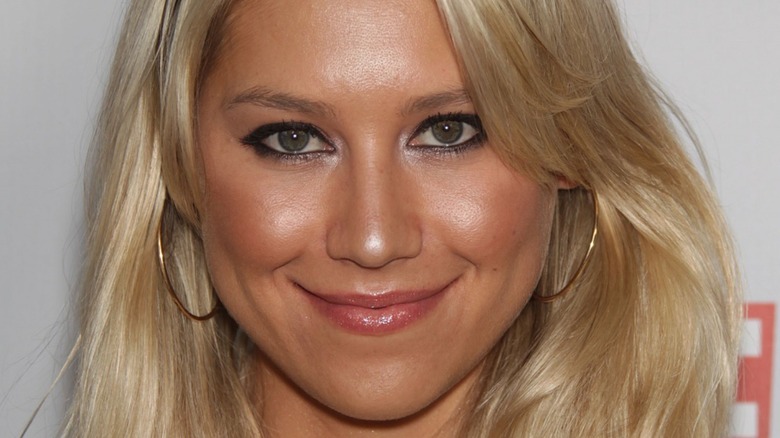 When Anna Kournikova first arrived on the tennis court, she immediately summoned attention. Labeled a precocious prodigy, it seemed inevitable she would become a legend. And she did, though not for her tennis skills alone. Her stunning looks and self-assured attitude helped her become a massive star despite the fact that she never won a singles tournament (though she did win two cups in doubles with Martina Hingis). When she was named one of People Magazine's "50 Most Beautiful People" in 1998 at the age of 16 (via Chicago Tribune), her mother shared Kournikova's mantra: "I'm beautiful, famous and gorgeous." In the same story, the tennis star chimed in, "That's right. That's my favorite saying." Kournikova, alongside the Williams sisters and Martina Hingis, helped transform women's tennis into a pop culture phenomenon in the late '90s and early 2000s.
Certain critics claimed that Kournikova got caught up in fame at the expense of her game, focusing the majority of her energy on modeling and endorsements. But the ever confident star doesn't look back on her career choices with regret. When Sports Illustrated asked her if she would want to change anything in her past, she fired back, "Not a thing. … Come on, regrets? I grew up a little girl in the Soviet Union playing at a small sports club. Tennis gave me my life." From teen tennis sensation to private mother of three, let's take a look at the trajectory of Anna Kournikova's life and career.
Anna Kournikova was born in Russia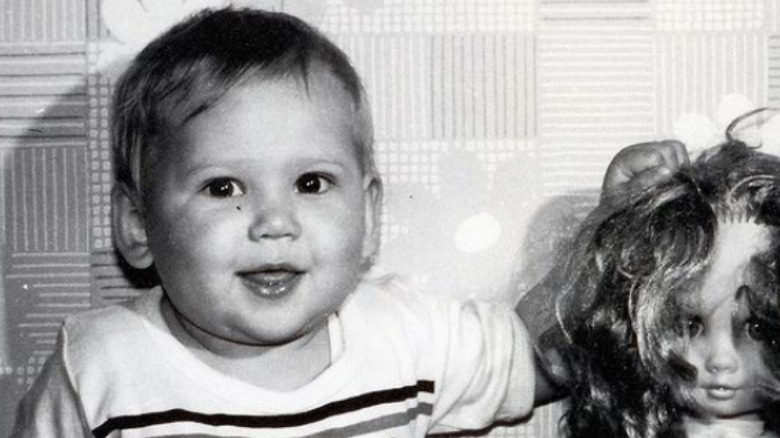 Anna Kournikova was born in Moscow in 1981, per Russian Heritage Museum. So what was it like for Anna to grow up in Russia while it was still the Soviet Union? According to the tennis star, it was a bit boring, and she found her way to sports largely because there weren't that many other options. "Back then in the Soviet Union we didn't have that much entertainment, especially for kids. There [were] no video games…we had 5 channels on TV. So the only way you could keep kids occupied is by literally making them play sports and run around or study. So it was one or the other," she once told Jimmy Fallon.
It helped that she had parents who were also athletes. Her father, Sergei Kournikov, was a Greco-Roman wrestler and her mother, Alla Kournikova, was a runner. "We were young and we liked the clean, physical life, so Anna was in a good environment for sport from the beginning," her father once said, per Sportmates.
At age five, she started playing tennis
For Anna Kournikova, her destiny on the tennis court wasn't a conscious decision based on interests as much as it was an activity that was ingrained in her life from a young age. Her parents gave her a tennis racket for Christmas in 1986, according to SportsMates. "I didn't really choose it because I started playing tennis when I was five. I think my parents kind of tried to get rid of me because I was so hyper," she told Jimmy Fallon. She also wasn't particularly inclined to the typical activities her female peers were. "I had dolls, but I was never really into girly stuff. … Mostly, I just wanted to play tennis for eight hours a day," she said, per SportsMates.
While it wasn't her parents' intention to turn her into a professional when they gave her the racket, young Kournikova immediately showed serious skills and promptly started attending a tennis academy at age seven. There, at the Spartak Tennis Club in Moscow, she was coached by Larisa Preobrazhenskaya. "[She] had this magic you can't describe. … From the first day she walked onto the court, you couldn't take your eyes off her. Her talent and enthusiasm made my job easy, really," Preobrazhenskaya told The Moscow Times (via Tennis Forum). Kournikova spent five years at the academy, until she began to set her sights on America, per ESPN.
Anna Kournikova moved to America when she was nine
Anna Kournikova's tennis skills continued to grow and at eight years old, she began competing in tournaments, per her website. Anna Kournikova's commitment to tennis was so intense at a young age that it led her parents to uproot their life and move to Brandenton, Florida. "When I moved to America from Russia … I felt like because of me, my whole family moved to a different continent and so I was supporting everybody … back then, I still had so much fun on the court but looking back at it now, I mean I would never do that to my kid," she said on "The Graham Norton Show."
Florida was a very different world than the cold, snowy one Kournikova was used to. In Bradenton, the future tennis star was coached by famous tennis coach Nick Bollettieri. Bollettieri's first thought when he first met the 10 year old was "holy mackerel," he told CNN. He became her closest mentor for many years. "[Bollettieri] always means so much to me and without him, it would be really difficult to say where I would be right now," she said in a 2002 documentary. When he wasn't around, her mother stepped in as her coach. According to Bolletieri, her mother was strict and she was rarely allowed to befriend peers. "There was not too much social activity. Mom had a plan," he stated.
Her career really took off when she was a teen
All of the hard work Anna Kournikova put into tennis as a child began to pay off as a teenager. When she was 14, she won a match at the Fed Cup (now called The Billie Jean King Cup), becoming the youngest player to do so, per ESPN. That same year, she won the Junior Orange Bowl, according to Sports Illustrated. And at 15, she won the WTA Tour's Most Impressive Newcomer award.
During her first Wimbledon, at 16 years old, she made it to the semifinals before being defeated by another 16-year-old, Martina Hingis, per the Independent. The following year, she came as close as she ever would to winning a tournament when she played a championship match against Venus Williams at the Lipton Final. Kournikova was playing well in the first set, but then Williams quickly took the lead and won. "It's good that she didn't really beat me, because I made all the mistakes, right? That gives me some confidence that I could play better. She didn't beat me; I lost," Kournikova told The New York Times after the match.
Unfortunately, 1997 and 1998 would be the best she would ever be in singles, never quite living up to her prophesied potential. "In a perfect world, would I have won a tournament? Yes. But I wasn't able to string those matches together. Sometimes I got unlucky, and sometimes I just lost," she told Sports Illustrated.
When the 'Spice Girls of Tennis' became number 1
While Anna Kournikova never quite became the powerhouse she initially seemed she would become in singles matches, she reached number 1 status in doubles. In 1999, she teamed up with former rival Martina Hingis and they won the Australian Open doubles, per Washington Post. Together, they were unstoppable. That same season, they went on to also win WTA Finals, Indian Wells, Rome, and Eastbourne, according to Tennis Now.
The duo became known as "The Spice Girls of Tennis." Hingis has reflected on her time playing alongside Kournikova with fondness. "Anna was one of a kind…She was one of the first who was not just a tennis player, but as a tennis player and a model. Her photos have appeared in fashion magazines. She opened her example to a whole generation of Russian tennis players," she told R-Sport (via UBITENNIS). She may have only reached no. 8 in singles (which is still intensely impressive), but she became the no. 1 in the world in doubles, per ESPN. Evidently her strengths were better showcased with a partner.
The tennis star started racking up Google searches
In the early 2000s, Anna Kournikova's fame extended beyond the sports world and into full-blown celebritydom. We're talking as famous as Britney Spears. And definitely just as googled. In 2001, she became one of the most Googled women in the world alongside Spears, Madonna, Pamela Anderson, Shakira, Jennifer Lopez, and Aaliyah. What's more, she was the most searched athlete. At the height of her career, Kournikova graced the cover of magazines and was listed as one of People's "50 Most Beautiful People" (via Chicago Tribune), was included in FHM's "Sexiest Women" list several times, and was crowned the "hottest female athlete" by ESPN.
But unsurprisingly, all the focus on her looks frequently drifted into sexist waters. In fact, some of the headlines were beyond cringe-worthy. Like a Sports Illustrated one that read, "She won't win the French Open, but who cares? Anna Kournikova is living proof that even in this age of supposed enlightenment, a hot body can count as much as a good backhand." Kournikova had mixed feelings about the media's portrayal of her. She admitted to The Mirror in a 2000 interview (via The Free Library), "It's nice to have some of the attention I have, but I want to be known first and foremost as a great tennis player."
She landed a bunch of endorsement deals
Considering her popularity, it's no surprise that Anna Kournikova was showered in endorsement deals. She pretty much set the standard for women in tennis to be paid the big bucks off the court. By 2002, she was reportedly making $10 million in endorsements, per CNN. That same year, she didn't make it past the first round of Wimbledon. But the fact that she wasn't winning left and right had little effect on her status as a successful spokesmodel. The deals that were contributing to her millions included Adidas, sports equipment company Yonex, Omega watches, search engine Lycos, and most famously, Berlei. Her memorable ads for Berlei, a lingerie company, featured her in a sports bra with the tagline "Only the balls should bounce." It was her highest-paying endorsement, according to The Guardian.
Many critics have argued that her advertising priorities affected her game. Marketing consultant David Skilling told CNN, "It turned into a marketing monster that ended up eating itself." Kournikova, on the other hand, feels like she was just doing what felt right at the time. She said in Sports Illustrated, "It's hard. We did the best we could. But there was no blueprint. … I took the money. It's simple. If you don't want the attention, don't take the money."
Sparks flew for Anna Kournikova and Enrique Iglesias
Anna Kournikova met her long-time partner Enrique Iglesias on the set of his music video in 2001. She played the pop singer's love interest in the visual accompaniment for his song "Escape." As it turns out, there wasn't much acting involved. "She's beautiful, talented, a great tennis player…it doesn't take a good actor to try to kiss Anna and make it believable," Iglesias said in MTV's "Making of the Video." They hit it off, and over two decades and three kids later, they're still going strong. "You know, it's not easy being together for so long, but I kind of understand him a lot because he's the male version of me and I'm kind of the female version of him," she said in an interview on "Loose Women."
As for marriage? As far as we know, they have yet to walk down the aisle. In a 2008 interview, Kournikova told People, "I'm never getting married" and it seemed like Iglesias shared a similar view on the idea of matrimony. "I've never really thought marriage would make a difference. Maybe it's because I come from divorced parents, but I don't think you love someone more because of a piece of paper," Iglesias told Parade in 2012 (via Yahoo!). Kournikova, however, calls herself "Anna Kournikova Iglesias" in her Instagram bio, so it's possible they finally made it official at some point. Again, the pair is so good at keeping their private lives private that it's hard to say for sure.
A back injury led to her early retirement in 2003
While most people have barely begun to figure out their career at 21, Anna Kournikova was reaching the end of hers. Though rumors were swirling at the time that she was giving up tennis to pursue acting, the truth was that the intense training she had gone through during her entire childhood and adolescence was starting to take its toll on her body, per ESPN. "My back really forced me to stop. It got so bad; I couldn't tie my shoes, literally. I would be in excruciating pain. I had been doing six to eight hours [of training] every day since I was 5 years old," she told People.
Despite others' hyperfocus on the fact that she never won a singles title, she doesn't measure her success by that same standard and is happy with the trajectory of her career, though it ended sooner than she had originally hoped. "I know that I did my best. I am very proud of what I have achieved," she said in the aforementioned People interview.
She never completely gave up tennis
Though her back injury forced her into an early retirement from pro tennis, Anna Kournikova never fully turned her back on the sport that made her famous. Shortly before she announced her retirement, she told ESPN, "I can still [play] occasional exhibition games, but I can't cope with the rigorous schedule of major tournaments." Creating an easier schedule for herself with plenty of rest time baked in was key. In 2008, she told Sports Illustrated, she was still playing a few times a week. And she joined the World TeamTennis league, a uniquely formatted mixed-gender league co-founded by Billie Jean King. She played in WTT matches for several years because it was a less intense, more fan-involved and fun experience. "Since I can't really play the full time and I'm not in a professional tour, it's a great way to be back on the court. It's short and sweet," she said in a post-game interview.
She has also consistently played in charity matches throughout her retirement. In one WTT charity event she played alongside Martina Navratilova against Elton John and Andy Roddick in a doubles match, per Our Sports Central. According to Project Q, the event raised over $400,000 for the Elton John AIDS Foundation and the Atlanta AIDS Partnership Fund.
Charity work became a top priority
After retiring from professional tennis, Anna Kournikova was feeling a bit lost. "It was very interesting to me to stop playing and to figure out, 'Who am I without tennis?' It was very difficult and scary as hell," she told People. Eventually, she found a sense of powerful purpose participating in charity work. Kournikova started working with the Boys and Girls Club in 2004, traveling around America with the intent of educating kids about the importance of staying active, per WTT. She believes encouraging athletic activities in schools and youth programs is one of the best messages to spread. "[Sports] can teach kids so many things like leadership and teamwork and achieving goals … I just think it's really important," she told Jimmy Fallon.
As she wrote in a piece for Oprah.com, Kournikova has made mission trips with Population Services International, one to Haiti to help provide basic health services and one to her homeland of Russia to help educate youth about the risks of HIV. For years, she has also worked with the United Service Organizations, a nonprofit that provides services to members of the American military as well the individuals and families that live on bases abroad. Similar to her work with the Boys and Girls club, she traveled to various bases to help educate children on the importance of physical activity. "It wasn't until my involvement with the USO that I truly understood the meanings of sacrifice, teamwork, and dedication," she wrote on the organization's official website.
Anna Kournikova gained American citizenship in 2010
Anna Kournikova's charity work with the United Services Organizations eventually led her to officially become an American citizen. Having spent most of her life in the states, she already felt like she was an American long before the government recognized her as one. "I've always considered myself half-Russian and half-American. It never seemed to really matter if I had a passport or not. … But when I started working with the [United Services Organizations] and the troops overseas, it just seemed the logical next step," she told Maxim (via Tennis.com).
During her time working with the USO, she feels she witnessed all the positive attributes of America. "Everybody is working together toward a common goal, and with extreme care and dedication in everything they do," she wrote in a piece for USO. Kournikova was consistently impressed with the families she met on America's military bases abroad and was moved by the sacrifices they were making on a daily basis for their country. "I can truly say I am proud to be an American," she added.
She became a trainer post-retirement
While it was always going to be difficult for Anna Kournikova to totally separate her name from tennis, she did try for a while. After retiring, she experimented with several different potential callings. "I did everything from therapy to 10-hour walks on the beach to discover, and think, and try new things," she told People in a 2011 interview. As previously stated, she settled on youth-focused volunteer work for a while. Eventually, she also began working towards a new career.
In 2011, she landed a gig as a trainer on the NBC reality competition series "The Biggest Loser." But it wasn't just a television gimmick. Kournikova had actually been studying professional training and received a fitness certification from the International Sports Sciences Association, according to People. "I am not doing this just to be on TV. At all. I am able to help and influence people's health and well-being. That is an amazing feeling," she told the publication. Despite her enthusiasm for her new career, she left the series after only one season, per Hollywood Reporter.
Anna Kournikova loves being a mom
In recent years, Anna Kournikova has led a relatively quiet and private life with her long-time partner, Enrique Iglesias. While she doesn't post very often on Instagram, her feed displays photos of her three children, dogs, and their sun-filled life in Miami, Florida. Kournikova and Iglesias welcomed their first children, a set of twins, in 2017, one boy and one girl named Nicholas and Lucy. They managed to keep the pregnancy completely secret until after the birth, per Us Weekly.
The couple was much more open about the pregnancy and birth of their third child born in 2020. Kournikova even shared a photo with her newborn from the delivery room on her Instagram. Iglesias told People that their new daughter's name was Mary, or Masha in Russian, and that their other two children were happy with the newborn. "They actually love it. … There's a two-year difference, so I was a little scared. … And I have two dogs so my house is chaotic," he told the publication. Iglesias also reportedly told the Russian press that their household was trilingual and that they were raising their kids to understand Russian and Spanish in addition to English (via enrique-iglesias.org). Kournikova posted a video on her Instagram of her and her daughter having a chat in Russian.
All in all, the former tennis star has distanced herself from her celebrity past and seems content with a low-key life in Miami with her family.