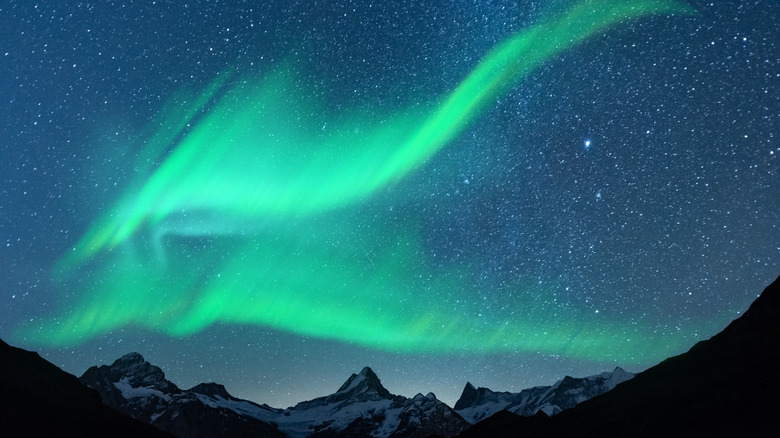 Seeing the mesmerizing and magical blues and greens of the northern lights is a bucket-list experience. If you're wanting a winter weather vacation that ups your odds of seeing the Northern Lights, you need to know the what, when, where, and why. The northern lights are also known as the aurora borealis; Galileo was inspired by the gods in 1619 when he came up with the name aurora borealis — Aurora, Roman goddess of dawn and Boreas, Greek god of the north wind, according to Space.
The swirling colors are caused by electronically charged particles from solar wind and solar flares on the sun that can make their way towards Earth, and those particles get directed towards Earth's magnetic north and south poles. They then can collide with and heat up particles in the Earth's atmosphere, which makes them glow, and the undulating waves of color follow the magnetic field, per Royal Museums Greenwich. Since the particles are found closer to the poles, the closer you are to the Arctic circle, the more likely you are to see the northern lights.
It's possible to see the northern lights year-round, but it's easier to see them in the winter since the nights are longer and darker, according to Space. Track the likelihood of the aurora borealis online with the help of NOAA scientists. And while a natural phenomenon can't ever be truly guaranteed, odds are high that you'll see the northern lights at this Arctic resort.
Watch the northern lights from bed at Kakslauttanen Arctic Resort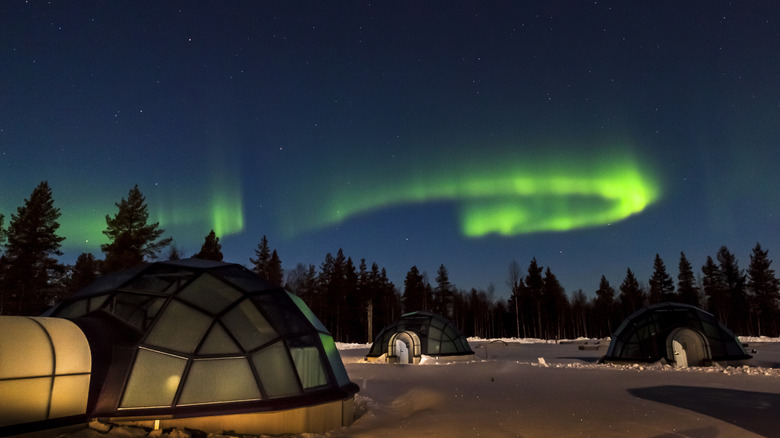 Kakslauttanen Arctic Resort in Finnish Lapland features glass igloos where you can marvel at the beauty of the night sky with its blanket of stars and, ideally, the brilliant colors of the northern lights. The northern lights season at the resort runs all the way from late August through the end of April, giving guests eight months worth of potential nights of aurora borealis beauty. The glass igloos are for either two or four, and if you have a larger group, their Kelo-Glass igloos are for up to six people that combine a bedroom with a glass roof and a cozy log cabin complete with kitchenette and private sauna.
Pack your thermal underwear if you're going to stay in the glass igloos; according to their FAQ, they'll provide you with a sleeping bag along with warm, wool socks and a hat. As far as the mystical northern lights, staying more than one night will help ensure you get to see them, and you never know what you'll get; they could last for just a few minutes or all night.
During the day, go on safari in a husky-drawn or reindeer-drawn sleigh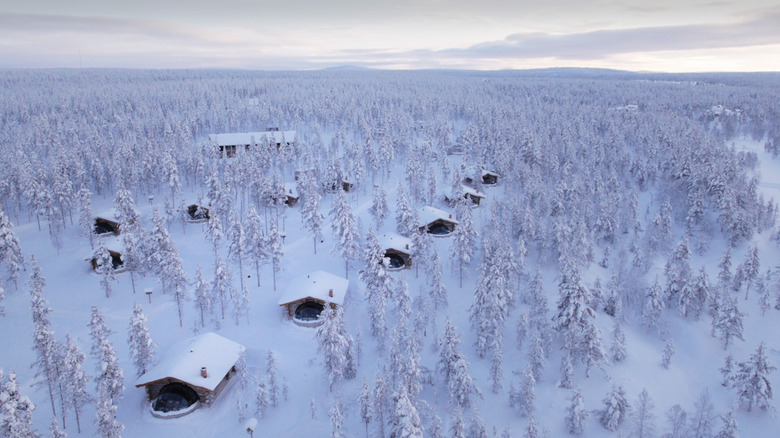 As remote a feel as you may get while in your igloo at Kakslauttanen Arctic Resort, it's only a 30-minute drive from Ivalo airport. During the day, you can go ice-fishing or explore the surrounding wilderness in a sleigh pulled by reindeer or by huskies. And if you want more power on your adventure, there are snowmobile outings. They also arrange northern lights expeditions where you travel by horse or reindeer drawn sleigh, on cross-country skis, or in the warmth of their snow-tank drawn sleigh.
If you're going to visit Kakslauttanen Arctic Resort in the summer outside of their northern lights season, they have log chalets that can accommodate up to 10 people. Instead of the northern lights, you get to experience the Midnight Sun; the sun doesn't set at all in June and July. Guests can go gold-panning, explore on horseback, and forage for mushrooms and berries; don't worry, they'll tell you what's safe to eat and how to prepare it.