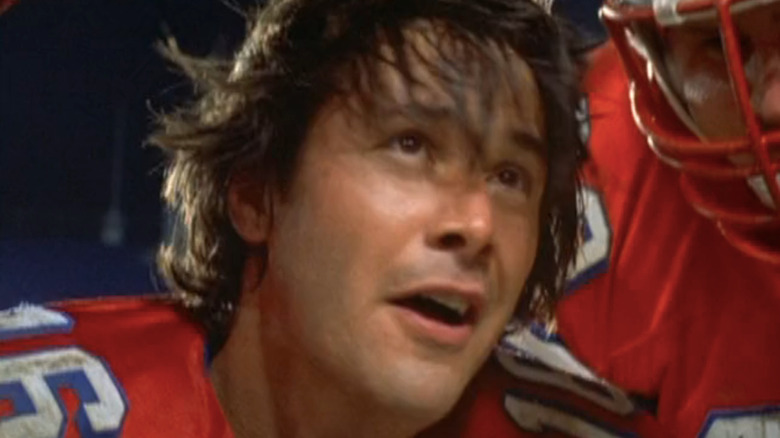 It's rare that film critics bust out a phrase like "the perfect movie." It's even rarer that they use it for a sports comedy. In fact, it's so rare that we're pretty sure it's never actually happened. But if it had, they probably would have been talking about 2000's hilarious football movie "The Replacements." Two of the best decisions director Howard Deutch has ever made were to marry his wife, Lea Thompson, and to helm this film. Is the movie perfect? No, probably not. "The Replacements" is one of those sports movies that gets something wrong with its respective sport and has some other holes; like why a players strike that forced owners to use replacement players would require the head cheerleader, Annabelle, to hire new cheerleaders; like how the striking players got off scot-free after the bar brawl despite the fact that police, like the other average fans, probably would had viewed them with utter contempt; or like the fact that Shane Falco could have easily just served as backup quarterback to Eddie Martel for the final game and not had to drive through traffic to take his spot during halftime.
Reviewers didn't exactly love "The Replacements" — it has a mediocre 41% critics score on review aggregator Rotten Tomatoes — but audiences clearly do to this and it's a weekend movie mainstay on basic cable. There's something about that plucky group of talented but ridiculous underdogs that people seem to love, and if you happen to be one of them, here's what happened to the cast of "The Replacements."
Keanu Reeves starred as quarterback Shane Falco
Beloved veteran actor Keanu Reeves brought the world's most talented barnacle scraper, quarterback Shane Falco, to life in "The Replacements." Shane's been down on his luck ever since the disastrous 1996 Sugar Bowl — and has the three concussions to prove it. When he was drafted to the pros, he should have been carrying a clipboard his first year, not trying to carry the entire team like a giant cumbersome metaphor. But new head coach Jimmy McGinty (Gene Hackman) sees greatness in Shane and knows he'll be the guy to lead the replacement Washington Sentinels onto the gridiron for battle.
After his turn as the downtrodden former QB, Keanu Reeves promptly disappeared and was never heard from again … [checks notes] Oh, wait, that didn't happen. In reality, Reeves has spent the two decades since "The Replacements" came out — yeah, ouch — becoming one of the biggest movie stars in modern cinema and starring in more blockbusters than we can count. The year after, he starred as lovable loser Conor O'Neill in the heartstring-tugging "Hardball." In 2003, he reprised his role as Neo for not one but two sequels to "The Matrix" before playing the title character in 2005's "Constantine." He played undercover cop Bob Arctor in 2006's drug-fueled, dystopian, rotoscoped Philip K. Dick adaptation "A Scanner Darkly" and two years later took on the role of Klaatu in the remake of "The Day the Earth Stood Still."
Reeves made his directorial debut in 2013 with "Man of Tai Chi," in which he also played Donaka Mark. A year later, he launched the massively successful series of "John Wick" movies, starring as the titular assassin in three films so far. "John Wick: Chapter 4" is currently is currently filming.
Gene Hackman starred as Head Coach Jimmy McGinty
Actor Gene Hackman took on the role of demanding but understanding head coach of the Washington Sentinels, Jimmy McGinty — or, as Shane Falco called him, "that old coach from the '80s." Sentinels owner Edward O'Neil (Jack Warden) brings him on to lead the team of replacement players, though Jimmy reminds him he already has a coach — to which O'Neil replies he'll take care of it, making it clear he can expect zero job security. Jimmy agrees to come back on the condition that he run the show with no interference, which, of course, doesn't happen.
A year after "The Replacements," Hackman appeared in the crime rom com as "Heartbreakers" — alongside Sigourney Weaver, Jennifer Love Hewitt, and Ray Liotta — playing William Tensy, the unwitting mark of a marriage con. In 2001 he starred as Royal, as the father of the eccentric titular family in Wes Anderson's quirky comedy "The Royal Tenenbaums," co-starring Ben Stiller, Gwyneth Paltrow, Owen Wilson, and Luke Wilson. The same year, Hackman teamed with Owen Wilson again for the war thriller "Behind Enemy Lines," playing Navy admiral Leslie Reigart, the commanding officer of the USS Carl Vinson whose fighter pilot (Wilson) was shot down on a routine reconnaissance mission. In 2003, he starred alongside Dustin Hoffman, Rachel Weisz, and John Cusack in the legal drama "Runaway Jury," adapting a John Grisham novel.
In his final film role before retiring, Hackman starred in the 2004 political comedy "Welcome to Mooseport" with Ray Romano, playing former United States president Monroe "Eagle" Cole, who gets drawn into an increasingly silly campaign to become mayor of a small town in Maine.
Brooke Langton played cheerleader Annabelle Farrell
Head cheerleader Annabelle Farrell was brought to life by actor Brooke Langton. Not only is she an amazing on-field performer, she's a huge football fan. That comes with the territory when your late father is a bar owner whose obsession with the game spills over into football stories for his daughter. Now Annabelle owns and runs the bar, telling Shane Falco her father would have loved to see him play, which seems to be what passes for flirting in "The Replacements." Even if his entire team turned against him, Shane would have at least one true believer on the sidelines.
Two years after appearing in "The Replacements," Langton showed up in the romantic dramedy "Kiss the Bride" as one of three sisters trying to sabotage the love life of their fourth sister. After guest roles on popular TV shows like "Weeds" in 2005 and "Monk" in 2006, Langton reunited with "The Replacements" co-star" Orlando Jones for the B-horror movie "Primeval" in 2007, playing a journalist who travels to Burundi to try to capture a giant, man-eating crocodile. Later that year, she joined the main cast of NBC's crime drama "Life," playing the role of Constance Griffiths, the attorney who proved the innocence of the wrongly-convicted lead character Detective Charlie Crews (Damian Lewis).
In the years since, Langton has appeared in other popular series like "The Mentalist," "Bones, "Supernatural," and "The Glades." In 2018, she took on the recurring role of Lieutenant Maddie Rawlings on TNT's action-drama series "The Last Ship" for five episodes, working alongside the rest of the crew of the USS Nathan James to try to find a cure for the pandemic that ravage the planet.
Orlando Jones played wide receiver Clifford Franklin
Actor Orlando Jones was a perfect choice for the role of less-than-sure-handed wide receiver Clifford Franklin. He might have had some serious wheels and major breakaway speed but he sure didn't have the mitts and dexterity required to haul in a pass with any consistency — to the point that Coach McGinty even broke the rules and applied stickum to Franklin's hands to make it impossible for him to drop a touchdown pass. He's definitely a team player, though; just don't expect a lot of backup when it comes to fisticuffs if there's a jukebox behind which he can hide.
Jones kept plenty busy following his turn as Franklin. A few months after "The Replacements" was released, he took on multiple roles in the Faustian comedy remake of "Bedazzled," in which Elizabeth Hurley plays the Devil, enticing Brendan Frazer's hapless character to sell his soul. The next year, Jones played community college professor Harry Block in the underrated sci-fi comedy "Evolution," fighting an alien invasion alongside David Duchovny and Julianne Moore. A year later, he appeared as the digital artificial intelligence librarian Vox 114 in "The Time Machine," a loose adaptation of the classic H.G. Wells novel of the same name. In 2003, Jones joined Gene Hackman as part of the cast of "Runaway Jury."
In addition to his work in feature films, Jones has enjoyed plenty of success on the small screen, including his turn as Captain Frank Irving on the supernatural procedural "Sleepy Hollow." He also nabbed a recurring role as Mr. Nancy, aka the tricker god Anansi, on the popular Neil Gaiman series "American Gods."
Rhys Ifans played place kicker Nigel Gruff
Kicker Nigel Gruff, as played by actor Rhys Ifans, isn't exactly what you'd call athletic — though it's clear his liver gets a regular workout. The former soccer striker is more what you'd call "wiry." Nigel hails from Cardiff, Wales, and seems as bad at gambling as he is addicted to it. In fact, he's in so deep that the bookies to whom he owes money threaten to take away his pub. Of course, they can wipe his debt away if he engages in point shaving to impact the score and-or outcome of the game, thereby affecting both the point spread and the money line bets they get from who knows how many of his fellow gamblers.
Three months after the release of "The Replacements," Ifans appeared alongside another talented cast, taking on the role of Adrian, one of the sons of Satan in Adam Sandler's "Little Nicky." In 2001, he took on the role of Iki, a club owner who also deals in drugs and guns in "The 51st State," which starred Samuel L. Jackson as a revolutionary drug chemist and was alternately titled "Formula 51."
In 2010, Ifans had an iconic turn as Xenophilius Lovegood, publisher of the Quibbler and father to Luna Lovegood (Evanna Lynch) in "Harry Potter and the Deathly Hallows: Part 1." Two years later, he played Dr. Curt Connors, aka the Lizard, mentor to Peter Parker (Andrew Garfield) and eventual reptilian villain in "The Amazing Spider-Man." Ifans also enjoyed a recurring role as Mycroft Holmes, brother to Sherlock Holmes (Jonny Lee Miller) on the modern American crime procedural "Elementary."
Michael Jace played defensive back Earl Wilkinson
Actor Michael Jace portrayed defensive back Earl Wilkinson, who went to prison for allegedly beating up a cop — naturally he mixes well with Danny Bateman. As such, Wilkinson wears a tinted visor on his helmet and plays under the alias Ray Smith, so no one is aware that a convicted felon has been released by the governor to serve as a replacement player during the strike. After the bar brawl, Bateman jokes that their arrests and subsequent incarceration in a holding cell must feel like a homecoming for Wilkinson, nearly prompting an altercation among teammates. Can't we all just get along?
Jace is perhaps best known as Julien Lowe, a uniformed police officer and member of the main cast of "The Shield," FX's gritty crime drama. He appeared in all 88 of the series' episodes across its seven seasons, portraying a cop enduring the inner conflict his homosexuality brought about with his devout Christian faith. Lead character Vic Mackey (Michael Chiklis) is aware of Julien's sexual orientation and blackmails him to keep a secret.
Jace's final credited role was recurring character Terrell on the crime drama "Southland." In 2014, according to CNN, he was arrested and charged with homicide in the fatal shooting of his wife, April Jace, having reportedly dialed 911 himself. Michael Jace was convicted of second-degree murder in May 2016, per ABC7, which reported the jury deliberated for fewer than three hours before reaching a guilty verdict. A month later, Jace was sentenced to 40 years to life in prison (via the Associated Press); he is currently incarcerated in California State Prison, Corcoran, and will be eligible for parole in 2039 according to the California Department of Corrections and Rehabilitation.
Jon Favreau played linebacker Danny Bateman
If there's one thing for which quarterback Shane Falco can be grateful, it's that linebacker Danny Bateman (Jon Favreau) is on his team, which means he's only on the receiving end of his crushing tackles when Bateman forgets that he's not supposed to hit players wearing red jerseys in practice. Opposing QBs had better look out, because he hits hard and fast, despite having only played college football as a walk-on. Apparently being a member of the Washington, D.C. SWAT team after serving in the first Gulf War hasn't managed to curb this action junkie's need for violence.
The year after "The Replacements" came out, Favreau wrote and directed his first feature film, "Made," in which he also starred, appearing alongside Vince Vaughn as a mediocre boxer who gets involved in low-level organized crime. The film also featured his "Replacements" co-star Faizon Love. Two years later, Favreau took on the role of Franklin "Foggy" Nelson in the much-maligned, Ben Affleck-starring Marvel Comics movie "Daredevil." Of course, in 2008, he helped launch the Marvel Cinematic Universe as Harold "Happy" Hogan, Tony Stark's driver, bodyguard and best friend in "Iron Man." Favreau appeared in all three "Iron Man" solo films — as well as directing the first two — in addition to helping to mentor Peter Parker (Tom Holland) in the MCU's two "Spider-Man" movies.
Favreau has continued to direct and produce, helming the live-action remakes of Disney's "The Jungle Book" and "The Lion King." If all of that wasn't enough, he is also the creator and serves as showrunner of "The Mandalorian," the "Star Wars" streaming series on Disney+.
David Denman played tight end Brian Murphy
According to Coach Jimmy McGinty, tight end Brian Murphy (David Denman) would have been drafted in the first round if he hadn't been born deaf. Despite living with such a limitation, Brian manages to excel as a member of the replacement Washington Sentinels, though when quarterback Eddie Martel (Brett Cullen) — who crosses the picket line for the final game — begins to abuse him after a blown play, Shane Falco realizes he needs to get down to the stadium. Notably, Brian caught the game-winning touchdown pass and his joyous celebration as a deaf player in front of thousands of screaming fans is a heartwarming, goosebump-inspiring moment.
His turn as Brian was Denman's first appearance in a feature-length film. In 2001, he took on the role of Lance, the gay bartender at the fictional Alaskan ski resort of Bull Mountain in the snowboarding comedy "Out Cold." Denman played bully Don Price, who beats up protagonist Edward Bloom (Ewan McGregor) in Tim Burton's 2003 fantasy film "Big Fish." In 2013, he took on the role of real-life computer scientist and Pong creator Al Alcorn for the Steve Jobs biopic, "Jobs," starring Ashton Kutcher. Denman's most recent film role came in 2020's "Greenland," for which he took on the character Ralph Vento, who kidnaps John Garrity's (Gerard Butler) son Nathan.
Denman has also enjoyed memorable small screen roles, including appearing as Ed Brooks, the adulterous love interest of Julia Braverman-Graham (Erika Christensen) on the NBC family dramedy series "Parenthood." He recently took on the role of Frank Sheehan, ex-husband to the title character in the acclaimed HBO limited series "Mare of Easttown."
Ace Yonamine played offensive lineman 'Jumbo' Fumiko
Ace Yonamine took on the larger-than-life role of "Jumbo" Fumiko, a member of the replacement Washington Sentinels' offensive line. He's a former sumo wrestler, which makes him an expert at pushing people around, as Coach Jimmy McGinty says; in the world of professional football, that translates to pass blocking. Fumiko's also the big hero of the bar fight, having sat on Wilson's head and his kiai becomes a popular rallying cry among the team. Unfortunately, he commits a holding penalty when Shane Falco improbably runs the ball in for a touchdown on the field goal attempt, during which Nigel Gruff was nearly forced to blow the kick on purpose.
Yonamine's role in "The Replacements" is an instance of art imitating life; prior to his appearance in the movie — his feature film debut — the Hawaiian born actor worked in Japan as a sumo wrestler, according to Hawaiian outlet Midweek. To date, Yonamine has only appeared in two additional films, according to IMDb. In 2003, he appeared in "Lara Croft Tomb Raider: The Cradle of Life" as an imposing member of the criminal organization Shay Ling, which was hired by Dr. Jonathan Reiss (Ciarán Hinds) to retrieve the map to the titular mystical object. In 2005, Yonamine appeared as a sumo wrestler in "Memoirs of a Geisha." According to Midweek, he's continued acting by appearing in commercials and works security at the courthouse in Pearl City, Oahu, Hawaii.
Faizon Love played offensive guard Jamal Jackson
Jamal Jackson, as played by actor Faizon Love, is a bit of a hot head. He and brother Andre (Michael Taliferro) are a formidable pair of guards that Coach Jimmy McGinty recruits back into football after they retired and became actual bodyguards. After the bar fight that unites the team, the brothers realize it's their job to protect quarterback Shane Falco on and off the field, so when the striking players harass quarterback Shane Falco in the parking lot a second time, Jamal pulls a gun and shoots Eddie Martel's car multiple times.
A year after appearing in "The Replacements," Love showed up in "Made," Jon Favreau's debut feature film as director. He took on the role of the scummy Horace, the pimp who drives Bobby's (Favreau) girlfriend Jessica (Famke Janssen) around when she's working as a prostitute — he also insists on drinking his brandy and cola on ice from a snifter. In 2003, he appeared in the charming Will Ferrell Christmas comedy "Elf" — also directed by Favreau — as Wanda, the manager of the Gimbels department store who sends Buddy (Ferrell) into a frenzy by announcing that Santa Claus would be coming.
In addition to finding steady work as a character actor in films, Love also appeared in nine episodes of Kevin Hart's BET reality TV parody "Real Husbands of Hollywood," playing a fictionalized version of himself in the show's first and fifth seasons. In 2018, Love joined the cast of "Step Up" — a drama series based on the popular "Step Up" movies — as Al Baker. Love appeared in the first two seasons that aired on YouTube Red; "Step Up" was picked up for a third season by premium cable network Starz.
Michael Taliferro played offensive guard Andre Jackson
Actor Michael Taliferro took on the role of Andre Jackson, the larger brother to Jamal who is a bit more level-headed, though just as protective of Shane Falco once the team comes together. The brothers previously played as an unbeatable tandem of guards but both began to struggle when one of them was traded to another team, leading both men to retire. In that memorable parking lot scene, Andre reveals that he's pretty fond of the smell of that wild yam that Annabelle Farrell gave Shane to soothe his sore muscles.
Following "The Replacements," Taliferro's next film appearance came in the independent crime drama "Blue Hill Avenue." He took on the role of Simon, an adrenaline-fueled criminal who, with his three friends, is one of the biggest drug dealers in Boston. In 2002, Taliferro appeared as inmate "Little Joe" in the crime thriller "Half Past Dead," helping Steven Seagal's FBI agent character rescue a kidnapped Supreme Court justice on Alcatraz. For 2004's dance film "You Got Served," he played Emerald, the drug lord for whom lead characters Elgin (Marques Houston) and David (Omari Grandberry) work in order to pay for the Lil Saints to enter their street dancing battles.
Taliferro's final film role came as Brian Smith in the crime musical "A Day in the Life," a film that was released in 2009, a little more than three years after his death in 2006. As the Tampa Bay Times reported, he died on May 4 at the age of 44 after suffering a stroke near his home in Los Angeles, California.
Troy Winbush played running back Walter Cochran
Troy Winbush brought to life pious running back Walter Cochran. Cochran is one of the replacement Washington Sentinels with some actual experience playing professional football, though not much; he played one game in the pros and blew out his knee, pretty much ending his career — or so he thought. When given a second chance at playing football, he just wants to score one touch down; thankfully he manages to do just that, though he blew out his knee again in the process. Cochran notably makes Shane Falco promise to finish what he started — we assume he means win the game.
One of Winbush's next feature film roles came in the 2003 thriller "John Q," in which he appeared as expectant father Steve Smith; his remark about hoping for a healthy child instantly feels insensitive, considering he's one of John Archibald's (Denzel Washington) hostages, as the desperate father seeks to get his son on the recipient list for a heart transplant.
In the years since, Winbush has found consistent work as an actor taking on guest roles in various popular TV series. He's appeared in shows ranging from police procedurals like "NYPD Blue," "CSI: Miami," "Castle," and "Bones" to dramas like "Boston Public," "Saving Grace," and "Lie to Me." He's also had a recurring role as Officer Puchinski on the popular sitcom "The Goldbergs." Winbush recently appeared in Season 1 of "The Wilds" — the streaming drama from Amazon Studios — as FBI Agent Dean Young.
Brett Cullen played quarterback and all-around jerk Eddie Martel
Ugh, Eddie Martel (Brett Cullen). Where to even start with this guy? He's a prima donna, ending the final game before the player's strike with a giveaway slide instead of going for the win. Martel's also an unrepentant jerk who has his fellow striking players flip Shane Falco's already-beat up truck in the parking lot. That's in addition to making fun of Brian Murphy's hearing impairment at the bar — which, of course, prompts the ensuing brawl, because Shane is having none of that — and ignoring Coach McGinty's instructions because he's going to play however he wants.
In reality, we hope Cullen is a decent person and we've got no reason to believe otherwise, though he's played some other sketchy characters in the years since. Starting in 2005, he took on the recurring role of Goodwin Stanhope, on of the Others sent to infiltrate the group of surviving passengers of Oceanic Flight 815 on "Lost." Cullen also appeared as the creepy, adulterous congressman Byron Gilley in 2012's "The Dark Knight Rises," though that wouldn't be his last role in a DC Comics Batman film. Having seemingly perfected playing an entitled jerk, he took on the role of Thomas Wayne, the father of the future Caped Crusader Bruce Wayne (Dante Pereira-Olson) who's also maybe-maybe-not the father of Arthur Fleck (Joaquin Phoenix), aka the Joker, in 2019's best picture candidate, "Joker." Cullen also had a recurring role on "The Blacklist" — portraying Ilya Koslov beginning in the finale episode of Season 6 — and appeared in Season 3 of "True Detective" as the eventual Arkansas Attorney General Gerald Kindt.
Jack Warden played Washington Sentinels owner Edward O'Neil
Veteran actor Jack Warden brought Washington Sentinels owner Edward O'Neil to life. He's an old-school kind of guy and he hilarious yells at Eddie Martel from his luxury box, declaring the cocky quarterback to be a wimp after his give-up slide at the end of the final pre-strike game — though he uses a different word altogether when courting Jimmy McGinty to be his new head coach. In said negotiations, he promised to give Coach McGinty full control — spoiler alert, he broke that promise by insisting that Martel play after he crosses the picket line. After Martel tells McGinty that O'Neil will fire him when Shane Falco shows up during halftime of the final game, the furious coach yells "It won't be the first time," elaborating on the troubled history between the two.
"The Replacements" marked Warden's final film appearance, as he retired from acting, citing concerns of declining health — he turned 80 the year the film came out. As the BBC reported in 2006, Warden died at age 85 after weeks of poor health. His manager had told the outlet that Warden had suffered from heart and kidney problems prior to his death.