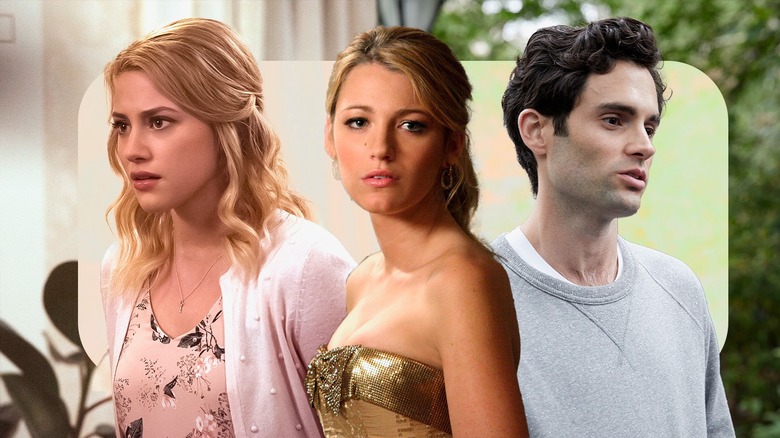 Many people love the idea of being an actor. Not only do actors get to appear on television but they also get to attend glitzy award ceremonies and live the lifestyle of the rich and the famous. In many people's eyes, actors also have a fairly easy job where they just have to show up and read their lines before cashing their paychecks. Yet, that is far from the truth. While being a famous actor is certainly an envious profession, it isn't always a walk in the park.
In fact, lots of intensely hard work goes on behind the scenes, and working with certain directors or other members of the cast can be difficult, especially if they demand perfection. Another problem is that many projects require actors to put themselves in situations that some people might consider uncomfortable or downright scary. This could involve taking on the persona of a terrible fictional character or doing something particularly exhausting to get the right shot.
Whatever the case, these actors have previously spoken out about scenes they find themselves regretting when they look back on them.
John Cleese (Fawlty Towers)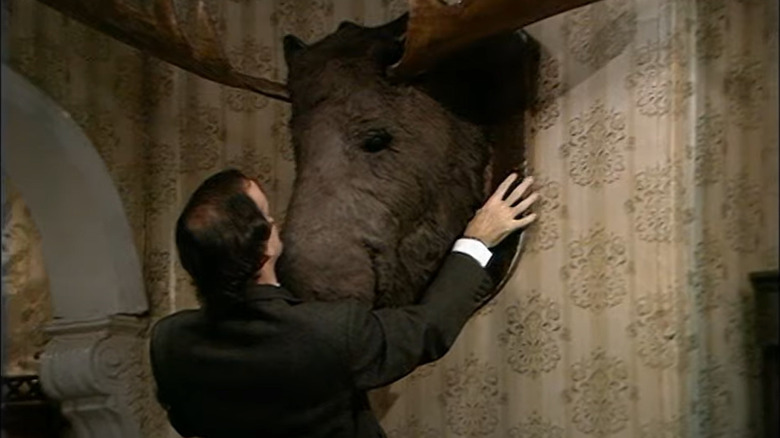 After the success of "Monty Python's Flying Circus," actor and comedian John Cleese began to work on projects unrelated to the quintessential British comedy troupe. One of his highest profile non-"Python" endeavors is the sitcom "Fawlty Towers," which was written by Cleese and his then-wife Connie Booth. It follows a manager running his own hotel in the British town of Torquay as he tries to deal with the eccentric guests, incompetent workers, and his own misanthropic and snobbish behavior.
Running for two seasons in total, the series is often considered to be one of the most influential comedy television shows and has been named the best British sitcom of all time (via The Guardian). Its popularity is such that it is constantly re-run around the world and Basil Fawlty is still occasionally referenced in contemporary media, including the first "Deadpool" movie.
Despite all of the critical acclaim, Cleese is not entirely happy with the series. There is one scene in particular that still irks him involving a moose head falling from a wall of the hotel. Speaking to "The One Show" (via /Film) he explained that the moment the stuffed head fell on him should have been reshot because it didn't fall on cue. The veteran comedian said, "If you watch carefully, I am waiting for it to fall on me because it didn't fall on cue; it was late." He also apologized that this is the edit that ended up in the episode that was broadcast on television.
Naya Rivera (Glee)
"Glee" became a phenomenon in the late 2000s, launching many of the actors involved into worldwide stardom. Featuring an ensemble cast made up of Lea Michele, Matthew Morrison, Jane Lynch, and Cory Monteith, the series follows a high school glee club dubbed the New Directions as its members try to win various regional tournaments under the guidance of the show choir tutor Will Schuester (Morrison). As well as its lively musical numbers and dance routines, "Glee" also became famous for the way it tackles a variety of societal problems. Thanks to the diverse members of the New Directions, the show delves into issues ranging from homophobia to racism to teen pregnancy.
One scene was particularly difficult for actor Naya Rivera. In an appearance on "Showmance or No-Mance" with her co-star Heather Morris, Rivera explained how she struggled to get through an acerbic rant in the episode "Jagged Little Tapestry." The scene entails Rivera's character Santana Lopez subjecting Kurt Hummel to an onslaught of insults that seem specific and personal enough to feel targeted towards Kurt's actor, Chris Colfer. She said, "It blurred the lines too much and I remember him being upset about it, and me just having to do it over and over and over again."
Gordon Ramsay (Hotel Hell)
Celebrity chef Gordon Ramsay has become famous both for his expertise in preparing food and his multiple television appearances. Over the years, he has hosted a number of television productions, including "Hell's Kitchen," "Kitchen Nightmares," and "MasterChef." The chef has developed a reputation for having a ferocious temper, frequently using expletives, and being prepared to do whatever it takes to get the job done.
One of his comparatively less successful projects is "Hotel Hell," which follows a similar format to "Kitchen Nightmares." Ramsay travels around the United States and attempts to help struggling hotels to get back on track and become successful businesses. First broadcast in 2012, it was on the air for three seasons before its cancellation in 2016. Part of the show involved Ramsay trying out some of the facilities in the establishments he visited, and this is what caused one big moment of regret for the chef.
Speaking to The Sun (via Digital Spy), Ramsay said that he was remorseful about getting naked in an episode when he used a shower. While only his butt is on display, he still found it an uncomfortable experience, saying, "I do regret one thing — getting my ass out in the shower."
Penn Badgley (You)
Originally airing on Lifetime, "You" later arrived on the streaming service Netflix. A fourth season is on the way as of this writing, and the story is based on a thriller novel of the same name from author Caroline Kepnes. It follows Penn Badgley's character Joe Goldberg — a bookstore manager who goes by several different names and stalks unsuspecting women while posing as a normal boyfriend.
The show has received widespread critical acclaim and quickly found a dedicated following on Netflix, although "You" has attracted some criticism for its arguable romanticizing of serial killers and violent behavior (via Forbes). But there's little denying its success and popularity, making Badgley a worldwide star who will almost certainly find lots of new opportunities after "You" comes to a close.
Playing such a disturbing and evil character is obviously a challenge, especially when Joe does such terrible things on a regular basis. However, one specific scene caused issues for Badgley. Speaking during a roundtable interview, the actor explained that he did not want to film the moment when he performs a sex act outside of Guinevere Beck's (Elizabeth Lail) house while watching her through a window. He went on to say, "I found myself surprisingly disgusted, like I did not want to do it."
Lili Reinhart (Riverdale)
The CW
Airing on The CW, "Riverdale" is a mystery drama series based on a collection of characters from Archie Comics. After six seasons, the final season slated to air in 2023 will wrap up this sometimes-confounding version of Archie Andrews (K.J. Apa), Betty Cooper (Lili Reinhart), Veronica Lodge (Camila Mendes), and Jughead Jones (Cole Sprouse) for the time being.
Reinhart got her big break in "Riverdale," landing the role of Betty after some smaller parts in "Law & Order: Special Victims Unit" and "The Good Neighbor." Reinhart grew tired of transforming into what she called Dark Betty – her alter ego who is supposed to give Betty the ability to express feelings and impulses that her normal self can't. However, the actor felt that this version of her character became a joke and that, "It just became this weird sexual thing that people didn't really understand" (via Teen Vogue). Meanwhile, she told People that she also disliked portraying Dark Betty because of the wig she was required to wear. "I hate that wig, I hate it. It's just uncomfortable," she told the magazine. "To be honest, I never want to wear that wig again."
Joseph Quinn (Stranger Things)
Joseph Quinn appears in the fourth season of the hugely popular Netflix series "Stranger Things," playing the unlikely hero Eddie Munson. The Dungeon Master of Hawkins High School's Hellfire Club, Eddie is believed to be part of a Satanic cult by many of the town's residents. He is forced into hiding after he is blamed for the death of Chrissy Cunningham (Grace Van Dien) and must clear his name while helping the "Stranger" gang combat the existential menace of Vecna (Jamie Campbell Bower).
Season 4 of "Stranger Things" was notably darker than previous seasons, showing some pretty horrific deaths that spooked plenty of viewers. One notable example of this came in the first episode when Chrissy is killed by Vecna while in Eddie Munson's home.
Speaking to Screen Rant, Quinn said the scene was not too difficult to film, but that when he saw the finished edit during an ADR session, he was disgusted by what he saw and almost instantly believed it should not be included in the broadcast. "They showed me, and I was like, 'There's no way you're gonna get away with that. Netflix [isn't] gonna let you do that,'" Quinn recalled. "But they did and yeah, I think it's f****ng horrible."
Jack O'Connell (Skins)
Channel 4
Before the U.S. adaptation of the teen comedy-drama series, "Skins" was a U.K. show that began airing in 2007. Like its American counterpart, the series focuses on a diverse group of teenagers dealing with a wide range of issues, including sexuality, substance abuse, bullying, and mental illness. The U.K. "Skins" ran for seven seasons in total and often courted controversy over the way it showcased sex scenes with young actors but is also seen as a watershed moment for serious teen shows.
Actor Jack O'Connell rued the fact that "Skins" did not have an intimacy coordinator to help manage sex scenes on the show, something that is common in movies and television shows nowadays. He told The Independent that he was not completely comfortable filming such scenes in "Skins" when he was still relatively inexperienced as an actor and was a young man without much support around him. Later in the interview, the actor said, "You feel very compromised and if you don't feel that you're protected in that environment, it can be very unnecessarily daunting."
Other actors from the original British version of the show have also had issues with sex scenes in the series. Freya Mavor explained to The Sun that she found the experience terrifying, saying, "I was honestly petrified, just so scared. I had to go away and have a wee cry to myself, which sounds so sad." Meanwhile, April Pearson confirmed that the scenes were scary and unpleasant, and said that the ordeal is something she still struggles with more than a decade later.
Matt Smith (House of the Dragon)
As a spin-off of "Game of Thrones," "House of the Dragon" contains many of the same themes and elements as its predecessor. After all, the show is set in the same fictional world of Westeros and features many of the same families and locations that "Game of Thrones" fans are familiar with. The only major difference is that this new show takes place some 100 years before characters such as Jon Snow and Daenerys Targaryen are even born.
Sharing a similar style doesn't just mean having the same theme song or a familiar aesthetic. "House of the Dragon" also contains the same kind of gratuitous violence and graphic sex scenes that earned "Game of Thrones" its reputation as a TV-MA-rated series. That means that it is not uncommon to see the cast, such as Matt Smith and Milly Alcock, involved in steamy love scenes that most other fantasy shows would shy away from.
This was something that actor Smith had a problem with. The onetime star of "Doctor Who" and "The Crown" plays Prince Daemon Targaryen, one of the members of House Targaryen who is involved in the devastating war of succession following the death of King Viserys I. An interview with Rolling Stone revealed that he felt his character has too many sexual moments, replying to a question about Daemon's promiscuousness with, "Yeah — slightly too much, if you ask me." Later, he confirmed that he had asked himself, "Do we need another sex scene?"
Evangeline Lilly (Lost)
At one point, "Lost" was possibly the biggest television series going. The ABC sci-fi mystery show saw a group of plane crash survivors stranded on a strange island. As well as delving into the pasts of the various characters, "Lost" also charts their struggles to survive on the island and uncover its hidden secrets.
Evangeline Lilly portrayed Kate Austen, one of the major characters, and felt many scenes in later seasons changed the way audiences perceive her character (via E! Online). Though Kate starts out defined by her fugitive status and criminal past, after a few seasons, the show treats her more like a romance object bouncing back and forth between fellow survivors Jack (Matthew Fox) and Sawyer (Josh Holloway). "That irritated the s**t out of me," said Lilly in an interview with The Lost Boys podcast. "I wanted her to be better."
In the same interview, the actor spoke about her regret about a scene in Season 3 where she had to be partially nude. "I was mortified and I was trembling," she recalled. "When it finished, I was crying my eyes out and I had to go on to do a very formidable, very strong scene immediately thereafter. … Then [I] said, 'That's it. No more. You can write whatever you want—[but] I won't do it. I will never take my clothes off on this show again.' And I didn't."
Emilia Clarke (Games of Thrones)
Before landing her role in "Game of Thrones" as Daenerys Targaryen, Emilia Clarke was a virtually unknown actor in the U.K. Following an unaired pilot for the fantasy series, Clarke replaced original actor Tamzin Merchant in the role of the exiled princess (via Yahoo). The popularity of "Game of Thrones" shot her and her co-stars to worldwide stardom.
Playing Daenerys was not an easy task, as the character arguably goes through the most development of any figure in the entire show. Daenerys goes from an innocent and naïve girl to a fearless leader of an army with the goal of invading King's Landing and conquering Westeros. While Clarke is obviously thankful for the job and grateful for the part it has played in her career, that doesn't mean that it was a perfect experience.
The actor has since revealed that she found filming some of the more shocking scenes in "Game of Thrones" daunting tasks. The excessive nudity that came with shooting sex scenes was particularly problematic, largely because the actor was still inexperienced and didn't have the confidence to assert herself. In an appearance on the "Armchair Expert" podcast (via The Guardian), she explained how she had felt terrified about performing in the love scenes and didn't exactly know what she should do.
Miriam McDonald (Degrassi)
At one point known as "Degrassi: The Next Generation" before it was renamed to just "Degrassi" in its later seasons, this teen drama aired on the Canadian network, CTV, from 2001 up until 2015. A spin-off of earlier shows such as "Degrassi Junior High" and "Degrassi High," "The Next Generation" focused on an ensemble cast centered around the Degrassi Community School. Here the students and teachers would deal with the pressures and challenges associated with teens as they go through school, with memorable moments addressing everything from bullying to sexuality and even mental health and drug abuse.
Miriam McDonald is the actor responsible for playing the lead role of Emma Nelson, a headstrong and conscientious teenager who has a passion for championing good causes. She also suffers from anorexia and other eating disorders during her nine-season run on the show. This is a decision that McDonald does not remember fondly, as a conversation she had with co-star Cassie Steele on Instagram (via Nine.com.au) revealed.
McDonald expressed her distaste for the way eating disorders were presented and felt like these serious health conditions were not treated as seriously as they should have been. She was particularly aware of the dangers of anorexia as she and her sister, who had passed away, both were diagnosed with eating disorders. She went on to tell Steele that "having gone through it so personally, I just really wish that more could've been done with them."
If you need help with an eating disorder, or know someone who is, help is available. Visit the National Eating Disorders Association website or contact NEDA's Live Helpline at 1-800-931-2237. You can also receive 24/7 Crisis Support via text (send NEDA to 741-741).
Blake Lively (Gossip Girl)
The CW
Blake Lively was the main star of the teen drama series, "Gossip Girl," a 2007 show that was rebooted in 2021 as a standalone sequel with a new cast of characters. However, both incarnations feature an unnamed narrator, voiced by Kristen Bell, and focus on the lives of privileged teens in the Upper East Side of Manhattan. Lively portrayed Serena van der Woodsen, a popular character who returns from a mysterious absence and becomes embroiled in the various schemes of the teenagers as they try to get ahead of each other in terms of social standing.
Running for six seasons in total, Lively rose to prominence thanks to her role in "Gossip Girl" but she also didn't always enjoy the experience. After all, her character can be a mean-spirited and conniving individual who is willing to do whatever it takes to get her own way. Speaking to Allure in 2015, the actor revealed how she felt the show could have put out a better message and that her character was not somebody she particularly enjoyed playing.
In particular, Lively found some of the scenes upsetting, especially when viewers thought that's what she was like in real life. She referenced a moment in the Season 1 episode, "Woman on the Verge," where Serena encourages Pete (Elan Moss-Bachrach) to take drugs with her: "I would not be proud to be the person who gave someone the cocaine that made them overdose."
If you or anyone you know needs help with addiction issues, help is available. Visit the Substance Abuse and Mental Health Services Administration website or contact SAMHSA's National Helpline at 1-800-662-HELP (4357).
Angus T. Jones (Two And A Half Men)
"Two And A Half Men" is a sitcom that ran from 2003 to 2015 and originally featured a main cast of Charlie Sheen, Jon Cryer, and Angus T. Jones. Over the course of its complicated and controversial history, which saw Sheen depart the series and be replaced by Ashton Kutcher, the show follows the three main characters as they live in a large beach house in Malibu and deal with Charlie Harper's (Sheen) hedonistic bachelor lifestyle along with the relationship between the father and son duo, Alan (Cryer) and Jake Harper (Jones).
Jones was cast in the show when he was just nine-years-old. Despite bringing Jones to mainstream attention and effectively launching his career, the actor has since spoken out about his displeasure with "Two and a Half Men." He joined the Seventh-day Adventist church during his time on the show and referenced how the series conflicted with his religious beliefs.
Things reached a head when he called the show "filth" and urged viewers not to watch "Two and a Half Men." In a later interview with a CBS affiliate (via the Washington Post), Jones also said: "It was making light of topics in our world that are really problems for a lot of people. I was a paid hypocrite because I wasn't okay with it, but I was still doing it."
Hilarie Burton (One Tree Hill)
The CW
Set in a fictional North Carolina town known as Tree Hill, "One Tree Hill" is a 2003 teen drama that follows the lives of a number of high school students as they compete to improve their social standing and engage in a wild array of romantic relationships with each other. The cast includes Chad Michael Murray as Lucas Scott and James Lafferty as Nathan Scott, with the likes of Hilarie Burton, Bethany Joy Lenz, Paul Johansson, and Sophia Bush also having main roles in the series.
Burton played Peyton Sawyer, a musician and artist who is best friends with Brooke Davis (Bush) and has an on-again, off-again relationship with Lucas. Despite her initial role as a cheerleader, she was not portrayed in the typical manner many viewers would expect, having a softer emotional side and showcasing her intelligence on many occasions.
Yet, in an interview with the "Drama Queens" podcast (via BuzzFeed), one scene that Burton filmed early in the run of "One Tree Hill" left her deeply upset. During Season 1, Peyton and Lucas become intimate for the first time and the script required Burton to kiss her co-star's chest, something that she was not comfortable doing. "I was, like, crying in my trailer," she recalled. "I'm like, 'I don't want to do this.' It feels dirty. It feels like they're trying to sex everything up."
Lyle Lettau (Degrassi: Next Class)
"Degrassi: Next Class" is yet another teen drama set in the world of "Degrassi," although it is also the most recent of the various shows in the series. Originally intended to be a new season of "The Next Generation," executives decided to launch a fresh show instead, focusing mainly on characters that had been introduced in the earlier show. Like its predecessors, "Next Class" deals with a wide array of social issues and challenges. This time around, though, the subjects tackled are more focused on the types of struggles kids from Generation Z faced rather than Millennials.
Among the cast of "Next Class" is Amir Bageria, Nikki Gould, Stefan Brogren, Ricardo Hoyos, and Lyle Lettau, who plays Tristan Milligan, and he has since spoken out about a particular scene from the show that caused him to ask producers to have it removed entirely because he hated it so much. The scene in question would have seen Lettau's character argue with Miles Hollingsworth (Eric Osborne) when the latter expressed anger about being labeled as "the gay writer."
The actor argued that he didn't think his character would ever react in that way and that it sent out the wrong message about labeling. He said that it should be up to individuals to decide how they want to be labeled and they shouldn't be forced to take on labels that they don't believe represent who they are.