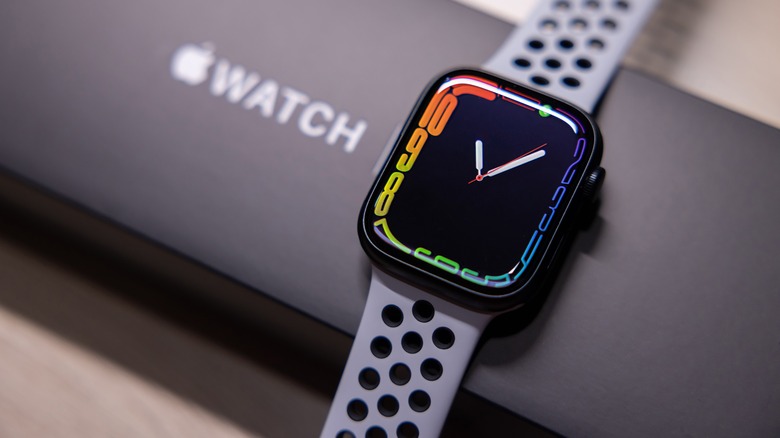 We may receive a commission on purchases made from links.
The Apple Watch is a fascinating device that has undergone some radical changes and upgrades since its relatively humble beginnings in 2014. The latest models, such as the Apple Watch Ultra, provide fitness tracking, health monitoring, and personal safety mechanisms — advanced functionality that has helped the device firmly establish itself among the highest-selling smartwatch brands in the world.
Since all Apple Watches require an iPhone for setup, Apple has all but made the devices two halves of a whole — for those who can afford it. As expected from Apple, and especially considering all the features included in every new iteration of these cutting-edge wearables, the latest Apple Watches come with an eye-watering price tag. The new Series 8 starts at $399, while the Ultra model sells for a cool $799.
However, if you are already the proud owner of one of these wearables, you might be excited to personalize the device. Thankfully, the Apple Watch comes with a lot of room to customize. So if you're in the market for a glow-up or you want to make your device unique, the many accessorizing options for the Apple Watch available on the market will certainly help you make your wearable device your own.
ZAGG InvisibleShield Ultra Clear Screen Protector
If you are a smartphone user, chances are you have gone through that rollercoaster of emotions you get from a dropped phone at least several times in your life already. A crack could potentially spell disaster for your touchscreen because it is not only a health hazard, but it can start spreading, exposing internal hardware to damage and causing your display to go haywire.
If your Apple Watch's screen gets a crack, you can get it fixed but will definitely be charged a hefty sum. Coughing up $15 for a screen-protecting solution can be a much better alternative than spending hundreds of dollars on repairs — which is what makes the InvisibleShield Ultra Clear a useful accessory for your Apple Watch.
This particular screen protector is manufactured from a nano-textured material that provides a decent defense for your watch. It brushes off softer, accidental bumps with ease, although blunt force trauma can leave it with cracks. However, the actual watch screen should stay relatively safe under there unless it gets subjected to some substantial and concentrated force. It also causes no hindrances to the device's touchscreen capabilities. The company offers free replacements for damaged InvisibleShield Ultra Clear Screen Protectors throughout your Apple Watch's life.
Wristcam
If you feel like your Apple Watch needs more spice, then the Wristcam can certainly make things more interesting. This accessory might seem like it is simply a band for your Apple Watch, but unlike other bands, this comes fitted with an eight-megapixel camera on top. A shutter button is placed on the band's side for easier photo capturing.
You can establish a Bluetooth connection between the Wristcam's camera and your Apple Watch, which is then used to provide you with a live feed from the camera on your Apple Watch display. You can use this to ensure the intended subject of the picture is actually in the shot. The Wristcam can also take videos in HD quality.
The concept here is undeniably cool, bringing to mind all the secret agent movies of old, but using the Wristcam with finesse requires some practice. This is because when the watch is worn on the wrist, the camera actually faces the wearer, so if you want to capture something in front of you, some uncomfortable twisting and turning may be required. Buffed up with IP68 water resistance, the product can also withstand being submerged for as long as 30 minutes.
Spigen Thin Fit Case
Your Apple Watch benefits from a protective case just as much as your iPhone. Accidentally bumping it somewhere while it is on your wrist or knocking it over when it is laid down on a table might not seem a likely occurrence until it actually happens. Better safe than sorry — the Spigen Thin Fit is a bumper case for your Apple Watch that snugly covers the device while protecting its edges.
The case is also quite affordable at around $18 and seems like a wise investment considering the price tag on potential repairs. The product provides your watch with some solid defense and doesn't hurt its aesthetic, either. In addition, the case is easily removed and put back on. When purchasing the Spigen Thin Fit, you can choose from a range of color options to match the case to your watch. A transparent option is also available if you prefer to have the watch shine on its own while the case keeps it safe from harm.
Apple AirPods Pro
When looking for accessories for your Apple Watch, you can't do much better than a couple of AirPods. Like most Apple products, though, the price is pretty steep, with the new second-generation AirPods Pro currently going for almost $250.
Your Apple Watch allows you to sync music from your iPhone to it using the Watch App and then stream that music offline to your heart's content. AirPods can then be easily paired to the watch using Bluetooth, allowing for easy listening and music control directly from the Apple Watch. This can be extremely helpful in situations where your iPhone can't be used for music streaming for some reason.
These earbuds from Apple are backed up by some pretty good audio quality with three-dimensional sound and newly upgraded Active Noise Cancellation. They also come with a MagSafe Charging Case with a built-in speaker, which is a useful feature — especially if you have misplaced them! The buds and charging case are built to last with IPX4 sweat and water resistance. In addition, you can get up to 30 hours of listening time from the buds with the help of the charging case.
Apple Watch Magnetic Charging Dock
Wireless charging is a pretty neat concept, and Apple wasted no time incorporating that into its range of smartwatches. The Apple Watch Magnetic Charging Dock is an elegant alternative charging solution — albeit an expensive one — to the standard wireless charging cable included with all Apple Watches.
Unlike the magnetic wireless charger on the included cable, this charging dock has its magnetic wireless charger sitting in the middle of a sleek and cushiony surface. The charger itself rests on a hinge, which allows it to lie flat or stand upright. This means that you can charge your smartwatch by simply laying it down on the charging dock or by keeping it standing on its side. Keeping the Apple Watch on its side allows it to enter Nightstand mode, making it double as a fancy bedside clock. In addition, the soft-touch surface surrounding the actual charger protects the watch from untimely scratches.
The product comes with a six-foot cable that connects the charging dock to a wall plug, although Apple does not include a wall plug with this product. Intended for use overnight, this charging dock takes about one and a half hours to fully charge a drained Apple Watch battery.