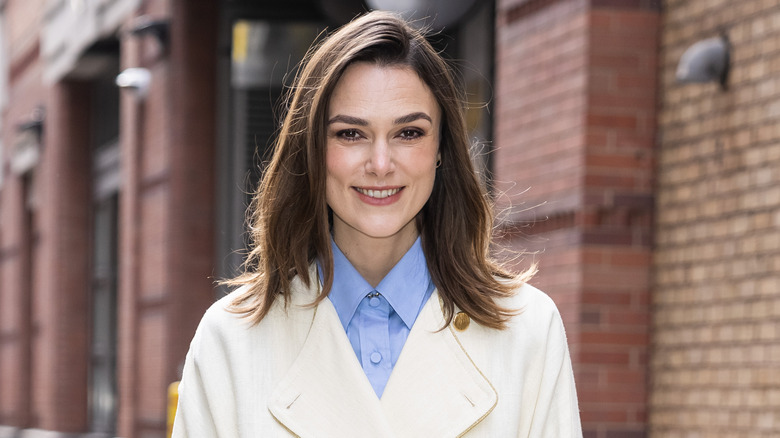 Keira Knightley became one of the most recognizable actors in the business in the early to mid-2000s. The star began acting when she was 7 and went on to transform herself from a child star into an A-lister. The London native is best known for starring in "Pride and Prejudice" and "Pirates of the Caribbean: The Curse of the Black Pearl." Moreover, Knightley has gained a reputation for making period films such as "Atonement," "The Duchess," and "Anna Karenina," amongst others. However, Knightley's acclaim led her to be incessantly hounded by the press and paparazzi. Thus, she is notoriously private about her love life and past relationships.
In 2013, she quietly married musician James Righton in France. Knightley famously donned a pink strapless Chanel dress at the ceremony that she first wore in 2008. Reflecting on his nuptials to Knightely, Righton, the keyboard player for the now-defunct band Klaxons, told NME, "I just fell in love with someone who happens to be amazing. We had a beautiful wedding and there was a lot of love." Knightley later told Harper's Bazaar UK that she never saw herself getting married until her relationship with Righton. But before Knightley found true love, the actor had a few high-profile romances with fellow actors throughout the early 2000s.
She had a romance with her Princess of Thieves co-star
In 2001, Keira Knightley starred in Disney's made-for-tv film "Princess of Thieves". Knightley portrayed Gwyn, Robin Hood's daughter and her co-stars included Malcolm McDowell and Irish actor Del Synnott. Knightley and Synnott subsequently began a relationship. While little is known about their romance, it reportedly ended in the summer of 2003. According to Contactmusic, Knightley quickly moved on to future "50 Shades of Grey" actor Jamie Dornan. As a result, Synnott allegedly attempted to kill himself.
A source told Contactmusic, "She [Knightley] was mortified when she found out what had happened to Del. She rushed to his bedside and stayed all night." They added, "When we heard he was in hospital we all assumed the worst because he had been so upset about breaking up from Keira. She has insisted that she have a break from Jamie until everything is sorted out." Per The Guardian, Knightley never publicly commented on this incident.
If you or anyone you know is having suicidal thoughts, please call the National Suicide Prevention Lifeline​ by dialing 988 or by calling 1-800-273-TALK (8255)​.
Keira Knightley had an ill-fated relationship with Jamie Dornan
Keira Knightley and Jamie Dornan got together after meeting at a photo shoot in August 2003. Doran was then a model and not yet an actor. Although Knightley kept mum about their relationship, the pair were often photographed together and followed by the press. In August 2005, Dornan's publicist told People that the two had ended their relationship but were "completely committed to each other as friends and will continue to see each other in this capacity."
Per the Belfast Telegraph, Dornan later spoke about his relationship with Knightley to the Mail on Sunday and hinted that her massive fame may have led to the demise of their relationship. He said, "There is a big pressure when you go out with someone like Keira. You can feel a bit second-rate and that's what started to happen. It's not like I was bringing the bread to the table — and that can start to affect everything."
Dornan, whose mother died in 1998 from cancer, added, "Losing Keira is a very different kind of grief. The strength I got from losing my mum isn't helping me deal with it. When you feel that you've lost someone, it's very hard." In a 2014 interview with the Evening Standard, Dornan reflected on being chased by the paparazzi when he was with Knightley and called the situation a "strange environment."