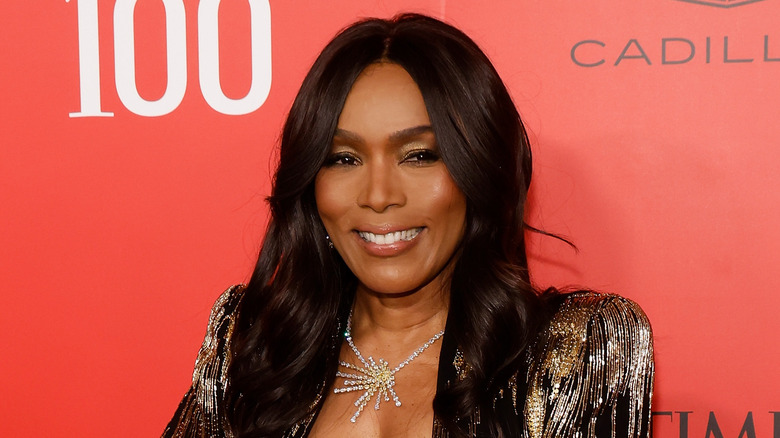 The following article contains references to sexual assault.
Angela Bassett was a queen in many people's eyes long before she took the throne in Wakanda. Bassett got her start in the late 1980s but got her big break in the 1990s with roles in classic films like "Boyz n the Hood" and "Malcolm X." Bassett's range is undeniable, making her the go-to star in Hollywood for roles based on historical people like Katherine Jackson, Coretta Scott King, and Tina Turner. Her role in 1993's "What's Love Got To Do With It." catapulted her to stardom and earned her an Oscar nomination.
The Yale University graduate has stunned audiences in films, theater productions, and television. She's currently the highest-paid actress of color on a dramatic series. With a career spanning almost 40 years, Bassett has accomplished everything an actress dreams of. However, her life off the screen hasn't been glamorous. Her childhood wasn't much of a fairytale, and her road to success wasn't smooth. Here are a few tragic details about Angela Bassett you probably haven't heard.
She was separated from her mother as a child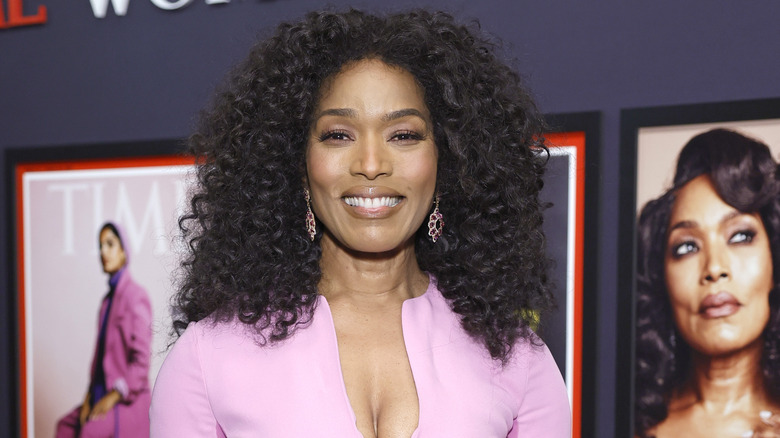 Angela Bassett is currently an A-lister, but she grew up far from the Hollywood hills. She was born in New York but relocated to Florida as a child. Her childhood was turned upside down when her parents divorced, and a young Bassett was sent to live with her aunt and uncle. "They took me as a 10-month-old baby and raised me," Bassett tells People. While raising her, Bassett's aunt made it clear to her that she would never replace her biological mother.
Despite seeing her aunt as a maternal figure, Bassett still yearned for a real connection with her mother. She soon got her wish when her mother reentered her life, and the two moved to St. Petersburg, Florida. Bassett recalls that time as a difficult period, as her mother struggled to provide for the family. However, her mother displayed a lot of determination, which was an attitude Bassett would later adopt. "But my mother had a lot of pride in how you show up and how you carry yourselves," Bassett explains. "And set high standards. Sometimes too highly. I've had people say, 'You must have had a critical mother because you're tough on yourself.' But, yeah, she set high standards."
Despite having a difficult childhood, Bassett credits her mother for inadvertently pointing her toward the world of acting. In an interview with The Guardian, she joked that her mother had a bit of a dramatic side.
She's a survivor of sexual assault
Portraying strong women on screen isn't the only way Angela Bassett hopes to inspire people. The actor has frequently used her platform to address real issues and open up about her life experiences. In 2019, the actress took to the stage of the Rape Foundation Annual Brunch to lend her voice to the important cause. While addressing the audience, she shared her story as a survivor of sexual assault as a child (Via Variety). Bassett recalled a moment when her mother's boyfriend entered her room as she slept. "Fortunately, it wasn't a complete assault, it was fondling, but it was devastating enough for a child who's 12 or 13," Bassett explained.
After the assault, a young Bassett made the brave decision to speak up. She confided in her mother, who jumped into action to protect her. "Thankfully, to have a mother who could tell as soon as light broke that this happened and for her to expel him," Bassett said. "That she heard me, believed me, and did something about it, I think, was so empowering for me as a young teen, as a young woman."
When Bassett became a mother herself, consent and boundaries were values she stressed to her children at a young age.
If you or anyone you know has been a victim of sexual assault, help is available. Visit the Rape, Abuse & Incest National Network website or contact RAINN's National Helpline at 1-800-656-HOPE (4673).
Her journey to motherhood wasn't easy
When Angela Bassett and her husband Courtney B. Vance married in 1997, the couple had dreams of becoming parents. However, their journey to parenthood included years of struggle and many heartbreaks. In a joint interview on "The Oprah Winfrey Show" in 2007, the couple revealed that they went through years struggling to conceive naturally and even spent seven years attempting fertility treatments. During their arduous journey, the couple leaned on each other. Bassett never lost faith. "I was devastated when it didn't happen [again and again]. I had to remain hopeful and resilient … 'Okay, let's do it again,'" Bassett explained to Winfrey (via People).
During their struggles with fertility treatments, a friend of Bassett's revealed to her that she recently had a child through a surrogate. Bassett and her husband decided to give surrogacy a try, and in 2006, their dreams finally came true. The couple's surrogate helped them welcome fraternal twins Bronwyn Golden and Slater Josiah. Having twins had crossed Vance's mind before. "I had a dream about seven years ago that we were going to have twins," he explained to Winfrey. "I didn't know how it was going to happen."
With two award-winning actors as parents, the twins have a bright future ahead of them. Bassett told People that her kids are eager to follow their success. "It's a little music, a little sports. But whatever they want to do, I support them."
Her kids experienced racism at a young age
Angela Bassett has long championed diversity in the film industry. The actress has spoken out about racism, discussing the important role representation can play in challenging stereotypes. In 2018, Bassett spoke about being a mother of two African American children and the heartbreaking experiences they have gone through in the real world. "Even from the age of 4, from preschool, they've had to deal with — and as crazy as it seems or sounds — color issues," Bassett told People. "Or because they were African Americans, and whether other kids will play with them or have issue with that."
The actor went on to explain that she knew that, as a mother, her kids would one day have to confront racism but was shocked that they encountered it at such a young age. Bassett described witnessing that moment as something that "squeezes your heart," but she had an interesting outlook on her children's bullies. "It can't come from their young minds," Bassett said of their racist behavior. "It's something that they've heard somewhere."
Knowing the struggles her children go through is probably why Bassett chose to be part of powerful films like "Black Panther." In an interview with ESPN, Bassett explains that helps young children like her own feel a sense of pride. "[This film] is a testament to the lineage that we come from and how we want our daughters to see themselves. They are princesses, and our sons are princes," she said.
She's struggled to find challenging roles
Hollywood, like many other industries, lagged in inclusivity for decades. For Black actors like Angela Bassett, the mere chance of getting a fair audition is rare. "When I came into this business, the path was not clear," Bassett says (via Variety). "I grew up at a time when it was a special occasion when people who looked like me were featured on the television screen or movie screen or in the theaters." Despite building an impressive acting resume in the '90s that made her a household name, Bassett went years feeling unsatisfied with the roles she was offered.
She wanted roles that weren't stereotypical depictions of Black women — roles that showcase her versatility. In 2002, after Halle Berry's historic Oscar win, Bassett revealed to Newsweek that she turned down that role because she felt it was stereotypical. "I would love to have an Oscar. But it has to be for something I can sleep with it at night," she quipped (via The New Yorker).
Bassett has been vocal about waiting over 30 years for a role with depth like Queen Ramonda in "Wakanda Forever" and almost believed it would never happen. "So yeah, I didn't really believe. And I'm 64 years old — it's, like, 'Okay, when?' It's been 30 years now. Time's a-ticking! We're burning daylight! When's this gonna happen? As a woman, you're always looking for complex roles, whether you're 28 or 68," Basset tells The New Yorker.
She lost her mother to heart failure
In 2014, Angela Bassett suffered a heartbreaking loss. Her mother, Betty Jane, passed away from heart failure. After the devastating loss, the actor chose to publicly use her platform to raise awareness about type 2 diabetes and heart disease, conditions many Americans like her mother deal with. By raising awareness, Bassett hopes to urge others to take their health more seriously. "With it, I'm able to just honor the woman that my mother was and also to use this incredible platform that I have to get the word out," Bassett told Good Morning America.
Her mother's health began declining later in life, and seeing her struggle with multiple health complications motivated Bassett to make her own health a priority. "I make sure that I see my doctor regularly for my yearly checkups, and if there's anything that I'm concerned about, I will text him or call him or go in," Bassett said. "And of course, I have to be an advocate for my kids … I think I'm a little bit more hyper and concerned about them than even myself sometimes."
The famous actor has even starred in informative campaigns like "For Your SweetHeart" with her uncle, who also lives with diabetes. In the campaign, Bassett speaks about her late mother and informs viewers of the link between type 2 diabetes and heart disease.
She was overwhelmed with grief while shooting the Black Panther sequel
In 2018, Marvel's "Black Panther" became a blockbuster success. Fans everywhere looked forward to many sequels featuring Chadwick Boseman as King T'Challa and Angela Bassett as Queen Ramonda, the leaders of the royal family in Wakanda. In August 2020, the tragic news of Boseman's death broke the hearts of fans everywhere, and many wondered what would happen to his role in the Marvel universe. Director Ryan Coogler had the difficult task of writing and directing a sequel without his noble king.
While shooting the sequel, "Black Panther: Wakanda Forever," the cast had to film through their grief and attempt to move forward with a storyline that sadly mirrored real life. "We are all going through this grief. I mean, literal tears every day on the set as we're sitting on the set where we sat with him, not knowing what we now know as we try to strike lightning again," she explained to The Hollywood Reporter. Bassett, along with the rest of the cast, used the film as an opportunity to pay tribute to their late co-star.
Before the emotional shoot, the cast came together for a special cause. "We went to visit together his resting place," Bassett said on The Kelly Clarkson Show. "It was a beautiful day. His uncles were there, his cousin, and we just spoke from our hearts about him, how we felt about him, or times with him. That was really, really lovely."
She felt overworked while playing Tina Turner
Angela Bassett's role as Tina Turner in the biographical film "What's Love Got To Do With It" was a chance to prove her acting chops. The story of Turner's life was filled with heartbreak, survival, and triumph and needed to be told correctly. Not only did she have to capture Turner's stage presence, but she also had to film many graphic scenes to depict Turner's abusive marriage to singer Ike Turner.
During an interview at the 2023 Santa Barbara International Film Festival, Bassett opened up about the grueling three-month shoot and how director Brian Gibson put her through the wringer. According to Bassett, Gibson demanded many takes of the music numbers and even had her working 25-hour days. "Let me tell you, I was so exhausted after that experience," said Bassett (Via IndieWire). "The last day, when she's in the limousine fighting Ike, that was literally a 25-hour day."
Outside of feeling overworked, the actress felt that her opinions on set were dismissed due to her being a woman. During one graphic rape scene, Bassett recalled the director's insensitivity. "We would do the rape scene. And, as I said, we were doing things over and over, and it's such a debasing sort of feeling. And so, Laurence [Fishburne] would say, 'Angela, how many times do you want to do this?' Because Brian would listen to him before he would listen to me," said Bassett. "He didn't listen to this female voice, this Black female voice who's just getting a shot…"
If you or someone you know is dealing with domestic abuse, you can call the National Domestic Violence Hotline at 1−800−799−7233. You can also find more information, resources, and support at their website.