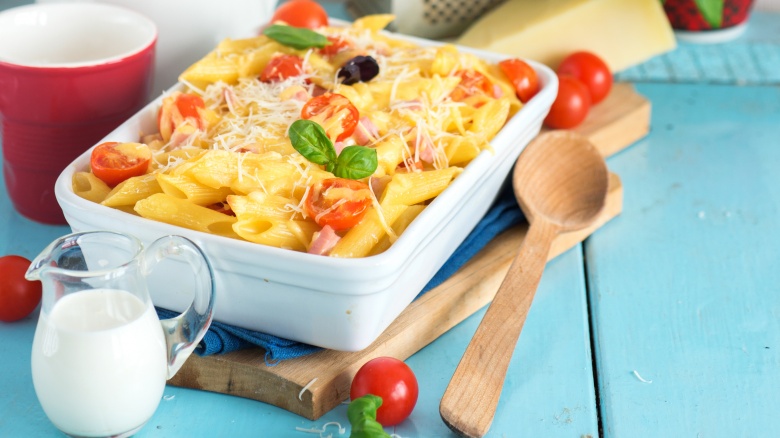 Mac and cheese is the the ultimate comfort food. Of course, every person has their own version of this universally beloved casserole dish in the good old repertoire. Almost all takes on the classic involve macaroni elbows (duh!) and some type of cheese, but why limit yourself when it comes to one of the best foods ever invented?
We'd like to make a strong case for switching it up big time by considering some unexpected ingredients for your next dish of mac and cheese. Whether its adding superfoods like cauliflower and avocados, incorporating misunderstood cottage cheese, or folding in fancy-pants proteins like lobster, you might discover that experimenting with hot cheesy carbs is a pretty fantastic way to spend your time.
Now put on some looser pants and enjoy.
Cauliflower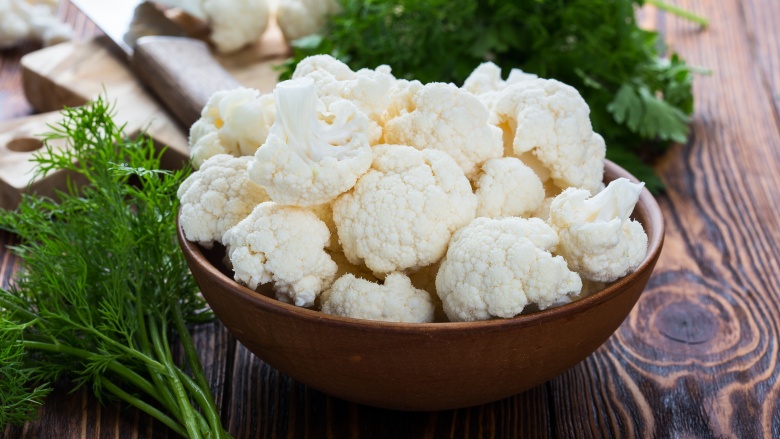 Enjoy rich, gooey mac and cheese without feeling too guilty when you add some veggies to the mix. Vitamin-filled cauliflower is just the thing to elevate America's favorite comfort food. A great source of antioxidants, cauliflower lends a mild but uniquely nutty flavor to creamy dishes like mac and cheese. This recipe from Delish serves up cauliflower in one of the most desirable preparations imaginable. Florets are added to the bechamel mixture while it's cooking, then mashed until they're incorporated into the sauce. Parmesan further thickens the sauce before it's tossed with classic macaroni elbows. Topped with roughly torn pieces of mozzarella and toasted breadcrumbs, this dinner will have you gleefully eating your vegetables.
Avocados
Turn your classic mac and cheese into a light, fresh weeknight feast when you make avocados the central components of your creamy sauce. Without the addition of milk or heavy cream, your sauce gets its thickness and flavor from the avocados themselves. Chock full of the good fats, these pretty, pitted fruits are naturally rich. Our beloved cheesy casserole is in for a healthy makeover! This Mediterranean-inspired recipe uses whole-grain pasta, tart sun-dried tomatoes, aromatic basil leaves, mozzarella, and luxuriously ripened avocados. The resulting dish is gloriously green, laden with nutrients, and just as decadently cheesy as it should be. Delicious mac and cheese without any feelings of heaviness afterward. Quite the win-win situation.
Cottage cheese
This lightened-up version of mac and cheese boasts loads of protein and tons of flavor. The secret? You might be surprised to learn that cottage cheese can be quite the game-changing player in the world of mac and cheese.
This recipe just might get you thinking about the possibilities. Combined with manchego cheese and tangy Dijon mustard, cottage cheese pulls the sauce together, resulting in a dish that tastes creamy and decadent and not at all heavy. Low in calories and high in protein, the texture of its curds blend right into the dish like magic. So the next time you're craving mac and cheese but can't contend with the guilt, opt for some cottage cheese to ease your mind.
Pesto
Bright, garlicky pesto is one surefire way to add zest and beautiful color to your next mac and cheese concoction. Fact: its vibrant and nutty flavors pair well with creamy casseroles. We love the way pesto incorporates a whole new level of complex flavor to mac and cheese—all while turning it a really amazing green color. This stovetop spinach basil pesto variation is kind of transformative.
Whether you serve this as a side to roasted chicken, as a main course for a family feeding, or as your generous offering at a potluck, you will most likely emerge a rare kind of dinnertime hero. A simple mac made with white cheddar, butter, and pasta elbows, this dish's power comes from the intensity of pesto. Feel free to use your favorite kind, but be sure to try lots of garlic, pine nuts, spinach, and basil.
Pepperoni
Mac and cheese and pizza meet cute in the ultimate food rom-com. How does the story go? First imbue your favorite cheesy casserole with the irresistible flavors of steaming hot pepperoni pizza. Then win over just about everyone you encounter. As a domino effect, succeed in all your future endeavors and live happily ever after. The end. Or something like that.
Here's the gist: add pepperoni to your mac and cheese and change the world. This one-pot pepperoni pizza mac and cheese is short on cleanup and big on flavor. Macaroni is cooked in chicken broth and milk, simultaneously rendering the pasta perfectly tender and making the sauce creamy and thick. Top with cheese and pepperoni slices, then bake in the oven for a dish that really lets you have it all.
Pumpkin
Get in on all the autumn-crazy culinary behaviors when you add pumpkin to your mac and cheese. Enjoy during a season full of pumpkin spice lattes, pumpkin bran muffins, and pumpkin pies. The natural sweetness of this ubiquitous fall squash helps to balance the savory flavors of cheesy mac. It also lends the mixture an added dose of creamy earthiness. This simple pumpkin macaroni and cheese lets you celebrate the season's flavors in the form of a comfort food meal everyone can enjoy. Cheddar and smooth pumpkin puree are combined with small pasta, bacon, and breadcrumbs. Throw in a little apple cider vinegar for a unique zing. Baked until crispy on top, this mac and cheese is a cut above the rest.
Lobster
Impress your fellow diners when you whip up special grownup mac and cheese that's full of luxurious lobster meat. With an unrivaled sweet and delicate flavor, it's the perfect addition to already-decadent mac. Lobster lends the down-home casserole an extra layer of richness and hearty texture. Ina Garten's recipe pulls out all the stops. Two kinds of cheeses (complex Gruyere and extra sharp cheddar) bring the required cheesy oomph, lobster lends depth of flavor, and fresh breadcrumbs are pure showmanship. You won't be able to resist the buttery bits of lobster meat mixed in with hot, gooey cheese and rich pasta.
Meatballs
Transform your casual mac and cheese into a protein-forward dinner for the family when you fold in tender, juicy meatballs. If they're perfect with spaghetti, think how amazing they'll be with macaroni elbows and copious amounts of cheese. Yep. This version includes instructions on how to make beef and pork mini meatballs to keep the good times rolling. Parmesan, cheddar, and fontina form a trifecta of cheesy perfection, while flavorful meatballs make this meal hearty and filling. Hands are the perfect tools for making meatballs, so don't be afraid to roll up those shirtsleeves and get in there. Garnish with parsley leaves for a pop of color if you have the self-restraint required to not eat this immediately.
Tomatoes
You know how tomato soup and grilled cheese are a pretty famous couple? Chomato or Teese—you know, like Brangelina, but guaranteed to last longer? It's no wonder they're a power couple when you consider how well the sweet, tart taste of tomatoes goes with carbs and cheese. All of this means, of course, that tomatoes plus mac and cheese should also prove to be a stellar pair of lovebirds. This creamy tomato mac and cheese recipe makes a strong case for bringing the two together. This warming dish boasts bright, nuanced flavor and cozy goodness in every bite, warming you up from the inside out. The best part is that you can probably make this mac and cheese without an extra trip to the store, as you're likely to have all of the ingredients on hand. Woohoo!
Peas
Small, round, sneaky peas are kind of perfect for adding to any mac and cheese dish. They are a great way to eat your vegetables in a laidback, unobtrusive way. In addition to being an excellent source of vitamins, green peas lend just a touch of sweetness, making them the perfect little companions for cheesy mac. We especially like this recipe since it's ridiculously easy to make and can be done completely on the stovetop in about 30 minutes. If you're a busy bee all week, you'll love the time-saving benefits, but don't be fooled. This dinner is an amalgamation of balanced textures, bright color, and rich flavor. Watch out for those sneaky peas!
These ideas should provide you with plenty to think about. Now go on and scheme about how you can eat mac and cheese everyday, forever. No judgment here.