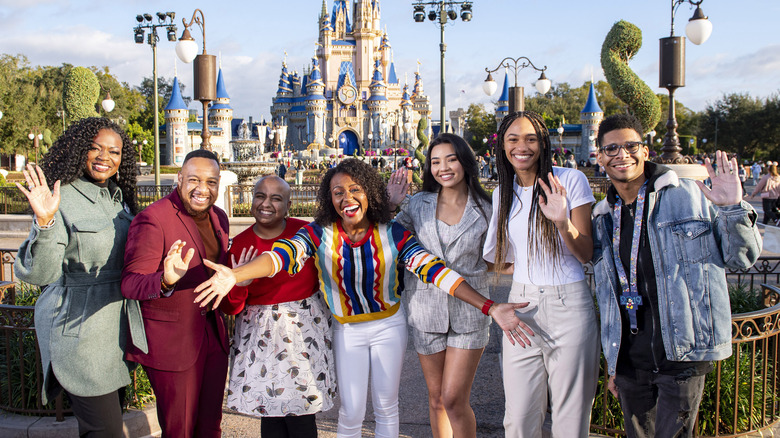 Going on a trip to Disney World is exciting, but there are a lot of details you should take care of and this can sometimes be overwhelming. You'll need to buy park tickets and book your accommodation, and make sure to plan where you'll eat and make a reservation, if necessary. Then there's transportation and ensuring everyone has tons of fun. You're on vacation after all.
All the planning and execution involved in a Disney World vacation can be daunting, but it is necessary to lessen any issues or frustration during the days you spend in the theme park. No one wants to be looking at their phones all the time trying to figure out where they should go next, for instance. Thankfully, there are many apps available that can help you plan your vacation and/or are useful when you're actually at Disney World.
One clever option is to put all your Disney World-related apps on the home screen for easy access. So, whether you're here for the rides or the food, and whether it's your first time or nth time, here are the must-have apps you'll need to make your Disney World vacation a smashing success.
My Disney Experience app
My Disney Experience is the official Disney World app and includes many features. Perhaps the most important is Genie, which provides a personalized itinerary and a tip board, and its paid version, Genie+. With Genie, you'll get recommendations based on your likes and interests, whereas Genie+ allows you to purchase Lightning Lanes to skip the lines in the theme park's popular rides and attractions, among other things. In addition, the app will also show you how long wait times are for rides and attractions and give you access to their virtual queues. You can also look at pictures via PhotoPass.
You can even use it to get inside your hotel room via mobile check-in or digital key. The app also offers maps so you can navigate the park with ease — and you can check the app to see bus arrival times, show times, and park hours as well. Another feature of the My Disney Experience app is the ability to make dining reservations, join waitlists, or order food and drinks. Menus are available from the app so you can browse through them if you're finding it hard to decide where or what to eat. You can shop through the app and chat with a cast member too.
If you only download one app, it should be My Disney Experience. With tons of features, you might wonder if you'll need any other app for your Disney World vacation. The one-stop app is available on Google Play and Apple App Store.
Getting around Disney World
First of all, you need to know if the weather will be cooperating during your visit. Orlando experiences rain even in summer afternoons, so it's always a good idea to check the weather to plan appropriately. For that purpose, you'll need a weather app that provides reliable and accurate forecasts. Accuweather is highly recommended. Alternatives include WeatherBug and Dark Sky for local current, hourly, or day-by-day weather information.
Now that you know the condition of the skies on the day of your visit, you'll need a map to know the lay of the land. You most probably already have Google Maps on your phone. It's a good tool to use to navigate your way in and around Disney World.
Finally, how will you get to Disney World? For this, you'll need a ridesharing app, such as Lyft or Uber. You can also use these as a backup for traveling to and from resorts or for early morning trips. If you're bringing your own car, you won't be needing ridesharing apps but rather something like Find My Parked Car to easily find your parking spot. In addition, Gas Buddy will help you find the gas station with the cheapest prices — a great way to save money especially in locations you're not familiar with. If you're flying into Orlando, you might also find airline apps, such as Flight View, useful in providing information on upcoming flights in real time, including any delays and departure and arrival schedule.
Queue wait times and entertainment
Disney World's large area of 43 square miles means there will be a lot of walking or riding between rides or parks. This can be exhausting and take up time better spent actually enjoying the park's attractions. So, an app that can reliably provide accurate wait times is invaluable.
The My Disney Experience app provides this information, but the following apps are considered to be great additions or alternatives for checking wait times in the park. The Wait Times for Disney World app is updated every few minutes and is even more accurate than the official app's posted wait times, according to Simplifying Family. On the other hand, Disney World Lines provides real-time updates on wait times, and offline attractions and estimated return time, as well as a crowd calendar, searchable menus and their prices, and Lightning Lane suggestions, among other features.
And while you're waiting, there are apps you can download to keep you entertained. These include Play Disney Parks, another official app from Disney. It's not available for all attractions yet, but where it is, Play Disney Parks provides a themed game or more, depending on how long you'll have to wait to ride. There's also trivia, interactive maps, and theme park music playlists (exclusive to Apple Music subscribers). If you love meeting Disney characters, you should get the Kenny the Pirate's Disney World Character Locator app, to see the schedule of your fave character. It's a web-based app, which means you open it in a browser, and costs $10.99 a year.