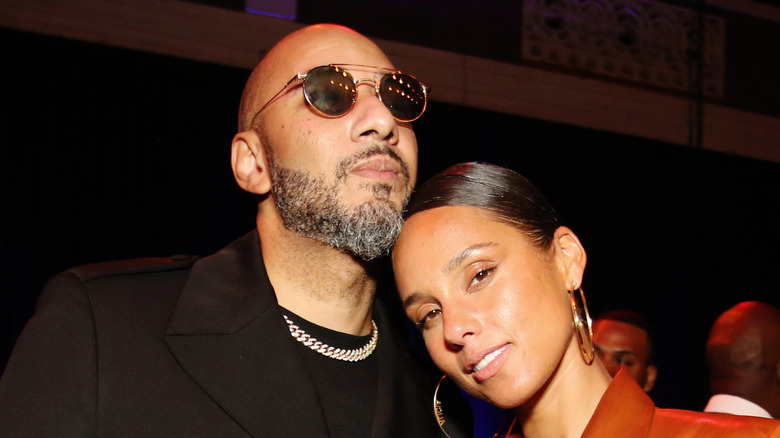 Superstar Alicia Keys married popular music producer Swizz Beatz (Kasseem Dean) in 2010, and since then the power couple has been making sweet music together. While E! Online reports that the couple didn't exactly fall in love at first sight, with Keys admitting she was annoyed by his flashy cars and jewelry, they've certainly grown on each other since then. Today, they have two beautiful children, Genesis and Egypt, and live in a stunning cliffside mansion known as "America's coolest home."
The Razor House, which is located in La Jolla, California, was originally built in 2007 and became famous for its razor-thin, sculptural design. Keys and Dean, who purchased the modernist home for $20.8 million in 2019 (via Forbes), took Architectural Digest behind the scenes in a sweet house tour unlike any other. From an extensive and diverse art collection, to awe-inspiring ocean views from their infinity pool, it's not surprising that the couple call this their dream home. We're following along for every step of the tour!
The 11,000-square-foot residence is said to have inspired Tony Stark's futuristic home in the Iron Man series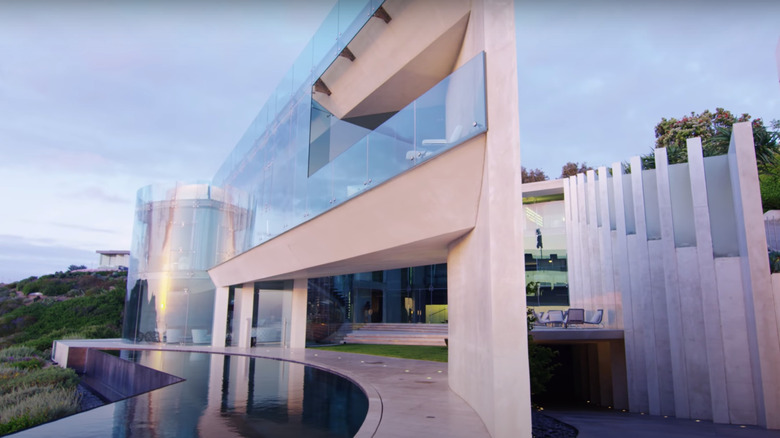 Designed by architect Wallace E. Cunningham, the Razor House features over 11,000 square feet spread across three floors, six bedrooms, and eight bathrooms. According to Forbes, the futuristic home was the inspiration behind Tony Stark's home in the Marvel "Iron Man" films. In the films, Stark is the billionaire CEO of Stark Industries who becomes a founding member of the Avengers, a team of superheroes fighting against evil.
The dramatic home, which is nicknamed Razor House due to its location near Razor Point Trail, is undeniably cinematic. From the impressive architectural details to stunning materials like white concrete and stainless steel, it's one-of-a-kind. The entire home faces the Pacific Ocean with floor-to-ceiling glass walls, floating staircases, and grand walkways. The cantilevered house truly feels like the perfect place for Iron Man to call home.
Kaseem Dean dreamed of owning this home for over eight years
Alicia Keys and Kaseem Dean dreamed of calling the Razor House home long before they moved in. According to CNN, Dean fell in love with the Razor House almost a decade before purchasing the property, and it remained important to him over the years. In fact, the music producer even set a picture of the house as his phone wallpaper so he could remember his goal.
When the house went up on the market, the previous owner invited the couple to visit the home for a romantic weekend. During their stay, they fell even more in love with the dreamy ocean views, open spaces, and magnificent architecture. While Keys was born and raised in New York City, the idea of moving out to the West Coast became more appealing after spending time in the home. In the end, they decided it was the right fit for their lives.
The couple partnered with designer Kelly Behun to make the home more family-friendly
After purchasing the home in 2019, Keys and Dean set about making it feel like their own. With the help of interior designer Kelly Behun, they warmed up the cold, modern interiors with rugs, natural materials, and soft textures such as velvet. The neutral color palette features tan, brown, and white shades, and was designed to feel in harmony with the stunning natural surroundings. According to Behun's Instagram, the home perfectly mirrors the couple's upbeat energy and warmth.
If you've been thinking about redecorating or giving a part of your home a refresh, it might a good idea to work with an interior designer to help make your vision a reality. A designer will ensure that your project stays within budget while assisting you with the layout and furniture installation (via The Washington Post). To find a designer, you can ask friends for recommendations, search around Instagram for designers in your area, or ask at your favorite paint or furniture stores for suggestions.
The open entrance area features show-stopping ocean views and a warm atmosphere
When stepping inside Razor House, an incredible open floor plan and cool circular living room make the first impression. With full-length glass walls bringing the outdoors inside and clean lines inspiring the imagination, the entrance area is a sight for sore eyes. The furniture and materials feel specifically curated for the unique space.
According to SFGate, having an inviting entrance to your home will help guests feel more at home and comfortable. To make a good first impression, make sure your entrance is clean and clutter-free. Having too many shoes or bags laying around can be distracting and unwelcoming for visitors. The same holds true if the floors are dirty or dusty. Also, ensure that your doorbell and welcome mat are in working order. To really get your guests' attention, add a pop of exciting color to the entrance area by painting the front door or one of the walls.
The entire family likes to hang out, eat, and play games by the kitchen
Next to the living room is the couple's kitchen and dining area. As one of the most popular spaces in the whole house, the entire family enjoys spending time here for meals, card games, and more. The area features a wooden dining table, soft chairs, and a sleek kitchen complete with an island and plenty of gleaming dark wood. According to Real Homes, kitchen islands allow loved ones to eat and socialize together in the same space, and tend to be the heart of social gatherings in the home.
If you want to transform your kitchen for the better, add an island! Along with looking amazing, this feature adds useful storage and counter space to prepare meals. When designing a kitchen island, it's good to consider your lighting, hardware, appliances, and storage solutions (via Homes and Gardens). You'll also want to make sure you have enough space in your kitchen so that you can comfortably walk around the island on all sides.
The formal dining room is connected to the family room
Heading downstairs, the formal dining area merges seamlessly with the relaxed family room. This large, open space serves multiple purposes, from entertaining company and enjoying large family dinners over the holidays, to being a chill place to hang out, watch TV, and fall asleep on the couch. There's also a full-length glass wall that offers views of the infinity pool and surrounding ocean outside.
According to The Spruce, open floor plans are becoming increasingly popular these days. While these layouts encourage socializing and flow well, it's important to create zones to give large rooms structure and make them feel more inviting. Zones create areas for different activities such as eating or watching TV, and help you make the best use of space. To help naturally divide your open space into zones, decorate with rugs, use moveable dividers, add color, and use different seating and lighting in each area.
Glass doors lead to the serene outside space
The family room flows effortlessly with the outside area, leading to an outdoor dining table for al fresco dinners, a fire pit, a sun deck, and a large grass lawn. This gorgeous open space feels ideal for hosting dinner parties and entertaining into the night. According to The Fader, Alicia Keys and Kaseem Dean are known for throwing epic house parties like the bash Dean planned for Keys' birthday in 2015. This feels like the perfect setting to inspire more great parties in the future.
If you want to make your outdoor space party-ready, take cues from Keys and Dean. Deck out your space with lots of seating, a large table, and different areas for socializing (via Home Beautiful). It's important to have different areas with casual seating where guests can sit and relax. Decorate with pillows, string lights, and statement greenery to create a warm and fun atmosphere where people will want to hang out all night long.
A beautiful infinity pool overlooks the Pacific Ocean
One of the most show-stopping features of the Razor House is the ocean view. To take full advantage of this stunner, Alicia Keys and Kaseem Dean have an infinity pool which blurs the line between the man-made and the surrounding natural environment. Leading out from their backyard, the pool is the perfect place to cool off on hot days and relax with a cool beverage.
According to Home Advisor, infinity pools cost $79,000 on average and range between $55,000 and $130,000. They come with a higher price tag than regular swimming pools because they feature at least one vanishing edge that allows water to flow over the perimeter, a vacuum basin, and specific filtration system. In addition to the steep price tag, infinity pools are not compatible with all properties. These zero-edge pools work best on sites with a significant drop-off that overlook incredible views (via Rockwater Farm).
The couple's thought-provoking art collection brings life and color to each room
Kaseem Dean and Alicia Keys are known for their impressive art collection, which is called the Dean Collection. According to Art News, art played an important role in the couple's relationship from the beginning. For their third date, Dean even bought Keys a painting featuring a piano with paintbrushes on the keys. In the past 10 years, the dynamic Dean Collection has gained over 1,000 works from artists all around the world with an emphasis on African American and African artists like Kehinde Wiley and Barkley L. Hendricks. Their extensive collection of art is displayed all over the home, including a Nick Cave sculpture and a Jordan Casteel painting titled "Fallou" in the family room.
Even if you art collection isn't as impressive as the Deans', you can still display it in your home for a personal touch. Hanging artwork on your walls tells a story and can express your unique personality and what matters to you (via Artwork Archive).
The couple also owns the largest collection of Gordon Parks photography
One of the most significant aspects of the Deans' art collection is their Gordon Parks photography. According to Hyperallergic, Kaseem Dean and Alicia Keys own the largest private collection of Parks' photography. As one of the most legendary photographers from the 20th century, Parks is recognized for his work documenting American life in the 20th century, especially in terms of race relations, urban culture, and civil rights. Much of his work combated stereotypes people had about Black Americans (via Artsy).
Keys and Dean are avid collectors of Parks' works, and they find it important to honor his legacy. One of Parks' most famous photos, "Department Store, Mobile Alabama," is displayed on a wall in their family room. The image, which was originally shot for LIFE magazine in the 1950s as part of a series on segregation, depicts a mother and daughter standing in front of a red "Colored Entrance" sign (via Washington City Paper).
The couple loves technology and have a great sound system in their home
As an award-winning music producer who has worked on songs for artists like Jay-Z, Eve, DMX, Busta Rhymes, and Beyoncé, it's not surprising that Kaseem Dean's home boasts a great sound system. The entire house is equipped with a Bang & Olufsen sound system to ensure high-quality audio in every room. Whether cranking up the tunes for house parties or jamming out alone during the day, the sound system serves many different purposes.
If you want to design a great sound system for your home, there are a few things to keep in mind. According to SFGate, you'll want to first decide whether the purpose of your sound system is audio-only or a home theater. The purpose will determine which components you purchase and how to set them up in a specific room. To ensure that the acoustics are top-notch, it's a good idea to hire professionals.
Alicia Keys still plays her first-ever piano in the music room
The baby grand piano in the family's music room is steeped in special significance. The instrument is actually the first piano Alicia Keys called her own. It was a gift from Columbia Records, the record label that signed her when she was only 16 years old. The piano has moved around with Keys over the years, and is now proudly displayed in her home. She still plays regularly and her older son, Egypt, is even learning on it now (which is why there are stickers on the keys).
According to The Spruce, moving a piano is a difficult job. If you need to move your instrument to a new home, plan to have at least four people for the job or hire moving professionals. If you are attempting the move on your own, make sure the keyboard lid is securely closed to prevent damage to the keys. The piano should also be covered with blankets or padding to keep it protected from bumps and scratches.
Warm colors and natural textures help warm up the cool, industrial home
One of the coziest rooms in the house is the library. This space features unique pieces from the Deans' art collection, warm colors, soft seating, wood elements, and a large rug to tie everything together. Books and art pieces decorate the open shelving on the walls, while sculptures and plants add plenty of texture.
If you're a bibliophile, you can take notes from the Deans and decorate a bookshelf in style! According to House Beautiful, chic home libraries often feature artwork, cool shelving units, themed wallpaper, and take advantage of available space. Whether you have a large room or a single wall, you can create a home library of any size. To make your reading nook extra cozy, set up a comfortable chair by the window for good lighting and a small table to keep a mug of tea close by.
Dean's favorite part of the house is the subterranean garage and lounge area
When Kaseem Dean and Alicia Keys need a kid-free zone, they retreat to the subterranean garage and lounge area. The space features Dean's luxury car collection and a home recording studio, as well as plenty of room for relaxing and unwinding. While some might refer to this part of the home as a man-cave, Dean and Keys prefer to call it the "grown-up floor."
According to The Spruce, man caves are not only for men anymore. These gender-neutral realms are a place to relax, display your collections, and celebrate your hobbies, whether you play the guitar or love a good poker night. You can make your space fit for entertaining with a home bar, comfortable couches, and pool table, or make it a lounge for music lovers complete with karaoke equipment and records hung up on the walls. This is a space in the home where your passions can take the spotlight.