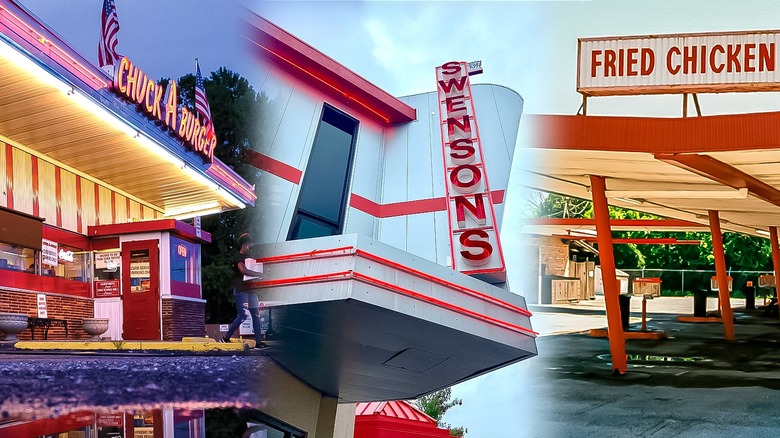 We may receive a commission on purchases made from links.
In today's world, efficiency has become synonymous with food prep and service, leading to how drive-ins have not only stayed in business but also thrived. The first drive-in restaurants in the U.S. began as ways to serve customers delicious food efficiently. As Dwayne Jones notes in an article about the first drive-in restaurant, The Pig Stand in Dallas, Texas, the combination of a pork sandwich served with a cold drink in a carside fashion was simple, yet successful. Even during the height of the COVID-19 pandemic, restaurants began offering carhop services in order to actually maintain business, according to Smithsonian Magazine. As architect and author Alan Hess noted, "I think the thing that's most important is the realization that the drive-in is a significant example of modern architecture. It had a purpose, and still has a purpose."
These restaurants have proven time and time again to be successful for reasons of convenience. So much so that there are over 30 seasons of the series "Diners, Drive-Ins, and Dives." As host Guy Fieri tells Deadline, "[The mom-and-pop restaurant business] is, I think, one of the toughest businesses in the world, especially in today's climate," a main reason why his show focuses on small businesses and restaurants of every variety, even the simple drive-in. From the first pig stand in Dallas to iconic brand names like Sonic, drive-in restaurants started a trajectory that not only propelled small-town restaurants toward serving a new customer base but also changed how travelers experienced different cities and states. Below we've listed the best drive-ins in each state and what makes them the best of their kind.
Alabama – Ed's Drive-In
Starting off the list in Jackson, Alabama is Ed's Drive-In, a drive-in restaurant that boasts a nostalgic atmosphere with classic menu items. The establishment is one of the oldest drive-ins in Alabama, originally opened in 1965 and now owned by a young couple who loved visiting Ed's during their youth, according to Alabama Media Group. From the widely loved hand-pressed burgers and milkshakes to the iconic steak sandwich (an "original Ed's item" according to owner Justin Brook), there's so much to enjoy at Ed's Drive-In.
Alaska – C&J's Drive-In
Across the country in Fairbanks, Alaska sits a drive-in restaurant that is far more than meets the eye. The look of C&J's Drive-In, from its exterior, its menu, even its social media profiles, give the impression that this is a classic '50s-style restaurant. Many popular menu items are classic Americana food fare, including signature burgers, malts, and fried starters, according to Yelp. The restaurant's surprise special menu, however, often surprises visitors with delicious Filipino dishes, noted by the restaurant's Facebook posts, from Lechon Kawali (pork rinds) and lumpia to beautiful little sapin-sapin desserts. Definitely worth exploring to get a taste of two different worlds of flavor.