First things first, let's get the important detail out of the way. Ubisoft has dated the upcoming Assassin's Creed Mirage, and it will be arriving this coming 12 October on PlayStation 4, PlayStation 5, Xbox One, Xbox Series X|S, and PC. The reveal at the PlayStation Showcase also showed off some new moves that Basim can pull off, and it should make fans quite happy.
With the game as part of the 15th-anniversary celebrations of the franchise, it is set to be a perfect opportunity for the developers to revisit the roots of Assassin's Creed. And as part of the direction comes a new feature, Assassin's Focus.
In Mirage, this new skill will allow Basim to mark and assassinate several targets in a row, which is always a satisfying affair. There are also classic Assassin tools such as throwing knives and smoke bombs to utilise in this adventure. Parkour is also getting a new tool in the form of the Pole Vault.
With the game focusing more on being a true-blue assassin, players can expect more stealth to rule the day, especially in Blackbox missions, which promise to have various opportunities for Basim to leverage and help him make his way to his targets.
The Mirage trailer also showed off a new character, with Fuladh joining in the fun. He is a Rafiq and Eagle-Master to the Hidden Ones, and along with Master Roshan, help guides Basim. Fuladh will be another important character in Basim's journey to becoming a Hidden One.
All in al, it seems like Assassin's Creed Mirage is shaping up nicely to bring players back to the goodness of the old times, coupled with modern innovations to continually evolve the formula. Get ready to don the cape and say the creed this coming 12 October when the game launches on PlayStation 4, PlayStation 5, Xbox One, Xbox Series X|S, and PC.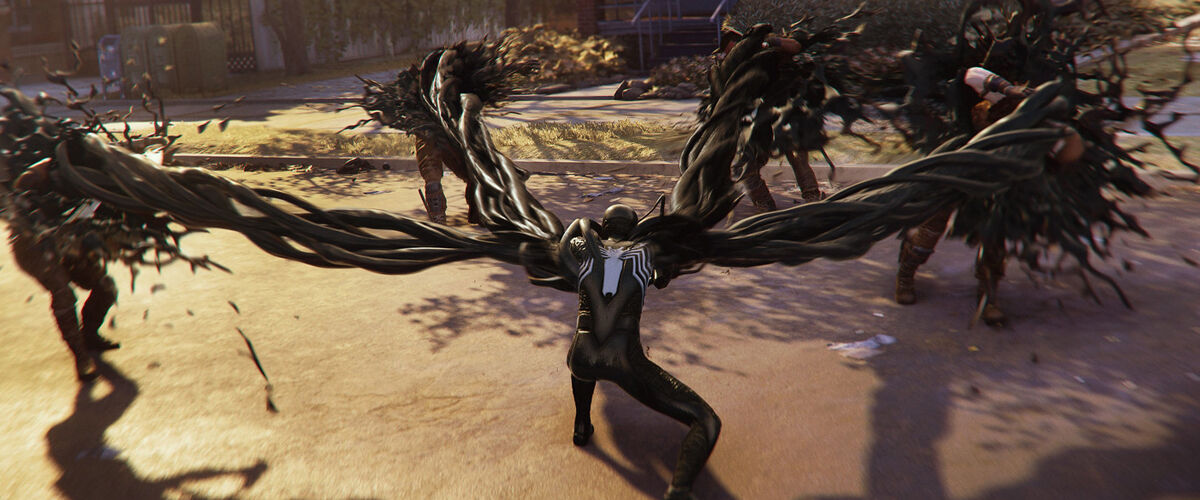 It is always great to know what's coming next when you are part of the gaming space, as it allows players to plan their purchases ahead of time and schedule enough time to enjoy the latest and greatest the medium has to offer. For fans of the PlayStation ecosystem, Sony has finally revealed its hand for the rest of 2023 and beyond with the latest PlayStation Showcase, and there are plenty of things to get excited about.
The PlayStation 5 will be getting quite a significant number of big titles, as does the PlayStation VR 2 platform. Here's everything to look forward to that was revealed at this latest showing.
PlayStation Showcase 2023 Highlights
Marvel's Spider-Man 2
While there was no release date revealed for the highly anticipated Marvel's Spider-Man 2 by Insomniac Games, what we did get was more than 10 minutes of gameplay with both Peter Parker and Miles Morales. The new Symbiote Suit looked great in action, and we finally got to see Kraven the Hunter join the rogue's gallery in this take on the friendly neighbourhood Spider-Man.
Project Q & Accessories
At the PlayStation Showcase, Sony also took the chance to show off an additional device for those that wanna get their dose of the PS5 aside from the TV. Nicknamed Project Q, this game streaming device will stream games on the console to its 8-inch screen and let players use a controller attachment that looks just like a DualSense controller.
Ther is also new gaming earbuds coming from Sony, but no more details were shared about it. We reckon Sony will be talking more about Project Q really soon.
Metal Gear Solid 3: Snake Eater Remake / Metal Gear Solid Δ
Konami has finally done it; a remake of Metal Gear Solid 3: Snake Eater is in the works, and fret not; despite it being at the PlayStation Showcase, it will also be coming to Xbox and PC. Titled Metal Gear Solid Δ: Snake Eater (Δ is Delta), the announcement did not show any gameplay, but it did include a teaser that eventually revealed everyone's favourite Snake. Alongside the remake, there is also the Metal Gear Solid Master Collection Vol. 1, which includes the modern trilogy and is coming to PlayStation 5 later this fall.
Final Fantasy XVI
More Final Fantasy XVI goodness comes our way, with a new story trailer that dived deeper into the upcoming war that will unfold on 22 June. We see main protagonist Clive interacting with a variety of people in the land of Valisthea, and of course, lots and lots of monsters that we will inevitably take down.
Assassin's Creed Mirage
The next entry in Ubisoft's Assassin's Creed series, Mirage, will be coming this 12 October for PlayStation 4, PlayStation 5, as well as Xbox One, Xbox Series X|S, and PC. Alongside the date reveal, the gameplay trailer also showed off a new feature called Assassin's Focus, which allows for multi-target assassination.
Alan Wake 2
It is official, following a slip-up by the voice actor behind the tortured artist, we now know that Alan Wake 2 will arrive this 17 October. At the PlayStation Showcase, the trailer showed Wake's return together with a new playable character, Saga Anderson, all while the darkness encroaches.
Street Fighter 6
With the brawler set to release next week, Capcom joined the festivities with a trailer about the story mode that will be a part of Street Fighter 6. For those unaware, players will create their own fighters and embark on a globetrotting tour to take on franchise favourites and new additions to the roster.
Resident Evil 4 Remake VR
In more Capcom news, the PlayStation Showcase also saw the upcoming PS VR2 version of Resident Evil 4 Remake on display. This VR mode will come as a free update for those that already own the game on PS5.
PlayStation Showcase 2023 Other Trailers
As for the rest of the gaming lineup, here are the relevant trailers to whet your appetite for the months ahead.
Immortals of Aveum
Dragon's Dogma 2
Marathon
Fairgame$
The Talos Principle 2
Foamstars
The Plucky Squire
Phantom Blade Zero
Ghostrunner 2
Helldivers 2
Sword of the Sea
Five Nights at Freddy's: Help Wanted 2
Neva
Cat Quest: Pirates of the Purribean
Towers of Aghasaba
Revenant Hill
GranBlue Fantasy: Relink
Ultros
Tower of Fantasy
Concord
That concludes the PlayStation Showcase for 2023, with lots of games for the PlayStation ecosystem to look forward to. While there are certainly some big hitters, there is still much to know about what other first-party studios are doing beyond Insomniac Games. That can only bode well for those that are in this for the long haul. We await with anticipation for the next big presentation for more awesome games coming to the PS5 and more.