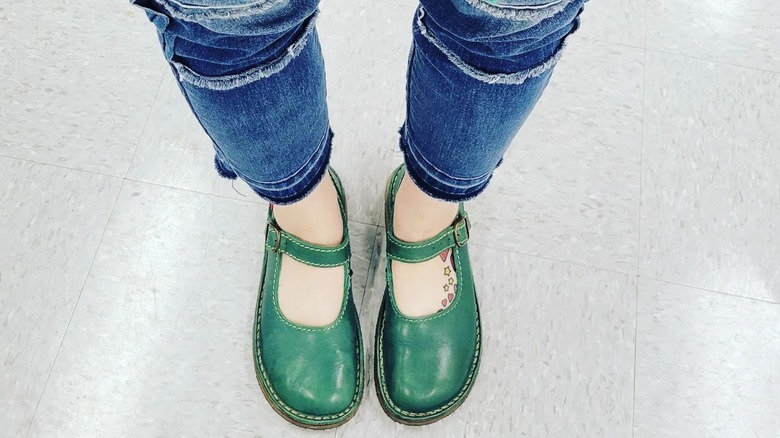 We may receive a commission on purchases made from links.
Most of us had a pair of Mary Janes in our closets when we were around the age of 5, and for some of us, we found ourselves sporting the classic shoe again circa 2010 when Tumblr twee it-girls reigned supreme. With many vintage trends returning to the forefront of fashionistas' wardrobes, we're all trying to figure out how to embrace the myriad trends of yesteryear that are having a renaissance without looking like we're stuck in the past.
Whether you're looking to ace the ballet flats revival without making yourself look dated or wear some trendy retro hair accessories without the cringe, many of us struggle to know where the line is with a classic piece that can look either too cutesy and out-of-date or on-trend and fashion-forward. Mary Janes are one of the latest and, in some ways, most egregious trends to join the ranks, and a lot of us want to jump on the bandwagon and style this classic shoe in a way that looks cool and fresh. Yet, this is a trend that's easy to get wrong. So, how can we be sure we're getting it right? Well, there are a few key ingredients to creating the perfect 2023 Mary Jane-centric ensemble.
Juxtaposed pieces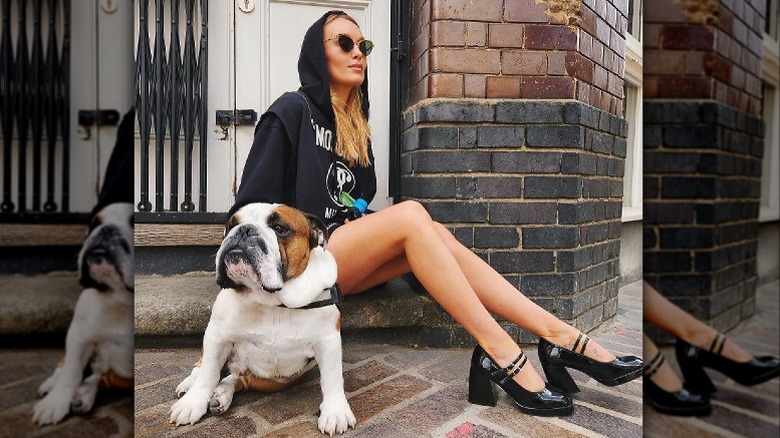 One of the key ways to update Mary Janes is to avoid that overly twee or childlike look that they can so easily exude. As a result, we want to edge our Mary Janes up a bit with how we style them. The easiest and most fool-proof way to make this happen is by juxtaposing them with edgier, more casual, easygoing looks. Before styling them, this pair of patent leather Mary Jane heels likely looks a bit stuffy and dressy. Yet, look at how cool they are when styled with shorts, a hoodie, and sunglasses. The styling lets the shoes look way more fashion-forward and unique, and the shoes make an otherwise basic and boring outfit look like a fashion-statement.
Casual color pop
Most of us surely think of black patent leather when we picture a pair of Mary Janes in our minds. These days, though, there are way more Mary Jane shoe options on the market. Investing in a pair of Mary Janes in an unexpected fabric or a pop of color can be a great go-to for elevating a basic outfit. You may be used to slipping on your favorite white sneakers with an easy jeans and t-shirt look. Yet, think about what a big change it would make with just a simple swap to something like this yellow pair or this patent pink option. This look is chic and easy and makes for a perfect go-to 'fit all year round.
Metallic
Not every outfit warrants a shoe in a pop of color, but that doesn't mean that you have to revert to black Mary Janes for outfits with an otherwise established color palette. Our favorite trick for making a look like this work is sporting a pair of metallic Mary Janes. A metallic shade already does away with any concern that the shoes look too uptight or formal. This silver Steve Madden pair is so cool for everyday, and these glittery gold shoes would look unique when juxtaposed with an edgy ensemble.
Platforms and heels
While flat Mary Janes may be the most popular, since platforms and heels are on the rise –– no pun intended –– platform or heeled Mary Janes are a great way to marry two trends. From a smaller platform like this classic Doc Martens pair to chunky statement heels, you can make this look your own in whatever height you desire. Keep in mind that kitten heels are also making a comeback, and when paired with an edgier look, a pair of kitten heel Mary Janes like this super cute white pair would look fresh and updated and give you a little extra height.
Style with socks
Over the course of the past few seasons, socks have gone from a necessity that should always be hidden away to a fashion-statement that should be on full display. Mary Janes pair perfectly with the sock-friendly trend, since they basically have a built-in window to show off your socks. From frilly socks to printed socks, socks with a pop of color, or even knee socks, the socks-ibilities are endless. So, you don't have to think of your Mary Janes as the whole footwear picture; swap out different statement socks for an entirely different way to accessorize and a whole new look with just one pair of shoes.