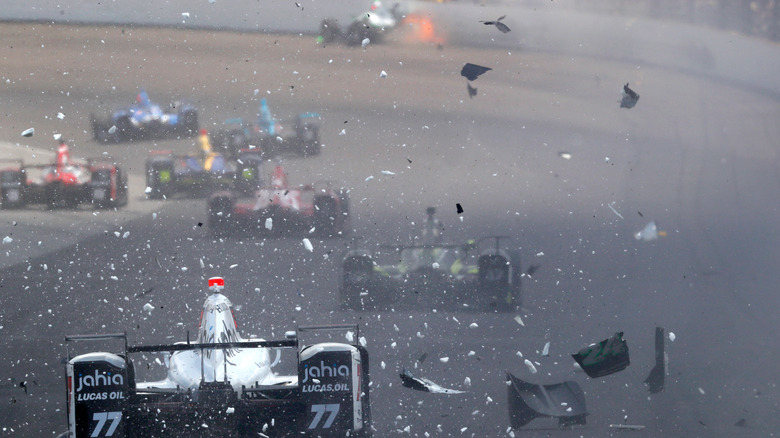 Although the oldest race in the Triple Crown of Motorsport, the Indianapolis 500, keeps up many of its time-honored traditions, it has also evolved a great deal since its origin in 1911. It's always contested as a 200-lap, 500-mile race. The 33 drivers line up in 11 rows of three, and so on. Yet of course the cars themselves have advanced with the times, so much so that Hélio Castroneves's 2021 record time of 2:37:19 (190.7mph average speed) is more than four hours and 100mph on average faster than the original 1911 winning time of 6:42:08 (via Indianapolis Motor Speedway).
However, on the whole, the racers' speeds increased, but the number of driver fatalities from crashes has plummeted. The last one to date occurred in 1996 when a tire blowout on pole-winner Scott Brayton's practice run car caused it to clash with the outer wall. As per the Daily News, the car spun and skidded out of control more than 1000 total feet before and after the collision, which killed Brayton with massive head injuries.
Horrible crashes, some of them listed here, often catalyzed new racing safety rules, such as requiring screening tests for rookie drivers in 1935 or the installation of the SAFER Barrier at the Speedway in 2002. Racers were required to wear seat belts in 1954, but Indy 500 driver Barney Oldfield first ordered an experimental safety harness from a parachute company in 1922, setting an example for racers to be ahead of the curve.
Note: The following embedded videos show violent Indy 500 crashes, some of which resulted in the loss of human life. They may be disturbing to certain viewers, so please watch at your own discretion.
1911 – mechanic Sam Dickson dies in the first Indy 500
In its historic first race, the Indianapolis 500 unfortunately also recorded its first fatality. However, the unlucky soul was not a driver, but rather Arthur Greiner's riding mechanic Sam Dickson. For the Indy 500's first 12 races (and again from 1930-1937) most drivers rode in tandem with a "mechanician," or riding mechanic, who tried to maintain and repair the car throughout the race. Quite a few of these sidekicks were mortally wounded in Indy 500 history, particularly in the 1930s, when cars traveled faster.
During the 13th mile of the inaugural Indy 500 race, a front wheel flew off of Greiner's car, which threw it out of control. Both Greiner and Dickson were violently ejected, but Greiner pulled through with a broken arm after being knocked unconscious. Unfortunately for Dickson, he went down in the record books after flying 20 feet into a fence and dying instantly, according to a contemporary report in the New York Times. While no one else perished that day, there were several more accidents in the race, which the Times said kept the crowd of 80,000 people "in a state of fearful expectancy."
But apparently, crowd control was a mysterious concept in 1911. The Times article describes a hectic melee after Greiner's and Dickson's crash. Throngs of people surrounded the two men to take a closer look at the disaster, and the hundreds of "special policemen" on hand had to club a path for medical personnel to reach the wounded.
1933 – two fatal crashes in one day
Two crashes and three gruesome fatalities marred the 1933 Indy 500. The first occurred when Mark Billman hit the outside wall during his 79th lap and was pinned between the wall and his car's front left wheel. The crash broke both his legs and ripped his left arm entirely off, in addition to internal injuries. Blood transfusions did not save him; he died about an hour later. Billman's riding mechanic Elmer Lombard sustained lacerations and burns, but survived the ordeal.
Soon after the first accident, while making a turn, Malcolm Fox unexpectedly swung out to the right, catching the passing Lester Spangler on the left rear end of his car. The contact caused Spangler's car to flip and spin several times before coming to rest against the inner wall. Spangler and his riding mechanic G.L. "Monk" Jordan were both killed. According to a contemporary report in Automotive Business Magazine, they were so disfigured that friends had trouble telling them apart.
This, however, was only the death toll on racing day. During qualifying, driver Bill Denver and his riding mechanic Bob Hurst also died in an accident, setting the tone for a particularly morbid event at the Indianapolis Motor Speedway.