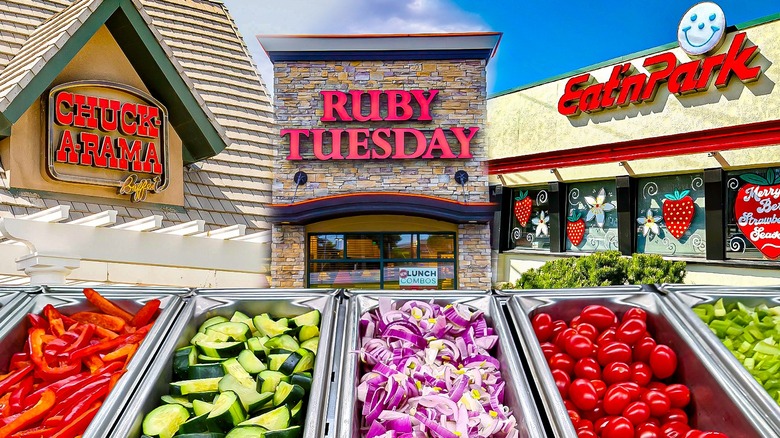 America is known as a country where you have lots of choices. It's why we (sort of) invented the salad bar – so we could have a variety of options instead of having to settle for a single thing. These leafy buffets give us limitless options to tailor-make a meal or side dish uniquely suited to our own personal cravings rather than sticking to a uniform menu that might lead you to feel unsatisfied.
Though the origins of the salad bar are fuzzy, the idea may have been sparked after a Swedish smorgasbord appeared at the 1938 World's Fair in New York, according to Food Service News. This buffet style of dining bumped up a notch when Las Vegas introduced the all-you-can-eat option. Russell Swanson of Swanson Equipment in Wisconsin is credited with building the first chilled bar specifically to house lettuce and salad toppings for a local club. And Angelo Gangi incorporated a salad bar into his Florida diner in 1964 after seeing something similar at a military base.
These days you can find salad bars at grocery stores and some of your favorite restaurants. Though the pandemic shut down some of these buffets, many restaurants have brought them back due to customer demand. Here are some restaurants that still offer the freedom of a salad bar along with our rankings to help you prioritize which ones to visit first.
1. Golden Corral
Golden Corral is one of America's most popular all-you-can-eat buffets. The chain has extensive offerings, and its salad bar is no exception. With a wide array of fresh vegetables, meats, fruits, and toppings, the restaurant chain lets you create a leafy masterpiece that suits your taste buds. In addition to the classics, it also offers seasonal ingredients and unique options like seafood salad.
The quality and variety of Golden Corral's salad bar make it a top contender in our ranking. There are loads of toppings to consider with your base of greens. You have a choice of several different cheeses and nuts, plus bacon bits, and at least a dozen different salad dressings along with oil and vinegar. "The salad section was standard, but did what it needed to do perfectly," a reviewer from Insider wrote. "My salad was the only dish I was happy to finish because it had different textures and flavors, in comparison to the rest of the buffet."
2. Eat'n Park
If you haven't heard of it, Eat'n Park is a regional chain that first opened in 1949 and has locations primarily in Pennsylvania, Ohio, and West Virginia. The restaurant is known for its family-friendly atmosphere and overall good vibe as the company's website shows its pledge to diversity, inclusion, equity, and innovation as well as fiscal responsibility. The chain has something for the whole family including breakfast, burgers, sandwiches, appetizers, and desserts.
But one of its most popular offerings is its endless Soup, Salad & Fruit Bar, which was launched in 1978, almost 30 years after the restaurant first opened. In addition to the traditional salad bar offerings, the restaurant also provides an assortment of fresh fruits, soups, and even a selection of hot foods.
The best part about the Soup, Salad & Fruit Bar is that all of the produce is sourced from local farms through its FarmSource program, which earns high marks from us. Customers are big fans of the value that Eat'n Park provides at its buffet. "Very nice variety on the salad bar and a choice of soups & Chili. The food we ordered from the menu was tasty too! The service was great and the prices were reasonable and that makes it a very popular place!" one customer wrote on TripAdvisor.
3. Rodizio Grill
Rodizio Grill, which touts itself as America's First Brazilian Steakhouse, promises an authentic South American dining experience. While its succulent rotisserie-grilled meats take the main stage, its gourmet salad bar and authentic Brazilian sides are not to be overlooked. Its salad bar features over 30 award-winning salads, all made fresh daily, such as the Salada de Queijo Fresco (fresh mozzarella salad), Salada Rodizio (BLT salad), and Massa Com Frutos Do Mar (seafood pasta salad).
In addition to classic options like Caesar salad and mixed greens, you'll find unique Brazilian dishes like hearts of palm salad and a refreshing cucumber salad. A variety of cheeses and cured meats are also available, providing a true taste of Brazil. The variety here is what we liked most about this salad bar.
Rodizio Grill has an overall rating of 4 stars on Yelp. "Salad bar was plentiful and food was fresh," one customer wrote on Yelp. Another diner added, "The salad bar was beautiful, fresh and varied."
4. Ruby Tuesday
Ruby Tuesday is known for its selection of burgers, ribs, and seafood as well as its Garden Bar where you'll find an array of soups, salads, and all the fixings your heart desires to make a delicious veggie-filled plate. Customers say the Garden Bar is one of the best things the restaurant has to offer, and it's consistently singled out in online reviews. "Not sure if it is the same case with other Ruby Tuesdays, but the salad bar at Elizabeth was super-fresh and had a ton of variety — had to go back for seconds. Service and Entrée were decent, but I had to comment on the surprisingly good salad bar," one New Jersey customer wrote in a 4-star Yelp review.
This might be due to the chain's revamp of its Garden Bar. Ruby Tuesday faced a 16.8% decline in total revenue and a 4% drop in same-restaurant sales in 2017. To combat this, the chain made its largest change in a decade by increasing its salad buffet from 36 items to over 55, including new fruits, cheeses, vegetables, and toppings. It also introduced eight new house-made salad dressings whipped up fresh each day.
Like many restaurants, Ruby Tuesday had to adjust during the COVID-19 pandemic. But 79% of its guests didn't want to see the Garden Bar go away and expressed interest in having the salad bar continue. So, the company added the option for online orders in addition to in-person dining.
5. Sirloin Stockade
Sirloin Stockade combines a traditional steakhouse with a hot and cold all-you-can-eat buffet, giving diners a plethora of options for a heavy or lighter meal. Some customers flock to its locations in Kentucky, Texas, Missouri, and Oklahoma just to eat at the salad bar.
With an emphasis on quality and freshness, this leafy buffet features an assortment of greens, fruits, cheeses, crunchy toppings, and dressings. Sirloin Stockade has a massive variety for diners, from steak to poultry and seafood, yet customers often spotlight the high-quality, well-stocked salad bar.
"Sirloin has based its reputation mostly on its buffet, which is quite good, offering various main courses, veggies, desserts, and the salad bar. Above all else, the salad bar portion of the buffet is terrific, offering just about anything you could ask for on a salad," a customer wrote on TripAdvisor. Another guest called it "the finest salad bar around."
6. Shoney's
With locations in 17 states, the family-friendly Shoney's restaurants serve breakfast and an array of favorites like burgers, salads, sides, and desserts. It also serves booze at select locations. But its showstopper is its buffet. With original recipes created by its culinary experts, Shoney's takes pride in providing guests with a fresh and flavorful dining experience.
All You Care To Eat Fresh Food Bar offers a diverse selection of hot and cold items like salad, seafood, fruit, vegetables, entrées, and soups. Its brunch buffet is so popular that it's called the Legendary Breakfast Bar. Shoney's also emphasizes in adherence to strict cleanliness and health guidelines ensuring that the salad bar remains a safe and enjoyable option for all guests.
One customer at the Lenoir City, Tennessee, location raved about Shoney's salad bar being "awesome," saying, "The salad items on the bar was great! The hot food on the bar was fantastic. I had the fried chicken tenders that were so tender. They had great slaw, mashed potato, Allen green beans, and pinto beans. My granddaughter loves the Mac and Cheese. They had some very delicious corn fritters and even some mini corn dogs. The price was great. I would highly recommend anyone passing by at lunch time to … stop and have lunch."
7. Ponderosa Steakhouse/Bonanza Steakhouse
Ponderosa Steakhouse and Bonanza Steakhouse, both owned by FAT Brands Family, have been around since the 1960s, offering a premium experience in a family-friendly atmosphere with affordable prices. The two restaurant brands offer a variety of grilled entrees like the center cut sirloin or chicken Monterey, which come with a baked potato or steak fries. If nothing on the menu suits your taste, you can hit either the hot or cold buffet.
The cold bar offers a lettuce base with veggie toppings like green peppers, broccoli, and tomatoes. You can also toss on some diced eggs, croutons, seeds, or diced ham. It has at least six options for dressing. The bar also includes Caesar, cucumber, potato, pasta, and macaroni salads as well as cole slaw.
The salad bar items are ripe and fresh to the delight of its customers. "The salad bar was also quite good! My wife and I wished we had made a second trip to the salad bar instead of wasted any other space on anything else. The service was also really great, our server was quite attentive and entertaining," one reviewer on Yelp wrote.
8. Pizza Ranch
This popular Midwestern chain is known for its legendary buffet-style pizzas and chicken. However, it's the chain's extensive salads and sides bar that has earned it a loyal following. With this focus on quality and freshness, Pizza Ranch aims to provide a wholesome dining experience for the whole family.
Pizza Ranch's salad bar offers a wide range of fresh, garden-green salads, along with an assortment of dressings to suit every taste. In addition to the classics, you'll find unique options like a broccoli salad and a pasta salad. The salad bar also includes a variety of vegetables, fruits, and cheeses, making it easy to create a wholesome, delicious meal.
Pizza Ranch's salad and sides buffet doesn't stop at veggies. It includes the chain's famous mashed potatoes and gravy, which are the perfect accompaniment to its crispy chicken, while ranch wedges provide a satisfying crunch. A selection of cooked vegetables rounds out the buffet, ensuring a balanced, filling meal.
9. Sizzler
Sizzler has been a popular dining destination for over 60 years, offering a wide variety of affordable menu items like steak, seafood, ribs, burgers, and chicken. But its shining star is its salad bar. "It's really the centerpiece of our restaurant," Sizzler USA Chief Growth Officer Robert Clark told Fast Company in 2023. The chain decided to polish this bright spot by giving the buffet at each location a makeover with a more airy, clean, and modern look.
Not only does the Sizzler's salad bar offer a diverse range of fresh produce, soups, and sides including various greens, vegetables, and toppings, but you'll also find filling items like chicken wings and seasonal items. Even a global pandemic could not stop the power of the chain's prized buffet.
To keep customers safe during the pandemic while still offering their favorite option, Sizzler asked guests to fill out an order form that would be prepared by a "Salad Bar-ista" who would put the plate together and deliver it to the table. Some complained that its all-you-can eat option was a bit pricey but still loved the variety. "Went to Sizzler and it was delicious. I ordered the salmon and salad bar. The salmon was lemony just how I like it and I didn't remember their salad bar having so many options. The salad bar options were tasty and I love they have turkey meat for the tacos. I noticed it was very clean too," a customer wrote on Yelp.
10. Cicis Pizza
Though Cicis Pizza is primarily known for its all-you-can-eat pizza buffet in a family-friendly atmosphere, its salad bar is a hidden gem. The first restaurant opened in Plano, Texas, in 1985, and the first salad buffets opened in select locations in 2014. Despite hard times during the pandemic, it still has nearly 300 locations in 30 states.
The salad bar features a variety of fresh ingredients, toppings, and dressings for a customizable and satisfying salad experience. It's a very basic salad bar. You'll get your greens and a decent amount of veggies to go on top, and that's about it.
But with an emphasis on accessibility and affordability, Cicis Pizza delivers a salad bar that won't break the bank, making it a popular choice for families and budget-conscious diners. "The salad bar choices was small as well but well maintained. You can definitely get your money's worth," a customer wrote on TripAdvisor.
11. Chuck-a-Rama Buffet
Chuck-a-Rama Buffet is a Western-themed chain known for its homestyle cooking and expansive salad bar that provides both a satisfying and memorable dining experience. In addition to a build-your-own option, it features a wide array of pre-made options, including traditional favorites like Caesar and spinach, marinated vegetables, and Southwest quinoa salads.
With over 60 items to choose from, including a variety of dressings, toppings, and vegetables as well as pasta salads, cole slaw, carrot salad, bread, and soup, there's something for everyone at Chuck-a-Rama's salad bar. The refreshing greens offer a great way to lighten up your meal when indulging in the buffet's hot offerings like homestyle macaroni and cheese and baked beans. You can even enjoy fresh fruit or dessert items after your meal.
This salad bar is extensive, and Chuck-A-Rama locations consistently sport 4-star ratings on Yelp. "Solid Buffet, the food is good and kept fresh and all very tasty. Just wish there was slightly more variety. If you're into salad bars then this place is for you!" one customer wrote on Yelp. But with only 11 locations – nine in Utah and two in Idaho — Chuck-a-Rama Buffet landed lower on our list.
12. Hibachi Grill and Supreme Buffet
Hibachi Grill and Buffet has restaurants that span throughout the eastern portion of the U.S. Some locations even offer a large party room in addition to the dining room that can be reserved for meetings, weddings, and other events. The chain offers a hibachi menu that you can pick from to create a unique dish that can be cooked fresh on the hibachi for no extra charge.
Hibachi Grill and Buffet is a popular choice for those craving Asian cuisine and the typical all-you-can-eat fare with items like ribeye steak, shrimp, and even sushi. Among its offerings is a diverse salad bar with fruits and vegetables. With a range of traditional salad ingredients and unique options like seaweed salad, there's something for everyone.
There are some nice mixed salad toppings like tabouleh and tomatoes and plenty of different dressings. Though it does offer plant-based options for guests, the salad bar isn't a big highlight of the overall buffet. "If you are Vegan/Vegetarian you may find some solace in the salad/fruit bar … but not very much," one customer wrote on Yelp.
13. Pizza Hut
Pizza Hut may be famous for its pizza, but its Unlimited Lunch Buffet, which included a salad station, was also a triumph to be remembered throughout the ages. It included all-you-can-eat pizza slices, salad, breadsticks, pasta, and even ice cream. You may have made a trip or two around this legendary buffet in your younger years when the iconic red-roofed chain was in its heyday. However, as locations become more rare among massive store shutdowns, its salad bar has become even more elusive.
Customers on Reddit complained of not being able to find Pizza Huts near them with a buffet or salad bar. Others said that their location's buffet wasn't reopening after the pandemic. There are still a few standing strong sprinkled throughout the country. BuzzFeed reported that the Pizza Hut salad bar is still alive in well in about 10 locations in Australia. Pizza Hut UK still advertises its Unlimited Lunch Buffet on its website as well as an option for unlimited salad, which comes free only when you order a main meal. Not only will you find fresh lettuce, cucumbers, and red onion, but you'll also find more gourmet fixings like beet root, vegan bacon bits, and spicy jalapenos.