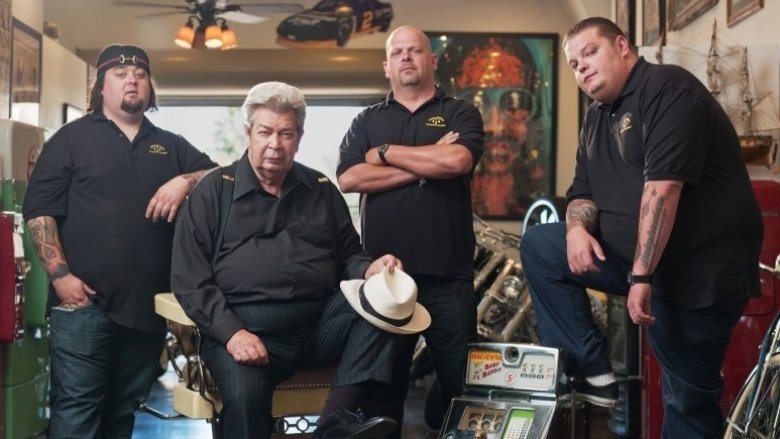 When it comes to reality TV — and Pawn Stars in particular — fans need to learn to expect the unexpected. That could mean everything from seeing what kind of random crap someone tries to sell to the brokers of Gold & Silver Pawn, or being shocked when the real world intrudes on the unreal-reality that the show inhabits on television.
Pawn Stars fans were caught by surprise when series star Austin Lee "Chumlee" Russell was arrested for drug and weapon possession as part of an ongoing sexual assault investigation (though it does seem that one of the rules of the show is to keep a modest profile even off-camera). The truth is, we never really know the people we like seeing on TV. And that wasn't the last time fans were reminded that the reality we see on Pawn Stars doesn't end when we change the channel: in 2018, longtime fans were sad to learn that Richard "The Old Man" Harrison had passed away at the age of 77. Time to put the hawking on hold as we look at the untold truth about the cast of Pawn Stars.
Chumlee's past wasn't exactly a clean slate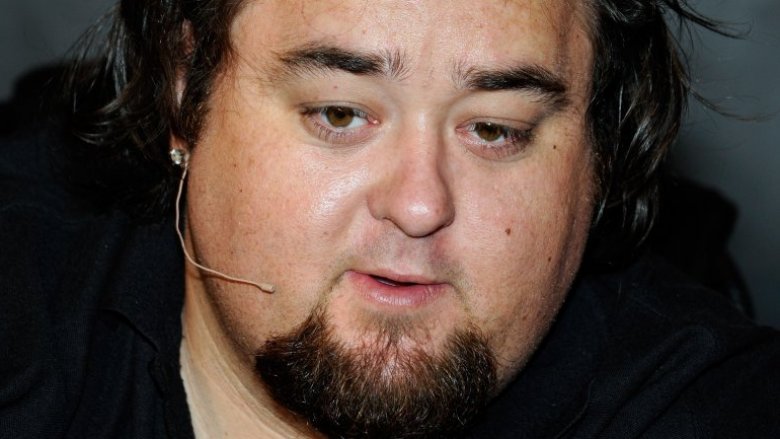 In May of 2016, Austin "Chumlee" Russell landed a plea deal for charges he received after police raided his home in connection with the investigation of a sex assault case. Though he never faced any sex assault charges, according to TMZ, police found marijuana, meth, Xanax, and eight firearms not registered to Chumlee during a raid of his "Chum Chum Room," which is his "party spot" complete with a stripper pole. But the Pawn Stars regular's lawyers were able to negotiate down to just two charges: felony possession of a firearm and felony possession of a controlled substance, both of which "will eventually become misdemeanors once he completes probation."
And it's not the first time Chumlee has been involved in some shadiness since becoming a reality star. In 2012, cameras captured Chumlee in a brawl with an unidentified man who approached him and a group of friends while they were hanging out on Hollywood Boulevard. He later insisted he was fighting in self-defense, and that the man was a stranger who asked for a ride and then threatened the group with a gun. It's unclear what happened to the man who was beaten and badly bleeding when Chumlee and his friends fled the scene, but it's probably a good guess that he didn't get an invite to the "Chum Chum Room."
Human skulls and Japanese porn
Over the years, the Rick Harrison, the co-owner of the World Famous Gold & Silver Pawn Shop, saw all kinds of weird items come and go. And when asked in multiple interviews about the oddest items anyone has ever brought into his shop to sell, Harrison usually answers, "Japanese porn." Two-hundred year old Japanese porn, specifically. "It's all hand-painted. It's on a scroll down to every bodily fluid. Everything's really exaggerated. It's sort of creepy and then after I bought it, I realized my mother comes into the pawn shop so I couldn't display it out there," Harrison told Heavy.
A guy also once walked into the shop looking to sell a bunch of human skulls. According to the Dallas-Fort Worth Star-Telegram, the guy claimed he bought them from an auction at a dental school, but unsurprisingly, he did not get an offer from Harrison. In all honesty, though, if a couple of skulls and some porn are the strangest things to come through the doors of his Vegas pawn show, it sounds like Harrison kind of got off easy.
They know what they're getting
Given that attempting to film the actual day-to-day life at a pawn shop would result in some pretty boring television, it should come as no surprise that the items you see brought into the Gold & Silver Pawn Shop on the show have been vetted beforehand. Granted, this doesn't mean that the items are plants from producers. In fact, longtime shop manager Travis Benton told the Las Vegas Review-Journal that his brokers "spot unique items and show them to producers who decide if they are worthy of broadcasting."
Another shop employee, Rocco Landi, said, "Once an item is deemed 'possible TV material,' its seller is coached on how to act while on camera. Some people have a great item to sell, but they appear nervous on film. It can take several tries to get it right, depending on the person. … Producers have cut items from the show because the seller could not 'pull it together' on camera, but it doesn't happen often."
Executive producer Brent Montgomery even admitted that the staging goes a little bit further than that. In an interview with Odyssey, Montgomery said that they have "really smart scripters to feed the characters organic information," and that he's coached the guys on buying stuff they wouldn't otherwise go for if they weren't doing the show. He also said the production team pre-negotiates pricing with the potential sellers off-camera "to make sure that these people will actually sell the stuff at a reasonable price, otherwise they're just trying to be on TV." That's understandable to a certain extent, but it definitely sheds a new light on Harrison's infamous — and regularly parodied — negotiation tactics.
They don't actually work at the store
The World Famous Gold & Silver Pawn Shop is actually managed by Travis Benton, not Rick Harrison or the late Rich Harrison, better known as The Old Man. But they do actually shoot the show in the store, only privately and with customers who sign releases and agree to be extras. This sometimes causes issues for Benton and the other sellers on the floor, but more on that in a minute.
According to Starcasm, part of the reason the Pawn Stars crew isn't readily available to the public is due to "Nevada's privacy laws," specifically in regards to the fact that shop patrons would constantly be trying to take photos and videos of the reality stars which could "violate the privacy of others in the shop by accidentally taking a shot of them." And that makes a lot of sense when you think about it, because something tells us "seven skulls in a duffel bag" guy probably wouldn't be too thrilled to accidentally appear on some Vegas vacationer's Instagram, let alone a hit TV show.
Show production actually interrupts business
Parts of the World Famous Gold & Silver Pawn Shop temporarily close to the public when the crew shoots an episode of Pawn Stars. This can sometimes mean a real interruption of business, according to shop manager Travis Benton, who told the Las Vegas Review-Journal that "sales can suffer because of the show." Benton also estimated that "one out of a hundred" people who pass through the shop are actually there to do business. The rest are just there as fans of the show. "Filming takes place two to five times per day, Monday through Friday," Benton said, and he doesn't know until the night before, "usually around 6 p.m.," what the TV crew has planned for the following day.
But before you start thinking that GS Pawn is in danger of going out of business, keep in mind that the store draws 4,000 to 5,000 visitors a day. Not to mention Harrison once told Las Vegas Now, "I'm at a point in my life where, if I don't like it, I don't have to do it."
The shop is a tourist attraction now
Remember what manager Travis Benton said about how 99% of the pawn shop's customers are really just tourists? Well, Harrison backed that up big time in that Las Vegas Now interview, claiming his shop "competes with the 'Welcome to Las Vegas' sign for the number one non-gaming tourist attraction in Las Vegas," as well as gets "more visitors than the Hoover Dam."
And it seems to be true. A reviewer for Traveller notes that lines routinely extend down the sidewalk, and can sometimes take "two-to-three hours to get through." But visitors should should also be aware that if they're waiting hours to catch a glimpse of their favorite Pawn Star, the chances aren't great. "Occasionally one of the superstars will come out from the back (where they produce the show every working day) and sign autographs for about an hour," Traveller reports. So, it fittingly is a roll of the dice whether a super fan's long wait will pay off with an autograph, but hey, isn't that what Vegas is all about?
Rick Harrison pitched Pawn Stars for years before it got picked up
Calling himself a "media whore," Rick Harrison says he always knew TV exposure was good for business. That's why he agreed to put the show on Comedy Central's Insomniac in 2003, as well as starred in a 2001 PBS documentary before coming up with the idea to pitch an entire show based on the daily ongoings of the World Famous Gold & Silver Pawn Shop.
According to The New York Times, the original concept for Pawn Stars started on HBO, but after a disastrous pilot and the expiration of his contract, Harrison turned to Leftfield Productions, the company that still produces the show today. "I figured that a show would mean free publicity and free publicity would mean more business," Harrison told The Star-Telegram, adding "But everyone told me that no one wants to watch a show about four fat guys in a pawnshop." Fourteen seasons and millions of dollars in profits later, whoever turned Harrison down couldn't have been more wrong.
Chumlee wasn't originally cast on the show
Despite his legal troubles, Chumlee is far and away the fan favorite of Pawn Stars. Even Harrison, who is featured most prominently on the show, knows this, as he once told The Star-Telegram that tourists often opt for the Chumlee merchandise, like the "Chumlee for President T-shirt."
But Chumlee wasn't always part of the plan. He told Las Vegas Now that the show was originally just a family gig until they started looking for a fourth cast member. "There was 10 other employees in the shop and they were looking for a fourth person to put in the show, and I thought to myself, well, I've known these guys my whole life. We have good camaraderie, and I'm just going to be funny and joke with them like we would normally do, and not get nervous in front of the cameras, and it kind of worked out," he said. And by "kind of worked out" he means he became a multi-millionaire. Meanwhile, does anyone even want to guess how bad those other nine employees hate Chumlee?
Rick married into a messy situation
After Harrison wed legal worker Deanna Burditt in 2013, tabloids reported that the lovebirds were embroiled in a legal battle involving Burditt's ex-husband, Richard Burditt, who was free on bail while awaiting trial for a variety of sex-related charges. Not surprisingly, Harrison didn't have great things to say about his wife's ex, or "all the bureaucracy" of the legal system that he felt took too long to bring Burditt to justice.
Speaking with Glenn Beck on his radio show (via The Blaze), Harrison claimed that Burditt plead guilty to sexually assaulting a 16-year-old girl but had his sentencing delayed for four years while he awaited "his psycho-sexual evaluation." Harrison continued, "It's the insanity of our legal system," adding "[Burditt] would've spent more time in jail if he got a DUI." Burditt was eventually sentenced to 1 to 15 years in prison for his offenses, which included "forcible sex abuse and third-degree felony dealing in harmful materials to a minor."
Olivia Black was fired for being naked (sort of)
Pawn Stars cast member Olivia Black lost her gig on the show after nude photos of her surfaced, exposing her previous career as a model for SuicideGirls.com. She later revealed that she was still an employee of the store, as she was really only "fired" in front of the cameras. Harrison confirmed the details of the scandal to Fox News, saying, "I never fired her. She's out doing her own thing now. It's just the production company did not want her working there anymore. What she does in her personal life…is her business."
Black resumed her modeling career, and it was alleged that she sued to get back on the show. Although during her Reddit AMA, Black denied there was a lawsuit and openly petitioned to return to the show, writing, "I am still trying to show the production company that if I was fired for the SG photos, that the fans don't care. I'd just like to have my job back. I think The [sic] fans are a lot more open then [sic] they're given credit for." Ultimately, Black never returned to the show, and even left her job at the store several months later. It's okay, Olivia—we still love you as a Suicide Girl.
The store was sued for melting stolen coins
When you deal with the public for a living, you really never know what's going to happen. Harrison was reminded of this the hard way in 2014, when his store was sued for melting down a collection of gold coins that the former owner, David Walters, alleged had been stolen and sold off by his niece. According to UPI, Walters claimed that his niece received $12,375 for his $50,000 gold coin collection. And although pawn shops in Nevada are required to hold onto items for 30 to 90 days in case the owners want them back, gold coins aren't subject to that law. Unfortunately for Walters, that meant his collection was gone by the time he tracked it down.
Shop spokeswoman Laura Herlovich offered a pretty unsympathetic view of the situation, telling UPI, "If the grader is not someone we trust, the cases are cracked open and the coins are sent out to be melted down. That was the case here. I don't know for sure, but I believe a majority were melted down. They weren't worth what he [Walters] thought they were worth." We're sure that devaluation takes the sting right out of being ripped off by his own family.
Corey Harrison is an amateur stunt cyclist
In 2014, Harrison was riding his bike while collecting supplies for his birthday party when a piece of his fender came off, sending him into a high-speed tailspin. Thinking fast, he avoided sailing into traffic by jumping off his bike—and he still went to the party before heading to the hospital, where he learned he had a broken hand, according to TMZ.
Harrison's no stranger to wrecks, either; in 2011, he was in the news for wiping out in the rain during a ride between Vegas and San Diego. Maybe it's time to start pawning the bikes.
Pawn Stars' big expansion
Reality TV can be fickle, so credit is due to Harrison for striking while the iron is hot and using his fame as the foundation for a business empire that now includes "Pawn Plaza," a shopping center made out of old shipping containers that sits next door to the store.
But the rollout of the spinoff shopping center has been a little rocky. Shortly after opening its doors, Pawn Plaza saw five tenants leave in 2016 alone. One of those tenants was Rita's Italian Ice owner Paul Weinstein, who told KTNV that he felt "slighted and betrayed" by unrealistic promises of heavy foot traffic. Weinstein also says he was "forced out" after Pawn Plaza doubled his rent "knowing that it (the rent) was more than we were making a month."
Speaking with KTNV (via Eater Vegas), Harrison addressed the issues with his side gig as a landlord, saying, "I've gone above and beyond for every tenant I've had." Not mentioning Weinstein specifically, Harrison also said, "I've had a few people moving out. One guy was getting on the news and saying it was my fault. …There is no such thing as build it and they will come. There just isn't." And Harrison kind of has a point, doesn't he? If you can't sell Italian ice in the middle of the desert, is that really your landlord's fault?
Chumlee was the victim of an Internet death hoax
A lot of celebrities are subject to death hoaxes online, but very few take on any kind of real traction. For some reason, however, when the internet randomly decides that Chumlee from Pawn Stars is dead, a lot of people believe it.
According to Snopes, the first time Chumlee fake-died was in 2013, when the dubious site Internet Chronicle reported that he passed away from a "marijuana overdose." Not only is it not possible to die this way, it was completely made up. Snopes also reports that less than a year later, another site, eBuzzd, prematurely declared Chumlee dead, this time from a heart attack. This report was particularly ironic given that the lovable goof had actually dramatically changed his lifestyle and was dieting and exercising at this time. Presumably responding to the rumors of his death, Chumlee tweeted, "May we live long, Rich forever."
The Old Man passed away in 2018
Getty Images
Sadly, no one lives forever, despite Chumlee's fondest wish. On June 25, 2018, TMZ reported that Richard Harrison, more commonly known to fans of the show as "The Old Man," had passed away at the age of 77. His son, Rick Harrison, broke the news to the world: "'The Old Man' Harrison passed away this morning surrounded by those he loved. He will be tremendously missed by our family, the team at Gold & Silver Pawn and his many fans the world over.
"He was my hero and I was fortunate to get a very cool 'Old Man' as my dad."
Of course, without the Old Man, we never would have had Pawn Stars at all. Richard Harrison opened the Gold & Silver Pawn shop in Las Vegas with his son, Rick, in the early 1980s. Even as the shop's resident Old Man, he was front and center as one of the most important reasons for the shop's — and the show's — overall success.
The show is an international hit
Having now been translated into 38 languages, and aired in 150 countries, Pawn Stars is a bonafide international hit. In fact, Harrison claims he's "been mobbed by people in Buenos Aires, the Philippines, Kuala Lumpur, New Delhi," adding, "Everywhere in the world, people know the show." The guys even did an Asian tour in 2013, during which Las Vegas Now said they were "greeted as if they were the reunited Beatles." And according to OKJ Discoveries, fans lined up for hours at various meet-and-greet events attended by Harrison and his son, Corey "Big Hoss" Harrison, for the chance to lay eyes upon the reality stars. It's pretty remarkable to think that a TV show could turn a couple of guys from a pawn shop into megastars on par with rock and roll legends.
They were sued by their original TV agents
While the pawn business can be perceived as a dirty game, the entertainment industry is right there alongside it, especially in the cutthroat world of celebrity representation. In 2012, all three Harrisons as well as Chumlee were sued by their ex-manager; the network, meanwhile, was sued by the talent agency that represented them, Venture IAB. According to TMZ, their ex-manager, Wayne Jefferies, claimed that the Pawn Stars crew dropped him after a dust-up concerning his handling of their response to A&E's spinoff show, Cajun Pawn Stars. Venture IAB's lawsuit alleged that History Channel execs worked with another agent to lure the guys away from them. Jefferies sought "unspecified damages," but Venture IAB sued for "for more than $5 million."
The Venture suit seems to have been eventually dismissed, and Harrison, for his part, didn't seem to be fazed by the legal drama. When asked about the Jefferies suit, Harrison told Fox News, "The more money you make, the more times people sue you. People are always going to…eventually go to sue you for something."