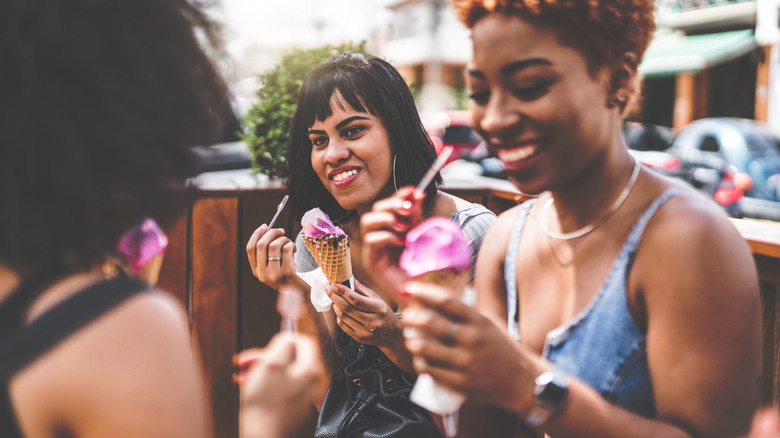 If you're looking for the good stuff in Los Angeles — the really good stuff — you're gonna want to dig a little further than the place with the tie-dye and cows, and you'll definitely need to ditch the "31 flavors." No rolling or mixing-in toppings on extra cold surfaces. Yeah, you can let go of the door to the freezer section, and absolutely do not, under any circumstances, utter the term "fro-yo."
These are real ingredients, local farms, old school dairies, seasonal inspiration, actual cows, culinary geniuses, brothers and sisters, married couples, upstarts and traditionalists — all striving for the ultimate goal: The best ice cream in all of Los Angeles, California. With nearly 10 million people living in the county, in a state that eats the most ice cream of any, it's a big task.
But you're not here for some thoughtless list of icy, flavorless attempts at a so-called perfect scoop. That's why we've (happily) done our sweet, creamy, delicious homework. From the trucks to the pop-ups, the imports to the locals, the time-honored to the trailblazing, here's where to get the best ice cream in all of LA.
Carmela Ice Cream Co.
What happens when two people who have no idea how to make ice cream set out to craft the best farmers' market-inspired product around? You get really good ice cream from founders and real life married couple Jessica Mortarotti and Zach Cox of Carmela Ice Cream Co. It is so ridiculously creamy, people even order vanilla. On purpose.
Having begun their business by churning out the goods overnight in the back of a pizza shop, their initial efforts could be found tucked inside their tiny cart at a market or two. Fast forward to 2011, when they'd opened up a wildly successful creamery in Pasadena, California, where demand immediately smashed expectations.
"What sets the Pasadena-native apart from most ice creameries in Los Angeles," says the Beverly Hills outlet Highlights, "are the sweet and refreshing ice cream flavors."
Here you can load up on scoops, not artificial ingredients. You can even take a class on how to craft your own batch, and walk out with two pints to take home. Try a bounty of flavors that celebrate the changing seasons, like Meyer Lemon Olive Oil, Pumpkin Spice, or Brown Butter Sage. Or hit up fan-favorites like Salted Caramel, flower-infused Lavender Honey, Strawberry Buttermilk in Spring and Summer, or the shop's very first flavor, Rose Petal, with genuine locally-sourced roses.
Mashti Malone's Ice Cream
Have you ever tasted Mint Chocolate Chip that is "2500 years in the making?" 'Tis divine. Meet Mashti Malone's, where founder Mashti Shirvani is cranking out old fashioned Persian ice cream and sorbet to the tune of roughly 1,000 gallons on the daily. He's happy to talk to customers about the ancient dawn of ice cream in Persia. As he once told Vice, "Less sugar and more flavor is my specialty. When you taste my ice cream, you can taste that [it] is natural."
When Shirvani opened his flagship location in Hollywood, he snagged an ice cream parlor that was formerly Irish. Too broke to replace the whole sign with one of his own, he changed "Mugsy Malone's" to "Mashti Malone's" and kept the lucky shamrock. But the treats are pure Persian persuasion.
According to the owners themselves, brothers Mashti and Mehdi Shirvani were the very first to conceive of multiple fragrant ice cream flavors (including cucumber, ginger rosewater, and lavender, as well as pomegranate sorbet). But if you're new to Persian ice cream, you don't want to miss out on the saffron rosewater with pistachio nuts and sweet, chewy bits of cream. It's amazing what you can do with a little sugar and a dream.