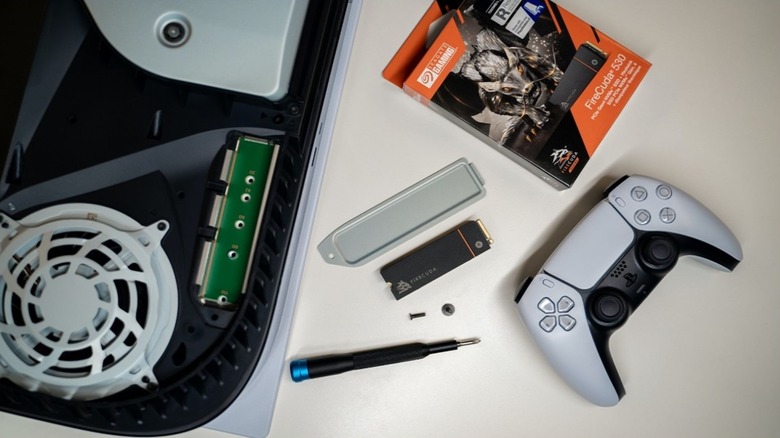 We may receive a commission on purchases made from links.
The PS5 is an amazing console by itself, but it's even better when you add extra storage. Although the PS5 officially has 825GB of storage, only 667.2GB is free for games. With huge games like Red Dead Redemption 2 (120GB) or ARK: Survival Evolved (250GB), available storage on the PS5 can quickly disappear. There are a few ways to free up storage space on your PS5, or you can simply upgrade your overall storage by adding an extra internal M.2 SSD or an external SSD.
NOW
PLAYING
The best PS5 storage options are speedy, large in size, and compatible with the PlayStation 5's powerful system. If you're interested in an internal M.2 SSD, you'll want to consider looking for high read/write speeds, ideally above 6,000 Mbps (megabits per second) for read speed and above 7,000 Mbps for write speed. External SSDs won't offer read/write speeds quite this fast and are mainly suitable for PS4 games.
Then, you should weigh your budget against how much future storage you might potentially need. A 4TB SSD will cost a lot, but it'll be a while until you hit max storage capacity. You'll also need to make sure the SSD you choose will fit inside the PS5's M.2 slot and that the heat sink is properly sized.
To help you avoid the time-consuming research process, we've done it for you! We've rounded up the 10 best PS5 storage options, including premium and budget tiers, as well as a few external drive options.
How We Selected Products
When searching for an SSD — whether for your PS5 or a computer — it's a smart idea to first check out historically reliable brands. This doesn't mean an upcoming brand can't make an amazing product, but in the world of computer parts, certain brands have developed a reputation for consistently delivering top-tier products. A few major SSD brands on this list include Western Digital, Samsung, Corsair, and Crucial.
Of course, we don't blindly select products from reliable brands. We checked out real-world applications from professional reviewers and other individual users that put each SSD through its paces, testing whether the read/write speeds advertised by the manufacturer are actually true.
A great SSD also comes in a variety of sizes to accommodate different storage needs and budgets. Some of the storage options we chose for the PS5 offer a 500GB capacity (if you typically play smaller games and are just looking to double your PS5's built-in storage) or as much as 4TB of extra storage.
An SSD going inside your PS5 also needs an effective heatsink, so we analyzed that as well among reviews when selecting products. On a similar note, the SSD slot inside the PS5 can only fit specific SSD sizes (2230, 2242, 2260, 2280, 22110), so we verified that every one of these options is an appropriate size and paid attention to how well people said each SSD fit inside their console.
Best Overall: Corsair MP600 PRO LPX
The Corsair MP600 PRO LPX M.2 SSD offers incredibly fast read/write speeds of 7,100 Mbps and 6,800 Mbps, respectively. Your PS5 games will load quickly and smoothly with PCIe Gen4 technology, and even large game files will download in no time.
This 2280-size SSD fits snugly into your PS5's SSD slot and comes equipped with a pre-installed heat spreader made with aluminum. A heatsink generally does a better job of cooling, but the heat spreader on this Corsair SSD disperses heat well enough to prevent throttling your gaming experience.
On Corsair's website, the MP600 PRO LPX M.2 SSD is priced at $79.99 for 1TB of storage and $279.99 for 4TB. There are 500GB and 2TB options as well.