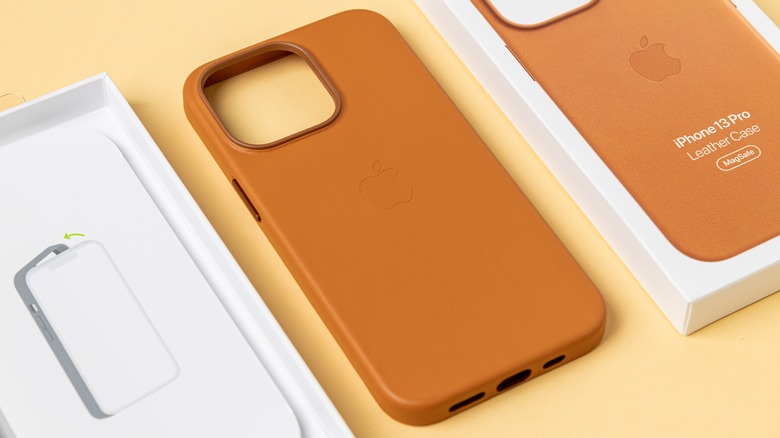 MagSafe has become a mainstay feature of the iPhone in the years since the feature was introduced to Apple's mobile lineup. The set of magnets in the back of iPhones that have been present since the iPhone 12's release in October 2020 can be used for various needs. MagSafe can be used for wireless charging, holding a grip or kickstand, or attaching a wallet.
NOW
PLAYING
There's just one small snag with MagSafe — phone cases. A survey found that around 80% of smartphone users keep their phone in a case. Once enclosed in a case, the magnets that power MagSafe just aren't as effective. However, in typical Apple fashion, the issue was quickly resolved with an innovative new solution, MagSafe iPhone cases. These special protective shells have magnet arrays that rest directly above the iPhone's magnet array so that any given MagSafe accessory can still function with a case on.
With any new iPhone accessory comes thousands upon thousands of products seeking to make it to your phone, but not all MagSafe cases are as simple as a phone case with a magnet array. Some have built-in functions for those seeking a specific use out of their phone, and others are more focused on keeping the phone inside the case as safe as possible. Amidst this sea of MagSafe cases, some stand out above the rest.
How we selected products
7postman/Getty Images
For the following 10 iPhone cases, several factors were taken into consideration. The top consideration, given this list's nature as a ranking of MagSafe cases, was the existence and effectiveness of the magnet array in the case.
This may seem like a no-brainer, but some cases are advertised as MagSafe compatible but don't contain a magnet array. Instead, these cases are simply thin enough for accessories to magnetize through the case. However, this means that they won't quite stick and snap on like they would with a magnet array present. These 10 cases include an actual magnet array and will be effective with most — if not all — MagSafe accessories.
Other factors considered when selecting these cases included price, consumer reviews of the case, and the press some cases have received. Another significant factor considers cases that have a secondary function, such as specifically being waterproof or having an attached kickstand, and whether or not those functions actually work and if they do so effectively.
Best First Party Case: Apple's Silicone MagSafe Case
Naturally, Apple makes their own line of MagSafe cases. These cases come in multiple colors and materials, but the best of them is their Silicone MagSafe Case. This case comes in a variety of colors and is $10 cheaper than their leather MagSafe case.
Another tick in this case's favor is the lack of the MagSafe circle on the back of the case. Many MagSafe cases include a circle to highlight the magnet array on the back of the case, which can detract from the aesthetics of the case. Given this case is made by Apple, there's no doubt to be had that it will work with any official MagSafe accessory.
Purchase the Silicone MagSafe Case at Apple for $49.
Best Wallet Case Combo: TopPerfekt Wallet Case
The MagSafe wallet is an increasingly popular accessory, and even Apple makes one. However, phone cases that are combined into a wallet are widely used as well.
The TopPerfekt Wallet Case is a combined wallet-phone case that maintains MagSafe functionality. In addition to the magnet array for MagSafe functionality, the faux leather case also includes magnets to help keep the wallet flap on the case closed. The wallet flap has three card slots and a pocket for cash, and it can additionally be used as a kickstand. For a simple, multi-functional MagSafe wallet-case combo, look no further.
Purchase the TopPerfekt Wallet Case on Amazon for $23.
Best Waterproof Case: OtterBox Frē
OtterBox is an absolute powerhouse in the world of phone cases. As long as smartphones have existed, OtterBox has been there to put a miniature tank around them.
Although their cases are most well-known for durability, the OtterBox Frē series is designed with waterproofing in mind and it has the years of reliability that come with the OtterBox brand backing it up. By bundling together the durability of an OtterBox in addition to an IP68 rating and complete MagSafe compatibility, this case becomes an easy choice for anyone who needs that extra layer of protection without compromising MagSafe functionality.
Purchase the Frē at OtterBox for $85.
Best Clear Case: Spigen Ultra Hybrid Mag
Some people just want to see their very expensive phone through the case, which makes the Spigen Ultra Hybrid Mag a great choice. Backed by Spigen's proven track record for quality, this case delivers on the three core components it needs, those being that it is clear, protects the phone, and has a MagSafe array.
The iPhone 13 Pro Max version of the case sits at 4.5 stars on Amazon with over 800 user reviews. With Spigen's brand reliability and a chorus of satisfied users, it's undeniable — this case reigns supreme in clear MagSafe protection.
Purchase the Spigen Ultra Hybrid Mag at Amazon for $21.
Best Budget Case: CACOE Magnetic Case
A good phone case can be costly, even reaching as high as $70 and well beyond. The CACOE Magnetic Case is an excellent MagSafe option with a wallet-friendly price tag that doesn't compromise on quality. Its translucent design showcases device aesthetics while offering reliable protection and has received favorable user reviews for its affordability and reliability.
Although it's not decked out in a custom design or able to survive being thrown off of a cliff, it protects users' phones with protection in daily use without compromising the ability to use MagSafe accessories. At the end of the day, what more do you need from a budget case?
Purchase the CACOE Magnetic Case on Amazon for $14.
Best Thin Case: Totallee Thin
A phone case is an effortless way to make the ever-thinning smartphone thicker, but it doesn't have to be that way. The Totallee Super Thin stands as a skinny alternative to the average phone case, and it does come with a MagSafe option. Totallee has earned a cascade of positive press reviews, and their commitment to quality and design shines through.
The remarkable 0.02-inch thickness of the case is a testament to its sleekness without compromising protection. The Super Thin case proves that minimalism can coexist with durability. Totallee's Super Thin is a quiet addition to any device, as it doesn't even include any branding anywhere on the case.
Purchase the Super Thin MagSafe Case on Totallee for $39.
Best Rugged Case: Rokform Rugged Case
Sometimes your phone just needs that extra layer of protection against all kinds of hazards, but that shouldn't mean giving up using MagSafe. Thankfully, the Rokform Rugged Case is a force to reckon with. Backed by resounding user reviews, it embodies durability and performance.
With a battle-tested construction, the Rokform Rugged Case shields devices without compromise. The standout twist-and-lock mounting system adds a layer of utility that sets it apart as well, for the occasional need to forgo magnetic mounting for something sturdier. The Rokform Rugged Case proves that a rugged exterior can house exceptional functionality and design.
Purchase the Rokform Rugged Case from Amazon for $70.
Best Kickstand Case: TORRAS Magnetic Shockproof
It's hard to deny that having a kickstand is an excellent addition to any phone, and the TORRAS Magnetic Shockproof takes the spotlight as the premier choice for a MagSafe case with a built-in kickstand. The case's kickstand flawlessly operates vertically and horizontally, allowing versatility across various use cases.
With a 4.6 average rating on Amazon with over 900 user reviews, it's clear that TORRAS has hit a winning combination of style, protection, and innovation. For a case with a built-in kickstand that will still work with all of your preferred MagSafe accessories, you'll be hard-pressed to find a better option.
Purchase the TORRAS Magnetic Shockproof at Amazon for $35.
Best Unique Case: Casemate BLOX
Do you ever find yourself wishing that your iPhone 14 was a little more Galaxy S23-shaped? In that case, there's excellent news. Casemate's BLOX case can make the iPhone 14 a little more square-shaped with harsher corners, and with the transparent version of the case, it can even look like it's in a plastic case off a store shelf.
Of course, this case isn't all just a fun shape. It's also made of recycled plastics, is anti-microbial, and rated for 10-foot drops, all while maintaining a magnet array for MagSafe functionality. For those seeking a MagSafe case that will make their iPhone stick out in a crowd, this case is perfect.
Purchase the BLOX case from Casemate for $40.
Best Customizable Case: CASETiFY
A phone case can be a great form of self-expression for an otherwise uniform device, and when it comes to self-expression, CASETiFY shines as an unparalleled leader in giving your phone a custom touch. With a history of delivering top-notch products, their phone cases stand out as a canvas for self-expression. Users' positive reviews echo their satisfaction with the personalized touch these cases bring.
With a plethora of color, material, and design options, the CASETiFY's cases stand out as delivering whatever look and level of protection you want for your device, all while keeping MagSafe use uncompromised.
Purchase a custom phone case at CASETiFY for $92.