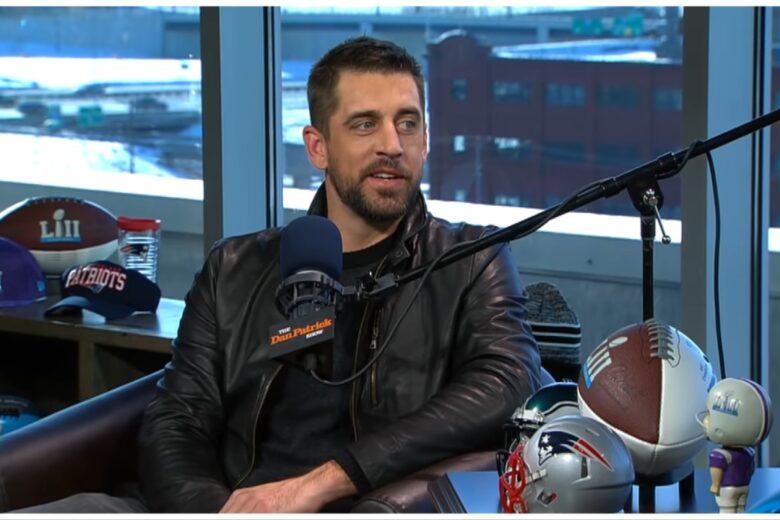 Aaron Rodgers injury update news is rolling in, and it's not promising. The New York Jets quarterback was injured early in the game against the Buffalo Bills on Monday night. After being tackled to the ground, Rodgers struggled to find his footing and eventually sat down before being helped off of the field by the training staff. He was later carted back to the locker room.
UPDATE: Jets coach confirmed that Aaron Rodgers likely has a ruptured Achilles and will be out for the entire season.
Jets' HC Robert Saleh told reporters that he believes Aaron Rodgers suffered an Achilles injury and "it's not good."

— Adam Schefter (@AdamSchefter) September 12, 2023
Aaron Rodgers injury update reveals initial x-rays came back negative
Rodgers was quickly ruled out for the remainder of the Monday Night Football game. Later, coach Robert Saleh told ESPN sideline reporter Lisa Salters that the quarterback was dealing with an ankle injury and getting checked out. According to NFL insider Jordan Schultz, the NFL vet may be looking at a serious injury, which could include lots of downtime.
"There is a fear that #Jets QB Aaron Rodgers is dealing with an Achilles injury, per sources ," Schultz tweeted. "It's currently unknown if it's ruptured. He's expected to have an MRI on Monday," he added.
My thoughts on Aaron Rodgers injury. pic.twitter.com/Sf1J5YoLpQ

— Dr. Mark Adickes (@jocktodoc) September 12, 2023
Aaron Rodgers will miss a few weeks at best, says Dr. Mark Adickes
Dr. Mark Adickes took to Twitter to share his thoughts on Rodgers injury, revealing that the NFL star will likely miss a few weeks of game play, best case scenario. However, the injury could every serious and even end the QB's season after just a few snaps.
"Aaron Rodgers injury appears to be either Lisfranc foot injury, ankle sprain or possibly even Achilles. Similar mechanism to JK Dobbins injury Sunday. Best case is ankle sprain. Will miss several weeks best case," Dr. Adickes said.
Aaron Rodgers is going to tear his Achilles on a rain drenched MetLife turf in 2.5 hours

— David Zaslav (@DaddyZaslav) September 11, 2023
One fan shockingly predicted an Aaron Rodgers injury hours before the game
While Aaron Rodgers early injury on Monday night may have shocked many New York Jets fans, it didn't shock one Twitter user, who predicted the quarterback would injure himself on the artificial turf before the game even started. "Aaron Rodgers is going to tear his Achilles on a rain drenched MetLife turf in 2.5 hours," the fan tweeted.
Following the injury, other fans flocked to the Twitter post, stunned that the social media user had called the Rodgers injury. Many joked about the fan being so spot-on, and asked if their favorite team would make the playoffs, win the Super Bowl, and even pressed the fan for lottery numbers.
Aaron Rodgers was injured and helped off the field on the first Jets drive vs. the Bills. pic.twitter.com/vtKHRW566V

— ESPN (@espn) September 12, 2023
Nothing more will be known about Aaron Rodgers injury until he undergoes more testing. However, it appears that New York Jets fans will be without their star quarterback for an extended period of time.
Image Credits: YouTube.