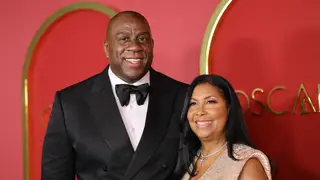 Cheers to Magic Johnson and wife, Cookie, for an exceptional 32 years of wedded bliss!
On Thursday (September 14), the couple marked their anniversary, and the famed retired Los Angeles Lakers player took to Instagram to celebrate the moment with a touching video montage of their love throughout the years with Tony! Toni! Tone's "Anniversary" is playing in the background.
"Today and for many years to come, I celebrate my wife of 32 years, Cookie Johnson on this very special anniversary," he wrote in the caption, followed by Bible verse Matthew 19:6.
"So they are no longer two, but one flesh. Therefore, what God has joined together, let no one separate."
For the Hall of Famer, being with Cookie has been his pride and joy as he noted, "we have truly withstood the test of time and I wouldn't have it any other way."
He continued, "To my beautiful wife, my love, and my partner, I appreciate your everlasting love and encouragement you give me each and every day. Your love for Christ, dedication to our family, and heart for service [others] continue to drive me to be the best man I can be. I will always honor and support you in any way that I can, now and forever. Happy Anniversary! ❤️."
In the video, the couple is seen in various throwback memories, including them at a birthday celebration for Cookie.
Over the summer, the duo had a sexy getaway to Croatia, where they documented their excursion, which included the location of where a renowned prime-time series is filmed on the same platform.