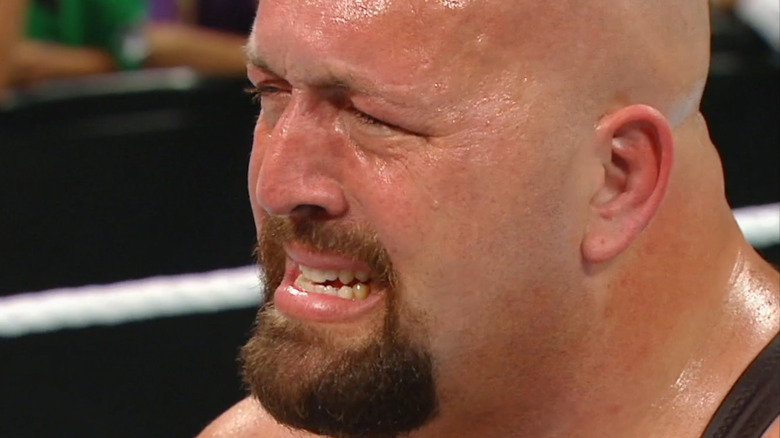 Wrestling is a unique mix of combat, storylines, and characters, all mixed together into a dramatic weekly show. Each company plays with the recipe of wrestling a little bit to see what works for their viewers and fan base. Regardless of how the formula is used, the secret to the storytelling is creating believable characters, coherent storylines, and drama that fans will want more of.
NOW
PLAYING
Like any drama on television, these storylines can create tears of anger, happiness, or sadness. When it comes to wrestling, there are two reasons why tears may flow. First, a wrestler may cry to help add to the drama of the segment in an effort to show the viewers at home their emotions. Second, tears can be produced because something is happening to the wrestler playing the character. In this case, viewers see an inside look into the real emotions of the person standing in the ring. Over the years, WWE fans have seen both types of crying happen in the ring, and these are some of those most memorable times.
Kofi Kingston wins the WWE Championship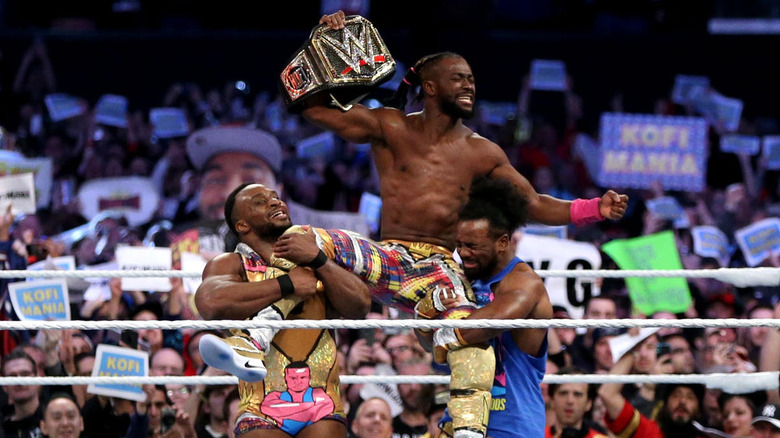 When a WWE wrestler cries in the ring, it is sometimes tears of joy, which is exactly what happened during the aftermath of the WWE Championship match between Kofi Kingston and Daniel Bryan at WrestleMania 35. By this point in time, Kofi Kingston had solidified himself as not only a reliable wrestler that could make any match or storyline work, but also a main event player. At the beginning of 2019, Kingston fought his way through the Elimination Chamber in a shocking victory, setting himself up for a WrestleMania championship match. The question was, would WWE finally let Kofi win the big one?
At the end of an almost 25-minute match, Kofi hit Trouble in Paradise to win his first-ever WWE World Championship. After the match, Big E hoisted Kofi Kingston on his shoulders in victory. This was an emotional post-match celebration as Kingston's children came to the ring to celebrate with their father. As fireworks exploded, WWE fans saw Xavier Woods begin to cry. The future King was always a vocal advocate for how underrated Kofi Kingston was and how deserving he was of the spotlight. Kingston finally got that moment on the Grandest Stage of Them All, causing Woods to express tears of absolute joy.
Big Show gets fired on Raw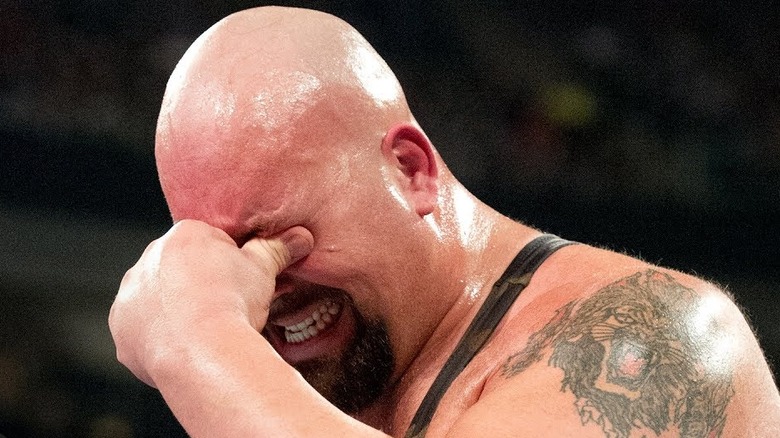 Sometimes tears in a WWE ring are used to help put over a storyline. On a 2012 episode of "Monday Night Raw," Big Show used his acting skills to shed some tears in hopes of saving his job. In this era, John Laurinaitis was acting as the "Raw" General Manager and hired Eve Torres as his Executive Administrator. A week earlier, Eve caught Big Show mocking the voice of the General Manager backstage. Despite apologizing, Big Show was caught once again mocking Laurinaitis. This led to the May 14, 2012 episode of "Raw" where Big Show had to plead to keep his job.
Big Show came out to the ring and pleaded with tears in his eyes to the General Manager. He referenced how much performing in a WWE ring meant to him, and talked about his favorite parts of the job. This wasn't enough, and Laurinaitis demanded he continue the apology on his knees as he sobbed. Despite this humiliating segment, the "Raw" General Manager fired Big Show. Although this storyline was not a memorable one, it was a classic example of a WWE wrestler using tears to add to the drama and significance of the performance.
Becky Lynch announces she will be a mother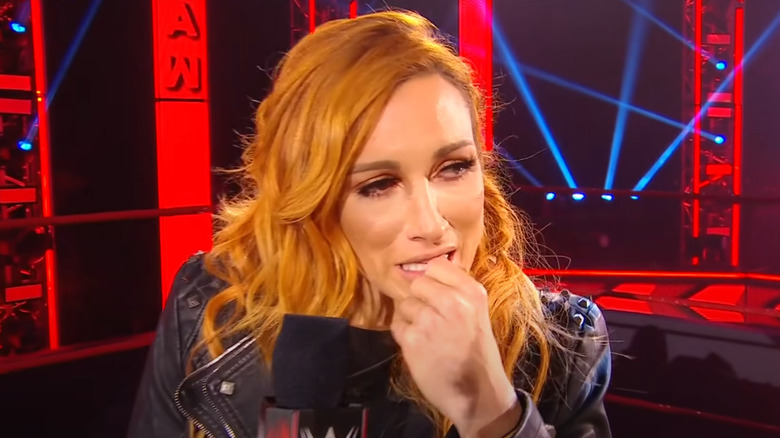 Sometimes a WWE character feels larger than life and it is hard to remember there is a performer behind the act. This is how Becky Lynch felt after becoming Becky Two Belts in 2019. On the May 11, 2020 episode of "Monday Night Raw," Big Time Becks came out to an empty Performance Center arena to talk with everyone watching at home. She began to well up during an emotional promo. Lynch mentioned that she walked through "these very doors in 2013" and "didn't know anybody" in the United States. Becky wasn't sure if fans were going to accept her, but they did.
The weekend prior to this episode of "Raw," Asuka climbed the corporate ladder and won the Money in the Bank Briefcase. The end of Big Time Beck's promo was to announce that she would be passing the "WWE Raw" Women's Championship to Asuka because she was pregnant with her husband Seth Rollins' baby. As Asuka celebrated in the ring, tears flowed down Becky's face as she walked to the back, realizing she was entering a new chapter in her career. After the show, Becky left fans with an emotional tweet that read, "I have no idea what happens from here, but I do know that you've made all my dreams come true. I entered the PC in 2013 not knowing anyone, I'll leave that same building tonight with my new family. Thank you all so much."
Edge retires on Raw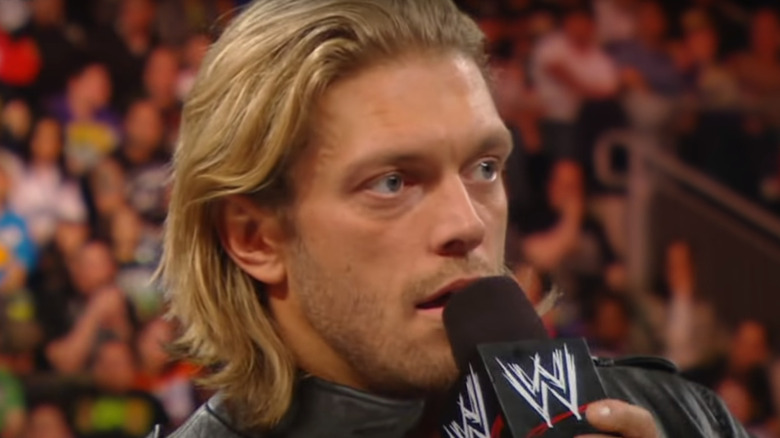 The unfortunate side of wrestling is that the punishment wrestlers put their body through can catch up to them quickly. This sometimes leads to a shocking early retirement, which is exactly what happened with Edge in 2011. The Rated R Superstar had undergone spinal fusion surgery in 2003 and competed as normal after that successful procedure. Edge was on a hot streak having just retained the World Heavyweight Championship from Alberto Del Rio at WrestleMania 27. However, this all came to a screeching halt on the April 11, 2011 episode of "Monday Night Raw."
Edge came out for an advertised promo segment, but right as he began his promo, WWE fans knew something was up. He started by slightly breaking kayfabe and mentioning, "A lot of people think WWE doesn't hurt." He continued by recapping his career and mentioned how grateful he was for it all. The Ultimate Opportunist stayed pretty composed throughout what would later be known as his shocking retirement speech. He mentioned that he received news from doctors that his spinal surgery in 2003 led to complications with his spinal cord, resulting in him having to retire from wrestling forever. Edge explained that "If you asked me if I'd do it again … in a heartbeat." Tears filled the eyes of the crowd as they gave Edge a standing ovation. The best part about this tear-jerking moment is knowing that this wasn't actually Edge's last run thanks to future medical and surgical advances.
Bianca Belair and Sasha Banks at WrestleMania 37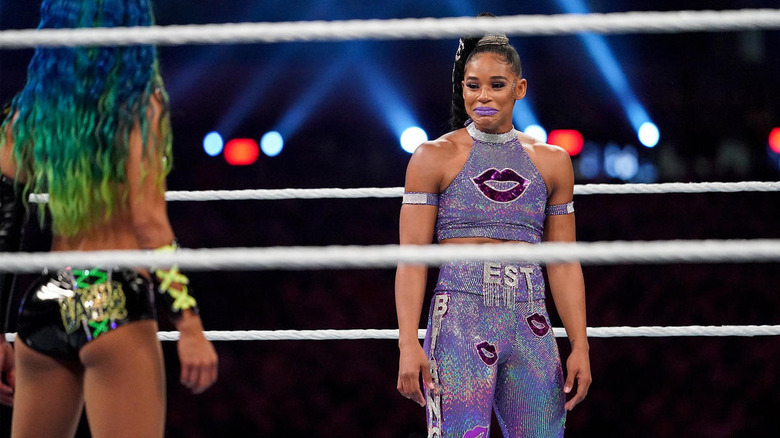 Bianca Belair and Sasha Banks competed against each other for the "SmackDown" Women's Championship on the first night of WrestleMania 37. This was the second time an all-women's match was the main event of a WrestleMania, but this match carried an even bigger distinction leading to the emotions of both women. Bianca versus Sasha was the first time that a WWE main event had ever featured two Black women, and in a major title match no less.
The Boss and The EST of WWE certainly felt how big this moment was even before the bell rang. Both women stood in the middle of the ring as the crowd went wild for what they were about to witness. Bianca Belair immediately began to break down and cry over the gravity of the moment she was experiencing firsthand. Belair had mentioned to the Tampa Bay Times before WrestleMania that it would be an emotional moment for her explaining, "I love the fact that this is not just something that's just about me and it's not just about making history. It's about going out and representing for women and for Black women. It's going to be amazing." And amazing it was from both an in-ring and historical standpoint.
Shawn Michaels loses his smile
On a special February 13, 1997 Thursday edition of "Raw," tears were shed that sparked a lot of confusion. At the time, Shawn Michaels was a huge star in the WWF and held their World Championship. The WWF Champion slowly made his way to the ring on "Thursday Raw Thursday" with a look of sorrow on his face. Vince McMahon was in the ring to interview an emotional Heartbreak Kid. Shawn revealed that his doctors told him his knee was potentially past the point of repair and he may never step inside a ring again. Michaels handed the Championship over to WWF President Gorilla Monsoon with tears in his eyes and his smile lost.
Some wrestlers in the back questioned whether these were real tears or crocodile tears. In an episode of "Grilling JR" (via 411mania), Jim Ross talked about the reaction backstage explaining, "Most of them didn't trust him. Most of them thought he was working … So it was just a time of controversy, uncertainty, and a locker room that was wrought with controversy and things of that nature." Crocodile tears or not, this weeping event led to the rise of "Stone Cold" Steve Austin heading into WrestleMania XIII.
Daniel Bryan's Retirement Speech on Raw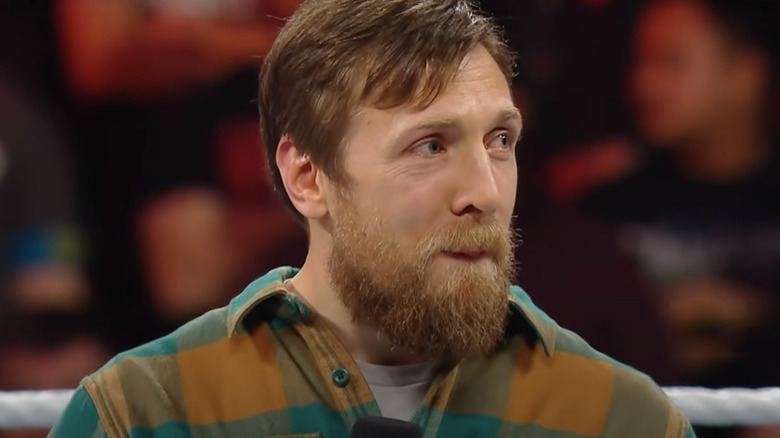 Fans were still shocked by Edge's sudden retirement in 2011, and, five years later, they were shocked again, this time by Daniel Bryan. On the February 8, 2016 episode of "Monday Night Raw," Bryan came to the ring to make a major announcement. The Seattle crowd reacted with a loud "Yes" chant despite the severity of the conversation that was about to occur in the squared circle. The former and future American Dragon told the "Raw" audience that due to lingering medical issues, he was being forced to leave in-ring action.
Bryan, also known as Bryan Danielson, kept his retirement speech light by mentioning that he loved when fans popped for his music and diving through the ropes of a WWE ring. He also mentioned that he loved the Seahawks, which, of course, started a thunderous "Yes" chant from the Seattle crowd. Danielson even made a "that's what she said" joke about Brie Bella after the "Yes" chant settled. Despite the light nature of his speech, Daniel Bryan still found himself verklempt when realizing he was leaving in-ring action, for what he thought was for good. Although tears did not flow in this retirement speech, Bryan still found himself with tears in his eyes when he told the "Raw" crowd sentiments like, "You guys got behind me in a way that made me feel like I was more than just me." Similar to the shocking Edge retirement, we know this story also had a happy ending.
Ricochet and Aleister Black leave NXT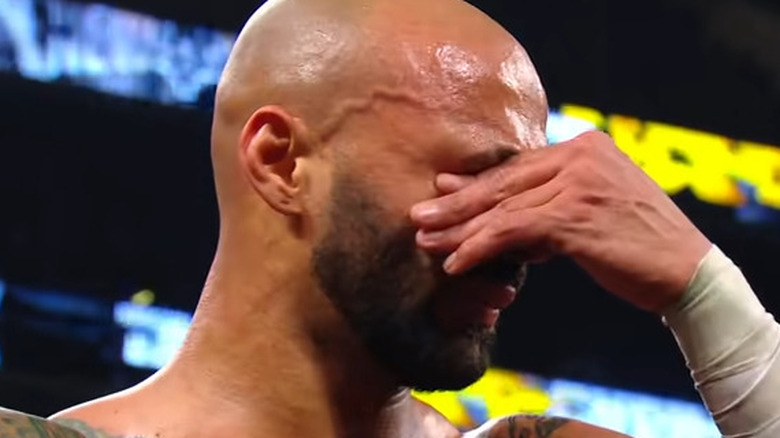 Sometimes WWE wrestlers make such a name for themselves on the "NXT" brand, that leaving for the main roster can be emotional. The tears that come from leaving the yellow-and-black brand are bittersweet because the WWE wrestler knows they are getting a promotion, but there is always the uncertainty of what their main roster run will look like. At "NXT" Takeover: New York in 2019, Ricochet and Aleister Black found themselves opening the show against the War Raiders in their last match on the brand before joining the main roster on a full-time basis. The two teams put on a barn burner of a match, with the War Raiders winning, and leaving the future "NXT" alumni alone in the ring for their final time in front of a yellow-and-black brand audience.
Both men could feel the appreciation of the crowd, and the emotion was written all over Ricochet's face. As the New York crowd gave the 2019 Dusty Rhodes Tag Team Classic winners a long-standing ovation, tears flowed heavily from Ricochet's eyes. Although Aleister Black and Ricochet remained as a tag team for the short term on the main roster, the two knew in this moment that they were closing a major chapter in their careers.
Roman Reigns cancer announcement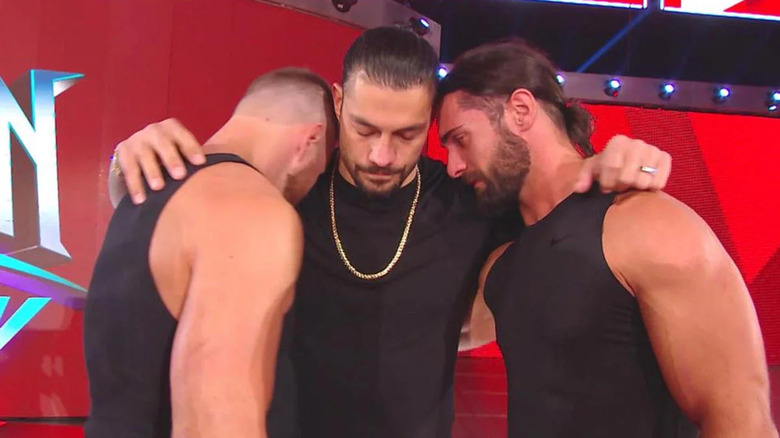 A massive shocker came during the October 22, 2018 episode of "Monday Night Raw" from Providence, Rhode Island. The Universal Champion at the time, Roman Reigns, had been on a tear with high-profile matches and main event storylines. Despite this success, the crowd reaction was mixed in arenas nationwide. Reigns came out to the ring to address the live audience, who gave him some cheers and some boos. However, it quickly became obvious that Roman's address was not a standard promo. Roman began by telling fans his real name was Joe and he had "been living with leukemia for 11 years." Once Roman delivered this line, the Providence audience went silent.
Roman stayed composed during his speech where he thanked the WWE fans for letting him live out his dreams. He also made it clear that this was "by no means … a retirement speech." The waterworks really started to flow when Roman concluded his address and met his Shield Brothers on the ramp. Roman Reigns, Dean Ambrose, and Seth Rollins all began to cry at the sight of each other. With tears flowing down the cheeks of Seth Rollins, The Shield did their signature fists-in pose to send Roman off to focus on his battle with leukemia and his family.
Eddie Guerrero and Chris Benoit at WrestleMania XX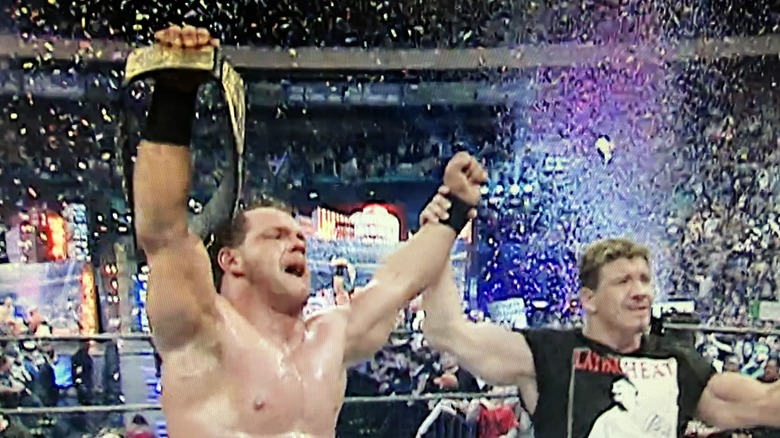 Unfortunately some emotional WWE moments are buried in history due to the performers involved in them. This was exactly the case with the moment when Chris Benoit won the World Heavyweight Championship at WrestleMania XX. Earlier in the night, the underdog, Eddie Guerrero, won the WWE Title from Kurt Angle. The main event of this WrestleMania saw Chris Benoit compete against World Heavyweight Champion Triple H and Shawn Michaels in a triple threat match for the Championship. In the second underdog story of the night, Benoit was able to make Triple H tap out in the Crippler Crossface to win himself the gold in a bout often considered one of the best WWE matches of all time.
The year was 2004 and Guerrero and Benoit were arguably the most underrated talent in WWE. These two overlooked stars had just won the two biggest championships in the company. At the end of WrestleMania XX, Eddie Guerrero came out to celebrate with his friend, Chris Benoit. The two embraced and the tears began to flow. Guerrero very visibly wore the proudness of himself, and his friend, on his face.
Trish Stratus retires at Unforgiven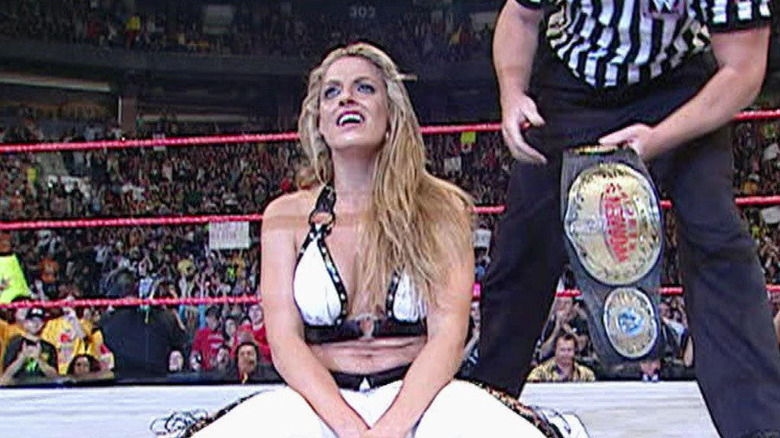 Trish Stratus was a WWE wrestler that put women in the sport at the forefront. She had the look and the athleticism, along with the high-profile matches and storylines that make a wrestler's career Hall of Fame worthy. Stratus dominated the late '90s and early 2000s wrestling scene, being a monumental part of the Attitude Era alongside Lita. Trish Stratus and Lita had a storied past, tagging alongside each other, and having a memorable feud in the early 2000s. Hence why, when Trish Stratus found herself in a retirement match with Lita for the WWE's Women's Championship at Unforgiven 2006, there was a lot of emotion going into the match.
This match had all the makings of what Trish Stratus later called her "storybook ending." Stratus defeated Lita after locking in the Sharpshooter to score the submission victory and win the Women's Championship one last time. Immediately after the bell rang, tears and emotion were written all over Trish's face. She soaked in the moment with her hometown crowd and reflected on the event years later by tweeting, "In what would be my storybook ending I faced my bestie, in my hometown, [and] retired as Champion while playing homage to my childhood hero @brethitmanhart. That's the stuff dreams are made of."
Shawn Michaels and Ric Flair in Flair's WWE retirement match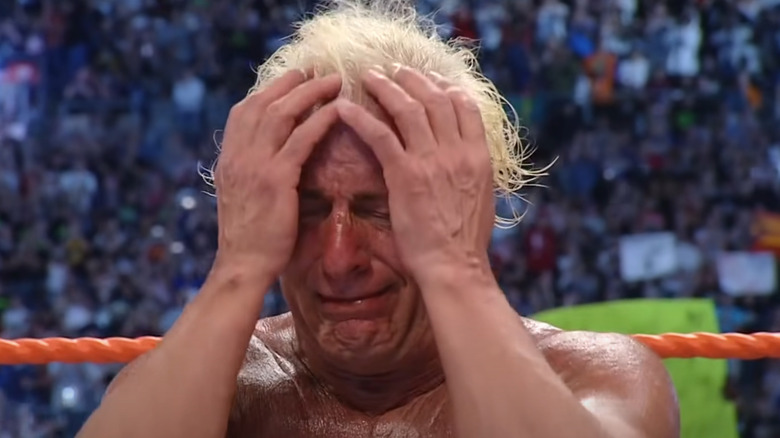 Some of the best WWE matches culminate when performers in the ring are so invested in a storyline that the emotion radiates to the WWE fans. There is no better example of this than when Shawn Michaels faced Ric Flair in the latter's WWE retirement match at WrestleMania 24. The Nature Boy was forced to embark on a career-threatening match tour by Vince McMahon, where the next match Flair lost would be his last in the company. Flair found himself facing one of his best friends in the business at WrestleMania 24 after fans had watched them grow together for years. With the emotional investment of the fans and the performers, HBK and The Nature Boy were set to have a match that would end in two things, a pinfall and tears.
The conflicted thoughts of The Heartbreak Kid were present on his face the whole match, leading to an unforgettable finish. Michaels was about to hit Sweet Chin Music with a sorrowful face when he mouthed, "I'm sorry … I love you," before hitting Flair with the final blow. HBK got the pinfall, but immediately hugged his fallen friend who was already crying. Michaels left the ring with tears and in despair, and Ric Flair soaked in his final moments as a WWE wrestler on The Grandest Stage of Them All, sobbing along with his family at ringside, and many others who were there in attendance.
Sasha Banks and Bayley at NXT Takeover: Respect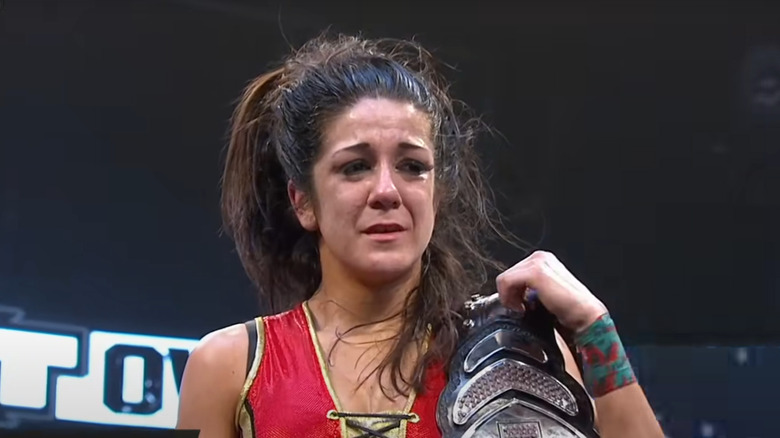 In the mid 2010s, Bayley and Sasha Banks were laying the groundwork for a revolution in women's wrestling. With the help of WWE's developmental brand, "NXT," the two were putting on the hottest program the company had to offer. This led to a 30-minute Iron Man Match for the "NXT" Women's Championship at "NXT" Takeover: Respect on October 7, 2015. Before the match started, Bayley and Banks stood in the middle of the ring as the crowd showered them with chants of respect like, "you deserve it" and "women's wrestling." The two women were clearly feeling emotional at the start of the match, but held it together like the professionals that they are.
The match was an unbelievable showcase of the talent the two women possess, with exciting spots and many dramatic moments. In the end, Bayley retained her "NXT" Women's Championship, and both Banks and Bayley broke down in tears at the realization of what they had just accomplished. To add to the waterworks, Triple H came out, along with the "NXT" roster, to award flowers to the two women who had just crafted the road map to what would later become known as the women's revolution in wrestling.