White spots can be a sign of trouble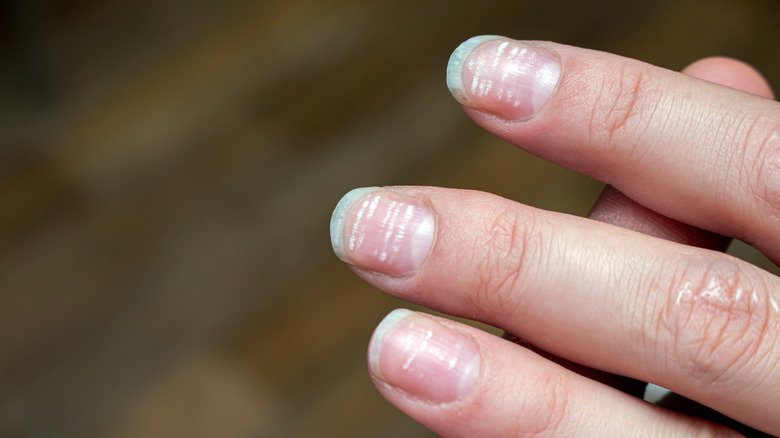 Little white spots on your nails can be the result of a number of different things. An injury to the nail, for example, can cause these white spots, referred to as leukonychia, according to Healthline. There are different types of leukonychia, classified as "true" when they appear in actual nail itself, and "apparent" when the spots appear under the nail. Other issues that can cause these white spots include allergic reactions or a fungal infection.
Refraining from using nail polish or other nail products and allowing your nails to grow can be the simplest way to fix this issue. However, you may want to be checked out by a doctor or healthcare professional if the white spots reappear or if they do not go away over time, as further treatment may be required. According to Healthline, if you have diabetes, or a weakened immune system, you may be more prone to a fungal infection, so take this into consideration when deciding if you may need to consult your doctor.
Black vertical lines are a sign of a hemorrhage
Black lines on your nails, also referred to as splinter hemorrhages, can be caused by a number of different ailments and conditions. Although the term hemorrhage might sound like a serious issue, having a splinter hemorrhage on your nail does not necessarily mean that your health is at risk. According to Healthline, "trauma is one of the most common causes of splinter hemorrhages," meaning simply hitting your nail accidentally can be enough.
However, there are more serious health issues that can cause a splinter hemorrhage, including the heart condition endocarditis, which is when your heart's valves or inner chambers have an infection (per Healthline). There are also less-common causes, including Raynaud's Phenomenon, which is the narrowing of blood vessels in your extremities, restricting blood flow to your fingers and toes; lichen planus, which is an inflammatory skin condition; or even as a result of chemotherapy treatment.
Pitting on nails could be a sign of disease
When your nails look pitted, or when "you have dents in your nails that look like they were made by an icepick," (per the American Academy of Dermatology Association), it can be quite alarming, and with good reason. If you or someone you know are currently experiencing pitting on their nails, you may want to book the earliest possible appointment with a dermatologist. According to the association, pitting on nails could be a sign of psoriasis, which is a chronic disease; atopic dermatitis, a chronic, inflammatory disease; or alopecia areata, which is a disease that can cause hair loss.
With this one symptom potentially pointing to one of three autoimmune diseases, all of which are chronic in nature, you may want to ensure that you do not hesitate to have yourself checked as soon as you notice this on your nails. Immediate treatment can aid in preventing these conditions from worsening.
Soft or weak nails are fairly common
If you are someone who has soft or weak nails, the good news is you are not alone. Soft or weak nails are a fairly common occurrence, especially if your nails have been exposed to chemicals such as cleaning products or excessive moisture (per Healthline). This can be a particular risk during June, July, and August, when summer nail stressors like saltwater and sand are abundant. To combat soft or brittle nails and promote nail strength, you may want to avoid exposing your nails to more chemicals to give them a chance to recover.
Another possible cause for brittle nails is a vitamin deficiency. You should consult with your doctor to discuss if taking supplements, including iron, vitamin B, or calcium, is necessary. Some other symptoms you may want to look out for if you think you may be vitamin-deficient (particularly iron-deficient) are pale skin, weakness, headaches, and/or fatigue. Again, before taking any supplement, make sure that you present your symptoms to a healthcare professional who can better asses your heath and provide a professional diagnosis.
Clubbed nails can be a clue of a serious issue
Should you notice that you or someone you know has clubbed nails, it may be to your benefit to make an immediate appointment with a healthcare professional, as this could be a symptom of a serious, potentially life-threatening issue. The clubbing of fingers and fingernails can be caused by a lung disorder, lung cancer, or an infection in the heart or lungs, according to Mount Sinai.
If you are unsure of what is means to have clubbed nails, you need to be on the lookout for softened nail beds, or nails that "may seem to 'float' instead of being firmly attached," per Mount Sinai. Or, most notably, "the last part of the finger may appear large or bulging. It may also be warm and red." Knowing what to look for can be useful in receiving a quick diagnosis, as clubbed fingers can occur fairly quickly and should be assessed and treated right away.
Environmental problems can cause spoon nails
Spoon nails, or koilonychia, is when your fingernails soften and take on a concave shape, according to the Cleveland Clinic. While this may be alarming, as it is not the most natural shape for fingernails, some causes of spoon nails may not be cause for immediate alarm, as they include iron deficiency, shoes that are too tight (for spoon toenails), or even babies and toddlers sucking their thumbs.
However, spoon nails may also be caused by hemochromatosis, a genetic disorder "in which the body can build up too much iron in the skin, heart, liver, pancreas, pituitary gland, and joints," per the Centers for Disease Control and Prevention. "Too much iron is toxic to the body and over time the high levels of iron can damage tissues and organs." This can cause further issues and ailments such as arthritis, liver damage, and in more severe cases, liver cancer. If you are aware of a family history of hemochromatosis, you may want to see your healthcare professional in order to treat and prevent complications.
Beau's lines are not as romantic as they sound
la-mar.photo/Shutterstock
Simply put, beau's lines are horizontal grooves that can be found on your nails. If there are beau's lines present on your nails, it may be a sign that your nails have slowed down or even stopped growing for a period of time, according to the Cleveland Clinic. While that may seem like a cause for concern, beau's lines in your nails are often be a sign you need some much deserved rest and relaxation.
One of the more common causes for beau's lines in your nails is severe stress, which there doesn't seem to be a shortage of these days. Injuries or illnesses such as COVID-19 can also cause beau's lines. Though beau's lines, like all these different nail conditions, should be assessed by a healthcare professional in case of any underlying illnesses or conditions, you may also want to consider speaking with a mental health professional if you are experiencing severe stress.
Discoloration of your nails may be a sign of Terry's nails
If you think you may have Terry's nails, named after Dr. Richard Terry, the telltale discoloration is a white nail "like frosted glass, except for a thin brown or pink strip at the tip," according to Cleveland Clinic. And while this discoloration is likely to appear on all of your nails, it is also possible to have it on a single nail or toenail.
On one end of the spectrum, Terry's nails can be a natural sign of aging. However, Terry's nails can also mean that you may have an underlying illness or disease — most commonly, liver disease. Similarly, Lindsay's nails, which appear half brown and half red, should be assessed by a healthcare professional, in case it may be caused by an underlying health issue.
Vertical ridges can be a sign of thyroid disease
Vertical ridges may seem unsightly, but before getting caught up in the aesthetic appeal or lack thereof, you may want to seek a diagnosis from your healthcare professional. "Thick, brittle nails with vertical ridges," can be a sign of hypothyroidism, according to the Cleveland Clinic.
While hypothyroidism — a condition that can affect and slow down your metabolism — is not entirely uncommon, there is a more severe and potentially life-threatening version of is called myxedema, which can cause breathing issues, seizures, or even a coma (per Healthline). Such symptoms can mean that you are experiencing a myxedema crisis which can prove fatal if left untreated or ignored. It should also be noted that myxedema is can be more commonly found in "women and people over the age of 60" and can also "occur during pregnancy."
Nail separation may be as bad as it looks
Unlike some of the other nail issues we've covered, nail separation is one ailment that can certainly be cause for immediate concern, based on appearance alone. Nail separation, also referred to as onycholysis, is "when a nail (nail plate) on your fingers or toes separates from the skin on which it rests (the nail bed)," according to the Cleveland Clinic.
Most often, nail separation occurs when there is an infection present, or because of a bad reaction to products like nail glue (for press-on acrylic nails) or nail hardeners. If your nail separation is caused by a fungal infection of some kind, treatment may include oral and/or topical medication. However, if your nail separation is caused by an injury to your nail, the only course of action may be to patiently wait for your separated nail to grow out and allow for new, healthy nail growth to appear.
Not taking care of your nails can cause issues
When people think about what it means to take care of their nails, most may think of cosmetic care such as a standard manicure, or even intricate nail art, for an aesthetically-pleasing look. However, improving your nail health can also be as simple as breaking your nail biting habit.
Besides the sometimes unsightly appearance of nails that are constantly being bitten, nail biting can cause a number of other health issues. First, there are some of the obvious ones, including damaging the tissue around your fingers and nails. Then there are some of the other, less obvious problems such as chipped teeth, misaligned teeth, jaw pain, and skin infections. In order to maintain nail health, consider keeping nails trimmed and filed, and always aim to seek professional or medical assistance if you notice abnormalities in the shape or color of your nails in order to prevent or address more serious health issues.