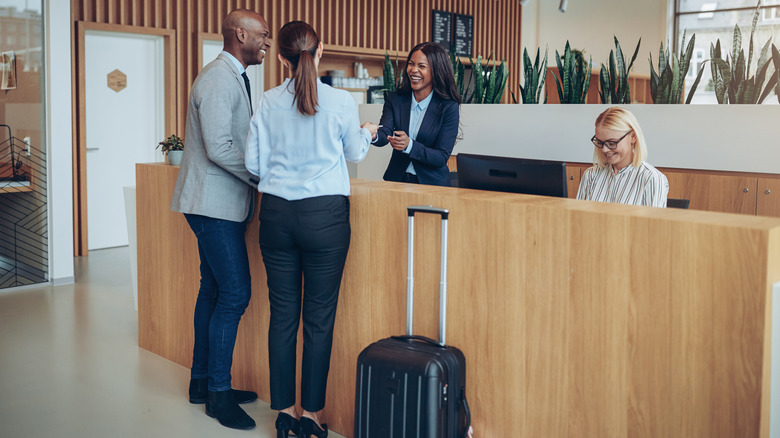 Packing for a trip can be daunting for some travelers – particularly the more forgetful ones. We all have moments from time to time when we forget something after leaving home, though there are some things that are forgotten more than others. According to Study Finds, a 2022 survey of 2,000 adults found that the most forgotten things are water or drink bottles, beauty or body care products, sunscreen, and (the most surprising) phones. Of those surveyed, 20% noted that they always realize they've forgotten something while on vacation while more than 50% say trying to replace those forgotten items is stressful.
Luckily, there are some things that travelers have learned can be easily acquired. Toiletries like body wash and shampoo can often be acquired for free at your destination hotel or Airbnb, per Cheapflights. Other things that hotels can provide, however, may still remain a mystery to visitors. We've rounded up a few of the less run-of-the-mill things you can ask your hotel about the next time you want or need something on vacation. But the bottom line is: it's often a good idea to ask the front desk before embarking on a journey to buy something elsewhere.
1. Forgotten toiletries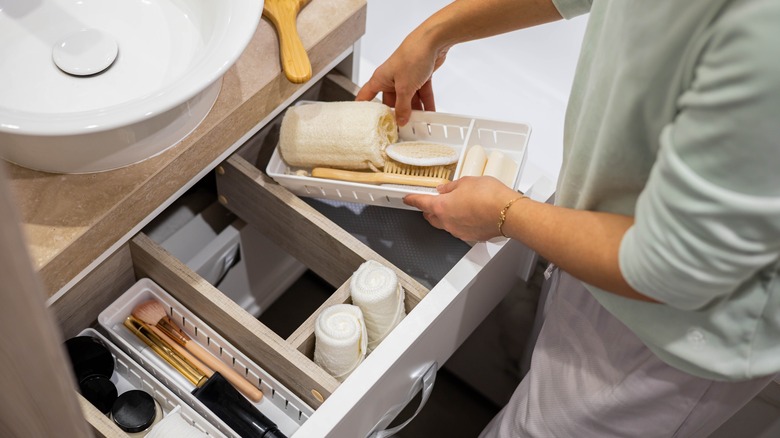 Outside of soap or haircare products, hotels are usually pretty forthcoming with other forgotten toiletries as well. According to Lifehacker, a lot of hotels also have items like toothbrushes, toothpaste, deodorant, shaving kits, and sometimes even condoms on hand if you need them! While the outlet reiterates that not every hotel offers every kind of toiletry you might need, it never hurts to ask.
Travelers are so used to the travel-sized toiletry freebies at hotels that many will stock up on them during their stay. Insider adds that some hotel chains like Kimpton Hotels are known for offering additional supplies for guests, including period hygiene products. The outlet also reminds travelers to ask for more soap or shampoo if it's something they want.
It should be noted that some hotels are moving away from single-use plastic toiletry bottles altogether. Per Forbes, some of the world's largest hotel brands have already moved away from the travel-sized versions of bath products in lieu of larger ones that can be refilled. According to the outlet, some of those companies include Hyatt, Intercontinental Hotels Group, and Marriott Hotels. Forbes reported that hotels getting rid of small toiletry bottles will save millions of pounds of plastic each year.
2. Asking for a specific room
Whether you're looking for an extra special view or can't fall asleep to the sound of elevator noises, sometimes a specific room request is necessary. Many hotels will try to honor those requests, but Travel Nite highly suggests making the request by phone or email rather than online. The outlet also notes that sometimes those requests come at a slight cost, like a better view being next to a loud room, so prioritize what you want most from your stay. Your best bet is to always be courteous to hotel staff and always remember a request is just a request.
Oyster says if you're looking to upgrade your experience (literally) but don't want to pay to upgrade your reservation, try asking for a corner room. The outlet notes that corner rooms not only stay around the same price point as a regular room but also frequently offer guests more space, which is always a plus. Meanwhile, Travel Nite suggests letting your accommodation know if you are celebrating anything special, like an anniversary or a birthday. While these special occasion notes might not always end in a stay upgrade, you might get some free wine or treats to help make your stay a little more celebratory.
3. Body pillows
Not everyone sleeps with a body pillow, though there are plenty of reasons why travelers might want to do so. According to Savvy Rest, some of the benefits of sleeping with a body pillow include better support, spine relaxation, lessened snoring, and even relief from pressure or pain in the back and spine. For body pillow sleepers, it can be hard to adjust to sleeping without a body pillow nearby. Luckily, some hotels are making it possible to borrow a body pillow (in addition to different kinds of pillows, like feather or memory foam.)
The Travel notes that hotels like The Benjamin in New York City have body pillows available through their specialty pillow menu, guests just have to ask the front desk for one. In speaking about the hotel's pillow menu offering, a travel analyst from Atmosphere Research Group told The New York Times that those kinds of offerings should be part of the travel industry. "That's what hospitality is about," Henry Harteveldt told the outlet. "It's about being thoughtful and trying to anticipate and deliver on guests' needs. Not on what you might expect, but these unanticipated, unexpected things that really do please the guest. It would be great if we saw more hotels doing something like this." Hotel Tech Report also suggested in 2022 that hotels start offering more pillow options for guests to up their customer service game. Perhaps more pillow menus will be on the horizon for the industry!
4. Laundry bags
When a hotel offers laundry services on-site, you can often find laundry bags in the closet or somewhere in the room to place dirty clothes in. Oftentimes these bags are nice, sturdy linen bags that say "laundry" on them. In some cases, the hotels don't mind if you take them with you, though it's important to ask first. The UK Mirror notes that it's often, though not always, okay to take the laundry bag home with you, especially if you forgot one to separate your clean and dirty clothes in your luggage.
On the other hand, The Independent of Singapore says if the bag is a reusable one (linen instead of plastic) then it's unlikely you're supposed to be taking it with you. All the same, it's worth an ask if you need a bag for laundry on your journey. Otherwise, you could always use a spare trash can or ice bucket bag instead. Just don't leave the bag of dirty clothes in the wrong spot, or you might end up paying for hotel laundry services. Those prices can be upwards of $5 per shirt and $3 for underwear, according to Travel Season.
5. Bicycles
Not all hotels participate in bike rental programs, but it is becoming more popular to offer bike rentals to guests for a small fee or no fee at all. For example, in a place like Portland, which is known for being cyclist-friendly, several hotels have bikes available for free, according to Oyster. Per the outlet hotels like Hotel Monaco and The Hotel Rose both offer free bike rentals and are near some lovely biking spots in the city. Meanwhile, New York City has several hotels with free bike rentals too, like The Bowery, The Jane, The James, and Hyatt Union Square to name a few, per Oyster.
Bicycle rentals are not just a domestic hotel offering either. According to Forbes, there are numerous hotels worldwide that offer bikes to their visitors. From the Borgo Pignano in Tuscany, Italy to Ashford Castle in Ireland, there are so many possibilities. Many of these hotels offering such accommodations are closely located to bike paths, parks or hiking and biking trails. Renting a bike is a unique and fun way to see a city you've never visited before, all while still being environmentally friendly and cost-effective.
Being able to see a place on a bike is such a lovely departure from relying on taxis all the time–not to mention significantly cheaper. So the next time you find yourself in a bike-friendly locale, ask your accommodation if they have a bike rental hookup and enjoy the ride.
6. Clean linens
Obviously, travelers expect their sheets to be clean in a hotel room, but the bedspreads probably aren't unless you ask. Especially with hotels doing away with certain housekeeping amenities like daily room cleaning, guests have to be a little more diligent in their requests. CBS says some economists are calling the trend of ending these kinds of amenities "skimpflation." By reducing housekeeping staff in hotels, companies can save money. So how can you guarantee you'll get clean sheets to sleep on?
The Manual says guests should request new linens, pillows, or blankets to ensure clean sleeping quarters. Additionally, the outlet reports that high-dollar hotels (think the Four Seasons) are more likely to be meticulously clean because they have reputations to uphold. The Manual also notes that hotels can provide cleanliness inspection reports if you ask for them.
There is, after all, a reason most hotels use white linens on the bed. "Hotels and guests equate white with being clean," Chris Gowdy of Liddell told Hotel Management. So the bottom line is if you want to absolutely guarantee your bedding is clean for any reason, especially for something like allergies, just make a polite request.
7. Breakfast
Some hotels offer a complimentary continental breakfast, but they may also have a better hot meal option for just a little extra. According to Reader's Digest, guests can ask the hotel to include the hot breakfast option with their room if there's one available. The outlet notes that the hotel will usually accommodate with no additional charge to the guest.
For some guests who have elite statuses, it's worth checking out your various loyalty program perks. According to The Points Guy, some programs like Hilton Honors include free breakfast as part of your loyalty status at the gold and diamond levels. TPG also recommends checking when making your reservation to see if there are breakfast inclusion options. The meal might be worth a few extra dollars a night, and you can usually find out what is included in the breakfast when booking a package on the hotel website.
In their 2022 report on hotel amenities accommodations should consider, Hotel Tech Report suggested offering free breakfast as one of the first few opportunities for customer support. It's possible that in the future more hotels will offer free breakfast options for guests. In the meantime, choose hotels wisely that offer a free meal in the morning, or feel free to ask for that addition at check-in.
8. Umbrellas
There's nothing worse than being caught in the rain on a trip without an umbrella. But not to worry, some hotels let you borrow them to use during your stay! Availability of umbrellas in hotels is so ubiquitous in fact that Thrillist said it's basically a given in most accommodations, especially in the more deluxe hotels. While some hotels keep their umbrellas in a cute stand in the lobby, others might not keep them out in the public eye. Thrillist recommends just asking the front desk for an umbrella if you need to borrow one. You could also check your room's closet, as some hotels will store extra umbrellas there for guests to use.
Some hotel chains like Premier Inn have even taken rental umbrellas up a notch by making part of the proceeds go to charity, according to the UK Mirror. James Latham of Premier Inn told the outlet that folks just can't seem to keep track of their umbrellas. "Our survey shows people never learn when it comes to keeping their umbrellas safe, with people losing them, forgetting them, or never seeing them again after lending them to friends," he told the Mirror. "Umbrellas are one of the most commonly requested items from our reception teams. We decided to team up with DripDrop to introduce their brolly [term for umbrella] rental service into some of our hotels, to help our guests avoid turning up soaked to everything from job interviews to weddings."
9. Workout equipment
Despite a lot of hotels having workout facilities, some hotels will offer equipment you can borrow to work out in private. Programs like Hilton's "Five Feet to Fitness" allow guests to book a room complete with the equipment they need to stay fit on the go, according to Travelocity. Some chains like InterContinental have "fitness zones" that allow guests to utilize equipment like resistance bands, workout balls, and routines to change things up, the outlet added.
That's not all! Hotels are also implementing workout clothing rental programs. W Boston, in cooperation with Reebok, pairs guests up with the apparel they need to stay fit, per The Points Guy. Apparel rentals appear less common than workout equipment availability at hotels, so try not to forget your fitness kicks if that's on your vacation agenda. Though, not to be outdone, Kimpton Hotels give every guest a yoga mat along with a yoga-specific tv channel to ensure that everyone can access their zen at a moment's notice. From kettlebells at Omni Hotels to "workout in a bag" options at Sheraton locations, many hotels are jumping onto the fitness bandwagon.
10. Phone chargers
A lot of folks forget their chargers upon checking out. While that's short-term bad news for the forgetter, that means there's a good chance the front desk has one that other people who have forgotten their chargers can borrow. Considering how many chargers get left behind at hotels on a daily basis, the chances are high that the front desk at any given hotel might have a charger that you can use.
According to Ricks's Daily Tips, phone chargers are among the most left-behind items in hotels, so lost and found boxes at front desks are often rife with them. Keep in mind that these are usually loaner chargers, but it's still enough to get you through a night. The same is true for adaptors or convertors in case you did remember your charger but neglected to bring the right kind of plug to use it at your destination, per USA Today.
Should you really run out of luck and the hotel doesn't have a charger for you to borrow or obvious USB plugs to connect to, there is one more possible solution before you run out to buy a charger. Try the USB plug in your room's television set. That's the advice of J.D. Biersdorfer to Small Business. "…travelers who remembered their phone's USB cables but forgot their wall charger cubes have been tapping power from functioning television USB ports for years," Biersdorfer told the outlet.
11. Slippers
Slippers might be washable, but most hotels aren't interested in or have a policy against cleaning them. So feel free to take them, as long as it's okay with the hotel! When asked about guests taking slippers by the Daily Mail, Sean Davoren, the head butler at The Savoy, said it's okay. "Absolutely fine," Davoren told the outlet. "We never re-use slippers so they're yours to take home." Daily Mail added that some hotels, like The Goring where Kate Middleton stayed before marrying Prince William, even offer personalized slippers as part of some of their packages.
Travel Update notes that it's less common for American and European hotels to have slippers in-room unless they are high-end accommodations. The outlet goes on to explain that it's more likely that guests will encounter slippers when traveling to hotels across Asia, regardless of the accommodation's price point. Travel Update offers a few easy ways to tell if slippers are absolutely okay to take. If they seem flimsy and more like a one-time use: keep them. If the slippers are hotel branded and don't seem like they're a material that can be easily washed: keep them. Finally, check any in-room price lists to see if the slippers are noted on there. If they aren't, it's likely that you can keep them.