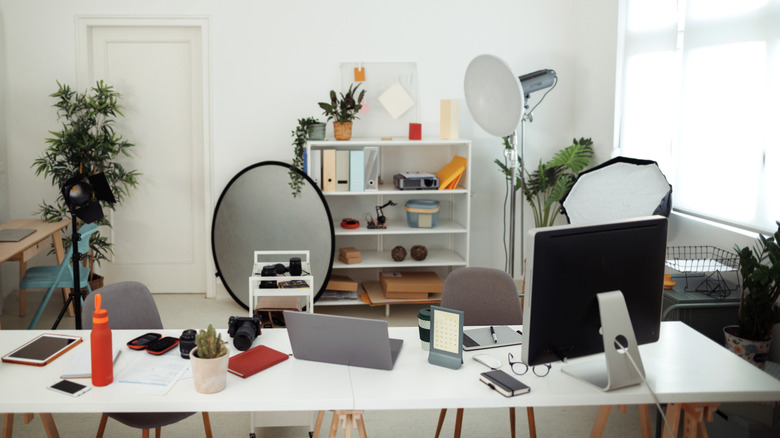 We may receive a commission on purchases made from links.
Your home office is an important space. It's where you make your money and where you spend a great deal of your time. As such, a home office should be comfortable, quiet, and functional. There are ways to do this without buying any gadgets. For example, make sure to keep the space uncluttered so you can find things easier. The sense of cleanliness also helps. Having natural light, a fan to move around the air, and a good PC desk and desk chair also help a great deal.
NOW
PLAYING
However, at some point, you're going to need some gadgets to make your day easier. There are tons to choose from that range from highly functional to decorative. For example, a lot of people suggest having plants in your office as an aesthetic upgrade. Pictures on the walls and things like smart lighting can also add a splash of color to a dull, neutral room. Most of that stuff is subject to personal taste, so we won't tell you how to decorate your own space.
What we can do, though, is help you choose some good, functional home office gadgets that can help make your work life easier. Hopefully, we can include a piece of tech or two here that you haven't heard of before that can change how you work. Here are some essential gadgets for your home office.
Logitech MX Master 3S wireless mouse
Logitech is one of our favorite mice brands, and it's because of mice like the MX Master 3S. This mouse is very comfortable to hold thanks to its textured plastic and molded shape. It comes in two colors, graphite and pale gray, which is essentially black and white. The device comes with two scroll wheels, seven customizable buttons, and support for Windows, Mac, and Linux. It's wireless and therefore rechargeable.
A full battery charge lasts for roughly 70 hours. You can get three hours with just one minute of charging. Its battery life and relative ease of charging put it above many other wireless mice, many of which still use physical batteries that you have to change. The seven buttons are customizable via the Logitech Options Customization software. That includes software-specific settings so you can, for example, have a macro on a button that works specifically in Adobe Photoshop.
It's not a flawless product, even if it is close. Many wireless mice have a place in the body of the mouse to store the USB dongle and this one is not one of them. It's also terrible for left-handed users since it's molded specifically for righties. The pros outweigh the cons by a large margin, and this is easily one of the best mice you can get for productivity for under $100.
Anker 332 USB-C Hub
The Anker 332 USB-C Hub is a useful little gadget that can help you connect your various devices. One of the big issues, especially with newer laptops, is the lack of USB ports. The latest MacBook Air, for example, only has two. That's enough for some folks, but anyone who wants to connect a wireless mouse and keyboard and still have space for a thumb drive will likely need a USB hub.
Anker's USB-C Hub connects to a USB-C port and then gives you five additional ports to work with. They include two USB-C ports, two USB-A 3.0 ports, and one HDMI port. Since USB-C is usable to connect a display, the HDMI port makes sense here. It comes in a relatively small package for easy travel, and it won't take up a ton of desk space at home. It's even usable as a power adapter for laptops that support USB-C Power Delivery up to 85W.
There isn't much of a downside to one of these. They're inexpensive pieces of tech that can expand the functionality of a laptop that otherwise doesn't have enough USB ports. These modern USB-C hubs are also more functional than their older USB-A counterparts thanks to included features like USB-C Power Delivery. There's no reason not to have one.
Edifier R1280DB speakers
Edifier makes some good midrange speakers, and the R1280DB is an excellent example of this. They are a pair of speakers that you attach to your computer through the headphone jack or over Bluetooth. The speakers are larger than your ordinary home office speakers, standing at 9.5 inches tall, 5.75 inches wide, and 7 inches deep. That's a lot of desk space for speakers. Fortunately, these come with a timeless look.
The speakers put out a lot of sound with excellent sound quality, considering that they don't come with a subwoofer — definitely enough for a home office setup. There are two models of the R1280 speakers. The DB variant includes Bluetooth so you can connect your phone and listen to music or podcasts that way. The R1280T omits the Bluetooth functionality, but it only costs $10 less so we recommend just going for the Bluetooth version.
They are rather pricy at around $150 for a pair of them. However, the nice thing about these is that they can be easily repurposed elsewhere in your home if you find that you don't need home office speakers anymore. For example, they're also excellent bookshelf speakers.
Logitech G915 mechanical keyboard
The Logitech G915 mechanical keyboard is an oddball product in a good way. It includes high durability, consistent responsiveness, and good ergonomics. It's also a low-profile mechanical keyboard that is also wireless. People who are used to dome keyboards will likely find the transition a bit easier with the low-profile keys, and the lack of cable helps keep your desk uncluttered.
Much like the Logitech mouse above, you can customize the G915 quite a bit. The backlighting is per-key RGB so you can make it look how you want. In addition, there are five customizable keys along the left side of the keyboard that you can program to perform tasks in the apps you use most frequently. Along the top are four profile switcher keys that allow for further customization. All told, there are dozens of ways you can program the keyboard to work in the apps you use.
In addition to its excellent customization, the Logitech G915 also has Bluetooth capabilities so you can connect it that way if you don't feel like using the USB dongle. That also helps it be compatible with devices without USB ports like an iPad. The versatility and customization of the keyboard is reason enough to add it to a home office environment. Everything else is just extra.
Uni USB-C SD card adapter
The Uni USB-C SD is another one of those highly useful adapters that it certainly doesn't hurt to own, and it is nothing if not versatile. It has a USB-C and USB-A connected so you can use whichever end you want. There is also support for microSD cards as well as full size SD cards. From there, it's more or less common sense. Insert your SD card, plug it into your computer, and you'll no longer care if your laptop has an SD card reader or not because now you have one.
Beyond that, the Uni USB-C SD card adapter supports a wide variety of regular SD and microSD cards, including microSDHC, microSDXC, SDHC, SDXC, and RS-MMC. You don't necessarily need to know what all of those letters mean — just know that it'll support basically any type of SD card you can buy. In addition, it works on Windows, Mac, and Linux as well as Android devices with USB-C ports. It's small enough to fit in your bag when you travel, and it's a huge boon for photographers who use SD cards in their cameras.
There isn't much else to say for a device like this. There are plenty of them, but Uni makes reasonably good products, so this one is as good as any of the other options. A similar device from Ugreen costs less than $20. That makes it a relatively guilt-free impulse purchase that's there if you need it.
HyperX Cloud Flight headset
The HyperX Cloud Flight is technically a gaming-oriented wireless headset. However, it also works quite well for home office use. It employs an understated black design with red cable covers above the earcups. There is also a red LED in each earcup that shows HyperX's logo, but that can be turned off. Once off, it's a nice, sleek-looking headset that you can use for Zoom calls, other video chats, or even just audio calls on your computer.
Headsets like these are nice for home office use. They sound good, are usually quite comfortable, and the microphone is usually better than the ones you find on Bluetooth headsets or webcams. In addition, the mic is detachable for easy storage. It also boasts more than 24 hours of battery life and it's easy enough to charge. The ear pads are also replaceable. HyperX sells replacements on its website.
The headset should also work on Mac and Linux. It's a fairly standard USB dongle that connects to the wireless headset, so there shouldn't be any proprietary technology getting in the way. The lack of gamer flair means it stands out less in public, and the stock earcups are quite comfortable. Plus, at 300 grams, it's one of the lighter wireless headsets you can buy, which helps keep it comfortable for those long meetings.
Logitech C920e
The Logitech C920e is a good all-purpose webcam. It has a sleek design with plenty of features for such a basic webcam. It shoots 1080p video for use during video calls. There's also threading available for a tripod if you don't want to mount it to the top of your desktop monitor or laptop display. The mount clip for your monitor is solid and the speaker grills on the left and right sides are dual omnidirectional microphones.
What makes the C920e unique are its security features. The blue lights on the sides only light up when the webcam is active, so you always know when something is using it. Additionally, the flap can be shut around the camera lens for privacy. Even if you leave your webcam on or turn it on prematurely by mistake, it still can't see anything until you physically move the flap.
The C920e isn't the only webcam with these types of privacy features. However, the implementation is better than most, and the extra features, like functional autofocus, make the webcam worth its price. It is a little less sharp in low light and such conditions can also introduce a grainy effect. However, that problem exists with most webcams anyway, so it's hardly fair to ding the C920e for it.
Kafri RGB Headphone Stand
The Kafri RGB Headphone Stand is a nice item to have in a home office. The obvious benefit is that you can stash your headset or earbuds there so they're not just sitting on your desk to reduce clutter. There are a variety of basic and artisanal headphone stands that look pretty nice, but they typically don't have any additional functionality.
However, the Kafri RGB Headphone Stand is multi-functional. It has two power sockets in the back that you can use to plug in things like a phone charger or external display. Along the front are two USB-A ports and a USB-C port. These are for charging only, but they can be handy in a variety of circumstances. A fun idea is to get a wireless headset like the HyperX and use a USB cable to charge it while it's resting on the headphone stand. With five different ports or plugs to power your stuff, it can also help keep cables neater.
Kafri has a few stands beyond the base model available. There is a dual stand that holds two headsets, another with some extra storage on the back instead of power sockets, and a pink one. The LED lighting is integrated into the base for a splash of color on all the different models, although you have the option of turning it off if you don't want the extra lighting.
Ugreen USB switcher
A lot of people are looking into KVM switches for their home office setup. A KVM switch, or Keyboard Video Mouse switch, is a box that helps you control your peripherals. Essentially, you plug your monitor, mouse, and keyboard into the KVM switch. Then, you plug the KVM switch into your desktop PC and your work laptop. From there, every time you flip the switch, the mouse, keyboard, and monitor will swap back and forth between your two machines.
It's neat technology, but it's also very expensive if you want one that's reliable. A less expensive alternative is a USB switcher. These work by plugging your laptop and desktop PC into the same monitor and using the monitor's source controls to swap between them. The USB switcher then handles the mouse and keyboard part on its own. Ugreen makes such a device that works quite well for the task.
The Ugreen USB switcher comes with four ports to plug in various peripherals and two ports on the back to plug in your two computers. The button on top switches which computer your peripherals answer to, making the switch seamless. It works with keyboards, mice, printers, and scanners so everything transfers at once. It's much easier to get a quality USB switcher than it is a quality KVM switch, so this is great for home offices with multiple PCs.
TP-Link Powerline adapter
Powerline adapters are where we get into niche gadgets for home offices. Essentially, you plug one in near your home office desk and the other next to your router. You connect the router to one of the adapters with an ethernet cable and the other to your PC, again, with an ethernet cable. The devices will then send Internet through the wiring in your house directly to your PC.
The TP-Link AV2000 is as good as any Powerline adapter. It comes with an extra socket on the opposite side of the plug so you can continue using the socket. Each adapter also comes with two ethernet ports, just in case you need to plug in multiple devices like a printer. From there, you simply set it up and you have wired Internet in any room of your house.
The only downside to Powerline is that it can act a little squirrely on occasion. For instance, if the sockets that the powerline adapter and the device are plugged into are on different circuits, this can cause a reduction in speed and latency. Otherwise, this is a good way to get wired Internet without using dozens of yards of ethernet cable.
Samsung T7 external SSD
You should always keep a backup of your most important documents. Nothing is more depressing than having a storage drive fry on you, leaving you with nothing. Cloud storage is a good option, especially if you can write it off as a business expense. However, people should also consider having a physical drive as well. They are easy to use, work with every operating system, and they're easy to store. A lot of people use external hard drives for game consoles to expand storage as well.
The Samsung T7 is a great choice. It's been around for a long time and has been shown to be as reliable as external storage drives can get. Samsung includes 500 GB, 1 TB, and 2 TB storage options. The drives have a USB-C cable as standard, but you can use a USB-C to USB-A cable to plug into older USB ports. Doing so will reduce transfer speeds, however.
For the record, 500 GB alone can hold over 100,000 photos, hundreds of hours of HD video, or hundreds of thousands of documents, which means that even a 500 GB model will be more than enough for a single PC in a home office. Those looking to store tons and tons of 4K video should probably look into something larger and more economical than an external SSD.
Elgato Stream Deck
The Elgato Stream Deck is a product built and marketed to Twitch streamers. It helps them control their various on-screen elements mid-stream without needing to exit their game. However, it's also usable for productivity work in a home office. Each button on a Stream Deck is configurable to do almost whatever you want. They can open apps, perform macros, or other shortcuts. Some have the included audio mixer which can add some additional functionality.
The benefit of these is fairly obvious. You get all of the functionality of a keyboard macro without needing to buy a huge keyboard. The original Elgato Stream Deck has 15 buttons while the audio mixer version comes with eight buttons and four audio dials. There is a cheaper version with six buttons and the most expensive version nets you 32 customizable buttons. You can get whichever one works best for you. Once installed into your system, you use Elgato's software to determine which buttons do what.
With that kind of versatility, you can have these things do whatever you need. You can have a whole row dedicated to Photoshop and another dedicated to Lightroom. With the 32-button model, you can almost run your entire workstation from it and ignore your keyboard. Elgato essentially lets you do what you want, so the sky is the limit with this product.