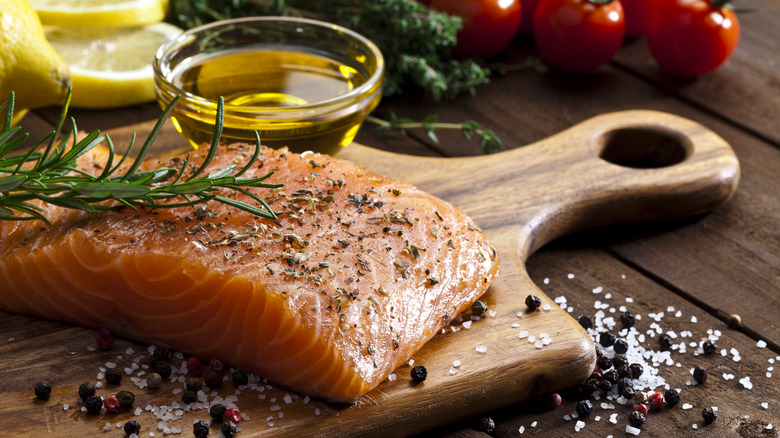 Salmon is a superfood extraordinaire. Rich in omega-3 fatty acids and vitamins B6 and 12, salmon has been proven to promote heart health, support bone health, and even improve mood (via WebMD). And, of course, it's delicious. Buttery and rich, the bright pink fish is full-flavored without being overly fishy, standing up well to a variety of savory, sweet, or even spicy seasonings.
Of course, not all salmon are created alike. Sockeye salmon is also known as red salmon thanks to its deep color. The more orangey hue of Coho is more delicate in flavor with a firmer texture. King salmon is rich and meaty with a higher omega-3 fat content than other salmon. These varieties are further subdivided into two major categories. Farm-raised salmon has a milder flavor and tends to have higher levels of omega-3 fatty acids than wild, which is usually leaner and can have a deeper pink hue.
1. Gordon Ramsay's Salmon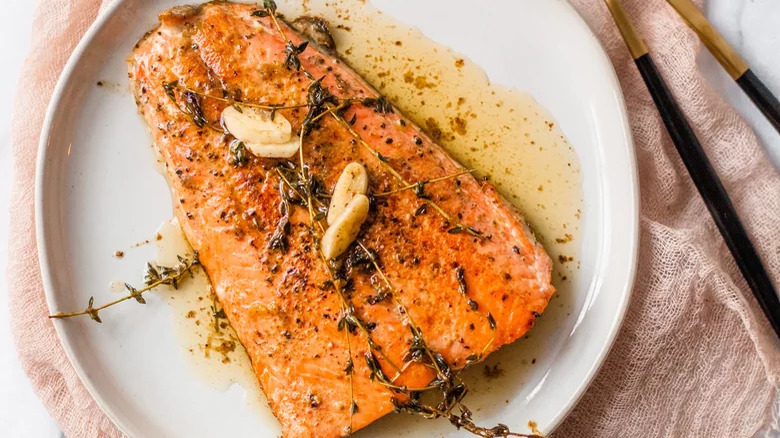 Michelin-starred Chef Gordon Ramsay is a master of many things, and thankfully, salmon is one of them. Capitalizing on its preexisting richness, his recipe pairs the fish with a lemon-infused butter sauce spiked with a hint of cayenne pepper for a lovely touch of heat.
The recipe also makes good use of the delicious, fatty salmon skin. Scoring it ensures that the skin cooks through quickly and gets extra crispy in the pan. This extra step is super quick, but the rewards catapult this salmon to off-the-charts deliciousness.
Recipe: Gordon Ramsay's Salmon
2. Easy Grilled Salmon
Unlike more delicate fish, salmon stands up well to high-heat cooking methods like grilling — especially when it's given a bit of help in the flavor department, as it is in this recipe. To start things off, you'll brine the salmon in saltwater for 10 minutes to ensure it's seasoned all the way through. While the salmon sits, you can fire up the grill and prep the herb- and lemon-infused butter that will serve as both a cooking fat and a base for the sauce. Next, simply place the brined salmon on a sheet of foil, add half the butter and even more lemon, and grill to perfection.
The remaining lemon butter is more than enough of a sauce for serving this luscious salmon, but if you really want to gild the lily, you could also prep a quick mango salsa for even more fresh flavor. Grill a few halved lemons to squeeze over the top, and you'll be wowing your dinner guests for sure.
Recipe: Easy Grilled Salmon
3. Spicy Baked Salmon
Salmon's rich fattiness means it can hold its own against spicier seasonings, so this chili-spiked rub is perfect. To make it, you'll combine chili powder, onion powder, cayenne pepper, and garlic with butter, lime juice, and honey. Simmered together quickly over medium heat, it forms a spicy, sweet, garlicky sauce that's wonderfully sticky and oh-so moreish.
Once the glaze is applied to the salmon fillets, they're slipped into the oven for about 15 to 20 minutes. That's it! This spicy salmon is ready to serve. It goes perfectly with rice and veggies, but baby potatoes or noodles work well, too.
Recipe: Spicy Baked Salmon
4. Slow-Baked Salmon and Citrus Butter
Fatty salmon pairs perfectly with the brightness of citrus, so this salmon with citrus butter recipe is a real no-brainer. The fish itself is slow-roasted at 250 F, a super low temperature that ensures the fish retains all of its tenderness and moisture — even with nearly an hour of oven time.
The citrus butter itself boasts three different zests — lime, orange, and lemon — which are worked into softened butter to form what is known as a compound butter. Only once the salmon emerges from the oven is it sliced into rounds and placed on top, melting to create a luscious, rich sauce. Serve it with a side of cilantro-lime rice to echo the vibrant flavors in the fish, and soak up any excess sauce. Save any remaining butter to enjoy spread on your favorite toast.
Recipe: Slow-Baked Salmon and Citrus Butter
5. Easy Poached Salmon
Poaching is a classic approach to cooking this rich fish to keep it tender and moist, while also imbuing it with aromatics. In this recipe, salmon is slowly simmered in a flavorful, wine-infused broth made with shallot, garlic, and lemon. The broth itself adds so much flavor to the salmon that once it's cooked, there's little more to do than drain, plate, and serve!
Of course, you can capitalize on garnishes to add even more flavor and color to your finished dish. Lemon slices, parsley, or capers would all be welcome additions, adding pops of color and texture to the finished dish, which is just as delicious when served hot or chilled.
Recipe: Easy Poached Salmon
6. 15-Minute Air Fryer Salmon Cakes
Canned salmon is just as versatile as fresh, if not more so, as this salmon cake recipe shows. With an ingredients list that's almost exclusively made up of pantry staples, this recipe comes together in a matter of minutes. The result is a patty that's tender on the inside and crispy on the outside, and will prove just as tasty fresh out of the air fryer or cold in a sandwich.
The base recipe for these salmon cakes uses canned salmon combined with breadcrumbs, mayo, egg, green onion, and Old Bay. But once you've mastered the techniques, you can change it up with other flavor combos. A Spanish-inspired version might use onions and paprika, or a Greek-inspired iteration could include briny Kalamata olives and feta. Let your creativity (and your pantry) be your guide.
Recipe: 15-Minute Air Fryer Salmon Cakes
7. Wolfgang Puck's Smoked Salmon Pizza With A Twist
Smoked salmon is a delicacy, often enjoyed atop bagels or in tea sandwiches. But on a pizza? Trust Wolfgang Puck — this creative dish is as delicious as it is easy to prepare. To make it, all you need is sour cream, lemon, scallion, and chives — and smoked salmon, of course. The pizza dough base can either be homemade or store-bought, depending on how much time you've got at your disposal.
Unlike many other pizza recipes, this one sees the dough baked blind first. Only once it has cooled is it smeared with sour cream and topped with lemon zest and scallions. A generous layer of smoked salmon is dolloped with even more sour cream before the final touch of chives. While it's not in the recipe, a bit of lemon juice could be just the thing to lend even more brightness.
Recipe: Wolfgang Puck's Smoked Salmon Pizza With A Twist
8. Baked Salmon Sushi
Surprisingly for anyone who spends much time in sushi restaurants, salmon sushi is not actually traditional Japanese fare — it actually hails originally from Norway. So, you don't need to feel bad about deviating even further from tradition in crafting this baked salmon sushi, a surprisingly delicious play on the dish more typically made with raw fish.
To make this sushi, baked salmon is rolled into seasoned sushi rice alongside cucumber, carrot, and avocado, which imparts even more flavor and texture. With its nori wrapper and toasted sesame seed garnish, it's the perfect maki to serve to those avoiding raw fish for any reason. It pairs perfectly with wasabi and pickled ginger, but you could also opt for a homemade sriracha mayo for a bit of a kick.
Recipe: Baked Salmon Sushi
9. Seared Salmon With Chickpeas and Kale
Salmon is undoubtedly a superfood — but you can make it even better for you by allowing it to team up with yet another! Kale certainly had its moment, and while it's far from as omnipresent as it was a decade ago, it's just as good for you as it always was, rich in vitamins, minerals, antioxidants, fiber, and more.
In this recipe, skin-on salmon fillets are served atop a savory sauté of onions, mushrooms, canned chickpeas, and dinosaur kale. Seasoned with balsamic vinegar and Parmesan cheese, this dish is just as delicious as it is nutritious, rich in protein from the fish and chickpeas, healthy fats from the salmon, and loads of vitamins and minerals from the veg.
Recipe: Seared Salmon With Chickpeas and Kale
10. Salmon With Lemon Dill Sauce
Salmon, lemon, and dill are a trio to be reckoned with as you'll soon see once you've tried this Swedish-inspired dish. Salmon is first seared in a pan before being set aside so that any fond can be used to form the base of a sauce. First deglazed with wine and lemon juice, the pan then welcomes the heavy cream, salt, and pepper. The salmon finishes cooking in the rich sauce before being generously garnished with fresh dill.
This dish's deliciousness is only magnified with a starchy side to soak up any excess sauce. Boiled potatoes, brown rice, or even pasta make the perfect accompaniments, but a crusty loaf of fresh bread is also a welcome addition!
Recipe: Salmon With Lemon Dill Sauce
11. TikTok-Inspired Salmon Rice Bowl
If you want all of the flavors of sushi without the faff of rolling those delicate maki rolls, a salmon bowl is pretty much the perfect thing to make. This bowl is ideal for using up leftover cooked rice and salmon, which are all dressed up with homemade sriracha-spiked kewpie mayo, avocado, and soy sauce. You could also add other toppings like kimchi, wasabi, or seaweed to take it to the next level.
If you are using leftover rice to make this recipe, you'll love the unique hack that ensures that your rice heats up moist and fluffy: an ice cube! Microwaving the rice with ice essentially re-steams it, returning some moisture to the rice, and ensuring that even if it's from the day before, it's never dry.
Recipe: TikTok-Inspired Salmon Rice Bowl
12. Smoked Salmon Sushi Recipe
Salmon sushi isn't necessarily the most traditional option out there. As we mentioned above, it wasn't invented in Japan, but rather in Norway! So, you shouldn't feel bad deviating from the classic raw fish filling with this smoked salmon iteration.
Easier to find than sushi-grade raw salmon, smoked salmon also lends a deeper flavor to this maki roll, which is otherwise quite traditional, pairing the fish with silky avocado and seasoned sushi rice. Serve it with your favorite soy sauce for dipping, or drizzle it with a squeeze of fresh lemon for something with a touch more vibrancy.
Recipe: Smoked Salmon Sushi
13. Easy Smoked Salmon Fettuccine
If you want to take a simple, everyday pasta dish and turn it into a special occasion treat, smoked salmon is a fantastic addition. It brings loads of flavor and luxe appeal to this fettuccine dish, and best of all, it couldn't be easier to prepare. In fact, given how quickly and easily it comes together, it's the ideal option for a dinner party if you're the kind of host who actually likes to enjoy spending time with your guests.
All you need to make this recipe is garlic, parsley, butter, Parmesan, and, of course, the smoked salmon. Quick-cooking fettuccine forms the base of the dish, and garlic is just kissed with heat before being tossed in with the rest of the ingredients. Since the salmon is already cooked, it only takes a few moments for the individual ingredients to unite to form a fantastic meal.
Recipe: Easy Smoked Salmon Fettuccine
14. Air Fryer Teriyaki Salmon
Salmon stands up so well to the slightly sweet flavors of teriyaki sauce. And with this recipe, you can say goodbye to overcooked salmon thanks to the use of the handy-dandy air fryer. According to recipe developer Kit Hondrum, using the air fryer to make salmon results in a slightly more delicate texture and is way more fail-proof for kitchen newbies.
This recipe is even better suited to inexperienced cooks thanks to its reliance on your favorite store-bought teriyaki sauce. But if you're looking for more of a challenge, you could also make your own teriyaki sauce at home. Either way, garnish with some sesame seeds and scallions for even more texture and a prettier final dish.
Recipe: Air Fryer Teriyaki Salmon
15. Fresh Salmon Burgers
If you're looking for a burger alternative that's more sustainable and more nutritious than beef, these salmon burgers will be right up your alley. Made with salmon fillets seasoned with Dijon mustard, mayo, red onion, capers, and lemon, these burgers are chock full of healthy omega-3 fatty acids and antioxidants — not to mention loads of flavor.
Perhaps best of all, these burgers couldn't be easier to pull together. Your food processor will do most of the work in uniting the ingredients into the ideal chunky-textured paste to form into patties and sear in a skillet. Serve them on your favorite bun with peppery arugula, tomato, and even more lemon juice, and hold for the applause.
Recipe: Fresh Salmon Burgers
16. Herbed Salmon en Papillote With Grape Tomatoes
En papillote might sound snooty and fancy, but the reality of this technique — which is just French for "in paper" — will revolutionize the way you cook salmon. To make it, the salmon fillets are arranged on a sheet of parchment paper along with all of the aromatics — rosemary, dill, and garlic — as well as the halved grape tomatoes that will serve as both a side and the sauce. Once the edges of the parchment are crimped, the salmon and all of the seasonings are sealed in, creating a perfect pocket of savory steam that gently cooks the salmon to perfection.
The papillotes in this recipe cook in the oven — and indeed, that is the most traditional way to cook any fish en papillote. But in a pinch, you can actually carry out a very similar process on the stovetop, reducing the need to turn on the oven in the height of summer, when tomatoes are at their best.
Recipe: Herbed Salmon en Papillote With Grape Tomatoes
17. Sheet Pan Garlic Salmon
For a dinner as vibrant as it is simple to prepare, look no further than this sheet pan salmon recipe. Bright pink salmon fillets are nestled into a panoply of colorful veggies from zucchini to red bell pepper, purple onion to yellow segments of bright lemon. Alongside creamy potatoes, these ingredients are bathed in lemon juice, lemon zest, butter, and garlic, and then placed in the oven to do its magic and transform the jumble into a delightful dinner.
Given the different cooking times of the various ingredients, not everything graces the sheet pan all at once. First, the potatoes hang out on their own before being joined by the rest of the veg 20 minutes later. The garlic-butter-glazed salmon fillets only join the party a further 15 minutes later. After 15 more minutes, dinner is ready to serve.
Recipe: Sheet Pan Garlic Salmon
18. Canned Salmon Salad
Canned tuna is a pantry staple, but it's high time we paid as much attention to canned salmon. Richer in healthy omega-3 fatty acids than its better-known cousin, canned salmon is also often more sustainable. And just like tuna, canned salmon lends itself particularly well to a creamy salad.
In this recipe, Greek yogurt stands in for mayonnaise, contributing more protein and less fat than the more traditional creamy base. With celery and red onion for crunch, and brightness from lemon juice and Dijon mustard, the resulting salmon makes the perfect sandwich filling.
Recipe: Canned Salmon Salad
19. Easy Salmon Patties
Canned salmon is a cheaper alternative to fresh, and it works wonderfully in these salmon patties redolent with green onion and dill. Plus, they couldn't be easier to make. One bowl is all you need to stir all the ingredients together, and after forming the patties, they just take 2 to 3 minutes on either side before they're crispy on the outside and tender within.
These patties are delicious when served hot, but they also hold up well to refrigeration, making them perfect for batch-cooking. Cook up a bunch of patties early in the week, and pack them with mixed greens and your favorite salad dressing for a delicious, protein-rich lunch all week long.
Recipe: Easy Salmon Patties
20. Pan-Seared Blackened Salmon
Salmon stands up super well to more assertive flavors, and blackening spices are one wonderful option. This combination of onion, garlic, cayenne, parsley, and a touch of brown sugar for a hint of caramelized sweetness forms a delightful crust on these salmon fillets. Kissed in a pan for barely 15 minutes, all they need is a drizzle of lime to reach the peak of perfection.
This salmon has so much flavor it doesn't demand much in terms of sides. A bit of steamed white rice and some southern succotash will turn it into the perfect meal.
Recipe: Pan-Seared Blackened Salmon
21. Thai-Inspired Salmon Curry
Thai red curry paste should be in everyone's pantry. Made with a combination of red chili peppers, garlic, sea salt, lemongrass, turmeric, and shrimp paste, it's so rich in flavor, and makes dishes like this Thai-inspired curry a total breeze. To make it, salmon is simmered in a rich, savory gravy made with onion, garlic, lemongrass, ginger, coconut milk, fish sauce, and, of course, a bit of that paste to give it depth of flavor and balanced heat.
This curry is great on its own, but given how much delicious sauce this recipe makes, a side of rice or noodles is more than welcome. If you want to bulk it out, veggies like eggplant, bamboo shoots, or carrots go wonderfully with the salmon and creamy sauce.
Recipe: Thai-Inspired Salmon Curry
22. Creamy Salmon Pasta
If you're looking for a pasta dish to welcome spring, this creamy salmon pasta is the ideal, colorful offering. It pairs pink salmon with verdant asparagus in a garlic-scented white wine and cream sauce. A touch of Parmesan lends a bit more richness, while the juice and zest of lemon bring some vivacity and brightness to the final dish.
If asparagus isn't in season — or if you just want to change things up — you could definitely opt for another green vegetable. Sweet peas would be perfect, and since they're always delicious frozen, it transitions the dish from something seasonal to an everyday offering.
Recipe: Creamy Salmon Pasta
23. Lemon-Herb Steamed Salmon
Given its innate richness, salmon doesn't need much by way of added cooking fat to make its flavors sing. In this steamed salmon recipe, it's seasoned simply with lemon thyme, parsley, stock, and just a touch of butter. Topped with thinly sliced lemon, it's steamed in the oven until flaky and tender.
To transform this recipe into a more complete meal, consider serving it with steamed new potatoes and spring carrots. A bit of extra lemon on the side would be a welcome addition!
Recipe: Lemon-Herb Steamed Salmon
24. Sesame Seared Salmon
If you're looking to give your salmon an earthy, nutty flair, this seven-ingredient recipe is the perfect one for you. Marinated in sesame oil, garlic, ginger, salt, and pepper, the salmon is seared in olive oil before being topped with sesame seeds. The resulting dish brings out the best in salmon's rich, fatty flavor.
This salmon is lovely on its own, but it also pairs perfectly with rice and steamed veggies. Consider using bok choy or Chinese broccoli to temper the richness of the fish with the pleasant natural bitterness of these cruciferous veggies.
Recipe: Sesame Seared Salmon
25. Barbecue Baked Salmon
Unlike some milder fish, salmon stands up well to the sweet flavors of barbecue sauce. And in this recipe, you'll make your own from scratch!
Don't worry — it's not a difficult endeavor. Ketchup, apple cider vinegar, brown sugar, Worcestershire sauce, honey, onion powder, and paprika are whisked together and simmered for 20 minutes until thick. The resulting sauce is brushed over the salmon fillets, which, after 15 minutes in a hot oven, emerge caramelized and delightful. Of course, if this simple sauce feels like a bit too much to manage, you can always use your favorite store-bought sauce and reap similar, delicious results.
Recipe: Barbecue Baked Salmon
26. Honey-Garlic Pan-Seared Salmon
For a simple salmon as good as something you'd find in a restaurant, look no further than this pan-seared salmon recipe topped with a velvety honey-garlic sauce. The sauce marries the savory saltiness of soy sauce with a touch of sweetness from honey. Garlic lends an umami kick, and lemon juice punches up the freshness and mouth-watering acidity. Cornstarch, meanwhile, acts as a binder, creating a luscious texture that coats the salmon beautifully.
This salmon is great all on its own, but given how tasty the sauce is, serving it with a side of steamed rice or rice pilaf will really take it to next-level deliciousness. (And possibly keep you from licking the plate.)
Recipe: Honey-Garlic Pan-Seared Salmon
27. Easy Baked Pesto Salmon
Once you've learned the trick behind this baked pesto salmon, it's sure to become one of your favorite dinner party mains. It's beautiful, impressive, and delicious … and all it needs is two ingredients.
To make this dish, all you need are salmon fillets and your favorite brand of store-bought pesto. The fish is generously topped with herbaceous sauce, and then baked for just over 10 minutes, depending on the thickness of the fillets and your desired doneness. The resulting portions boast a beautiful contrast of pink and green.
While this recipe is lovely as written, if you want to catapult it to next-level status, consider making your own homemade pesto or serving it with just as wow-worthy side. Creamy risotto is the perfect pair.
Recipe: Easy Baked Pesto Salmon
28. Fresh Ginger and Salmon Recipe
Fresh ginger is a powerhouse of both flavor and nutrition. Rich in gingerol, a powerful anti-inflammatory and antioxidant, fresh ginger has been shown to contribute to weight loss, lessen the symptoms of osteoarthritis, and even fight infection (via Healthline). Plus … it's delicious.
In this recipe, fresh ginger is paired with soy sauce, honey, sesame oil, mirin, and sriracha to make a succulent sauce for baked salmon. Drizzled atop the fillets of fish before baking, the sauce reduces down to a sticky, flavorful semi-glaze. Scatter the finished fish with sesame seeds and dig in!
Recipe: Fresh Ginger and Salmon
29. Pistachio-Crusted Salmon
Pistachios make a beautiful and delicious crust for salmon in this recipe, which sees the crushed nuts nestled atop the salmon, bound by a paste made by combining Dijon mustard and honey. Seasoned with fresh rosemary and thyme, the herbaceous crust becomes even nuttier and more fragrant after 15 minutes in the oven.
Pistachios and pomegranate are a natural pair, and this pomegranate couscous, studded with the bright red arils and scattered with verdant fresh herbs, is the ideal foil for the rich salmon, mirroring the beautiful contrast in color.
Recipe: Pistachio-Crusted Salmon
30. Easy Jerk Salmon
Jerk seasoning is a staple of Jamaica, a blend of sweet and hot spices uniting cayenne, paprika, allspice, cumin, cinnamon, nutmeg, garlic, onion, and more. A store-bought blend does most of the heavy lifting in this recipe, which sees salmon fillets generously seasoned with the spice blend, and cooked in a pan until tender.
A sweet-and-savory slaw makes the ideal counterpoint to this spiced salmon. A shredded base of green cabbage is joined by small-diced mango and cilantro. Dressed with a simple combo of cider vinegar and olive oil, it provides welcome freshness and crunch — and served atop the spice-encrusted salmon, it makes for a pretty plate indeed!
Recipe: Easy Jerk Salmon
31. Air Fryer Salmon Patties
For crispy salmon patties at a fraction of the fat of fried, this recipe is your new best friend. Canned salmon is combined with beaten egg, panko, mayo, Dijon, and paprika before being formed into patties. Cooked in the air fryer, they emerge crispy and golden brown.
These salmon patties are delightful on their own, but they also make a wonderful sandwich filling. Pile them into a warmed pita and top with lettuce, tomato, and tzatziki, or slather some white toast with mayo and mustard before layering the patties on and digging in.
Recipe: Air Fryer Salmon Patties
32. Easy Honey Baked Salmon
If you've got even a moderately well-stocked pantry and a baking dish, you can make this super easy baked salmon recipe. All you need to do is whisk together a combination of honey for sweetness, soy sauce for savoriness and salt, umami-rich garlic, and lemon juice for its bright acidity. Once the sauce is poured over the salmon, it's baked until flaky yet tender.
Once you've mastered this base recipe, there are loads of small tweaks you can make to jazz it up. Consider swapping the honey for maple syrup if you want something a bit richer. Lime can stand in for lemon, and chili flakes can easily join the party for a touch of heat. Garnish with toasted sesame seeds or fresh herbs for even more texture and color.
Recipe: Easy Honey Baked Salmon
33. Ina Garten's Salmon With a Twist
Ina Garten is the queen of home entertainers, and her herb-crusted salmon aligns perfectly with her trademark marriage of simplicity and class. In her recipe, salmon fillets are topped with a panko breadcrumb crust seasoned with parsley, lemon juice, and olive oil before being baked to perfection.
But while the Barefoot Contessa relies on Dijon mustard to help the coating adhere to the fish, in this version from Kristen Carli, a slightly spicier approach is taken. Carli opts for sriracha mayo for a balanced sweet-and-savory kick that begs for cilantro to take the place of parsley in the crust. The resulting salmon boasts a fusion of European and Asian flair perfectly paired with crispy roasted potatoes or cilantro-lime rice.
Recipe: Ina Garten's Salmon with a Twist
34. Instant Pot Steamed Salmon
You might think of your Instant Pot as a tool for making slow-cooked stews and braises, but it's also a godsend for those who want to make fish at home without stinking up their kitchen. This steamed salmon comes together almost sinfully quickly. All you need is to drizzle the salmon fillets with olive oil, season with salt and pepper, and top with lemon. A cup of water in your Instant Pot creates the steam needed to help the salmon cook to a perfectly flaky, moist texture in just 3 minutes. Garnish with dill, and it's time to serve.
This technique is also great for batch-cooking salmon, which you can then use cold in salads or sandwiches. It'll definitely jazz up your packed lunch routine!
Recipe: Instant Pot Steamed Salmon
35. Broiled Miso Salmon
Savory miso paste is such a wonderful base to have on hand, whether you're creating a glaze or sauce that tastes like it's taken all day to prepare. Rich in umami funk from the fermenting process, this Japanese staple adds loads of savoriness to a glaze further seasoned by salty soy sauce, sweet maple syrup, and nutty sesame oil.
The marinade goes from great to exceptional thanks to the use of the broiler, which caramelizes the natural sugars in the syrup and miso. Garnished with sesame seeds and scallions, the resulting salmon forms the backbone of an exceptional meal that's quick and easy enough to enjoy even on a weeknight.
Recipe: Broiled Miso Salmon
36. One-Pot Salmon and Rice
One-pot meals are perhaps the ultimate answer to the weeknight dinner conundrum, cutting down not just on dishes, but on the need for inspiration when coming up with sides to go along with your main. This recipe sees salmon, rice, and zucchini seasoned with garlic and chicken broth for a richly flavorful dish that nevertheless relies on minimal fat.
To make it, you'll first steam the rice in the garlic-scented broth, kissed with a touch of lemon, for about 15 minutes. A bit of butter is added to bring moisture to the rice, which is then topped with a layer of sliced zucchini and the salmon fillets. Covered and cooked for 10 minutes, the finished dish is ready to garnish with fresh herbs and serve — no side dishes required.
Recipe: One-Pot Salmon and Rice