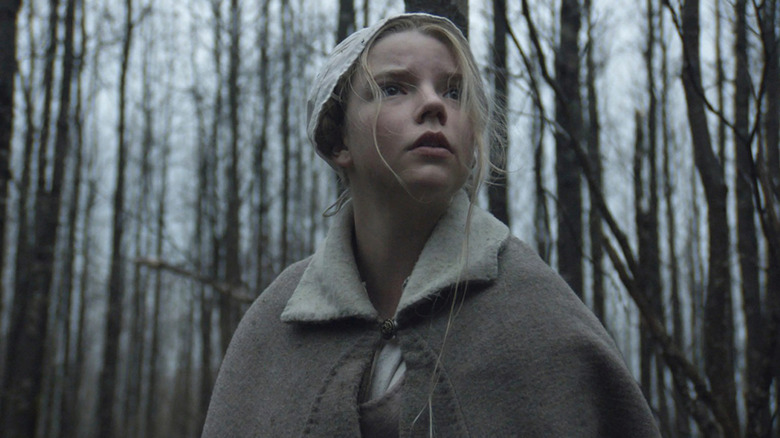 For many Disney and Nickelodeon child stars, the transition to acting in adult shows and movies can be a little awkward. Disney shows in particular have a tendency to prioritize a certain kind of over-acting, one that doesn't translate well to giving serious, dramatic performances. Some performers make this transition look easy, whereas other Disney actors go their whole lives being mainly known for their earliest roles. For Anya Taylor-Joy, she was better off just skipping the Disney phase altogether.
Her breakout role, which she was cast in when she was 18, came in Robert Eggers' period horror film "The Witch." Taylor-Joy played a teenage girl named Thomasin, who lives with her very religious family in an isolated home in the 1630s New England wilderness. Life is already hard enough before Thomasin's family starts getting stalked by dark forces, and Thomasin herself is suspected as being complicit in them.
"The Witch" is a moody film with a deliberately slow pace — not the type that draws in massive crowds on opening night. It's also a movie where all the characters talk like 17th-century Puritans would, another barrier for general audiences. I was there on opening night, and I remember having another moviegoer (a complete stranger) apologize to me on behalf of the movie afterward, as if he thought I'd blame him for it. (I, meanwhile, actually kind of liked the film.)
But even though nothing about the movie indicated blockbuster gold, it was still a critical and financial success, with Taylor-Joy's performance in particular being praised. Soon she was starring in films like M. Night Shyamalan's "Split" and "Glass," on her way to becoming a household name thanks to "The Queen's Gambit." It all started with her performance in "The Witch," which almost didn't even happen.
The unnamed Disney Channel pilot
When talking to Variety about joining "The Witch," Anya Taylor-Joy explained, "It was the same day I got asked to be in a Disney Channel pilot, and it was so exciting to be offered anything at all that I ran around the house like a loon." We still don't what show this pilot was for, or whether it even made its way to the screen at all, but the mere offer would've naturally been a huge deal for a young, unestablished actor either way. Going with Disney would've also been the safer bet for Taylor-Joy, as opposed to a low-budget horror flick that could've easily flopped.
"But I just had this really good feeling about 'The Witch' that made me willing to forego the Disney experience for the thing that felt unknown to me, the thing that felt sacred," Taylor-Joy explained. Beyond the movie helping her catch the eye of other directors, she noted that the experience had a large impact on the way she approaches acting itself:
"There is no hierarchy on set: you work hard, you stay on top of the shots and you don't assume anyone else is going to do that for you. Your title doesn't stop at actor — you're a creative on this film, and that's how you need to approach it."
Everyone has crossroads in their lives that they can look back on and wonder about, but these crossroads tend to be more dramatic in Hollywood, where early luck is such a major, yet hard-to-measure factor on an actor's early career. If Taylor-Joy had picked the Disney pilot, how would these past eight years for her have panned out? If her performances since have been anything to go by, I'd probably bet she would've done alright either way.