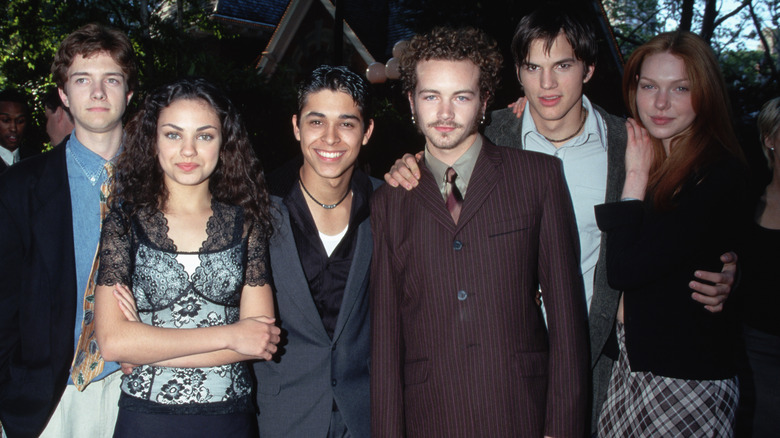 Danny Masterson was sentenced to 30 years for rape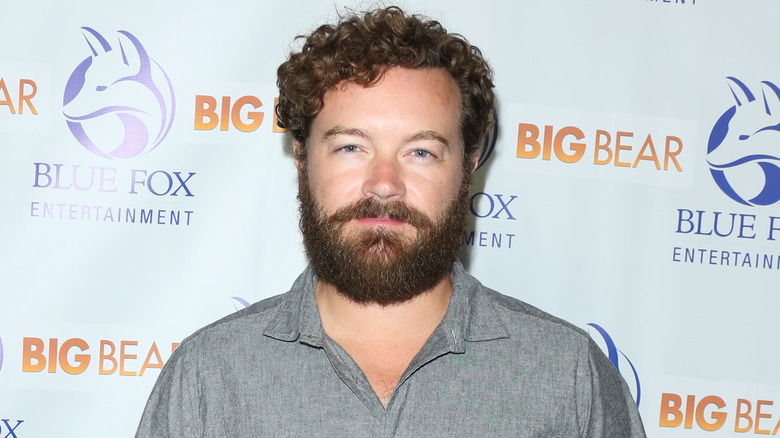 In the fall of 2017, amid the deluge of sexual assault allegations against powerful men in Hollywood, Danny Masterson was accused of raping four women in the early 2000s while he was starring in "That '70s Show." As the Los Angeles Police Department investigated the allegations, Netflix announced the release date of Season 4 of "The Ranch," which stars Masterson and Ashton Kutcher. An uproar ensued, one which had the network eventually terminate Masterson's contract. Masterson was formally charged with three counts of forcible rape in June 2020, per The New York Times. In September 2023, he was sentenced to 30 years-to-life for two of those cases.
It soon emerged that amongst those who wrote to the court in his defense were some of his "That '70s Show" co-stars, Kutcher, Mila Kunis, Debra Jo Rupp, and Kurtwood Smith. For their part, Kutcher and Kunis swiftly faced backlash on social media, which prompted a controversial response by the couple via Instagram.
"The letters were not written to question the legitimacy of the judicial system or the validity of the jury's ruling," Kunis said in part, while Kutcher added, "They were intended for the judge to read, and not to undermine the testimony of the victims." An unnamed plaintiff spoke on the couple's response, per NBC News, terming it as both upsetting and hypocritical. Soon after, Kutcher resigned from his board chair position at Thorn, an anti-child trafficking non-profit organization he'd co-founded.
Mila Kunis lied about her age to get the job
Ukraine transplant Mila Kunis started landing TV gigs at the tender age of 13, appearing in guest stints on "Days of Our Lives" and "Baywatch" before landing a small recurring role on "7th Heaven." While those shows were comfortable working with minors, the producers of "That '70s Show" weren't quite so kid-friendly. In 2001, Kunis told People that in order to nab the role of Jackie Burkhart on the show at age 14, she pretended to be a good bit older than she really was. "I told them I was going to be 18. But I didn't tell them when I was going to be 18!" the then-17-year-old said.
As fate would have it, her first actual kiss took place in front of the cameras that year as she, in character, planted one on her real-life future husband, Ashton Kutcher, who played her character's then-boyfriend, Michael Kelso. Kutcher was 23 at the time. If not for her white lie, Kunis might not have ended up making the Jackie-Kelso ship sail onto a romantic island of marriage and babies together. But perhaps unsurprisingly, given their ages at the time, Kutcher didn't fancy brushing his lips against his younger would-be wife's.
Topher Grace was a bad kisser
Nowadays, Joseph Gordon-Levitt is something of a big screen powerhouse with flicks such as "Inception," "The Dark Knight Rises," and "Looper" under his belt, but in the late '90s, he was still just a former child star whose biggest claim to fame was playing an ancient alien on "3rd Rock from the Sun."
Shortly before his breakthrough role in "10 Things I Hate About You," Gordon-Levitt appeared in a Season 1 episode of "That '70s Show" as Eric's pal, Buddy Morgan. Buddy has a secret crush on his buddy and shares a kiss with him before Eric turns him down. That on-screen kiss is credited as being the first gay smooch on North American prime time TV, but audiences reportedly hated it. What would've been a potential recurring role was subsequently relegated to just one episode. It didn't hurt Gordon-Levitt's career much, but filming the scenes did leave a nasty taste in his mouth, so to speak. Asked about the kiss by The Advocate, he said, "[Topher's] probably one the worst kissers I've ever kissed. You know, he's a dude, and girls are awesome to kiss, I gotta say."
Actor Laura Prepon, who plays Eric's long-time love interest on the show, echoed the kiss diss when she said on a radio show (via TMZ) that her "Orange is the New Black" co-star, Taylor Schilling, gave better lip service than Grace.
Leo disappeared because Tommy Chong went to jail
One of the most memorable tertiary characters of "That '70s Show" was Leo, the pothead grown-up who develops a friendship with the gang, most likely because of his marijuana connections. The character was played by Tommy Chong, who seemed to float effortlessly between his on-screen and off-screen personas.
After regular appearances in the show's second, third, and fourth seasons, Leo disappears from the series. He becomes the subject of a Season 5 manhunt that produces only a good-bye note and eventually turns up near the end of Season 7. In his big comeback episode, Leo explains his absence as time spent looking for his own house because he was too baked to find it.
In real life, however, Chong disappeared because he was doing time. In 2003, he was sentenced to nine months in jail for selling pot pipes. Four months into his incarceration, Chong turned out to be America's most popular marijuana inmate, and had an army behind him, lobbying for his release. How was prison for the then-65-year-old? You may ask. "Jail was probably the most exciting thing that's ever happened to me," he said in an interview with The Baltimore Sun. "I was like an icon. There's a hierarchy in prison, and I was right at the top." Chong's superstar status was cut short when he was released on July 4, 2004.
Laurie Foreman was recast due to devastating personal problems
Actor Lisa Robin Kelly portrayed Eric Foreman's big sister, Laurie, for the show's first five seasons, but her role was significantly lessened after Season 3. She didn't appear at all in Season 4 and appeared only in a handful of episodes in Season 5. Due to off-screen struggles, she eventually decided to leave the show and was replaced by actor Christina Moore in Season 6. Kelly later explained her departure to ABC News. "I had lost a baby. As a result of that I lost it. I lost everything and I was abusing alcohol," she said. "With 'That '70s Show' I was guilty of a drinking problem, and I ran."
Although she claimed to have recovered from the troubles that sparked her departure from the show, she made headlines in 2010 for a DUI mugshot and again in 2012 for allegations of domestic abuse. Kelly died from a reported drug overdose in 2013 at age 43.
Kutcher and Kunis hated each other
Although they played on-again-off-again young lovers on "That '70s Show," and they're now married with children in real life, Mila Kunis and Ashton Kutcher didn't care for each other as co-stars.
She told Glamour in 2016, "There's nothing we don't know about each other because we've known each other for so long: the ugly, the bad, the good. We went through a period where I thought he was crazy. At the height of his career, I was like, 'Ugh, I don't like you. I don't even know you anymore. You think you're such hot s**t.'" Kunis added that even though they went through a number of detachment periods over the years, they always reconciled in the end.
What ultimately brought them together? Kunis told "The Howard Stern Show" that she and Kutcher made a mutual decision to become bedroom buddies. Perhaps not coincidentally, both celebs had previously starred in movies where that exact arrangement failed to work out (her in "Friends with Benefits" and him in "No Strings Attached"), but in this case, life imitated art — and included a happy ending.
Did Topher Grace get too big for his bell bottoms?
While Topher Grace and Ashton Kutcher both announced that they would not return for the eighth and final season of "That '70s Show," Kutcher did come back for a couple of episodes to wrap up some plot threads. Grace only reappeared for the show's finale, and while that doesn't seem like a big deal, it's notable when one takes into consideration Grace's absence from other show-related events.
Grace claimed there's no bad blood between him and the rest of the cast, but he was not a part of the cast reunion on the set of "The Ranch" in 2016, and he did not attend Kunis and Kutcher's wedding. (He said he was working on both occasions.) Grace was also the only major cast members who was never Punk'd by Kutcher. Grace did, however, participate in an informal, private cast reunion in 2013 — where the whole gang even sung their show's theme song together — so maybe everything is swell now.
Tanya Roberts left because of her husband's terminal illness
While the parents on most teen-oriented shows are completely inconsequential to the plot (we're looking at you, Jim and Cindy Walsh from "Beverly Hills, 90210"), the writers of "That '70s Show" adeptly used the show's adults to add a streak of '70s realism to the series.
Red and Kitty Foreman dealt with financial and employment instability, and Bob and Midge Pinciotti showed what married life looked like during the '70s wave of feminism. Bob (Don Stark) didn't like that Midge (Tanya Roberts) was too busy with her feminist club meetings to cook him dinner. Still, it was both surprising and abrupt when Mr. and Mrs. Pinciotti got a divorce and Bob started dating Jackie's mom, Pam (portrayed by Brooke Shields). It turns out, that storyline had little to do with plot arcs, and everything to do with Roberts needing to leave the show.
The former Bond girl and star of the real '70s show "Charlie's Angels" revealed on an "E! True Hollywood Story" that she left the show in 2001 because her husband, screenwriter Barry Roberts, was terminally ill. Roberts did return for a few episodes late in the show's run. Her husband passed away in June 2006.
Is infidelity a form of being Punk'd?
Before Ashton Kutcher married his "That '70s Show" co-star, Mila Kunis, and had a couple kids, he was in another high-profile romance that kept the tabloids busy.
In 2003, Kutcher met big-time Hollywood movie star Demi Moore through friends, and immediately, the irises of their eyes turned into little hearts, despite a 16-year age difference. (The fact that they're both gorgeous and successful will certainly overcome any such silly obstacles.) The pair married in 2005 (his first, her third), but all was not so rosy by 2011, when Kutcher allegedly marked their six-year anniversary with an extramarital affair. According to Us Weekly, Kutcher reportedly spent the weekend partying at the San Diego Hard Rock Hotel, which included a hot tub three-way with a couple of young women. Non-spoiler alert: Kutcher and Moore split up soon after and officially divorced in 2013.
Though Kutcher never confirmed the cheating chatter, Moore did issue a statement when they split that suggested she may have been betrayed: "As a woman, a mother and a wife there are certain values and vows that I hold sacred, and it is in this spirit that I have chosen to move forward with my life." She would later open up further on such alleged betrayals in her 2019 memoir "Inside Out."
Mila Kunis was accused of stealing a chicken
Mila Kunis spent a large part of her childhood in Ukraine and was reportedly close friends there with a girl named Kristina Karo. Like Kunis' eventual trajectory following her own family's emigration to the United States, Karo came to the U.S. seeking fame and fortune in the entertainment industry — music, specifically. However, Karo ultimately felt traumatized and unable to live up to her potential because she had to live in Los Angeles — a city that was also home to Kunis, the girl who was her friend until she supposedly stole her chicken. We can explain:
Karo alleged that Kunis stole her prized pet chicken, Doggie, while they were both living in Ukraine. In 2015, Karo sued Kunis for $5,000 to cover therapy bills racked up over the emotional distress the alleged theft caused. Shortly after that news broke (which coincided with the release of Karo's music video), Karo dropped the suit. "I've learned to forgive in my heart the people who have wronged me, like Mila," she said in a statement (via TMZ).
Wilmer Valderrama would like to tell you of his conquests
For a while, Wilmer Valderrama's star didn't shine as brightly as his former co-stars' after "That '70s Show" ended. He voiced the title character on the Disney Channel's "Handy Manny" and spent years doing guest star roles before landing a great gig on the extremely popular "NCIS." Perhaps his career slowdown had something to do with the notion that Fez seemed too busy trying to date seemingly every woman in Hollywood under the age of 24.
In March 2006, Valderrama was a guest on "The Howard Stern Show" and actually did what Stern always wants his guests to do: talk about sex. Valderrama spilled some very private details about the many famous women he claimed to have slept with.
Among his alleged revelations: Jennifer Love Hewitt is an "8" on a 1-10 scale of bedroom skills (with 10 being the best), singer Ashlee Simpson is a screamer, Lindsay Lohan did not have cosmetically enhanced breasts, and the lovemaking he shared with Mandy Moore "was good, but it wasn't like warm apple pie." And by the way, he claimed he took Moore's virginity. She later responded in an interview with Elle, calling his claim "utterly tacky, not even true, and it hurt my feelings because I like him."
Laura Prepon kept an eating disorder 'very, very private'
From her mid-teens, Laura Prepon struggled with maintaining a lean frame. Her mother heavily influenced a bulimia diagnosis, as the star shared in a 2020 interview with People. "I think she was trying to help me in her own way," Prepon told the publication. "To her, being thin equaled success." Prepon was equally conscious of her image when she got on "That '70s Show," such that long after it had come to an end, she could recall the times she was in a bulimic phase by simply looking at the screen. Back then, she'd blame her weight changes on her menstrual cycle, and had to have varying wardrobes.
Prepon never mentioned what was going on to her fellow cast members. "I was very, very private," she disclosed. "I'd have spurts where I would get a handle on it and wouldn't do it for a while. Then something would happen and I would get triggered and the cycle would begin again."
As a grown up, however, Prepon took more control over her body. Speaking to Parade, "The Stash Plan" co-author said she'd developed healthier habits such as getting rid of fad diets, replacing rigorous exercise with stretches and organic nourishment, and indulging in things like dark chocolate, butter, and cream in coffee whenever cravings kicked in. "You have to use common sense and can't overdo it," Prepon explained. "But you can have your cake and eat it too as long as it's not completely Hulk-ified."
Ashton Kutcher was a star witness in a murder case
When Ashton Kutcher was still on "That '70s Show" in February 2001, he was apparently a witness of a murder scene. In 2019, Kutcher took to the stand in the trial of Michael Gargiulo, alias the Hollywood Ripper. On the day in question decades prior, Kutcher had a scheduled dinner-and-drinks date at a Grammys after-party with Ashley Ellerin, as reported by NBC News. After making plans at around half-past-eight in the evening, Kutcher made another call en route to explain he was running behind schedule but was on his way, which went unanswered. He was at Ellerin's doorstep at 10:45 pm.
Although there was no answer when he knocked on the door, Kutcher noted during his testimony that the victim's house was well-lit (via E! News). The actor cast a brief look through a window, observing what he believed was a wine stain on the carpet. He apparently gave it no thought and assumed he'd been stood up. "We believe now the evidence will show that was actually blood, and Ashley had already been murdered," Los Angeles County Deputy District Attorney Dan Akemon told the court.
The following day, Ellerin's lifeless body was found by a roommate. Kutcher testified, "After I heard about what happened, I went to the detectives and said, 'My fingerprints are on the door.' I was freaking out." Gargiulo was eventually sentenced to a life-long prison term without the possibility of parole for two counts of murder (including that of Ellerin) and one murder attempt, per CNN.
Danny Masterson and Laura Prepon had Scientology ties
Laura Prepon grew up in a Catholic and Jewish household. In between attending church and basking in the calm of temples, curiosity got the better part of her. When she took Scientology courses on personal development, she found a new home, according to a 2015 interview with the organization's Celebrity Magazine (via Genius).
"It was amazing," Prepon told the publication. "I felt that finally something was speaking my language. It totally connected with me." In August 2021, however, Prepon revealed to People that she'd made lifestyle adjustments, including abandoning the controversial religious organization. "I haven't practiced Scientology in close to five years and it's no longer part of my life," she disclosed.
Prepon had joined Scientology back in 1999. She happened to be going out with Christopher Masterson at the time. According to Page Six, the Masterson brothers drew cast members of "That '70s Show" into the church. In a since-deleted interview with Paper magazine (via People), Danny Masterson hailed praises on the religion and its teachings, also bringing to light why he practiced it. "In Scientology, there's no belief system or anyone who's worshipped or whatnot; it's all sort of like college of the mind," he explained. "And so I grew up not having to go and pray to anyone. I grew up just sort of like, 'Oh, if you're thirsty, drink water.'"
If you or anyone you know needs help with addiction issues, is struggling with an eating disorder, or may be the victim of sexual assault, contact the relevant resources below: