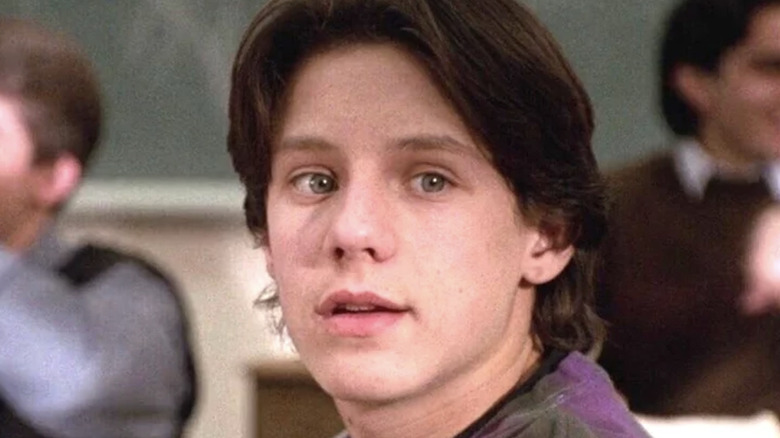 It's hard not to associate Halloween with "Hocus Pocus" these days, considering that the 1993 Disney film has long been a cultural phenomenon. The movie takes place on Halloween and stars Bette Midler, Kathy Najimy, and Sarah Jessica Parker as the Sanderson sisters, three witches who try to suck the life and youth out of the children. Then, there are the three kids who worked to stop them, Max, Allison, and Dani, played by then-child stars Omri Katz, Vinessa Shaw, and Thora Birch.
NOW
PLAYING
It's safe to say, though, that Katz's Max Dennison, who brings the witches to life, was the true main character of "Hocus Pocus." Yet many fans probably don't know that the role almost went to Leonardo DiCaprio. Luckily, for Katz, DiCaprio turned it down, especially considering that "Hocus Pocus" is easily the biggest film Katz has ever made. Katz told E! of its success, "I would've never imagined it in my life. It was a great movie to make … I just didn't know it would have such a cult following." That's fair because the film actually flopped in theaters.
Since "Hocus Pocus" became a fan-favorite Halloween movie several years after its release, Katz, of course, has grown up significantly and is now very different from the teen the movie's fans know. In fact, many would likely say that Max from "Hocus Pocus" is unrecognizable today, so let's see what he's been up to.
Omri Katz retired from acting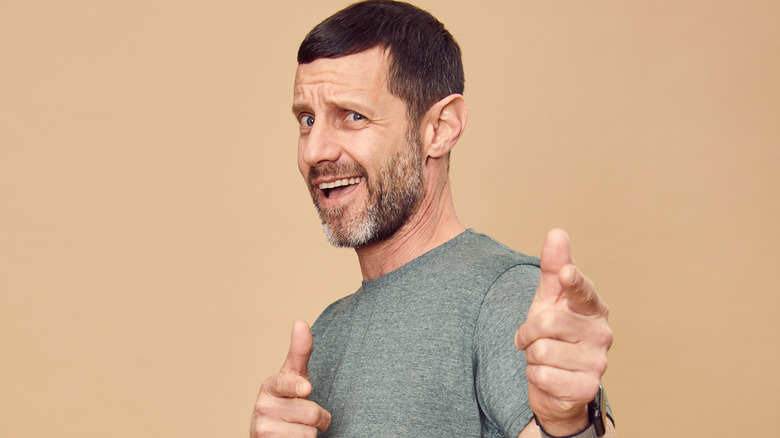 If you're wondering why you haven't seen Omri Katz much since "Hocus Pocus," it's probably because the Los Angeles native retired from acting over 20 years ago. He did begin his acting career at an early age, though, having made his TV debut at age 7 on the popular series "Dallas" in 1983. While Katz went on to star in his own show, "Eerie, Indiana" from 1991 to 1992 followed by "Hocus Pocus" a year later, he didn't do much acting after that aside from a handful of TV appearances. Katz later explained to Bloody Disgusting that he lost interest in acting as he matured. "I figured I was going to continue in the industry until I got older and changed my mind, and directing was definitely the direction I wanted to go in," he said.
However, Katz eventually left Hollywood altogether. As he explained on "Victims and Villains," "I just didn't really like show business. I liked the craft, great. I didn't like the business aspect of it." Katz did briefly return to the industry, which could explain the episode of "Childhood Thoughts" he appeared on in 2018, but this was apparently only to make some money and didn't go beyond that.
Yet, there is one role Katz is still seriously interested in, which is reprising his role as Max Dennison in future "Hocus Pocus" movies. When asked about the 2022 sequel, he told Entertainment Weekly, "I would have loved to be involved."
The Hocus Pocus star still appears at movie conventions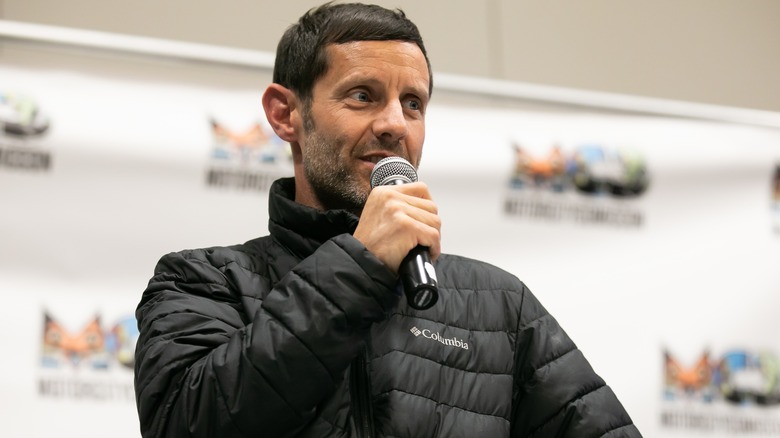 Omri Katz may not have done much acting after "Hocus Pocus," but he still appears at conventions for it often. It's a gig that he didn't think he'd have when he first shot the movie. As he explained to "Victims and Villains," "Nobody really anticipated like 30 years later … And here we are now, like … doing conventions, and it's more popular than ever, so … I think I'm just as surprised as anybody." He enjoys it, though, because he gets to meet the fans and immerse himself in that world again after so many years away from it.
From the looks of Katz's Instagram, he made appearances at conventions all over the country in 2022. These included "'90s Con" in Connecticut, and an autograph signing at CelebWorx in California. He didn't stop there, because then, in 2023, Katz appeared at the House of Mouse Expo in Florida, Camp Creep It Real and Monsterpalooza in California, and Dragon Con in Georgia, as well. He promoted those events on social media, encouraging his followers to come say hello.
It seems Katz is just happy he still gets the chance to connect with "Hocus Pocus" fans and see how different generations are responding to the film. It doesn't appear that he plans to stop going to conventions anytime soon, either. "It's really a trip," he told Bloody Disgusting, adding, "It seems surreal. I'm excited to see what the future has in store."
Omri Katz still hangs out with some of his Hocus Pocus co-stars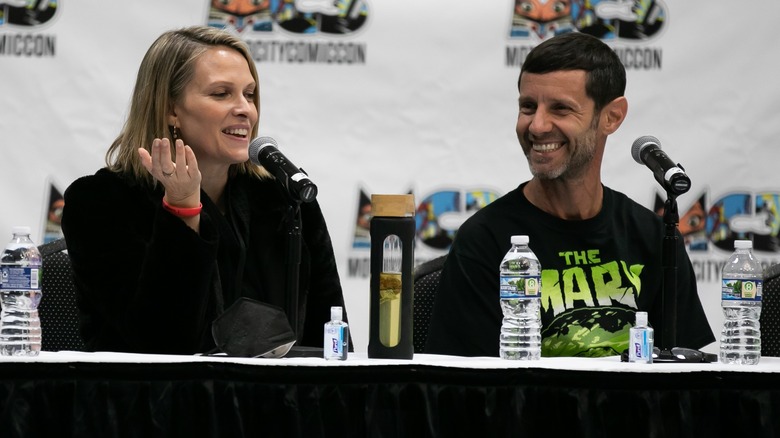 Not only is Omri Katz representing "Hocus Pocus" at events, but he remains close with his former castmates, too. In 2021, he told TMZ that some of them even contact each other around Halloween every year, which of course, is when the movie takes place. "I talk to many of the cast members from time to time," Katz said, but clarified he lost touch with "the witches," (i.e., Bette Midler, Kathy Najimy, and Sarah Jessica Parker). He blamed that on how busy they are, which is probably true because they remain the most famous of the cast. Yet, Katz added, "In terms of other cast members, like Vinessa [Shaw] and Thora [Birch], yeah, we talk and we get together once in a while."
It probably helps that Shaw and Birch have attended many of the same conventions Katz has. In 2019, for example, he posted a photo with a few of their other co-stars from when they appeared at the 31 Nights of Halloween Fanfest for Freeform. In the caption of an Instagram selfie of them together, Katz wrote, "Reunited and feels so good!"
Shaw has also posted several photos from when her and Katz were together at different events, which make it obvious they're actually friends. For instance, in the caption of an Instagram photo she posted with Katz and some of the "Hocus Pocus" cast, she wrote, "Giggling and smiling so much my cheeks hurt!"
He was bummed he wasn't asked to do Hocus Pocus 2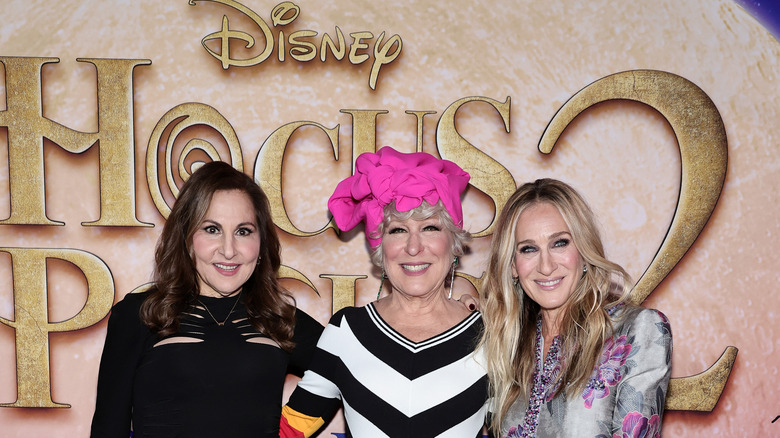 Despite Katz's important role in the original "Hocus Pocus" movie, he wasn't involved in Disney+'s sequel, "Hocus Pocus 2." That was a shock for fans who expected his character, Max, to at least make a cameo in the newer film. Before that movie came out, Katz told Entertainment Weekly in August 2022, "People have been asking, and unfortunately, I'm not in it," even adding, "I feel bad for the original fan base, saying we aren't, because I'm sure they wanted to see us reprise our roles."
It wasn't just Katz who didn't get to reprise his role. Vinessa Shaw and Thora Birch didn't return as their characters, Allison and Dani, either. While Birch claimed to Entertainment Tonight that she had a scheduling conflict, Shaw and Katz were apparently never asked. What had to make things harder was that they also weren't given a reason. "We weren't invited to that meeting. So we don't really know why we weren't invited," Katz told People.
While Katz was obviously bummed not to be part of "Hocus Pocus 2," he still watched the sequel. He seems to have mixed feelings about it, though, considering that he told Entertainment Weekly he initially wasn't into the movie and fell asleep when he first watched it. However, he added, "I saw the fun in it. I think it would've been more fun if we were involved, but it was still very enjoyable."
Omri Katz runs a cannabis business
Omri Katz doesn't just spend his time going to "Hocus Pocus" conventions because he's also launched his own business. And fans might be surprised by what that business is because in 2020, he launched The Mary Danksters, an online cannabis apparel store. He announced it on Instagram, writing, "Lots of people wondering what I've been up to. Being a member of the cannabis community for almost 20 years now and jumping thru hoops of fire to get here." He also shared his website, which has shirts, hats, and accessories that represent the "cannabis culture," for sale.
Katz has been into cannabis for a long time and even admitted on "Victims and Villains" that he actually started growing marijuana illegally back in 2002. He recalled, "I saw a close friend of mine had a grow room in his garage … and I'm like, 'OK, I know what I want to do with my life.'" He reiterated that to Bloody Disgusting, noting that he kept that part of his life "under the radar," presumedly because marijuana wasn't legalized in California until 2016.
These days, it seems Katz is still cultivating marijuana because he showed off his company's growing facility on Instagram. His plans for selling cannabis, along with apparel, remain unclear, though. He did say, "I'm really excited to see where this industry takes me," adding, "It's been a tough thing to navigate, but I feel confident that I've got something to contribute."
He admitted he was stoned when filming Hocus Pocus
Omri Katz's "Hocus Pocus" character, Max, famously had a "California, laid-back, tie-dye, point of view," and it seems that Katz shared a similar sentiment on set. That's because he admitted to Entertainment Weekly that he was sometimes high on marijuana during filming. "That was at an age where I started experimenting with cannabis. Let's just say some of those scenes, I was having a good old time," he recalled.
While a child star smoking pot at age 16 isn't that shocking, it did get Katz into trouble with the film's director, Kenny Ortega. "I was misperforming and not hitting my keys or marks," Katz explained. He continued, "Kenny comes up to me and practically grabs me by the shirt, and he was like, 'Are you high?' and I was like, 'No,' and of course I was." Fortunately, that served as a "wake-up call" for Katz to get it together. He was there to work, after all.
Yet, Katz apparently wasn't just a teen who wanted to experiment. He's now made it clear that cannabis actually became a longtime passion for him given his aforementioned career in it as an adult. However, he does seem to regret not focusing on his work more when on the set of "Hocus Pocus." He told Entertainment Weekly that he admired how his co-star, Bette Midler, took her craft so seriously, whereas he suggested that he wasted time in his trailer getting high.
Omri Katz is in a relationship
If you watched "Hocus Pocus," then you know that Allison was Max's dream girl. However, in real life, Omri Katz has a totally different crush. She happens to be his partner, Michele Watters, whom he has been dating since at least 2020. That's when he made their relationship Instagram official by sharing a series of photos of them snuggling up. He captioned them, "Luckiest man on earth. Love this women."
Katz has continued to post photos of him and Watters together since then. In April 2022, he shared that they visited the Gardens of the World. That next Valentine's Day in 2023, he proved that they were still going strong, by sharing a video montage of their love. He made it known in the caption that he's in it for the long haul, too, writing, "You're my person and your [sic] stuck with me."
Katz and Watters don't appear to be married, but Watters wrote on her Instagram that she's a mother, and from the looks of her photos, Katz is involved with her kids. She's also said that she works in special education and is just as smitten with Katz as he is with her, in that she also posts on Instagram about their #unconditionallove. It's unclear if Katz had other serious relationships before Watters, though he did date fellow '90s child star Danielle Harris when they were teens. The "Halloween" actor even admitted to Instinct Magazine that Katz was her first boyfriend.
He has kept busy with interests outside of Hocus Pocus and cannabis
Omri Katz does have interests outside of cannabis and "Hocus Pocus," which he seemed to discover after he quit acting. "I grew up in the industry, so that's kind of all I knew," he explained to Bloody Disgusting. He added, "I think I was soul searching and wanted more of a human experience; just see what else is out there." He apparently did just that by traveling and leaving Los Angeles to live in the mountains for a few years. He also did it by snowboarding and surfing, which he's posted about on his Instagram. He seems to have been particularly drawn to any form of board sports, posting multiple photos and videos of himself wakesurfing, too.
At one point, another of Katz's hobbies seemed to be riding his motorcycle, seeing as many of the older photos on his Instagram grid are of his sports bike. He hasn't posted about it for several years though, so whether he's kept up with it is. Katz has frequently posted a lot about his two dogs as well, which suggests that he's an animal lover (one who's particularly fond of the pitbull breed).
It's also worth mentioning that in between acting and working with cannabis, Katz worked as a hairdresser for a period of time. He apparently enjoyed that career while it lasted, proving he's found happiness in a variety of jobs and hobbies outside of Hollywood.
Omri Katz returned to Salem after 30 years away
Many "Hocus Pocus" fans probably want to know if Omri Katz ever returned to Salem, Massachusetts, considering that's where the film takes place. The answer to that is yes, even if it did take him 30 years to return. In October 2022, Katz went to Salem for a special event put on by "The Horror Squad Podcast," where he appeared to have taken a tour, met with fans, and rewatched the movie that made him famous.
It was the first time Katz had returned to Salem since the film's 1992 shoot. Katz took to his Instagram to share the experience, captioning a video of his adventures there, "Thank you Salem for hosting me after 30 yrs!! Couldn't have imagined it any different!" Although Katz admitted to Bloody Disgusting that he only remembered the town so well, he still felt "nostalgic" about it. "I definitely remember the seasons. We filmed here in autumn, and it was the same thing with all the colors of the leaves," he recalled.
Katz also noticed how busy Salem was during his visit, perhaps at least partially due to the popularity of "Hocus Pocus." There are even tours of locations featured in the movie. "It seems like the town has grown a lot. The flux of people is insane," Katz said. "Hocus Pocus" wasn't filmed in Salem entirely, though: Much of the shoot took place on a soundstage in California, as well.
He wants to be in Hocus Pocus 3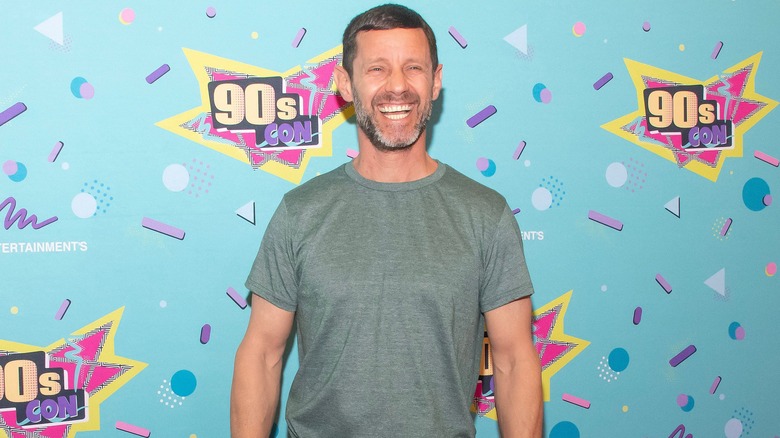 "Hocus Pocus" clearly still means a lot to Omri Katz, even though three decades have passed since he starred in it. That's why it's not entirely surprising that he's interested in coming out of retirement again to reprise his role as Max if Disney asks him to take part in a third "Hocus Pocus" movie. While he wasn't in "Hocus Pocus 2," he suggested to Bloody Disgusting that his return could still work. "It leaves the door open to continue, so if they want to bring us back and do a different story, I'd be grateful," he said.
The president of Walt Disney Studios Motion Picture Production, Sean Bailey, did mention in The New York Times in June 2023 that "Hocus Pocus 3" is in the works, and the actors who played the iconic Sanderson sisters, Bette Midler, Kathy Najimy, and Sarah Jessica Parker, have all expressed interest in returning, as well. If you ask Katz, though, they all should start filming it immediately. "The witches are 30 years older, so we've got to get this done sooner than later," he told Entertainment Weekly, adding, "We can't wait another 30 years."
Thirty years would be a long time to wait for another "Hocus Pocus" movie: Even Katz is now unrecognizable when compared to his teen character, Max. However, it did take the film many years after its release to really become an integral part of Halloween — and of Katz's adult life, too.