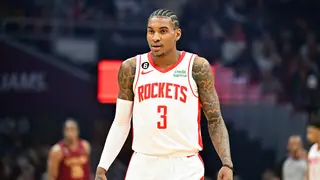 Houston Rockets guard Kevin Porter Jr. is accused of fracturing his girlfriend's neck vertebrae during a domestic dispute at a hotel in Manhattan, the New York Daily News reports.
The details of the alleged assault were revealed during an arraignment on Tuesday (Sept. 12) where Kysre Gondrezick, an WNBA free agent, was identified as the victim. At the hearing, she was granted an order of protection against Porter.
According to the police report, the alleged incident took place when Porter returned to the Millennium Hilton hotel and was locked out of the room. When the staff of the hotel let him in the room, Porter allegedly punched her several times in the face with a closed fist and choked her "to the point where she struggled to breathe."
Porter continued to assault Gondrezick until she ran out of the room, into the hallway, covered in blood, the report states.
Prosecutors also alleged that Gondrezick was choked by Porter with such pressure that he fractured a vertebrae in her neck. She was also treated for a cut above her right eye at a local hospital.
Porter was arrested at approximately 6:45 a.m. on Monday (September 11) and was released Tuesday after posting $75,000 bail.
Assistant Manhattan District Attorney Mirah Curzer spoke about the seriousness of the allegations levied at Porter
"This is a serious domestic violence case," Cuzer said at the hearing.
Cuzer also noted that Porter has a history of abusing Gondrezick, and once crashed his car into her vehicle.
On Monday, the Rockets released a statement saying they were in the process of gathering information and had no further comment.
This is the latest example of Porter being on the wrong side of the law. As a college student at USC, he was suspended for two games for "conduct issues." In 2020, he was involved in a one-car crash and charged with "improper handling of a firearm in a motor vehicle, failure to control a motor vehicle, and possession of marijuana."
In the 2021-22 season, he was suspended after having a reported altercation with former Rockets head coach Stephen Silas. Also, he was fined $50,000 by the NBA in April 2021 for violating the league's health and safety rules after visiting a strip club in Miami.
Considered one of the NBA's rising stars, Porter had a breakout year averaging 19.2 points and 5.7 assists per game in his fourth season in the league. Last year, he signed a four-year, $63-million contract extension with the Rockets.
Porter's next court appearance is scheduled for Oct. 16.