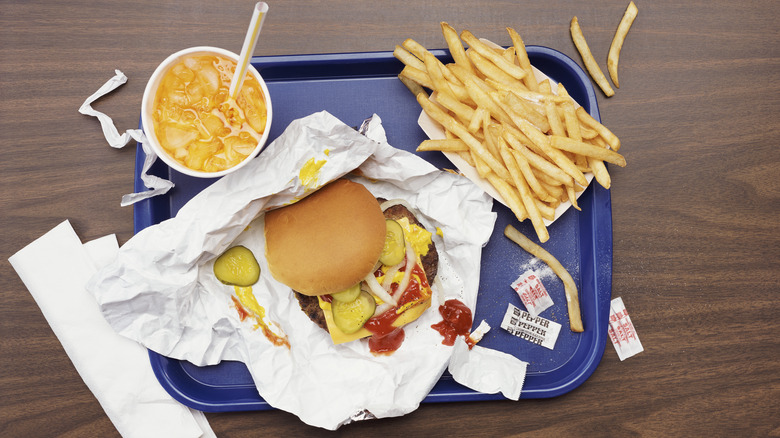 Ever since the creation of a humble White Castle in Wichita, Kansas, in 1921, the abundance of fast food restaurants in just about every neighborhood has been one of the defining characteristics of America.
NOW
PLAYING
As of 2023, there are 201,865 fast-food restaurants operating in the U.S. According to a survey by The Barbecue Lab, most Americans eat fast food about one to three times a week, and a third of all Americans are eating fast food at any given point of the day.
Simply put? We love our fast food. But what are most people really buying when they pull into the drive-thru? Many of our favorite establishments are known for certain items (like McDonald's Big Mac or Dairy Queen's iconic Blizzard), but that doesn't mean these are the most popular items on the menu. Some of the most ordered menu items at your favorite fast-food restaurants may surprise you.
McDonald's: French Fries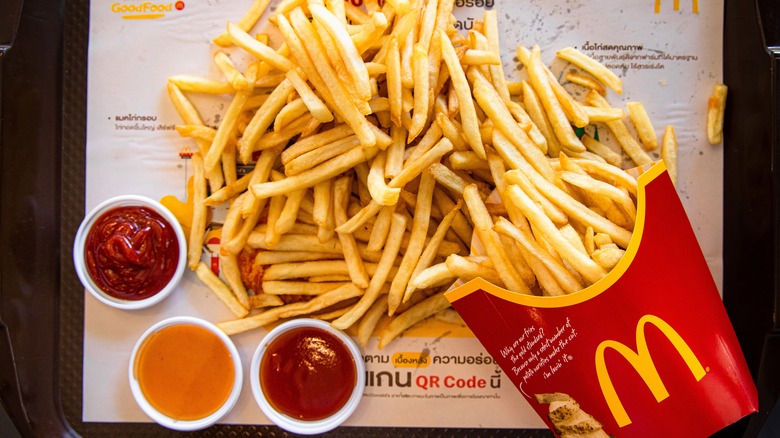 yesfotographer/Shutterstock
The most popular fast food restaurant in the world has several iconic items on its menu, including its sweet-savory McGriddle, the delightful chicken nuggets, and even the homey baked apple pie that made you feel like you were at grandma's house. But surprisingly, McDonald's most popular item is not its iconic Big Mac with the special sauce.
The most ordered menu item (by far) at McDonald's is its crispy, delicious french fries. The business sells around 9 million pounds of french fries every day, which is more than 3 billion pounds every year.
McDonald's has been producing these addictive fries since 1949. They used to be cooked in beef tallow, but that was switched out to vegetable oil. Nevertheless, McDonald's french fries still remain the most popular menu item at one of the most beloved fast food chains in the world.
Burger King: The Whopper
This one should come as no surprise. When one thinks of Burger King, the legendary Whopper is the first menu item that comes to mind, and it's also the most ordered item on the menu. Ever since its introduction in 1957, when it was sold for a humble 37 cents, it has shot up in popularity, especially among Burger King fans.
The Whopper features a quarter-pound of beef that is flame-grilled and added to a sesame seed bun with tomato, pickles, lettuce, mayonnaise, ketchup, and sliced onion. The iconic burger stays true to its roots at all of its locations around the world, even in Australia, where Burger King is called "Hungry Jack's." Although it might not be as big as its main competitor, McDonald's Big Mac (which wasn't created until 10 years after), the Whopper will always have its place in the fast food scene as one of its original big burgers.
Subway: All-American Club
Although 95 percent of Americans live within 10 minutes of a Subway restaurant, the franchise was going through some major struggles in the 2010s. However, Subway introduced the popular "Subway Series" in 2022. This streamlined menu featured 12 of Subway's signature sandwiches. It offered four different sandwich categories: Clubs, cheesesteaks, Italianos, and chicken.
According to the franchise's Instagram post, there was one clear winner that was ordered the most in 2022: The All-American Club. It came in with a 24.7 percent order rate, followed by the Subway Club at 21.4 percent and Supreme Meats at 12.3 percent. Subway's most popular sandwich consists of hickory-smoked bacon, oven-roasted turkey breast, Black Forest ham, lettuce, tomato, onion, mayo, and American cheese, all laid out over Italian bread.
Arby's: Roast Beef Sandwich
If you venture over to Arby's, you probably won't be surprised to find the most popular item on its menu is the Classic Roast Beef Sandwich. The Classic Roast Beef Sandwich is highly popular among customers. It's a simple sandwich, with thinly sliced roast beef stacked up on a toasted sesame bun, that's best when it's dipped in the restaurant's Arby's Sauce.
Interestingly enough, founders Leroy and Forrest Raffel went with roast beef because they wanted to mix it up while everyone else was opening burger joints. Sure, they copied the fast-food system used by other franchises like McDonald's and Burger King, but they wanted something that set them apart. According to Leroy Raffel, the day that Arby's opened, McDonad's hamburger was 15 cents while Arby's sandwich was 69 cents, so you had to spend a bit more money to buy Arby's sandwich (via NBC). It seems like he made the right decision, as the sandwich is still Arby's most popular item decades later.
Chick-fil-A: Chicken Sandwich
If you didn't already know, Chick-fil-A wants you to eat more chicken, and that's exactly what its customers are doing. The classic Chick-fil-A Chicken Sandwich has been the restaurant's most popular entrée for two years in a row. This comes as a bit of a surprise after its popular nuggets held that claim for several years before.
Nevertheless, Chick-fil-A lovers wanted the sandwich the most in 2022. There's something so delicious about this sandwich that appeals to most customers. The sandwich consists of a perfectly seasoned, pressure-cooked chicken breast on a toasted, buttery bun along with dill pickle chips. It first made its debut in the early 1960s after founder Truett Cathy tested hundreds of recipes and finally settled on this fan favorite. The sandwich has competition, though: Not only are the beloved chicken nuggets close on its heels, but the franchise's waffle fries are incredibly popular as well.
Chipotle: Burrito Bowl
Chipotle has surged as one of the most popular upcoming fast-food franchises in America over the past decade. One of the keys to its success is that it has a small menu that offers a lot of choices. This not only allows customers to get exactly what they want with their order, but it also allows Chipotle to stock fresher ingredients and provides quick service. It seems like the strategy worked: Chipotle reported its total revenue increased by 14.4 percent to $8.6 billion in 2022.
So what are people actually ordering when they visit the Mexican fast-food chain? According to communications director Chris Arnold, while the chain doesn't really release its data, simply looking at the service line and finding out the most popular menu item at each point is enough to point us in the right direction (via Inverse). Surprisingly, the most popular vessel for Chipotle's fresh ingredients isn't the burrito, but the burrito bowl.
Going down the line, you'll find the other popular ingredients include white rice, black beans, chicken, mild tomato salsa, cheese, and lettuce. Of course, seeing as how Chipotle is all about customization, it can be hard to nail down the most popular orders. As long as you get chips and guac with your order, it all sounds good to us.
Taco Bell: Crunchwrap Supreme
"Live Mas" is more than a taco topping: It's a way of life (according to Taco Bell). The massively popular Mexican fast-food chain was founded in 1962 by Glen Bell. He originally operated both a hamburger stand and a taco stand before founding the popular franchise. Only five items were featured on the original menu: Frijoles, tostadas, burritos, tacos, and chili burgers. Years later, Taco Bell started experimenting with its signature combinations, starting with the famous "enchirito," which is a cross between enchiladas and burritos that were widely popular in the 1970s.
Today, the most popular item on Taco Bell's menu is the Crunchwrap Supreme. This original concoction contains seasoned ground beef (or your choice of protein) layered in a warm toasted tortilla along with a crunchy tostada, nacho cheese sauce, sour cream, lettuce, and tomato. It was first introduced to the menu as a limited-time promotion in 2005, but it was so popular that it became a permanent (and important) part of Taco Bell's menu. Although it might not be the most authentic Mexican cuisine, people sure do love it.
Wendy's: Hot 'n' Crispy French Fries
Deutschlandreform/Shutterstock
When you think of Wendy's, the first thing that comes to mind is probably its iconic square patties on circular buns or its refreshing Frosty soft-served ice cream. You might think of the legendary "Where's the Beef?" commercial that was so popular it led to a 31 percent boost in Wendy's annual revenue. The advertisement featured Clara Peller, and it was so popular that it even led to a special line of merchandise.
What you might not know is Wendy's hot 'n' crispy french fries are its most popular item, topping all other menu options, including the Baconator and the spicy chicken nuggets. Wendy's makes its naturally cut fries with 100 percent Russet potatoes that are topped with the perfect amount of sea salt. According to Wendy's, these fries are for people who like tasty fries rather than soggy potato sticks.
Whataburger: The Whataburger
If you're located in one of the 15 lucky states that have a Whataburger, this one should come as no surprise. The Texas-born franchise's most popular entrée on its menu is the Whataburger. The burger consists of a 100 percent beef patty topped with lettuce, tomato, onions, pickles, and the signature Whataburger mustard on a five-inch bun. When it was created back in 1950, it cost only 25 cents but was significantly larger than the competition's burgers. Today, it's still one of the most popular items on its menu.
If you didn't know, the Whataburger was titled the "whataburger" because founder Harmon Dobson wanted to serve a burger so big and delicious that it took two hands to hold it and lead customers to exclaim, "What a burger!" The truth is, although it might have been big back then, it's not so big by today's standards. Luckily, if you need something larger, you can just grab a double-meat Whataburger.
Panda Express: Orange Chicken
Panda Express is defined by its flavorful Chinese cuisine mixed with bold American flavors and may very well be responsible for what the world sees as American-Chinese cuisine in general. That fusion-style cuisine is often represented by one specific dish: Orange Chicken. This dish is not only the most popular dish at the franchise, but it's also the chain's claim to fame.
It was originally created in 1987 by Andy Kao, the company's executive chef. Back then, it was made with the bone and skin still on, and it was much spicier. It was inspired by the Sichuan appetizer chenpi niurou (tangerine peel beef). Today, the delicious orange chicken has evolved into boneless, crispy chicken doused in a sweet-savory orange sauce that helped make Panda Express one of the most successful Asian chain restaurants in the world.
Smashburger: Classic Smashburger
If you're going to Smashburger, you get a Smashburger: It Seems like most of the restaurant's customers agree with this philosophy, as the Classic Smashburger tops out as its most popular option. This big ol' burger is made with 100 percent Certified Angus Beef that is pasture-fed and corn-finished. Additionally, the beef is also locally sourced, which helps support farms.
On top of that, the patty is never frozen, always freshly made, and it's hand-smashed to order. It includes lettuce, tomatoes, American cheese, red onions, pickles, and its signature Smash Sauce, all on top of a toasted bun. It goes perfectly with its Oreo cookies & cream milkshake, too.
Little Caesars: Hot-N-Ready Pepperoni Pizza
Long before Detroit-based pizza shop Little Caesars became a national icon for fast pizza, it began with a blind date between Marian Bayoff and Mike Ilitch in 1954. The couple would invest their life savings into creating the first store in a suburb of Detroit. Today, Little Caesars puts a whole new meaning to the words "fast food."
In 1997, Little Caesars came up with the Hot-N-Ready menu: It's a genius idea in which a customer could come into a store craving pizza and pretty much straight away walk out with a hot one seconds later. How does Little Caesars do it? After the pizzas are baked fresh, they are set in a warmer oven, awaiting their hungry owners. The franchise's Hot-N-Ready Pepperoni Pizzas are its most popular item on the menu since it literally takes seconds to start eating them. It's an easy and convenient option that's too good to resist.
Jack in the Box: Classic Two Tacos
If you had to choose a single menu item that represented Jack in the Box, you'd probably have a pretty tough time. Would you choose one of its ultimate burgers? Its spicy chicken tenders? Breakfast sandwiches? The franchise features foods from all over the fast food spectrum (you can even get a jumbo egg roll or some stuffed jalapenos if you feel like it).
But when it comes to popularity, one menu item stands out above the rest: The classic two tacos. The crunchy tacos come with seasoned beef, shredded lettuce, American cheese, and Jack in the Box's signature taco sauce. Are they popular because they're good? Or because you can get two for 99 cents? Try some and find out for yourself. You'll most likely be delighted with the results.
Church's Chicken: Mashed Potatoes and Gravy
Someone usually brings up the Texas-based Church's Chicken in the never-ending argument about which fried chicken fast food joint reigns supreme. This regional restaurant brings the incredibly unique flavor of Texas. It was born in San Antonio in 1952, right across the street from the Alamo.
Although some people swear it has some of the best fried chicken in the nation, you might be surprised to find the most popular item on its menu is its creamy mashed potatoes topped with rich, savory gravy. Offering good mashed potatoes is a sign of a strong fried chicken franchise.
Jollibee: Chickenjoy Bucket
There's a reason why you'll see lines stretching around the block whenever you come into the radius of a Jollibee. After its humble beginnings as an ice cream parlor in the Philipines, it has now become a ubiquitous franchise with over 3,200 locations around the world. Although it has several interesting and popular items on its menu, like the Jolly Spaghetti with banana ketchup, the Cheesy Deluxe Yumburger, and the peach mango pie, there's a clear number one that stands out above the rest: The Chickenjoy Bucket.
Jollibee's signature chicken features an incredibly crunchy skin with tender and juicy meat inside. It also comes with a big hot cup of gravy to dip the chicken in for an extra blast of savoriness. Turns out there's a reason why "joy" is incorporated into all of the menu item names: You can't take a bite without getting a huge smile on your face.
KFC: Classic Bucket
In 1939, a man named Harland Sanders began operating at a gas station, where he created and sold his legendary fried chicken. Harland's food became incredibly popular, and in 1937, he established Sanders Court and Cafe. Although the restaurant closed, Sanders franchised his recipe under the name "Kentucky Fried Chicken."
Today, the franchise has more than 25 thousand restaurants around the world serving up the Colonel's irresistible fried chicken and sides. Despite the popularity of so many of its different menu items, like popcorn chicken, chicken pot pie, and mashed potatoes and gravy, nothing comes close to the Original Recipe Chicken Bucket.
Since the bucket's inception in 1957 (more than 20 years after the founding of KFC), the fried chicken has been served with the same secret recipe the Colonel developed. When you order a bucket, you can choose anything from an 8-piece to a 16-piece of arguably the best fast-food fried chicken you can get.
Long John Silver's: Fish & Shrimp Platter
Seafood lovers know all about the Kentucky-born restaurant Long John Silver's. Even if you don't fall under that category, you've likely seen the signature blue roofs on the Cape Cod-style buildings. Saunter inside the pirate-themed restaurant, and you'll find lots of meals that feature foods from beneath the sea, including popcorn shrimp, grilled salmon, or crispy fish sandwiches.
However, the most-ordered item on its menu is the fish & shrimp platter. This platter comes with two pieces of hand-battered Alaska Pollock, and crunchy fried shrimp, all resting on Crumblies, which are the tiny crunchy pieces of Long John Silver's signature batter. You also get two sides, but most people opt for the French fries and signature coleslaw. Lastly, top that off with two of Long John Silver's signature hush puppies, and you got one popular platter.
Raising Cane's: Box Combo
If you're a regular at Raising Cane's, you probably already know the menu is not very big at all, and for good reason. There's basically one decision you need to make, and that's regarding the size of the chicken fingers box. You can get a "3 Finger," a "box" (four fingers), or the "Caniac" (six fingers). If you're having a party, you can get the tailgate boxes, which have the choices of 25, 50, 75, or even 100 fingers.
The box combo is the most popular option here. You get four of Raising Cane's signature hand-breaded chicken fingers, a side of crinkle-cut fries, a big piece of Texas Toast, one of Raising Cane's signature sauces, and a regular-sized drink. Who needs a big menu when you have the best chicken fingers around?
Firehouse Subs: Hook & Ladder Sub
Not many fast food chains make you feel like you're a part of your local fire brigade when you walk through the doors. Enter Firehouse Subs: The sandwich shop founded by two firemen brothers. Walk in through the doors of the chain, and you'll see tons of cool firehouse memorabilia lining the walls. You'll see it on the menu as well. The restaurant's most popular item is the Hook & Ladder Sub.
According to the company's website, the sandwich features smoked turkey breast, melted Monterey Jack, Virginia honey ham, and is served Fully Involved. What is Fully Involved, you ask? It means the sandwich is loaded with lettuce, onion, tomato, mayo, and deli mustard, complete with a kosher dill pickle on the side. And if you're not feeling a hot sandwich, all of the subs are available cold as well!
Boston Market: Half-Chicken Meal
For the uninitiated, Boston Market is a fast-casual restaurant that was created to make wonderful rotisserie meals. So it should come as no surprise the restaurant's most popular meal is the half rotisserie chicken meal.
This meal comes with half of an all-natural roasted rotisserie chicken, two sides like garlic dill potatoes, cilantro lime rice, mac and cheese, or mashed potatoes. Finish it with a tasty piece of cornbread, and you've got a homey, American comfort meal. It's a lot of food, but it's also the meal that gives you the most bang for your buck.
Dairy Queen: Oreo Blizzard
enchanted_fairy/Shutterstock
Before Dairy Queen became what it is today, it had humble beginnings in a small building known as "The Homemade Ice Cream Company." In 1938, a father-son duo began serving delicious soft-serve ice cream, and thus Dairy Queen was born. Dairy Queen turned into a soft-serve empire that began to expand its menu to other hot foods like burgers and hot dogs. But it wasn't until 1985 that Dairy Queen's most wildly popular item was invented: The Blizzard.
This was a soft-serve ice cream that came with several mix-in toppings. In just its first year, it sold over 175 million of them. Today, Dairy Queen's Oreo Blizzard is still its most popular item on the menu. Every bite comes with satisfying chunks of Oreo cookie pieces mixed into its classic vanilla soft serve.
In-N-Out: Double-Double
In-N-Out started out as California's first humble drive-thru hamburger stand (that only took up 10 square feet), and it has turned into one of the most renowned hamburgers in the world. During its beginnings in 1948, founder Harry Snyder would visit the markets to pick up the freshest ingredients every day before dawn, then prepare everything by hand for the burger shop.
Today, In-N-Out's menu is famously small and simple, with a not-so-secret secret menu to go along with it. You can basically choose from your size of hamburger or cheeseburger, french fries, drinks, and milkshakes. But it's no surprise In-N-Out's most ordered item is the classic Double-Double. It consists of two beef patties, two slices of American cheese, onions, tomato, lettuce, and In-N-Out's famous spread. The burgers still have the quality and freshness Harry Snyder dedicated himself to in 1948.
Popeyes: Classic Chicken Sandwich
Popeyes launched its wildly popular chicken sandwich in 2019. To say people went crazy for it is an understatement. Lines formed all over the country in front of the fried chicken fast-food joint. One Twitter user tweeted that the chicken sandwich was sold out across the entire city of Orlando.
What was jokingly dubbed the "Chicken Sandwich Wars" even got a bit more serious. Reports of fights breaking out at Popeyes over the country were heard. What was it about this sandwich that was causing sellouts and fights throughout the country?
This classic chicken sandwich consists of a seasoned breast fillet that has been battered in buttermilk and fried. The fillet is sandwiched between two brioche buns, along with pickle slices and classic mayo. Maybe that is worth waiting in line for…
Shake Shack: ShackBurger
lyndseyr/Shutterstock
Shake Shack might be one of the most renowned burger joints in the world now, but not many people may not know about its specific origins. Skake Shack began as a hot dog stand in Madison Square Park established by chef and founder Danny Meyer. Today, Shake Shack's menu offers gourmet hamburgers, milkshakes, and its signature crinkle-cut french fries.
Although its menu has expanded to include gourmet offerings like the white truffle burger, the 'shroom burger (with a big ol' portobello mushroom as the patty), or its famous Chicken Shack, one menu item is still the most popularly ordered: The ShackBurger. The classic that brought Shake Shack to fame features Angus beef, tomato, lettuce, and Shake Shack's patented ShackSauce, all on a toasted potato bun. It's worth lining up for, but seeing as how it has more than 400 locations globally (and not just the one in Madison Square Park), it should be a bit easier to get your hands on one.
White Castle: Original Slider
Maybe you know it because of the classic 2004 film "Harold and Kumar Go to White Castle." Maybe you know it because Time Magazine dubbed its Original Slider the "Most Influential Burger of All Time." Or maybe you just know it because its burgers are so dang good.
White Castle was created with one idea in mind: To make a small, square hamburger that was easy to eat and could be sold for 5 cents. The idea worked; according to PR Newswire, the franchise has sold more than 28 billion burgers as of April 2022.
Although many people argue about which slider is best, from the chicken and waffles slider to the bacon cheese slider, White Castle's original slider is the one that takes the cake. It's made with 100 percent beef, and it's steam grilled on onions and topped with a pickle.
Wingstop: Original Hot Wings
Although the chicken wing is one of the most universally loved foods throughout America, there's usually only one spot people think of when they think of fast-food chicken wings: Wingstop. The wing joint was founded in 1994 in Dallas when pizza shop owner Antonio Swad noticed one thing about pizza shops: There were too many. He decided that making a restaurant solely devoted to wings was a good choice, and it's now in the top 50 chain restaurants in the country.
Wingstop has several flavors that could be crowned as the "best" ones on the menu, like its spicy Korean Q, mango habanero, garlic parmesan, or lemon pepper, but the classic original hot wings are still the most ordered item on the menu. It might not be the most out-there flavor, but it hits the spot every time with its spicy, tangy kick.
Sonic: Cherry Limeade
Driving into a Sonic is one of the most unique fast food experiences a person can get in the modern age. Ever since the business built its first revolutionary Sonic Drive-In in Oklahoma in 1953, it has stayed true to the formula to this day, allowing people to enjoy their meals right in their cars.
Sonic serves a wide variety of American classics, like burgers, hot dogs, popcorn chicken, grilled cheese, and breakfast burritos, but you might be surprised to find its most popularly ordered item isn't even food: It's the cherry limeade. This refreshing classic brings together the flavors of sweet cherry and tangy lime poured over Sonic's famous ice. Sonic must be doing something right with this limeade; apparently, it sells the equivalent of 15 Olympic-sized swimming pools of it every year.