This article contains references to abusive relationships.
Aaron Rodgers is one of the biggest stars in the NFL. But it may actually be his activities off the field that have maintained a lot of people's attention. The California native has been known to date multiple famous ladies over the years, including actors Shailene Woodley and Olivia Munn, former race-car driver Danica Patrick, and sports commentator Erin Andrews. The quarterback has subsequently remained in the headlines throughout his career — and not just in the sports section, but for his love life too.
NOW
PLAYING
In 2022, it appeared the Green Bay Packers player was taking a more low-key approach to dating with his rumored girlfriend, Blu. While she isn't as famous as Rodgers' previous girlfriends, she does host the podcast, "DeJá Blu." She's also the founder of Florescence, which per its Instagram bio, is "A Modern Mystery School for Women." Perhaps that's why there were rumors that she actually went by the name "Blu of Earth" and identified as a witch. However, she denied the gossip on her Instagram Stories, per The New York Post – such are the perils of dating such a high-profile sports star.
While Blu may not be used to the attention, it appears most of Rodgers' exes were, considering that they didn't seem to mind speaking about him or their relationship in the press. Whether it was when they were together or post-break-up, a lot was revealed. So let's break down what Rodgers' exes have said about him.
Shailene Woodley was absolutely smitten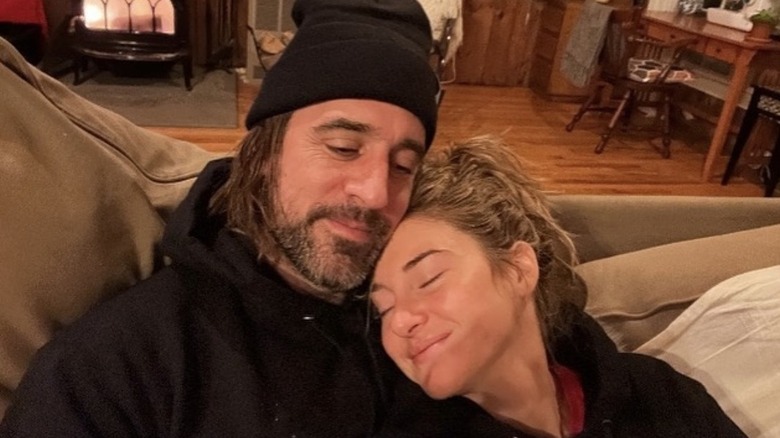 Aaron Rodgers' most recent ex, "Divergent" star Shailene Woodley, was evidently quite smitten with him during their relationship — and especially so after their engagement was revealed. The sports star had announced the news by thanking his fiancée during his NFL MVP acceptance speech, only days after it was confirmed that they were dating. On "The Tonight Show," the "Big Little Lies" actor dished about the announcement, "Everybody right now is freaking out over it, and we're like, 'Yeah we've been engaged for a while.'" Woodley also used the opportunity to gush about what a great guy her beau was before joking, "I never thought I'd be engaged to someone who threw balls for a living." In fairness, she did also compliment her man's skills on the field.
According to The Hollywood Reporter, Woodley had met Rodgers through mutual friends. They then began dating during the COVID-19 pandemic, which Woodley apparently thought was good for their relationship. "There was a sense of anonymity that otherwise I don't think we would have had," she explained. "We were really able to get to know one another the way we wanted … and not have any noise or chaos around us."
Yet, it appears that once it was out that they were together, Woodley couldn't help but brag about her man. When promoting his hosting stint on "Jeopardy" she took to her Instagram Stories (via People) to say of Rodgers, "This guy right here is super sexy, super attractive!"
She stepped up to defend Aaron Rodgers
It's safe to say that Shailene Woodley wasn't afraid to stand up for Aaron Rodgers whenever she felt necessary. For example, when their quick engagement raised some eyebrows, she made it clear that it made sense given their circumstances. She explained to Shape, "Starting a relationship where you immediately move in with someone — because it's a pandemic … taught us a lot about each other very quickly." Yet she clarified that it wasn't solely because of the pandemic either, adding, "I would have met Aaron in any context … because I feel we were meant to be together."
It seems Rodgers felt the same way, which is probably why he wanted to thank his fiancée in his MVP speech. Although many were seemingly surprised by the odd way he announced their engagement, Woodley rationalized that too. "We wanted to do that only because we didn't want someone else to do it before we did," she told The Hollywood Reporter. "And we didn't do it for months and months after we had become engaged."
In 2021, Woodley spoke out against allegations that Rodgers broke the NFL's required COVID-19 quarantine to grab a coffee. She took to her Instagram Stories (via ET) to suggest that the media had confused some other guy for her fella. The actor got flirty with her argument and wrote, "I know Aaron's body very well. First off, his feet — ahem and no offense to this random dude — are a LOT bigger."
Woodley wrote of grief following their breakup
In February 2022, Aaron Rodgers and Shailene Woodley called off their engagement. Per ET, although they briefly reconciled, the two reportedly broke up for good two months later. While Woodley was pretty vocal about their relationship when they were together, it seemed that when it came to their split, she was much more discreet. However, she did take to her Instagram Stories (via Page Six) to post about grief right after news of the split was reported. Quoting author Martín Prechtel, she wrote, "Grief expressed out loud for someone we have lost … is in itself the greatest praise we could ever give them … It is the natural way love honors what it misses."
Although it appeared that Woodley was sad about the situation, it may have been her decision to call it quits. An insider allegedly close to Woodley told People, "Shailene felt everything was on Aaron's terms and it wasn't making her happy."
While neither party divulged what really led to their demise, Rodgers has admitted in the past that relationships in the public eye are difficult. Speaking to The Hollywood Reporter prior to the breakup, Woodley also implied that they struggled with the attention they received. "The reaction to [the engagement announcement] was really a lot," she explained. "And so we were like, 'Let's just politely decline [to talk about the relationship] for a little while and live in our little bubble.'"
Danica Patrick had nothing but praise for him
It appears that Aaron Rodgers' other ex, professional racing driver Danica Patrick, was also quite open about her infatuation with him. The athletes dated between 2018 and 2020 after meeting years before at the 2012 ESPY Awards. Patrick was apparently taken with Rodgers from that moment, as she revealed on an episode of "The Jenny McCarthy Show," "I got his email address, and I remember thinking to myself… 'Oh, not a phone number? Just an email address?'"
Once they did start dating though, Patrick didn't hold back her feelings. For example, in a since-deleted Instagram post (via Daily Mail) from December 2019, she generously expressed her gratitude for Rodgers while celebrating his birthday. Addressing the post to her then-fave, she wrote, "Thank you for being the loving, generous, thoughtful, patient, fun, funny, spontaneous, talented, smart, and uber attractive man, that I get to walk through life with." During an Instagram Q&A (via People), she also boasted about her time in quarantine with Rodgers and reeled off an extensive list of top qualities which made him perfect to hunker down with.
Perhaps unsurprisingly, Patrick had seemingly hinted that she wanted a proposal, dishing to E! News, "I mean I would hope that's the intention." Sadly, she seemed unsure about it ever happening. On a different episode of "The Jenny McCarthy Show," she noted, "If you really want something to happen there's that equal energy of being afraid that it's not going to happen."
She spoke of heartbreak after their split
It seems that Danica Patrick was left heartbroken following her July 2020 breakup with Aaron Rodgers. When appearing on "Running Wild with Bear Grylls," she opened up about her most recent breakup, seemingly referencing her relationship with Rodgers without sharing his name. Per People, she revealed that she learned a lot from experiencing such heartache. Despite her hurt, Patrick apparently found a positive side too. "As broken open as I was on the sad end, I have felt so much joy in so many more instances … so it's like my heart got broken open to both ends of the spectrum," she said.
For the next couple of years, the racing driver continued to share statements that raised eyebrows. In 2021, for instance, she covered narcissistic abuse on her podcast, "Pretty Intense." Though she was careful not to point fingers and didn't name Rodgers, an Instagram post she wrote about the episode made the topic sound personal to her. As noted by The Spun, the star appeared to be referencing a former relationship in the ambiguous post.
A year later, the same outlet speculated that Patrick may have been referencing her ex-boyfriend's recent split from Shailene Woodley in a mysterious note posted to her Instagram Stories. "Life is trying to shift us into coherence. If you're not a match for your current life expect challenges," she wrote. "… We always know deep down what's good for us and what's bad."
Olivia Munn claimed she turned down work for him
Olivia Munn dated Aaron Rodgers between 2014 and 2017, and the "Violet" star apparently played it pretty cool when she first met him. In fact, she told Conan O'Brien that she had no idea who he was and even asked him what he did for a living. "All I saw was that he was like really attractive. I didn't really care what he did. I was like you are such a big man!" she explained.
It seems that once they got serious though, Munn was open about doing whatever it took to make their relationship work, despite their busy schedules. She revealed to E! News, "There's a lot of traveling, a lot of driving … And for me, it comes at a time in my life when I end up having to say no to some work because I gotta be somewhere else."
If it wasn't obvious that Munn was in love from her willingness to sacrifice her career, she gushed about how inspiring Rodgers was, especially in terms of his healthy lifestyle. She dished to Good Housekeeping that her boyfriend wasn't like any other man she'd met before, saying, "Everything a good person can be, he is." The actor also bragged about Rodgers' thoughtfulness with gift-giving, telling The New York Post about one ring in particular. "He had heard me talking to my stylist about being obsessed with it. It is such a special ring, and then he surprised me," she said.
She threw some shade at Aaron Rodgers
Following their 2017 breakup, Olivia Munn apparently had no problem airing some of Aaron Rodgers' dirty laundry. That included dishing some personal details about his notorious rift with the Rodgers family. On an episode of "Radio Andy," the actor revealed that she pushed for her ex to reconnect with his family while she was filming "The Newsroom" in 2014. "I spent the day in my trailer just encouraging him to have an honest conversation with [his] parents," she said. It worked — but the family's reconciliation was apparently short-lived. Munn went on to defend Rodgers' estrangement from his family and blamed the way they allegedly handled his success.
However, the actor still hinted that she and the quarterback may not have ended on the best terms considering that she threw some shade at him too. Inferring that Rodgers enjoyed fame far more than he made out, Munn dished, "Before [I'd] go on a talk show … it would be like, 'Yeah, you can say something about me if you want.' I didn't normally talk about relationships in those things and so … he actually didn't mind it, he kind of liked it."
It's worth noting that there were several tabloid rumors which suggested that Munn was a core reason for Rodgers' feud with his family. In 2017, a source claimed to US Weekly that they allegedly didn't trust the "Mortdecai" star and that he chose his girlfriend over them.
Was Rodgers and Munn's relationship toxic?
When Olivia Munn spoke out about a toxic relationship in 2019, many outlets such as Radar speculated that she may have been talking about Aaron Rodgers. The actor made the statements while on the "Naked with Catt Sadler" podcast where she discussed her struggles with identifying that a past relationship was harmful. "You're just walking on eggshells and you're just happy anytime you can breathe a little bit," she explained. "… You don't realize that you have a cinder block on your chest the whole time. You're taking in little sips of air."
Munn also revealed how that specific ex had encouraged her to turn down work opportunities so she could be more available for him. Interestingly, she'd previously told E! News that she'd declined jobs to be with Rodgers. The actor elaborated on diminishing her priorities for her ex while speaking with Collider. "I was in a relationship where I didn't work," she shared. "He played football, so during the season, for three years … I just wanted to be there to be supportive."
Munn apparently spoke of that ex again at the Forbes Under 30 Summit, where she revealed that she was once in an emotionally abusive relationship (per MSNBC). Again, she didn't mention Rodgers by name, so there's a chance she may not have been referring to him. She added that her instinct was simply to grin and bear it, saying, "Being a minority and a woman, it is ingrained in us to tough things out."
If you or someone you know is dealing with domestic abuse, you can call the National Domestic Violence Hotline at 1−800−799−7233. You can also find more information, resources, and support at their website.
Erin Andrews has discussed their friendship
Aaron Rodgers and Erin Andrews were rumored to have dated back in 2010. Neither have ever responded to the gossip. And while it's unknown whether a romance did spark between the pair, it's clear that the two have remained friends. They've also continued to work together over the years due to Andrews' job as a sports commentator. In any case, they were quick to defend one another after receiving backlash for hugging on the sidelines during the COVID-19 pandemic. Andrews told the "Calm Down with Erin and Charissa" podcast, "I pretty much have hugged Rodgers since I started covering the NFL. He's been a good friend of mine for the last 15 years."
The commentator also seemed to really appreciate that Rodgers had her back. "I loved when Aaron kinda said she's my friend. It's also like him mentioning that he hugs other guys … I was like 'yeah! I'm looked at like one of the guys!" she said. Despite their longtime friendship, Andrews admitted that she was just as shocked by his engagement to Shailene Woodley as everyone else was. On an episode of "Watch What Happens Live," she revealed that though there were rumors that the two were dating, Rodgers had kept the romance completely under wraps.
All in all, while some of the sports star's breakups may have resulted in unpleasant comments about their time with the quarterback, at least not everyone was left with bad feelings towards him.