Rachel Zane got married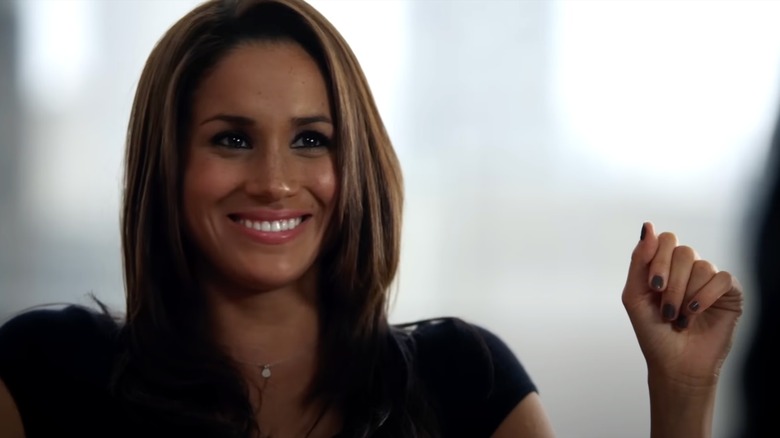 Whether you've watched "Suits" or not, it was impossible to miss why Meghan Markle left the show back in 2018. The actor was preparing to marry Prince Harry, who, at the time, was still a senior member of the royal family. Meghan was about to assume royal status too, and as such, she was not allowed to pursue acting. Plus, Meghan was about to move to Britain, and the show had been filming in Toronto. All around, it wasn't going to work for her to remain part of the show.
Meghan played Rachel Zane, a paralegal-turned-attorney who fell in love with Mike Ross over her tenure on the show. So, what did they do with her character? In her final episode, Rachel and Mike got married. "You're the husband I've always wanted and I can't wait to begin our adventure together," Rachel said in the episode. After marrying, the two were set to move to Seattle to run a public interest law firm. "If we're ever going to do something like this in our lives, now's the time," Rachel said to Mike in the season finale, as reported by The L.A. Times.
Mike Ross left New York
Patrick J. Adams played the aforementioned Mike Ross, Rachel Zane's love interest and one of the main characters of the show. As noted Mike, never had legitimate credentials to practice law, and eventually, his charade caught up with him.
But like with any good legal drama, this wasn't the end of Mike's time as an attorney or his time on the show. After serving time, Mike earned the credentials he needed to legally practice law, and he returned to his former firm. Shortly after, Mike got married and decided to leave New York City to open a public interest law firm, in line with what he had been doing in New York after vowing to use his legal capabilities to help others.
As Adams told The Hollywood Reporter of his exit from the show, "I thought we'd come so far and now Mike is going to work to be a lawyer and he's engaged to the woman of his dreams and he's got the means and opportunity to do whatever he can imagine … we both decided [Adams leaving] made sense, as sad and scary as it was. It just felt like it was the way to go."
However, that wasn't the last we saw of Mike. The brilliant attorney returned in the show's final season for a legal battle against his old mentor, Harvey Specter, and the attorney who took his spot at the firm, Samantha Wheeler.
Jessica Pearson left the firm
Jessica Pearson, played by Gina Torres, was a total badass on "Suits." Jessica rose above her competitors time and again, and she ran the firm as managing partner, often fighting to get her name on the masthead. As Torres told The New York Times about her role in the show, "In terms of an example of how a woman in power could function, I'm very proud of what I put out there."
However, like any good character, Jessica was flawed, and those flaws did eventually determine her path. Jessica's time as a managing partner was filled with dramatic events, to say the least, many of which tested her as a lawyer and as a person. After all the turmoil, Jessica realized that she had lost sight of why she became a lawyer in the first place. She left the firm to start practicing law in a way that fulfills her and helps others, and she did so in Chicago after she moved to be with Jeff Malone.
We got to see a little bit more of Jessica's story in the spin-off "Pearson," but the show was canceled after just one season. Ultimately Torres left "Suits" for personal reasons. "My contract was up, so this wasn't a power play that went terribly wrong," she said. "My personal life needed to be tended to."
Robert Zane was disbarred
When it comes to practicing law, being a member of the bar is vital — well, for everyone except Mike Ross. If you make an unethical mistake, you can lose your membership and therefore be unable to practice law. But in true Hollywood fashion, in "Suits," it wasn't the man who made the unethical mistake that was disbarred — it was the sacrificial coworker who took the fall. At the end of Season 8, Robert Zane, Rachel Zane's father and an eventual managing partner at the firm, took responsibility for Harvey Specter's breach of client-attorney privilege and lost his license.
But it wasn't that simple. We learned that Robert took the blame for Harvey because he felt guilty about a former discretion. Years prior, Robert's confidante Samantha Wheeler was mugged. Robert fabricated evidence in order for the mugger to be found guilty, and while serving time, he was killed in jail. Robert carried that guilt, and in order to absolve himself, he made the sacrifice for Harvey to be able to continue practicing law.
In reality, Wendell Pierce, who played Robert, wasn't able to film "Suits" any longer due to scheduling issues. "Part of the problem when you work with excellent actors is people want to work with them a lot and they're often not available to you. Wendell, for much of last year, was working on 'Jack Ryan' and we had limited access to him," the show's creator, Aaron Korsh told EW of Pierce's availability.
Trevor Evans betrayed Mike Ross
Not every character's departure came late in the series. Some happened early on, like Trevor Evans, who was played by Tom Lipinski. Trevor wasn't on the show for long, but he did serve an important purpose. He and Mike Ross were childhood friends, and they both had parts of their past of which they were ashamed.
Something Trevor was ashamed of was the crimes he had committed, and when Mike was on trial in Season 5, Trevor testified against his friend in order to gain immunity. Trevor had dipped in and out of the series, but after that betrayal, he was never seen again. He was also responsible for letting Mike's secret slip to Jessica Pearson earlier in the series.
Unlike other "Suits" actors, Lipinski didn't play a major character, so his departure was never addressed. It was likely just another instance of a minor character being written off. Lipinski has been seen in plenty of other shows since, like "Billions," "The Marvelous Mrs. Maisel," and "Snowpiercer."