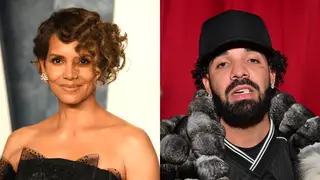 (Photo by Steve Granitz/FilmMagic), (Photo by Prince Williams/ GettyImages)
Halle Berry claims she previously told Drake "No" when he initially asked to use a photo of her being slimed at 2012 "Nickelodeon Kids' Choice Awards" as the cover art of his latest single, "Slime You Out" featuring r&b singer SZA.
The two initially shared the photo of the actress at the annual children's awards ceremony on their respective social media accounts the Wednesday before, marking the first collaboration between the "Rich Flex" emcee and his reported ex-girlfriend.
Berry broke her silence following the song's release last Friday, Sept. 15, with a memo with the phrase, "Sometimes you have to be the bigger guy … even if you're a woman!" written on it.
RELATED: Halle Berry Reveals Her Anti-Aging Regimen
When asked about her thoughts on the Grammy Award-winner using the photo of her for the single, the "Swordfish" star claimed Drake "didn't get my permission."The actress added, "That's not cool I thought better of him!" before clarifying,"hence my post today. When people you admire disappoint you you have to be the bigger person and move on!"
When another critic pointed out that the photo is owned by Getty, and the entertainer most likely went through proper channels to use the photo, Berry claimed that it was "Cuz he asked me and i said NO that's why." The "BAPS" star added, "Why ask if you intend to do what you want to do! That was the f—ck you to me. Not cool You get it? ❤️."
Fans flooded Berry's comment section with support, with many noting that Drake should've respected her wishes and that the Hollywood star "deserved say in whether your identity was being used to promote a song."
What are your thoughts on Drake using the image?