Greens are evergreen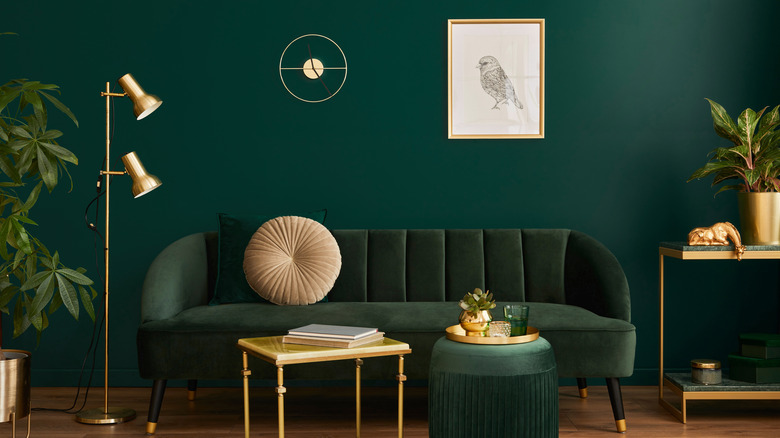 As aforementioned, nature plays a role in popular new colors and this includes deeper, more vibrant shades of green. In fact, forest green is at the top of some lists, with designer colors like Benjamin Moore's Boreal Forest and Backdrop Night on Earth as popular choices. Additionally, Sherwin Williams' 2022's color of the year, Evergreen Fog, is still recommended for this year, showing popularity in kitchens in particular. Krylon's Spanish Moss is another popular shade. If you have a room in your home that you've been considering painting in a shade of green, consider this the green light and go for it! After all, greens are evergreen. Here at House Digest, we chose Teresa's Green, by Farrow & Ball, as our color of the year.
The best part about greens is they can bring vibrancy and life to any room in the house. Green symbolizes growth and renewal with new beginnings, so it's not surprising that it still dominates the scene in 2023. This color is also representative of wealth and virility, with brighter shades adding energy to the balancing effect to your design scheme. Green is also calming and stable in more subtle shades and is a sure bet for literally any room in your house.
Browns have gained some ground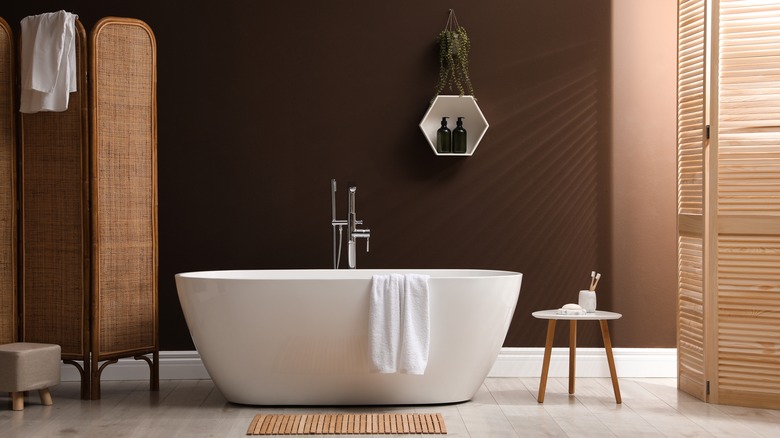 Warm browns are also at the top of some of the lists for the top picks so far in 2023. One color in particular called Brown Sand is mentioned as a popular trend and is described as a shade between nude and caramel. The color brown is of course always a go-to neutral that is timeless. You can't go wrong with absolutely any variation of brown, and it complements many others as well. Natural and rustic or coastal style and tan, no one will ever say brown is tasteless.
The color brown is reminiscent of dependability, of being grounded and down-to-earth. It can be great in the living room, family room, den, or a bedroom or basement. Any shade of brown makes a great accent to a room as well. It brings an element of warmth and stability to the space. When you need a neutral color paint and can't quite decide, choosing a shade of brown will always make sense. Warmer tones of brown are what we're seeing so far in 2023.
Blue hues are making news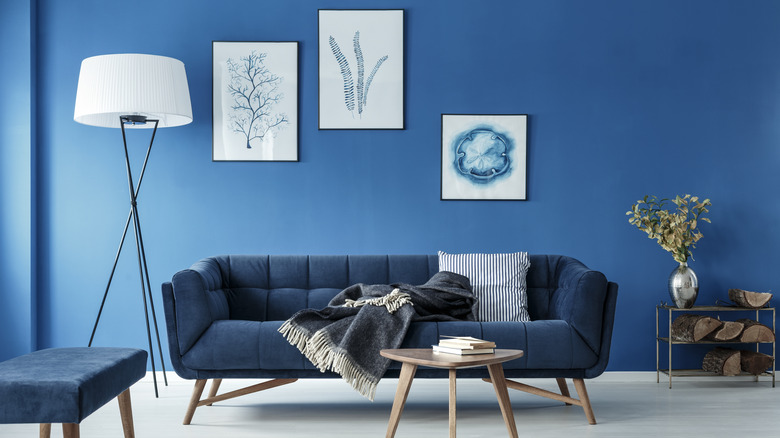 Katarzynabialasiewicz/Getty Images
When it comes to the blues, deeper and more vibrant hues are making news. Shades of dark blue are recommended for the bathroom, family room, or den. A favorite in deeper shades is Ultramarine blue, a dramatic color that will liven up and uplift any space. Moving more towards the middle is a shade of teal from Glidden called Vining Ivy, trending especially in both traditional and contemporary designs. This color is compared to a blue-green jewel, and looks amazing paired with wood and stone in particular.
One of the favorites on the lighter end of the spectrum is Benjamin Moore's Palladian Blue, somehow reminiscent of the beach. Blue is the color of peace, and lighter shades are calming and refreshing while darker tones are energizing and joyful. Bringing any hue of blue to the room is a choice you can be confident in. People always take notice when you paint a room in a beautiful shade of blue, and it can make the perfect backdrop for multiple styles.
Greige is the new beige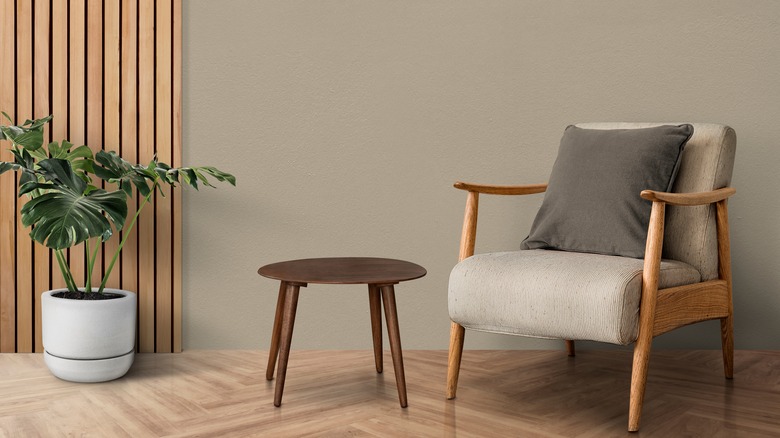 One of the most popular new shades for 2023 is greige, a mixture between gray and beige. It has effectively taken over traditional beige and represents a move away from anything commonplace or old-fashioned. When you're looking for a unique neutral color that's on-trend, greige is the way to go. And the cool part about greige is that it comes in many different shades. It is redolent of a cloudy day, and is used anywhere you would use beige – which is basically anywhere! People are definitely loving this popular shade.
For walls, light greige is the one most commonly used and is considered welcoming and warm yet sophisticated. Benjamin Moore's most popular light greige shades are Revere Pewter and Edgecomb Gray. Sherwin-Williams' top two light greige shades are Agreeable Gray and Accessible Beige. Behr's are Campfire Ash and Weathered White. Of course, the best thing about this versatile color is that it goes with everything and it's perfect for any style home.
Lavender is on the calendar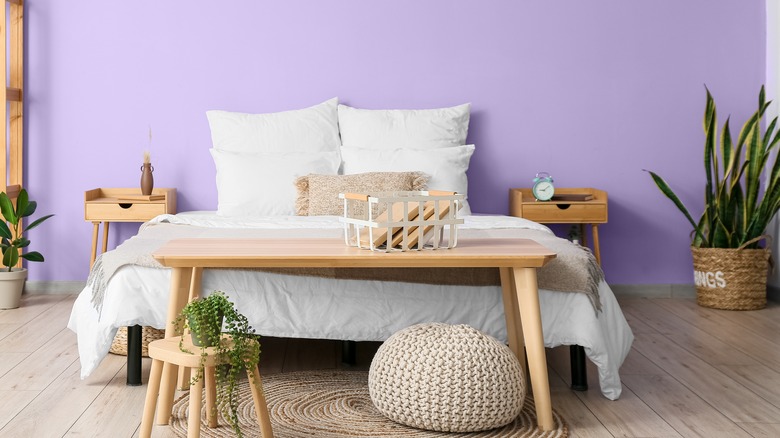 Digital Lavender is one of the colors of the year for 2023 and definitely trending in homes. It's basically a pastel shade of purple and is quite uplifting and somehow aristocratic-looking. In fact, lavenders and lilacs are said to be increasingly favorited by Gen Zers. The color is often associated and paired with designs from the 80s. It goes well with reflective surfaces such as chrome or glass, and is supposed to be symbolic of hope and balance. If you're looking for a unique new trendy color for your walls or as an accent color, Digital Lavender just might be it.
Light purple colors evoke a sense of romance and playfulness, and are often associated with spring. Dark purple is symbolic of wealth or royalty and is considered a luxurious color. There are a few additional shades of purple that are big this year like Poetry Plum by Sherwin-Williams. Another popular prediction is for the color Aubergine, a rich purple in the eggplant family that looks fabulous on walls or to accentuate any room. If you dare, purple in any shade will make a statement in style!
Orange performs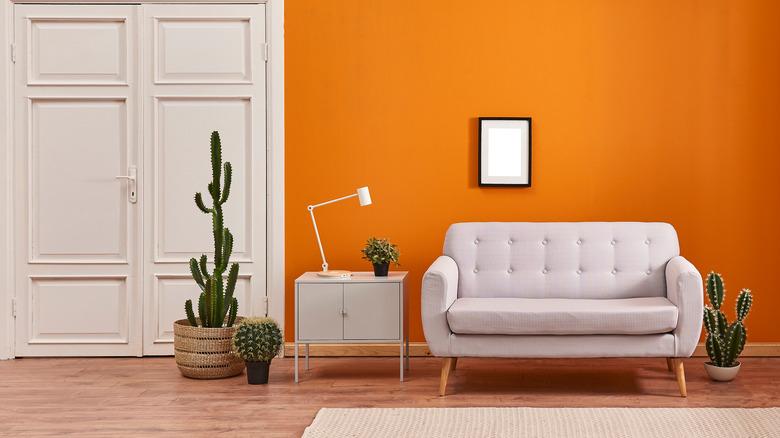 united photo studio/Shutterstock
The color orange may be the last one on the chart that most of us consider when painting, but that could be changing in 2023. There is a resurgence of all things retro, not to mention a sort of defiance and independence that comes with the color orange. Pop culture embraces these more vibrant shades, and if you're into contemporary styles or just love orange, starting now, you can go for it! Orange is believed to stimulate intellectual conversations and is a sensual and energetic color. Whether you want to paint the walls with it or use it as an accent color, it's a choice that will grab the attention and make the design choices pop.
One of the big predicted orange paint colors for 2023 is called Canyon Ridge by Better Homes & Gardens. It's a shade of orange with a dash of pink and definitely gives a retro vibe. Recommended to accompany the color is cobalt blue to bring a little modernity or relevancy to the space. If you want to add a rustic touch, try a denim blue instead. The possibilities are endless with this year's picks overall, with a definite message of the sky's the limit!
Yellow is still mellow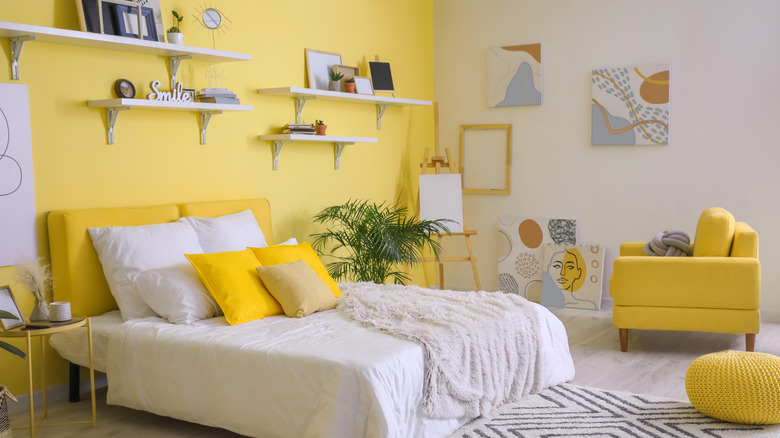 When it comes to yellows, the warmer the better, like Farrow & Ball's India Yellow or Benjamin Moore's Buttercup. The mellowness of yellows is evergreen (did you like that one?), representative of sunshine and happiness. Yellow is symbolic of hope and cheer, so it's not hard to see why it too has a sense of timelessness. Yellow is a great color for bathrooms and kitchens in particular, bringing an instant brightness into these rooms. Lighter shades make terrific neutrals as well, and bright shades make vibrant accent colors.
Additionally, there's a version called Gen Z Yellow that has its moments. It might not be everyone's favorite, but it's out there and it's said to be on trend in 2023. Citrus is another popular version for a stunning accent color in any room. Whether you're looking for a shade to paint your walls or one to use as an accent to paint window and door frames, you'll likely be able to find a version of yellow to help achieve the look you want.
Pinks and reds are never dead
We talked about Viva Magenta being Pantone's color of the year, and other bold shades of pinks and reds are popping up everywhere. In fact, another big color of the year is Benjamin Moore's Raspberry Blush, a vivid shade of pink, red, and orange that has made a dramatic splash. This color could be called a bit daring for sure, but if you've been waiting for a beautifully rich color like Raspberry Blush or Viva Magenta to come in vogue then this is your sign!
Nothing says confidence and power like shades of red if you're looking to make a statement. Red is a color that is known for its energy and passion, as well. Colors like these are meant to be provocative and captivating, and using either of these colors is definitely daring! If you're the kind of person who likes your space to reflect your vivacious personality, do something in one of these temerarious colors of the year. Soft reds are also incredibly big in 2023 with shades like Redend Point by Sherwin-Williams. Dusty Cedar and softer cranberries and magentas are also popular, so all shades of red are considered stylish this year.
Neutral shades have made a change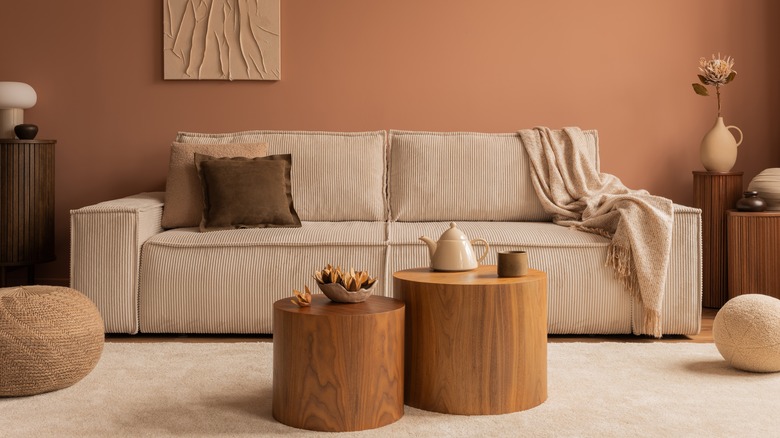 Even neutral shades are a little warmer in 2023, with Minwax naming Aged Barrel their color of the year. It's a rustic brown perfect for farmhouse-style homes virtually anywhere. The shade is definitely a timeless one, the ideal neutral to bring warmth and a feeling of earthy comfort to any room. This paint color is definitely a solid choice you won't regret. Behr's choice for the year is called Blank Canvas, which is definitely a warm off-white tone but on the lighter side of the neutral spectrum. This tone is the kind of paint you can put on all the walls in the house if you like.
Blush-toned neutrals are fashionable too this year, like Farrow & Ball's Dead Salmon. Faded versions of terracotta and earth tones are also predominant. Neutral tones will always be in style in homes everywhere, but in 2023 everyone is ready for something a little different. When choosing something neutral for your space, try a warmer shade or a rose blush this year.
Go bold or go home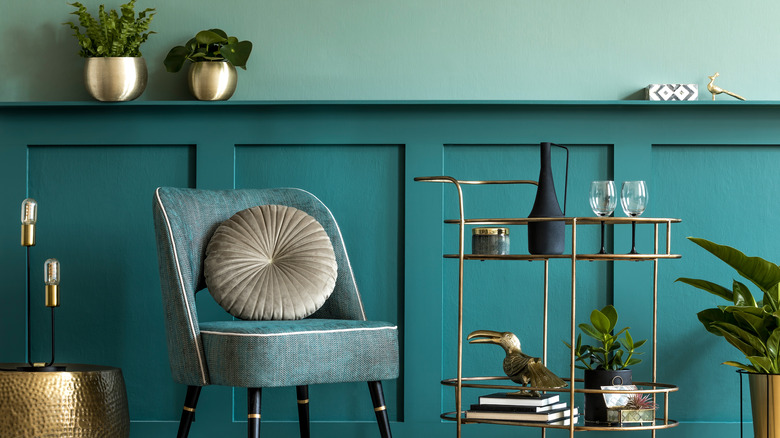 Bolder colors are here to stay and represent our emergence from the pandemic in a big way. The saturated, bright colors are symbolic of coming out of our shells and pronouncing our love for life. There is a palpable feeling of defiance, independence, and hope. This year, go bold or go home! Take a chance, and express your style in your home with a daring new shade of paint. The quickest way to transform a space completely and experience the power of color is by choosing something bright and bold.
Different colors evoke different emotions from people, and it's kind of amazing how certain shades are fairly predictable in the feelings they elicit. This is especially true with bold colors. If you want to completely change the feel or vibe of any space, you can do that with the power of color. What's especially exciting about the paint color trends we're seeing everywhere so far in 2023 is that it's pretty much an attitude of "anything goes." So express your innermost desires on the walls, ceilings, floors, and trim of your house in whatever shade you love best. Have fun with it and make it your personal paradise! You'll definitely have plenty of beautiful colors to choose from.