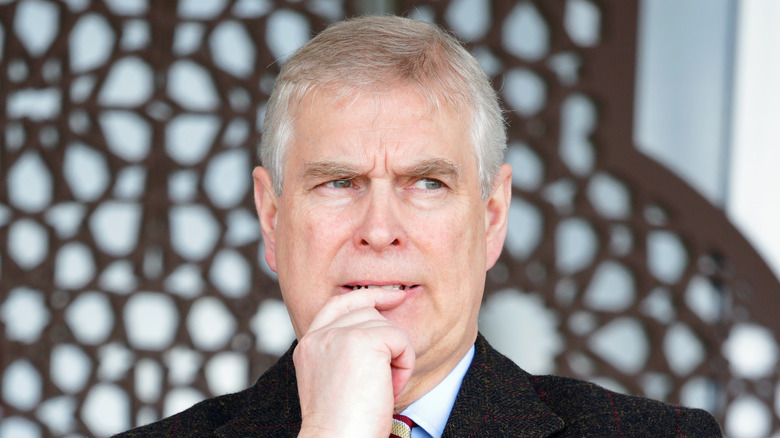 Queen Elizabeth II and Prince Andrew, Duke of York, had a close relationship. When Elizabeth died on September 8, 2022, Andrew rushed to Balmoral Castle with his family, although he wasn't able to be with his mother before she died. Andrew later released a tribute to her, saying, "Mummy, your love for a son, your compassion, your care, your confidence I will treasure forever," per The Guardian.
NOW
PLAYING
Before his mother's death, the duke was already going through a significant amount of turmoil. In 2019, a calamitous interview with "Newsnight" regarding his association with convicted sex offender Jeffrey Epstein ended his career as a working royal. By January 2022, the queen repossessed Andrew's royal patronages and military affiliations, prohibiting him from officially using the title "His Royal Highness." Although Andrew was able to settle out of court with Virginia Giuffre in a sex abuse case in February 2022, his royal reputation remained damaged. A month and a half later, the duke was only able to re-enter the spotlight when Elizabeth permitted him to support her as she entered Westminster Abbey for Prince Philip's memorial service.
However, despite his eagerness to participate in events, a COVID-19 diagnosis kept Andrew out of Elizabeth's Platinum Jubilee celebration. After that, it was thought that Elizabeth's funeral might be one of his last public appearances. Along with living a more private life, Andrew's life since the queen's death has included other impactful changes for him.
Prince Andrew lost a close confidante
From childhood, Prince Andrew, Duke of York, had a tight connection with Queen Elizabeth. By the time Andrew was born in 1960, Elizabeth was comfortable with her royal responsibilities. In addition, with nearly 10 years between Andrew and his next oldest sibling, Anne, Princess Royal, the queen was seemingly excited to have a newborn at home again. "The baby is adorable," she wrote to a cousin at the time, per the Daily Mail. "He's going to be terribly spoilt by all of us, I'm sure."
Their mother-son closeness remained during the queen's final years, particularly amid the isolation of the COVID-19 pandemic. "Living at Royal Lodge just a short distance from Windsor Castle, he would see her on an almost daily basis," author Phil Dampier informed the Daily Mail. "He supported her when she was more frail, and was always there for her in person or on the phone whenever she needed him."
This support between mother and son was mutual, even during the fallout of Andrew's association with Jeffery Epstein. After Elizabeth died, Andrew missed having her as a confidante. In July 2023, Sarah Ferguson revealed that Andrew continued to mourn his parents. On her "Tea Talks" podcast, Andrew's ex-wife recounted how she asked Andrew how he was feeling during a walk with the queen's beloved corgis. "He said it's lonely. He thinks about it a lot," Fergie recalled.
He supported his ex-wife Sarah Ferguson post-breast cancer surgery
Despite being divorced since 1996, Prince Andrew and Sarah Ferguson, Duke and Duchess of York, have maintained a close relationship. "We're the happiest divorced couple in the world," Fergie informed the Daily Mail in 2018. "We're divorced to each other, not from each other. … I stand by him and always will."
Likewise, Andrew has expressed a similar attachment to his ex-wife. In 2019, the duke gave an emotional tribute to Fergie in honor of her 60th birthday. Remembering a pivotal day in 1985, Andrew said, per The Telegraph, "I fell in love with her at that lunch and I have never stopped loving her." As a testament to his dedication to the duchess, Andrew helped care for Fergie after she returned home to Royal Lodge following a grueling eight-hour breast cancer surgery. About a month later, Andrew was spotted taking her on a drive around Windsor.
The former couple's staunch friendship and loyalty to one another in difficult situations is also evident to the people around them. "They're utterly devoted and would defend each other to the death," a former courtier told Express.