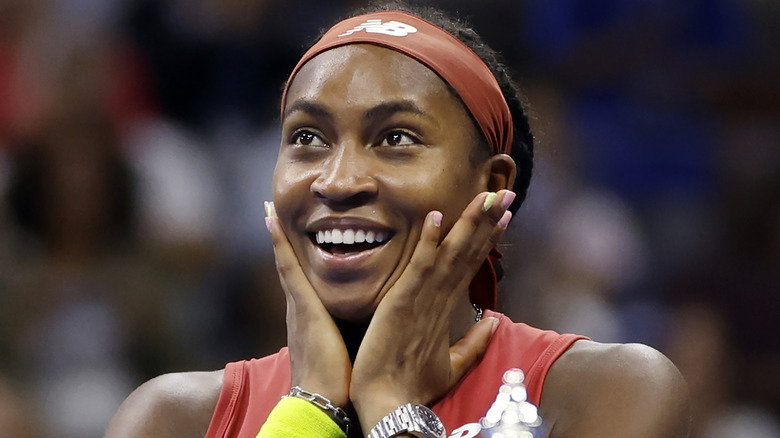 Coco Gauff has served the tennis world exactly what it was craving: an heir apparent to Serena Williams' throne. Gauff is more than ready to take up the mantle of tennis' superhero — in fact, she'd probably embrace the whole "With great power comes great responsibility" mindset — she is, after all, a big Spider-Man fan. "Spider-Man himself, he's a teenager; he does big things. I'm a teenager who's trying to do big things, and I just feel I can relate to him a lot," she told Her Way in 2023.
NOW
PLAYING
Gauff's passion for superheroes, social activism, and social media has injected some youthful Gen Z energy into a sport that can feel a bit old-fashioned at times. She even told The New York Times Magazine that she refused to change the type of content she was posting on her popular TikTok account when her agent suggested that it was unbefitting of a pro tennis star such as herself.
Gauff is also winning young fans with her refreshing view on her position making a living by playing a sport. "There are people struggling to feed their families, people who don't know where their next meal is going to come from, people who have to pay their bills," she told the media at the 2023 U.S. Open (via CNN). "That's real pressure, that's real hardship, that's real life. I'm in a very privileged position, I'm getting paid to do what I love." But it took years of hard work for her to earn that life.
Coco Gauff is named after her athletic dad
Coco Gauff and her father, Corey Gauff, actually have homophonic names. However, it was Coco's mother, Candi Gauff, who wanted to pass her husband's name on to their firstborn, albeit with a different spelling: C-O-R-I. "My nickname came about because we both can't be named Corey/Cori, that'd be confusing," Coco explained to Sports Illustrated Kids. "I believe it was my aunt who said, 'Oh, we should just call her Coco.'" The nickname was also inspired by her father, whose own nickname is "Co."
Coco seemingly inherited her athleticism from her parents. Corey was on Georgia State's basketball team, and Candi ran track as a Florida State student. It was actually on a track that Candi first saw a flash of her daughter's future potential. Coco was just a toddler watching one of her cousin's track workouts when she decided that her own two feet were better than her stroller's wheels. "The problem was she kept on running and kept on running," Candi recalled on "Good Morning America." "But her determination was there, and I saw at an early age that she was destined to be something."
Coco seemed to agree with her mother. By age 4, tennis was must-see TV for the future phenom. She was marveling over Serena Williams' dominant performance in the 2009 Australian Open when her dad had to explain to her what GOAT means. Corey told ESPN that she responded by saying, "I want to be the GOAT."
Her training with Serena Williams' ex-coach paid off big
Coco Gauff's dad had played some tennis in the past when he introduced his daughter to the sport, but the first thing that attracted her to it at age 6 was something he didn't have experience with. "She liked the skirts," Corey Gauff told ESPN.
Coco had attended a tennis camp at Delray Beach, Florida, where she discovered that she was a natural with a racket. She began training with a professional tennis player at age 7, and a year later her parents decided to move from Atlanta, Georgia, to Delray Beach so that she could start training for competitions. At age 10, Coco became the youngest winner of the USTA Clay Court National 12-and-under title.
Corey had been using the way Venus and Serena Williams' father, Richard Williams, mapped out their fruitful careers as a blueprint for his own daughter's ascent to greatness, so how serendipitous was it that Coco caught the attention of Serena's former coach, Patrick Mouratoglou? In fact, Coco jetted off to France to train with him when she was just 11. A year later, she won the 12 & under division at the 2016 Junior Orange Bowl. She got to meet Serena several times, but she wasn't so starstruck that she gave up on her goal of surpassing her idol someday. "I want to be the greatest of all time," the confident tween told ESPN in 2017.
She experienced inner turmoil after making history
Coco Gauff just kept racking up the career achievements as a young teen. In September 2017, she made history as the youngest competitor to make it to the girls' final at the U.S. Open. She was 13 at the time, and the player who snatched victory out of her hands, Amanda Anisimova, was 16. Afterward, Coco's coach, Patrick Mouratoglou, told CNN, "If she keeps the same attitude and the same hunger for the game, I think she can go really far." Coco, meanwhile, was determined to exceed his expectations and shared another variation of the aspirational words that were becoming her mantra; "Overall, I want to be the best I can be and be the greatest," she said.
But Coco soon found that her admirable self-confidence was hard to sustain. In a 2020 post for the "Behind the Racquet" Instagram page, she reflected on how she felt after The U.S. Open. "I just found myself not enjoying what I loved," she wrote. "For about a year I was really depressed." She also recalled how her inner turmoil brought her to tears.
Corey Gauff later told The New York Times that his daughter hadn't meant that she was depressed in the clinical sense of the word, and Candi Gauff explained that Coco was upset by her older tennis peers treating her differently because of her age and level of talent. "That led to loneliness at the tournaments, which leads to sadness," she said.
Coco Gauff won the French Open girls' championship
In 2018, Coco Gauff won her first junior Grand Slam title at the French Open, but she made it clear that she wasn't going to rest on her laurels. "When you accomplish something, you can celebrate it but you can't celebrate it for too long because you have to move on to the next thing," she said after her victory, as reported by WPBF 25 News. Before the time she allotted herself to celebrate ran out, she joined some of her fellow Delray Beach residents for a special ceremony where the town's mayor presented her with a key to the city.
Gauff also earned bragging rights as the ITF's top-ranked junior player in the girls' division, and big brands were starting to take notice of her rapidly rising star. The athleticwear company New Balance made what proved to be a brilliant business move by signing an endorsement deal with Gauff when she was just 14. Today, she's still the face of the brand.
Before Coco's big win, she and her dad had to work on establishing some boundaries in their complicated relationship; for most teens, having a parent who is incapable of turning off coach mode would be a nightmare. "We used to argue, because he used to be annoying because he would bring tennis home, and he's always around me. So now we talked, and we understand each other now more," Coco told the South Florida Sun Sentinel.
She beat Venus Williams at Wimbledon
Another big highlight of Coco Gauff's career came in 2019 when the then-15-year-old faced off against Venus Williams at Wimbledon. "My goal was always to play her, but I didn't expect it to happen so soon," Gauff told The Palm Beach Post. "Definitely the timeline sped up, I guess." She was so excited about getting the opportunity to share the court with someone she admired that she wasn't even thinking about the possibility that she could actually beat Williams.
However, she told Sports Illustrated Kids that a conversation with retired tennis player Mary Joe Fernández changed her perspective. "She was like, 'No, you have to go into this match thinking that you can win and believing that you can win,'" Gauff recalled. She believes this pep talk put her in the right frame of mind to take down the tennis titan.
Gauff was overwhelmed with emotion after beating Williams in the first round. "It's the first time I have ever cried after winning a match," she told BBC. Her idol was gracious in defeat, and it sounds like the two players' post-match interaction made the victory even more special for Gauff. In the past, she'd lacked the courage to tell Williams how much she admired her, but she found it that day. "Venus told me congratulations and keep going, she said good luck and I told her thanks for everything she did," Gauff recalled. "I wouldn't be here if it wasn't for her."
She shared an unforgettable moment with Naomi Osaka
After Coco Gauff's big win over Venus Williams, the excitement was palpable ahead of her 2019 U.S. Open showdown against another of the biggest names in tennis: returning champ Naomi Osaka. But while Gauff's matchup against Williams ended with happy tears for the teen, she was emotional for a different reason after losing to Osaka. Realizing how upset Gauff was, her rival consoled her as she wiped tears from her face. In a touching show of sportsmanship, Osaka also invited Gauff to join her for the post-match interview.
Gauff initially didn't want to do it because she couldn't stop crying, but Osaka's encouragement gave her the courage to speak through her tears. "She's been so sweet to me, so thank you for this," Gauff said. She would later explain to Highsnobiety why she considers Osaka a role model, and it seems that Osaka's willingness to break tennis traditions (such as choosing to conduct the post-match interview together when it is usually conducted alone) is a big part of it. "Naomi isn't catering her career to other people's opinions," she said.
Gauff met Osaka again at the 2020 Australian Open and that time emerged victorious. While Osaka admitted that it was tough losing to a 15-year-old, per ESPN, this was not the start of a bitter rivalry. Osaka became a mom in July 2023 and mentioned her daughter while praising Gauff. "I would love my kid to look up after her as a role model," she told ESPN.
After a big first, she fired back at her haters
Coco Gauff earned her first WTA title by beating Jelena Ostapenko at the Linz Open in 2019. By then, she'd spent too many of her young years being scrutinized by critics who were ready to write her success off as ephemeral, downplay her talent, and ignore her relentless determination. Cocomania was still very much a thing, but too many times, those negative voices can just seem so much louder than everything else.
So, after her win, Gauff made sure that her critics heard her loud and clear by sharing a message for them on a favorite stomping ground of trolls: social media. "To everyone who said I couldn't do it and that I was a one-timer, [that] this was a one-time thing. Joke's on you!" she said during an Instagram Live. She later told The Guardian that there was one positive about the negative comments she would occasionally see on social media. "I just used it as motivation to prove them wrong," she shared.
The satisfaction of her doubters' disappointment wasn't the only thing that sweetened her victory; she also won $43,000 in prize money. According to Forbes, it brought Gauff's total winnings for that year to over half a million dollars. She also scored an endorsement deal with the pasta brand Barilla in 2019 that would further increase her growing wealth.
Her moving speech at a protest over George Floyd's murder
Coco Gauff's continued success on the court has broadened her reach, and she's seized the opportunity to raise awareness of issues that matter to her. She told The Guardian that she used social media to teach her followers about Juneteenth during Black History Month in 2019, and when her hometown held a protest over the murder of George Floyd in 2020, she didn't just join the protesters; she spoke to them. "I saw a Dr. King quote that said, 'The silence of the good people is worse than the brutality of the bad people.' So, you need to not be silent. If you are choosing silence, you're choosing the side of the oppressor," she said. Gauff also expressed frustration that her generation is still being forced to fight against racial injustice and inequality.
Gauff told Sports Illustrated Kids that her grandmother, Yvonne Odom, inspired her to use her voice to call for change. "The one thing that she said was, 'We're still protesting the same thing that I was protesting when I was 16,'" Gauff recalled. Odom took her own stand against racism as a schoolgirl; per Teen Vogue, she helped desegregate Seacrest High School in Florida by becoming its first Black student. Of her own generation's activism, Gauff told The Guardian, "Younger people are leading movements and I guess the world has to get used to it because we're used to older people telling us what to do."
Her satisfying racket smash
Sometimes, emotions get the better of tennis players when they lose, and it's just too easy to vent their frustrations on their poor tennis rackets. For Coco Gauff, the first time she sacrificed one of her rackets came at the 2021 French Open. It was also the first time she'd made the quarterfinals of a Grand Slam, and the match got off to a promising start. However, after her opponent Barbora Krejčíková staged an impressive comeback, Gauff's racket suffered for her failure to fend off her rival's rally.
Gauff seems to have no regrets about smashing her equipment on the court, even though the act had outlets publishing pieces with titles like "Coco Gauff loses the plot in ugly French Open meltdown." She later told Highsnobiety that her playing actually improved after the smash. "My mom said I should've broken it earlier in the match and let out my anger a little more," she recalled. Gauff also shared that she feels that people need to quit clutching their pearls whenever a racket gets destroyed. "The sport should be more open to players sharing their emotions on the court. Everyone has them," she said.
The 2021 French Open wasn't a totally negative experience for Gauff; she got to play doubles with Venus Williams. "I remember her telling me, 'You're the only person that I teamed up with besides Serena in women's doubles.' And I was like, 'That's an honor," Gauff told People.
Why she had to miss the Olympics
At the beginning of the COVID-19 pandemic, so many teenagers had to miss out on attending big events such as proms and graduation. Coco Gauff's situation was atypical because she was homeschooled, but COVID did prevent her from being able to participate in the Olympics.
Gauff learned that she had made the U.S. Olympic team in July 2021, but shortly before the games began that month, she tweeted, "I am so disappointed to share the news that I have tested positive for COVID and won't be able to play in the Olympic Games in Tokyo. It has always been a dream of mine to represent the USA at the Olympics, and I hope there will be many more chances for me to make this come true in the future." Gauff later told reporters that she felt mostly healthy after her positive test, save for being unable to smell anything.
Gauff seemed upbeat while the Games were underway, tweeting a photo of her cute cosplay as Katara from "Avatar" and showing off some of her jewelry. She also rooted for members of Team USA on Twitter, including swimmers Katie Ledecky and Lydia Jacoby, and she tweeted her support for gymnast Simone Biles when she withdrew from the Olympics to prioritize her mental health. "It's important for us to know that our worth isn't defined by how well we do in our sport," Gauff later told The Washington Post.
She shared a message about firearms during a tournament
At the 2022 French Open, Coco Gauff wasn't just focused on the game. After she beat Martina Trevisan and advanced to her first-ever Grand Slam final, she followed a Roland-Garros tradition to send a message to everyone who had just witnessed her special moment. On the lens of the courtside camera, she wrote, "Peace. End gun violence. Coco."
Gauff later told The Guardian that her move was father-approved, as her parents have always encouraged her to use her platform to make a positive impact. "You know, I don't think I'm going to change the world. I'm not delusional, but I think it could change some people in the world," she said. One of tennis' biggest icons, Billie Jean King, joined Coco's father in applauding her decision. "I love the fact that Coco uses tennis as a platform for social change and to help others," King said.
While a desire to stop gun violence might seem like a no-brainer, it's still, sadly, a message about one of the topics that can make someone a target of hate in today's super-charged political climate. However, Gauff says that she's not afraid to speak out about the causes she's passionate about. In 2022, she also shared her disapproval of the Florida law that's often referred to as the "Don't Say Gay" bill. "I couldn't imagine not being able to talk about your identity," she told reporters, per Reuters. "I feel that's something that is normal."
Her Parisian high school graduation
When Coco Gauff's parents decided to help their daughter pursue a career as a professional tennis player, they knew that traditional schooling would be an impossibility. Coco's mother, Candi Gauff, had been working as an elementary school teacher, but she found herself teaching a class of one for no pay when she left the workforce to begin homeschooling her daughter. Gauff later began taking virtual classes, and her constant travel made keeping up with her studies tricky. "There have been times that I've had to wake up at 3 a.m. to go to class, because of the schedule and time difference," she told Sports Illustrated Kids.
But as a teenager, Gauff somehow managed to find the time to balance school and a physically demanding career. In 2022, her hard work paid off when the then-18-year-old got to celebrate her high school graduation in Paris. "I did it," she wrote on Instagram. While she didn't have any classmates to celebrate with, her family was there with her — and it's pretty awesome that the Eiffel Tower is in her graduation photos.
Her accomplishment earned her a special social media shoutout from former first lady Michelle Obama. "I think what really meant a lot, [Michelle's message] wasn't about the tennis, it was about my education," Gauff told reporters during a press conference in Paris, per ASAP Sports. "So I think that meant more to me the fact that she posted about that."
Why the tennis star started boxing
Professional athletes are always looking for new ways to improve their performance, and sometimes, this means dabbling in other sports. In a 2022 BBC Sports column, Coco Gauff revealed that she had added boxing to her rigorous training routine, expressing her hope that it would help her accomplish her goal of winning her first Grand Slam. She trained with a seasoned fighter at a Florida gym, where she had an unnerving audience of experienced boxers.
Coco came up with a hilarious plan to keep them from harshly judging her performance. "Whenever they would come to watch I was talking really loud — like, 'yeah my tennis tournament' — so they knew I wasn't a fighter," she recalled. Gauff even rocked her tennis 'fits to make it more obvious that she was not a woefully inept wannabe boxer. "I didn't want them to think this girl is trash and is going to get whooped!" she explained.
The older of Coco's two brothers, Codey Gauff, was also there to train (and presumably provide some moral support). "He thinks he's a fighter so I enjoyed trying to beat him up!" Coco wrote. However, she didn't have to do any serious sparring, much to her relief. "I don't think I'd be able to take a hit," she confessed to The Guardian. While one of her main goals was to work on her balance, she said that boxing also made her a more patient player.
Coco Gauff made her acting debut
When Coco Gauff spoke to Teen Vogue in 2019, she revealed that she's a big fan of The CW series "All American." Four years later, she made her acting debut in its spinoff, "All American: Homecoming." One of the main characters in the show is a tennis player, so it was the perfect show for Gauff to make a cameo as herself. In her episode, art imitates life; she flexes her activism muscle by lending her support to college students who are victims of racial profiling by police. At one point, she stands behind a podium and delivers a brief speech.
Showrunner Nkechi Okoro Carroll told Deadline that she didn't really expect to hear a response from Gauff when she first reached out to her about the cameo. "Coco was like, 'Are you kidding me?' It was like the fastest yes, and God bless her because she had a tournament and was figuring it out in between," she recalled.
From the sound of it, Gauff's tennis fans don't have to be concerned about her tossing her racket for good to pursue a new career in Hollywood. While she's a top athlete, she found doing take after take of the same scene exhausting, and she wasn't impressed by her performance. "I don't know if I would do it again," she laughed and told reporters during a press conference at the Miami Open, per Tennis.com. "Watching myself on TV was probably the most excruciating pain I ever had to experience."
She caught her dad crying at the U.S. Open
Cocomania reached a fever pitch ahead of the 2023 U.S. Open, and Coco Gauff didn't crack under the pressure to live up to her potential. The stars were in the house, and after her third-round match against Elise Mertens, she shared her excitement over a certain singer being in the crowd. "I was definitely starstruck with Justin Bieber," Gauff said after winning the match, per Page Six. "'Never Say Never' was one of my favorite songs when I was a kid."
It wasn't the only moment Gauff had to be excited about when she took center stage at Arthur Ashe Stadium. After she beat Aryna Sabalenka in the final and became the youngest American U.S. Open champ since her idol Serena Williams, the 19-year-old immediately started searching for her father. "That was the first time I've seen my dad cry," she told ESPN. "I will never forget that, ever." She also gave her dad a great deal of credit for her victory.
Gauff's fiery side came out when she delivered a message to everyone who doubted her ahead of her victory. "To those who thought [they] were putting water on my fire, you were really adding gas to it," she said in her post-match interview. "And now I'm really burning so bright right now." It's that inextinguishable flame that just might help Gauff achieve the dream she's had since she was a little girl of earning the title of GOAT.