Rauch cracked up her class – by dropping F-bombs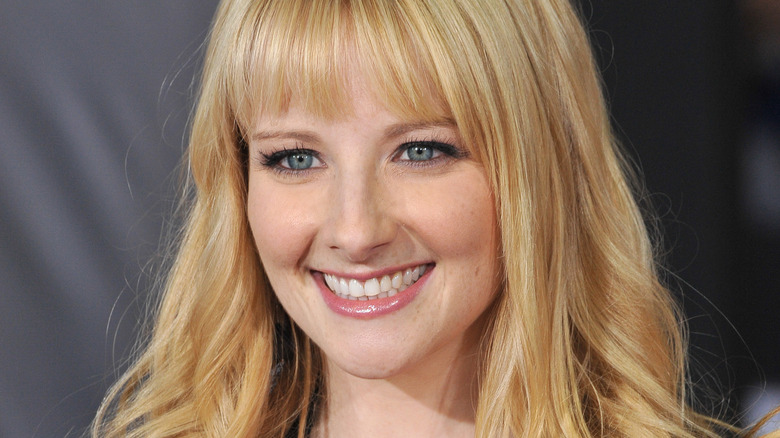 From her first awkward car ride with Howard, Rauch created a character that set Bernadette apart as smart, cute, and quick-witted. But if there's one trait fans can't forget about her, it's her chirpy, childish voice. Who talks like that? Apparently, Rauch's mother. "My mother sounds very similar to Bernadette," Rauch told TV Insider. "She's got a very high-pitched voice except with a New Jersey accent, and I grew up imitating her."
Rauch also mimicked stars she saw on TV, like Whoopi Goldberg and Don Knotts. It was a great way to overcome her natural shyness at school, but it didn't always work out as planned.
"I would memorize stand-up sets that weren't my own, which I didn't realize was not allowed, since I was seven years old. They were actually really inappropriate for a kid my age," Rauch told RogerEbert.com. "I remember memorizing a Whoopi Goldberg HBO special. I went into class and did a weird stand-up set from the special that dropped a lot of F-bombs, and the teacher called my mom and was like, 'Your daughter doesn't talk and then came in and did this show-and-tell where she was using very inappropriate language.'"
She had a comedy club-themed bat mitzvah
As Melissa Rauch got older, her interest in performing comedy and getting onstage grew stronger. She also found more appropriate outlets to express herself. She spent most of her free time doing community theater, attending theater camp, and making up shows in her basement with her brother, Ben. Raised Jewish, it made sense that Rauch even had a comedy club-themed bat mitzvah when she was a young teen.
Rauch later told Inside Jersey she couldn't remember a time when she didn't want to be an actress. Throughout her childhood, the adults around her supported and guided her toward her dreams. "I went to Brookdale Arts Camp for my entire childhood and had a fantastic theater counselor there who gave me some of my first comedic sketches to do," she said. "I also had a terrific theater teacher at Marlboro High School who taught me a great deal and was very encouraging."
Without that support, she might not have taken the next steps toward her future success.
She started with stand-up
After graduating high school, Melissa Rauch went to Marymount Manhattan College to study acting (via Inside Jersey). There, she encountered more great teachers. One in particular helped her with voice work, so her New Jersey accent wouldn't be quite so strong. Others taught her how to build on her natural ability to create characters.
But Rauch knew she had to do even more to grow as a performer. By that point, she'd realized that comedians write their own material — so that's what she did, performing her stand-up sets in New York City clubs. "I did stand-up for about ten years in New York, and I was one [of] those comedians who started out just handing out fliers on the street in the freezing cold to get people to come see comedy in order to get stage time," Rauch told RogerEbert.com. "I would love to eventually go back to it. I grew up being such a huge fan of comedy and stand-up."
Rauch worked her a** off
VH1
As if she wasn't working hard enough, Rauch also started writing with a partner, college friend Winston Beigel. "We met freshman year of college and we talked about our shared love of comedy," she told RogerEbert.com. "I was doing stand-up and he came to watch my set. We decided that we should write some sketches together because we have a very similar sensibility and our favorite thing to do is make each other laugh."
But even with all that training and effort, her professional career seemed stuck in neutral after she'd graduated.
"I don't think people knew what to do with me. I'd have people say maybe I should dye my hair, lose weight, gain weight — it was never a specific box you could check, it was just, 'Yeah, sorry, not my cup of tea,'" she told Inside Jersey. "And, of course, I was really green, too. I'd go out for parts in cargo pants and a jean jacket, without any makeup."
It's not as if Rauch didn't land any gigs — she was excited to be part of the VH1 series "Best Week Ever." But she needed her big break.
Rauch wrote her own success story
She already knew how to write a stand-up set, so next, Melissa Rauch started writing solo shows and "performing them anywhere that would have me — burger joints, Laundromats, wherever. Just knowing I could do that at night made it easier waiting tables all day," she told Inside New Jersey.
She was still writing with Beigel — now also her romantic partner and soon-to-be husband — when they got the idea to write a one-woman show together. It started as a not-very-funny autobiographical story about trying to make it after college. But then they were inspired by Jenna Bush Hager.
"[S]he's about the same age as me and we had read that she was going to be starting to teach at a charter school, so we decided to combine the two: the one-woman show that we were writing for me with this idea of making it through Jenna Bush's voice, and exploring the Bush presidency through her eyes," Rauch told Interview Magazine. "We called it 'The Miseducation of Jenna Bush,' and it was a way to do this coming-of-age story, a young woman coming into her adulthood, while also using the Bush presidency for some comedic exploration."
The show was a hit. It earned awards at comedy festivals, and Rauch's performance caught the eye of an agent. The time seemed right to move to L.A. Even then, though, Rauch had to hit rock bottom before she could finally rise to the top of her game. "I was at the unemployment office the day before I got the audition for ["The Big Bang Theory"]. I was doing a lot of driving around crying in my car. [I] was just in that out-of-work actor grind," she told Entertainment Tonight.
Thankfully, Rauch nailed the audition and wound up with much more than a guest spot. After a lifetime of dreaming and working, she'd secured her spot in Hollywood.