The girl from The Big Comfy Couch is all grown up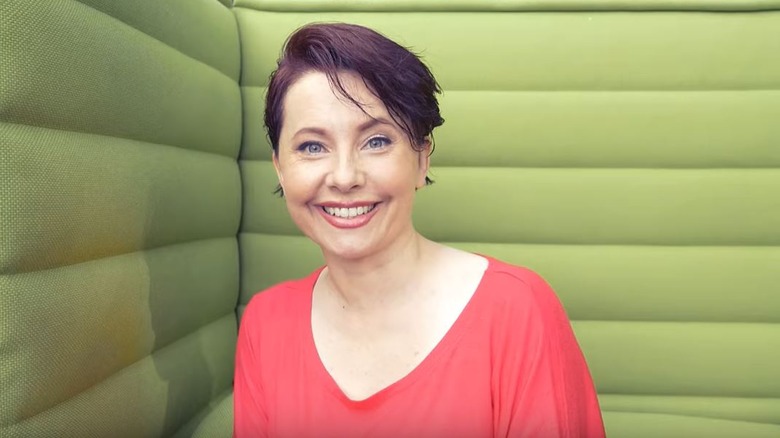 While kids might not have realized it, Loonette the Clown was played by a grown-up, even though the character of Loonette the Clown seemed quite young. According to her IMDb page, Alyson Court's birthday is November 9, 1973, making her a legal adult when "The Big Comfy Couch" first aired (albeit one still in her late teens). Court remained looking quite youthful throughout the show's run, so it might come as a shock to audiences to know that Loonette the Clown is now middle-aged.
Court got her start as a child star, with her first IMDb credit being a spot on the show "The Edison Twins" in 1985. Over her decades-long career, Court has been in dozens of shows and movies, and has maintained a steady career in the entertainment industry since "The Big Comfy Couch" wrapped.
What else has the girl from The Big Comfy Couch been in?
According to HuffPost, Alyson Court is quite an accomplished voice actor. Her voice can be heard in kids' shows like "Timothy Goes to School," "Braceface," "Inspector Gadget," and even the "Resident Evil" video games. Talk about a big change from her days as Loonette the Clown! Court was also the voice director for the animated show "Numb Chucks." Other IMDb credits include roles in "Camp Lakebottom" and "Mysticons."
In 2016, Alyson Court reprised the role of Loonette the Clown on Canadian comedy show "This Hour Has 22 Minutes." Loonette was a clown correspondent on the show, giving an update on creepy clowns. At the time the segment aired, creepy clown sightings were being reported seemingly everywhere, providing the perfect opportunity for Loonette the Clown to resurface.
She left The Big Comfy Couch because she felt it was 'oppressive'
It turns out that Alyson Court had a good reason for leaving "The Big Comfy Couch." In an interview with E! News, she opened up about her time on the show and revealed that it was a pretty stressful work environment, since the show wanted control of her image, both on screen and off. While Court said that she understood that "it's a kids' property and you don't want someone to take the wrong photo at the wrong time," she was only in her early 20s at the time and frustrated by the restrictions placed on her.
"I was finding it was very oppressive because I'd never experienced that kind of control before," she said. "So, I was like, 'I can't do this anymore. I need to go.'"
Everyone thought that was the end of the show, but Court explained that she was ready to revisit "The Big Comfy Couch" for what would be her last season because she was older. "I was married by this point, and pregnant," she said. "So, I was a responsible adult." As a result, there was a big gap between Season 5 of the show, which aired in 1996, and Season 6, which aired in 2002. Per PopCrush, she left the show for good in 2003 to raise her son, and Ramona Gilmour-Darling took over the role of Loonette the Clown for the final episodes of "The Big Comfy Couch."
She's held a number of jobs in the entertainment industry
While playing Loonette on "The Big Comfy Couch" might be Alyson Court's most memorable job in the entertainment industry, it's far from her only one. Aside from her various acting and voice acting roles, she's been involved in other sectors of show business. Per IMDb, she's also racked up credits in casting and sound departments, has worked in visual effects, and has also served on some productions as a casting director, voice director, and producer.
Some of the titles she's worked on include "My Little Pony: Tell Your Tale" as a voice director, "Him Indoors" and "Look Both Ways" as a producer, and the video game "Resident Evil: Outbreak – File #2" as a motion capture director.
While fans may miss seeing her on screen, they can at least rest assured that she's still active in the industry and bringing other stories to life.
No, Loonette from The Big Comfy Couch didn't marry Steve from Blue's Clues
"The Big Comfy Couch" is a show that a lot of '90s kids grew up watching, so it makes sense that loyal fans would ship its star with that of another popular kids' show from the era: "Blue's Clues." Alas, while rumors have flown that Alyson Court and former "Blues Clues" host Steve Burns tied the knot, there's no truth to the gossip.
Court joked to E! News that Burns "said no to the proposal" before explaining how she thinks people thought she and Burns got together. Even though they both starred in '90s kids' shows, Burns and Court didn't meet until she began working on "Blues Clues & You" as a voice acting director and casting director. She posted some pictures on Twitter of her and Burns, captioning them "No biggie, just hangin' with my buddy Steve."
She told E! News, "Someone read my tweet, thought it said hubby and there you go. The Internet was changed forever."
She is happily married, though
Loonette from "The Big Comfy Couch" and Steve from "Blues Clues" may not be a couple, but Alyson Court is happily married. She announced her nuptials in a tweet on July 1, 2019, writing, "Getting married. Happy Canada Day!" She revealed in another tweet that she was marrying Z.M. Thomas. Per Thomas' Twitter bio, he "is the writer and creator for Abe the Aborted Fetus, and the Bible 2 for Trepidation Comics." Thomas is the star's second husband. As noted by Game Informer, Court was previously married to video game producer Erik Suzuki, who has worked on several "Resident Evil" video games.
Court and Thomas seem to lead a relatively low-profile life. They have been known to appear at fan events together, though, like Planet Funk Con. Marrying Thomas also made Court a stepmom, and she seems to relish the role; she revealed in a tweet that she taught her husband's son how to tie his shoes. How cute!
She's open to a Big Comfy Couch reboot
"The Big Comfy Couch" has been off the air for a hot minute, but we do live in an age of reboots. While one hasn't been announced for the beloved children's show, Alyson Court would be down to participate in one. In a 2019 interview with ET Canada, she said, "It's not mine to reboot. I would happily be involved in whatever capacity they found appropriate … maybe I could direct a few episodes."
Three years later, she spoke to E! News, and said again that she's on board with the idea of a "Big Comfy Couch" reboot. While she said she'd love to reprise her role as Loonette, she thinks that a reboot would be better served with a young new star taking over the couch. "I could certainly still be Loonette, but, you know, Loonette has grown," she said.
Court added that she'd like to see "a new, very childlike character, where you're not trying duplicate what somebody did before."
Her decade-long run on Mr. Dressup helped her nab the role of Loonette
Alyson Court was quite young when she landed the role of Loonette on "The Big Comfy Couch." While she wasn't as young as her target demographic of little kids, she was just a few years older at "about 15 or 16" when she auditioned, as she explained to E! News.
Court told the outlet that "the audition process was a bit strange" as she didn't exactly show up to an open call. Instead, the show's creator, Cheryl Wagner, became convinced Court was right for the role after working with the young actress on "Mr. Dressup" — a show Court appeared on as herself from 1984 to 1994 — per IMDb. Wagner had the actress tape a demo, after which she went through "a small audition process" at the request of the broadcaster, and the rest is history. Court said, "in the end, my experience from 'Mr. Dressup' really sealed the deal. And that was that."
She can still do the clock stretch
Don't let Alyson Court's amazing skills of flexibility fool you — she's no natural clown. While she may have had us in awe with her clock stretch, the trained dancer admitted to E! News that she "personally [has] no skills" when it comes to the antics expected of clowns. "I'm incredibly klutzy," she admitted to the outlet. "To this day, I can't really juggle despite years of being around awesome jugglers."
As for the infamous clock stretch, which many of us tried and failed to replicate as kids watching the show, Court confessed that "it probably looks way more impressive than it actually is." We're inclined to disagree, but we're even more in awe that Court can still do the stretch to this day. She admitted that it's a lot harder on her body than it used to be, though, saying that recent attempts to do the clock stretch left her with some aching limbs. "[I]t takes me about two weeks to recover," she said.
It turns out that the clock stretch is a pretty effective stretching routine; Well + Good notes that it addresses "pretty much every muscle in [the] body," so if you're looking for a full body warm-up, take your cue from Loonette.
She uses her platform to advocate for causes she believes in
While Alyson Court may be keeping a relatively low profile these days, she's still using her platform to advocate for causes she believes in. Just scroll through her Twitter feed, which is filled with tweets of Court raising awareness for a long list of causes, from encouraging people to vote to participating in school breakfast campaigns.
In 2021, she notably spoke out about the discovery of unmarked graves at Canada's residential schools, which attempted to erase Indigenous culture by forcing children to assimilate; Global News wrote that First Nations, Métis, and Inuit children were "forbidden from speaking their language or maintaining their culture" at these schools, and that "many were subjected to abuse of all kinds" as late as 1996. The world was horrified to learn of the "high mortality rates" at the schools, as well as the fact that many of the deaths were covered up.
Court voiced her opinion online, asking her fans to educate themselves on the tragedy and calling out Canada's prime minister for the government's role in covering it up. "This is something I care about deeply," she tweeted. "[Justin] Trudeau, our current PM, continues to be a fraud and embarrassment with respect to racism, human rights and meaningful change."
She's a big sports fan
Alyson Court showed just how fit she is as Loonette on "The Big Comfy Couch." The actress told E! News that she studied dance and judo for years (which got her in shape for the show's fan-favorite clock stretch), but she's also a fan of watching sports. Her Twitter feed shows her frequently attending games and cheering on the Toronto Blue Jays, the Buffalo Bills, and the Toronto Raptors.
A love of athleticism clearly runs in the family. Court revealed on Twitter that her dad is also in incredibly good shape, and that he works out every day even though he is in his 80s. "This man does 80 push-ups every morning," she wrote in a post on July 13, 2022. "And today, because it's his 80th birthday, he did 81. Happy birthday to the best dad in the world!"
Alas, there's no word on whether or not Court's dad can do the clock stretch.
She (maybe) has an iconic piece of Big Comfy Couch memorabilia
While many kids grew up watching Alyson Court on "The Big Comfy Couch," she's not easily recognizable these days. Of course, the fact that she doesn't walk around wearing a big red nose in her daily life makes it easier for her to fly under the radar, but she's not afraid to don one for interviews.
That's not the only way she's keeping her time on the show alive. Court also snagged some memorable items from the set of "The Big Comfy Couch," including a Loonette costume which she wears for "charity events," as she told E! News. She added that she "may or may not have one of the couches" which "may or may not be in storage right now because my house is not big enough for it."
Fans will be excited to know that the couch is massive in real life, standing seven feet tall. If Court does have one of those huge couches in storage, though, she doesn't have a clock rug from set to match it. In the same interview, she revealed that the clock rug she stretched on in every episode of "The Big Comfy Couch" was not, in fact, a real rug, but the work of a talented artist who painted the image. "[I]t looks like a nice, soft, fluffy rug, but it's cement," she said.