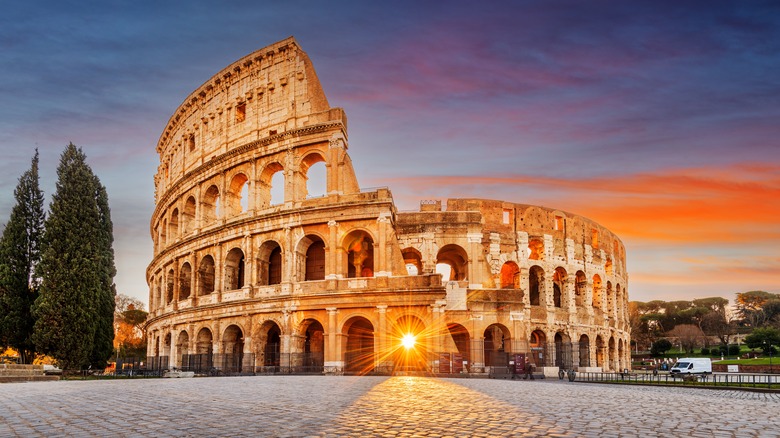 Italy has so much to offer — sunshine, rich history, delicious food — that it's no wonder millions of people visit every year. Since 2015, nearly 100 million international tourists have chosen Italy as their go-to vacation spot each year. Before the pandemic brought everything to a halt, Statista reports that a whopping 96.2 million visited the country in 2019 — and now, the industry is booming again.
NOW
PLAYING
Whether you're dreaming of planning your first-ever visit or a return visit to Italy, you'll want to keep some essential tips in mind. For one, Rick Steves' Europe recommends May, June, September, and October as the best months to go. Also, remember that you'll need to choose where you go wisely. Italy is a big country and major sites are spread out, so it's not possible to see everything during a two-week holiday. However, with some clever planning and help from a reliable source like Frommer's, you can hit a slew of locations in just 14 days. Just a few top-rated cities, per U.S. News, include Rome, Florence, Venice, and Cinque Terre.
Before you go, you'll want to familiarize yourself with some keywords and phrases. While you shouldn't have any trouble communicating in Italy's biggest tourist spots, having some Italian phrases handy will always win you brownie points with locals, and it will be helpful if you venture off the beaten path.
Essential Italian greetings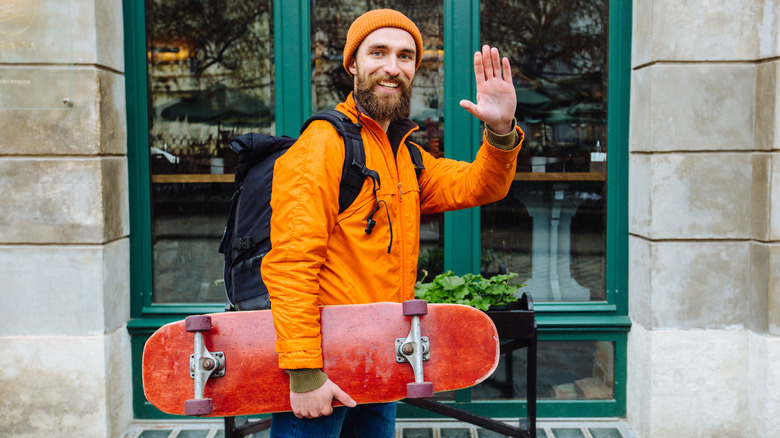 Before you can start showing off your best Italian phrases on your next vacation, you'll want to master a few common greetings. Any good conversation will start with a warm, friendly ac. The first essential word you'll likely use most often with anyone you meet is "ciao." Used interchangeably as an informal way to say both "hello" and "goodbye," per Vocabulary.com, it is sure to win some instant brownie points from locals, even if the rest of your conversation slips into English. If you're looking for a more formal way of bidding farewell, you'll want to opt for "arrivederci."
Some other key greetings to know are based on the time of day, namely, "buongiorno" for "good morning," "buonasera" for "good evening," and "buonanotte" for "goodnight." However, you'll generally only use the latter if you are actually going to bed.
Once you greet a person, you can then jump into asking them how they're doing ("Come sta?") and respond to the same question with "bene" ("well") or male ("bad"). You can also ask for the person's name, "Come si chiama?", or tell them yours, "Mi chiamo [name]," per TripSavvy.
Italian basics to always keep in mind
To really impress the folks you meet and ensure a smoother experience abroad, you'll want to go beyond greetings and have some additional essential phrases at the ready. Per TripSavvy, it's key to know some basic vocabulary, including: please ("per favore"), thank you ("grazie"), you're welcome ("prego"), yes ("sì"), and no ("no"). There are also the five Ws: who? ("chi?"), what? "che?"), where? ("dove?"), when? ("quando?"), and why? ("perché?")
If you're not sure you want to try any more Italian than that, TripSavvy recommends being totally honest and admitting you don't speak Italian ("non parlo Italiano") and asking the person you're talking to if they speak English ("parla inglese?") If you don't understand something, you can say "non capisco" and apologize by saying sorry ("mi dispiace"). Italian for Dummies also recommends remembering "scusi, un informazione, per favore," meaning "excuse me, I need some information, please," as well as "permesso," which means "excuse me" — which will come in handy when you're maneuvering through a crowd.
Italian words to help you at a restaurant or bar
One of the best parts of visiting Italy is enjoying the local cuisine. Whether you're buying an ice cream or coffee from a local cafe, tucking into delicious dishes in a fancy restaurant, or enjoying a drink at a hip bar, a few key phrases will go a long way.
When you first arrive, per ThoughtCo, you can ask for a table for two — "Avete un tavolo per due persone?" — and politely ask if you may see a menu — "Potrei vedere il menù?" TripSavvy also recommends asking your waiter for their recommendation by saying, "Cosa ci consiglia?"
Once you're ready to order, you can say "Vorrei [item you'd like to order]," meaning "I would like." If you need any extra cutlery, you can ask, "Potrei avere…" (meaning "Can I have") and fill in "un coltello" for knife, "un cucchiaio" for spoon, or "una forchetta?" for fork. Importantly, if you have any dietary restrictions, you'll want to say "sono" or "I am" and tell the waiter you are "vegetariano/a" ("vegetarian"), "intollerante al lattosio" ("lactose intolerant"), or "intollerante al glutine
("gluten intolerant"). Finally, once you've finished, you can compliment your meal by calling it "delizioso" ("delicious"), then ask for the bill by saying, "Il conto, per favore."
Handy Italian phrases for your hotel stay
Whether you're staying in a hotel, bed and breakfast, or Airbnb, you may find yourself in need of some basic words and phrases to make your stay more comfortable. My Italian Lessons breaks down some hotel essentials, starting with the one thing you'll likely want to ask about first: Wi-Fi. To ask if there is Wi-Fi in your hotel and find out the necessary password, you'll want to say, "Cè il Wi-Fi nell'hotel?" and "Qual è la password?" If there's an on-site restaurant and you'd like to have breakfast there, you can find out what time it starts by asking, "A che ora è la colazione?" Speaking of food, a concierge likely has great restaurant recommendations, which you can request by asking, "Mi può consigliare un buon ristorante?"
Some more handy words, per Life in Italy, are "chiavi" (keys), "ascensore" (elevator), and "servizio in camera" (room service). Before you head out, you can also ask the front desk to give you a map — "Ha una cartina della città?" — or call you a taxi — "Puoi chiamarmi un taxi?"
Directions and transportation essentials in Italian
While your phone or a traditional paper map (remember those?!) may keep you from getting lost — most of the time, at least — it's helpful to know a few basic words pertaining to directions and public transportation. When asking for directions, TripSavvy breaks down the basics, starting with asking where something is by saying "Dov'è […]." You can supplement that with whatever it is you're trying to find, whether it be "il museo" (museum), "la stazione" (train station), la metro (metro), or fermata d'autobus (bus stop). When you get your response, you'll want to actually understand it. As ThoughtCo explains, "a destra" means "right" and "a sinistra" is "left." You may also be told something is "vicino" (close) or "lontano" (far).
As for transportation, Babbel notes that you can reference a ticket by calling it "il biglietto" or a timetable as "l'orario." You may also want to ask at what time a train leaves for a particular destination by saying, "A che ora parte il treno per [destination]?" However, perhaps most useful of all is knowing how to ask where the bathroom is. Per Italian for Dummies, you'll say, "Scusi, dov'è il bagno?" (Excuse me, where is the bathroom?)
Italian phrases for a great shopping trip
Another must-do on any trip to Italy is a little retail therapy. Whether you're shopping for fashion, home goods, local art, or food, you're sure to find something you'll love while exploring the country. First things first, you can ask how much something costs by saying, "Quanto costa?," per ThoughtCo. Once you know the price, you can tell the salesperson it's too expensive ("Un po' troppo caro") or that you'll take it ("Lo prendo"). If you're shopping for clothing or jewelry and would like to try something on, you can say, "Vorrei provare questo."
If you're searching for a particular shop, Grand Voyage Italy notes that many specialty retailers have their own names. While "negozio" is the general term for a store, you may want to ask about the local supermarket ("supermercato"), bookstore ("libreria"), pharmacy ("farmacia"), jewelry shop ("gioielleria"), or pastry shop ("pasticceria"). Otherwise, if you're unsure about the name of a specific shop but know the word for what you're looking for, you can always say "negozio di […]" and fill in the item you'd like to shop for, like cheese ("formaggi") or shoes ("scarpe"), per Thought Co. And, of course, you'll want to end by saying thank you ("grazie").